Cats are perhaps the best cherished and adored pets globally, and having one in the home provides much happiness to its inhabitants. However, many feline lovers struggle with how to get cat hair off furniture. Whether you have one furry friend or many, you've likely thought about the best way to remove cat hair from furniture.
Cats are a lot of fun and members of the family. Their stubborn hair gets everywhere, leaving your clothing, the carpet, couch cushions, and even your washing machine covered in loose fur. Removing hair from animals often feels like it never stops. Fur from your pet looks unsightly on the carpet and furniture, but it also collects in your vacuum and air filters, where it causes damage if not removed.
To live happily with your feline companion, it is vital to clean cat hair off furniture, whether you are a first-time cat owner or an experienced kitty lover who battles with pet hair removal. Thankfully, a few simple steps and some everyday items easily remove cat hair around the house.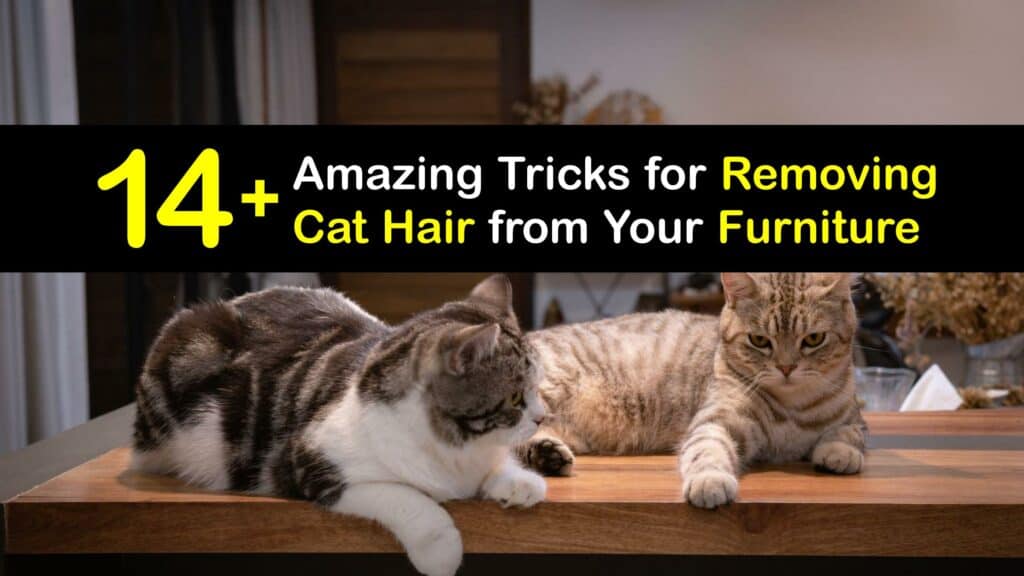 Remove Cat Hair From Furniture Effortlessly
Trying to clean cat hair off furniture is daunting without the proper knowledge and tools. The appearance of your home is negatively affected by cat hair, giving the impression it's dirty and unhygienic.
It is easier to keep unwanted hair under control if you groom your cat on a regular basis and remove stray hairs from them before they fall out and get trapped in the carpet or furniture.
Regular vacuuming reduces pet hair buildup, resulting in less visible hair and clinging to clothes or getting stuck in air filters and your washing machine. While bed bugs can not live for long in wood furniture, pet hair seems to never go away so routine treatment is necessary.
Try these methods to remove cat hair from furniture, using things you already have on hand if figuring out how to get cat hair off furniture is your least favorite part of having a pet.
How to Get Cat Hair off Furniture – DIY Anti Static Spray
Static electricity causes loose hair to display a behavior known as static cling, making it adhere to surfaces like carpet and upholstery or clothes. Due to the sticky static, removing pet hair from upholstery is challenging. This anti-static spray decreases static electricity and makes cleaning away unwanted cat or dog hair more manageable.
After giving the spray bottle a good shake to thoroughly combine the ingredients, spray it gently over the carpet and upholstery you wish to clean. Eliminate the risk of static cling while removing pet hair from fabrics by drying excess liquid with a microfiber cloth. Allow the carpet or fabric to air dry before collecting loose hair.
While this simple remedy won't keep stray cats away outside, the odor of the fabric softener may be enough to deter them from jumping on the cushions of your patio furniture. Hopefully, you won't have to make an excellent enzyme cleaner for cat urine stains on your deck chairs or loveseats if they don't come around in the first place.
Clean Cat Hair off Furniture Using a Lint Roller
A lint roller helps remove pet hair, whether you are removing cat hair from blankets or the couch, and is readily available at retailers. It's ideal to get pet hair out of clothes, too. Peel away the packaging or the old dirty covering to expose a new sticky surface to pick up stubborn pet hair from your home as you roll over textiles. Use it as a quick way to clean your outdoor furniture of pet hair and dust.
Remove a layer of the lint roller if it becomes too full when you are using this way to get dog or cat hair off your couch. Use a lint roller in long flat strokes against a flat surface and press evenly to achieve the best results.
Remove Pet Hair from Upholstery with Dryer Sheets
Most people who own pets search for ways to clean the excess hair up without spending much money or purchasing new items. Dryer sheets are an excellent tool for providing a speedy solution to the problem of stray hair, so head on to the laundry room.
Remove loose hair from surfaces by pressing a dryer sheet against the palm of your hand and rubbing it over the surface. Make lengthy, even strokes across the material while employing a scooping motion.
After a good amount of pet hair has accumulated on the dryer sheet, remove the clump of hair and throw it away before working on the remainder of the carpet and upholstery.
A Rubber Glove Collects Animal Hair from Furniture Fabric
Many cat owners often notice stubborn hair strands entangled in their carpet fibers, clothes, sofa, couch cushions, etc. A thick rubber glove, such as the kind used to clean dishes, or even a medical nitrile glove, is an effective tool for removing stray hair in two ways.
The first method utilizes the concept of static electricity. Put on the rubber glove and rub it over the carpet and upholstery in your room. Because of static cling, cat fur and lint stick to the rubber glove, making it simple to pick up and clear away. This approach does an excellent job of cleaning carpeted floors, sofas, and even hard surfaces.
The second strategy calls for a minimal amount of water. Put some water on the rubber glove, and run it over any fabric where hair is embedded. The surplus of hair becomes loose and gathers on the wet rubber glove.
Duct Tape Picks Up Excess Hair from Clothes and Furniture
Sticky tape is a helpful tool for removing cat hair from furniture or carpet, and it's probably already in your home or office. The adhesive surface of sticky tape attracts lint and stray hair, making it a quick solution to pick up cat hair from several materials. Either duct tape or packing tape work well.
To build a DIY sticky glove to lift pet hair, wrap the sticky tape over your hand, enclosing it with the non-sticky part against your skin. Use a pushing action to forcefully pull the hair off the fabric area. To remove all cat hair and lint, repeat as many times as needed.
Sweep Dog Hair from Carpet with a Rubber Broom
Remove tenacious pet hair from couches and carpet floors with a rubber broom. The rubber creates static cling, enabling stray hairs to stick to each rubber bristle, much like a rubber glove.
The most effective strategy is to sweep from one side of the area to the other, working on dry fabric. Continue until all the stray hairs lift onto the rubber broom. The cat hair from the broom is easily removed to put in the trash.
Clean Loose Hair with a Vacuum Cleaner
Though it may seem simple, a handheld vacuum is an ideal way to remove pet hair. If feasible, use a portable vacuum with a high suction force and an upholstery attachment. Work methodically in long, smooth strokes.
Use a small nozzle to get into the wrinkles between the sofa seat or other apertures. For maximum results, empty the vacuum bag or dustpan frequently and ensure the filter is clean.
Remove Cat Fur in the Washing Machine
Get rid of excess hair on rugs or upholstery by putting them in the dryer with fabric softener sheets and wool dryer balls. Throw them in the laundry once they have finished drying to get rid of the scent of pets and dogs.
Because pet fur collects in the lint trap, which is straightforward to empty, and the lint screen is replaceable when it becomes clogged, the dryer is an excellent choice for handling pet hair. Make your own liquid fabric softener sheets at home to reduce the amount of cat hair getting caught in the dryer.
Mix warm water, essential oil, and white vinegar to create a liquid fabric softener. Soak each square of cloth (or a paper towel) in the liquid fabric softener, carefully wring it out, and keep it in the container.
Combine these homemade dryer sheets with wool dryer balls and the upholstery in the dryer. Start with the dry cycle and then move on to the wash. The dryer balls and the fabric sheet capture stray hair from your pet, preventing it from entering the lint trap and the washing machine.
Inspect the dryer for loose hair after each load and clean out the lint trap after each use to prevent the dryer from overheating or catching fire.
Velcro Curlers for Pet Hair Removal
Owning a set of Velcro curlers allows you to curl your hair or remove unwanted pet hair from your home. The adhesive Velcro works well for trapping stray hair and makes it easy to throw it in the garbage.
This procedure is speedy and uncomplicated. Velcro curlers have tiny bristles that grab excess hair and pull it out of the carpet fibers or fabric upholstery, leaving your space hair-free.
Smooth out your upholstery by applying pressure to any wrinkles you see to create a flat, firm surface. Ensure any rugs or carpets are resting as flat as possible. Roll the Velcro curlers back and forth across the surface to remove stray hair from the fabric. Perform a test on a tiny corner of your sofa or carpet flooring to check the Velcro rollers don't cause any damage.
Collect Cat Hair with a Wire Brush
A wire brush with firm metal bristles effectively passes between fibers. These stiff bristles capture and pull pet hair while passing harmlessly through your carpet fibers, causing no damage to the finish.
Do not use a wire brush on upholstery like sofas or couch cushions since it may harm or scuff them. Empty the wire brush frequently, pulling out all the loose hair accumulated between the bristles.
Clean Stray Pet Hair with a Lint Brush
Use a lint brush to remove pet hair from furniture, clothing, and more. The firm bristles catch lint and stray hair for quick cleaning. To avoid snagging, try a lint brush on a small part of the fabric or carpet before using it.
Brush the carpet surfaces from one side to the other in a light sweeping motion. Once all cat hair is collected, empty the brush and enjoy your clean, hair-free space.
Lift Stray Hair from Pet Beds with a Squeegee
A squeegee is for more than just removing ice from the windshield on a frigid morning; it's perfect for several tasks, including removing cat hair from your home. The squeegee is rubber-based and collects undesirable cat hair using static cling like the rubber glove and broom.
Grab the squeegee you probably already have in your vehicle and use long, smooth strokes to clean your upholstery. As pet hair accumulates on the rubber blade, remove and dispose of it.
Pet Hair Tools Gather Pet Fur
There are numerous commercial pet hair removal tools on the market. If you have nothing to create a homemade solution, go to a store and look around. Many devices work on the same principles as our DIY options, with rubber creating static and stiff bristles collecting loose fur safely.
Always test hair removers on a small hidden area to ensure the integrity of your textiles isn't compromised.
Baking Soda Pet Odor Prevention
Pet odors and other unpleasant smells often emerge with loose hair. Consider coating your carpet and furniture with a fine layer of baking soda before deciding on a pet hair removal solution.
Baking soda is a multifunctional chemical frequently used in cleaning. One of its numerous purposes is to eliminate unpleasant odors. Sprinkle liberally and allow the baking soda to remain on your fabrics for about 30 minutes before vacuuming it and any stray hair. Baking soda gives a room a clean, fresh scent.
Prevent Cat Hair Build Up
You won't have to worry about cleaning up cat hair if you buy a dedicated cat blanket or repurpose one. Cover the couch and carpet where your cat sits with a large, thick blanket. The blanket catches wayward hair.
Regular grooming reduces shedding and removes loose hair before spreading throughout your home. To trap pet hair in a controlled manner and decrease undesired shedding, brush your cat frequently or hire a professional groomer.
Regardless of how many cats you own, some simple tricks help you remove kitty hair from your carpet and upholstery. Pet fur extraction doesn't have to be complex; use standard household products with home remedies and DIY procedures. Consider brushing your cat to eliminate stray hair before it becomes an issue.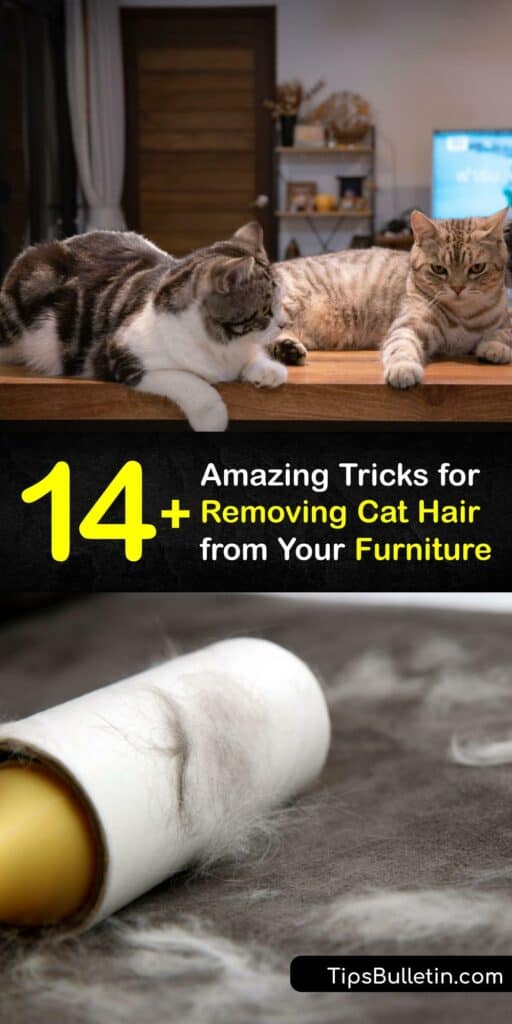 If you loved this article on how to get cat hair off furniture, please share these brilliant tips to remove cat hair from furniture with your friends and family on Pinterest and Facebook.