Cats are among the most cherished and adored pets globally, and they provide a lot of happiness to a family. If you have pet cats, you've probably wondered how to get cat hair off the couch. Though cats are fun, and many people consider them family members, their stubborn hairs end up all over your sofa, couch cushions, clothing, and even in your vacuum cleaner.
Extraction of pet hair from furniture fabric is complex and a never-ending battle. Cat hair or dog hair is unsightly on your sofa, and loose fur builds up in your vacuum attachment, lint trap, and air filters, causing damage to your equipment if not removed.
Knowing how to remove cat hair off the couch is crucial to a happy life with your feline companion, whether you're a first-time cat owner or an experienced cat lover who struggles to clean cat hair off upholstery. With a few simple procedures and everyday household items, it's easy to learn how to get cat hair off the couch.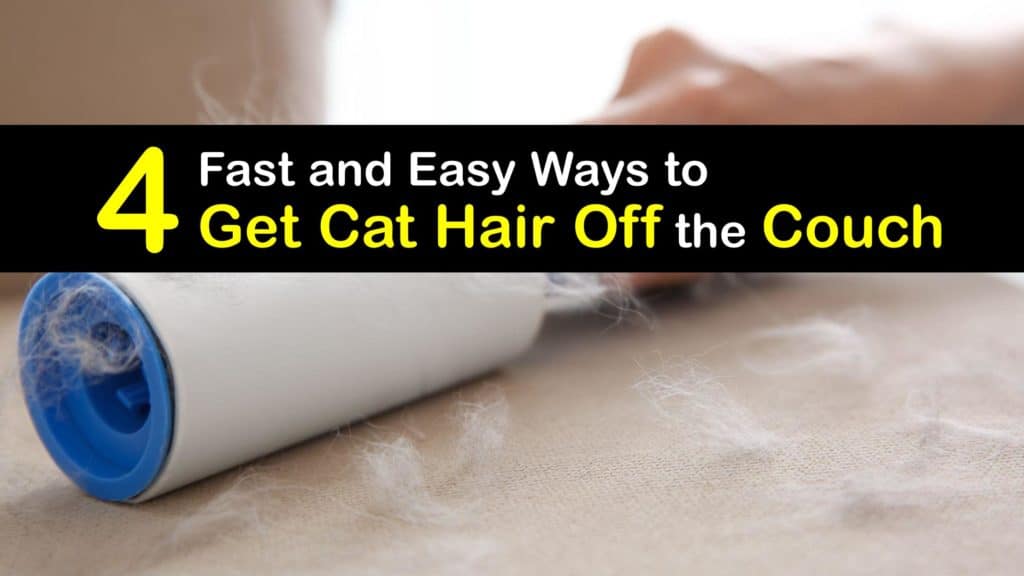 Simple Tips to Remove Cat Hair from the Couch
Grooming your pet regularly reduces shedding and gathers surplus fur before it falls out on your couch. Brush your pet frequently or hire a groomer to collect pet hair in a regulated manner and prevent shedding.
A few basic strategies help you clean cat hair from your sofa, carpet floors, and upholstery, regardless of the type of pet hair you have. Remove the covers from couch cushions and wash in the machine, then tumble dry with dryer balls to help lift stubborn hair.
How to Get Cat Hair Off the Couch with Rubber
A rubber broom, rubber glove, or rubber bristle brush makes it easy to clean cat hair off upholstery and pet beds. It's also the best way to remove dog hair from upholstery. Stubborn pet hair gets stuck in carpet and fabric fibers in your home.
A thick cleaning-type rubber glove, such as the one used to clean the kitchen, or even a surgical nitrile glove, is an effective tool for eliminating stray pet hair, whether you need to get cat hair out of clothes, have to get pet dog hair off furniture or have it somewhere else in the house.
The first method relies on static electricity, so put on your rubber glove and go over the sofa and upholstery as the ideal way to get cat hair off furniture. Static cling adheres cat fur and lint to the rubber glove, making it easy to scoop up. This approach works well on carpeted floors, couches, and other fabric items like clothes.
The second method necessitates the use of water. Wet the rubber glove and use it to wipe off your couch, carpet, and any other fabric that has loose hair embedded in it. Unwanted pet hair collects on the moist rubber glove, which may be wiped off and discarded. Use a rubber broom or rubber bristle brush the same way.
Clean Cat Hair Off Upholstery with Homemade Anti Static Spray
Static electricity causes excess hair to adhere to your carpet and upholstery, causing static cling, and this sticky static adhering makes pet hair removal challenging and a headache. Anti static spray helps you remove cat or dog fur from your sofa or to remove cat hair from sheets by reducing static electricity.
Shake the spray bottle to combine the liquids, then lightly spray the upholstery and carpet. Pat dry with a microfiber towel to remove excess solution so you can take care of stubborn hair without static cling. Allow your sofa to air dry.
A damp washcloth, pumice stone, or lint brush collects hair well after applying the spray. If you don't have fabric softener, use a few dryer sheets shaken in water instead, or wipe a dryer sheet over the sofa and couch cushions to help lift pet hair.
Clean Cat Hair Off the Couch with Sticky Tape
Quickly clean cat hair off upholstery with sticky tape or duct tape. Sticky tape is a valuable tool to remove cat hair from the couch, and you're sure to have some at home or work.
The adhesive surface of sticky tape attracts stray hair and lint, making it a quick and easy solution for cleaning dog or cat hair from fabric. Duct tape or packing tape works well.
To build a DIY lint roller to press to fabric and use to lift pet hair, wrap sticky tape over your hand, enclosing your skin. Push down hard and lift to remove hair from the whole fabric surface. Make as many sweeps as required to catch all cat hair and lint.
Use a Vacuum to Remove Unwanted Pet Hair
Though it may seem obvious, a handheld vacuum is an effective tool to remove pet hair from your couch and carpet. Use a handheld vacuum with strong suction power and an upholstery attachment.
Work in long, smooth strokes. Get into the wrinkles between the seats and behind the cushions with a small nozzle. For maximum results, empty the canister or dustpan frequently and ensure the filter is clean.
If you are expecting company with allergies, consider using a DIY disinfectant spray for your couch and other areas after you remove the pet hair. This will also remove odor from furniture fabric and make them smell less like your animals.
For more persistent odors like urine, make a simple cat pee cleaner with baking soda and vinegar.
In addition to cleaning frequently and brushing your pet to remove excess hair, use these simple tips to clean cat hair off upholstery using items you already have at home.
If you loved this article on how to get cat hair off the couch, please share these incredible tips to remove cat hair from the couch with your friends and family on Pinterest and Facebook.