Cats are one of the most cherished and adored pets in the world, and they provide a lot of happiness. Cats are a lot of fun, and many people consider them family members, but their stubborn hairs get everywhere, covering your blankets, clothing, and even your vacuum with loose fur. If you have cats, you've probably wondered how to get cat hair out of blankets.
The extraction of pet hair seems complex. Pet fur is unsightly on blankets, may cause allergy flare-ups or other health issues, and builds up in vacuum cleaners and laundry equipment causing damage if not removed.
Knowing how to remove cat hair from blankets is crucial to happiness with your feline companion, whether you're brand new to cats or an experienced cat lover. Get cat hair off blankets with a few simple actions and everyday household items.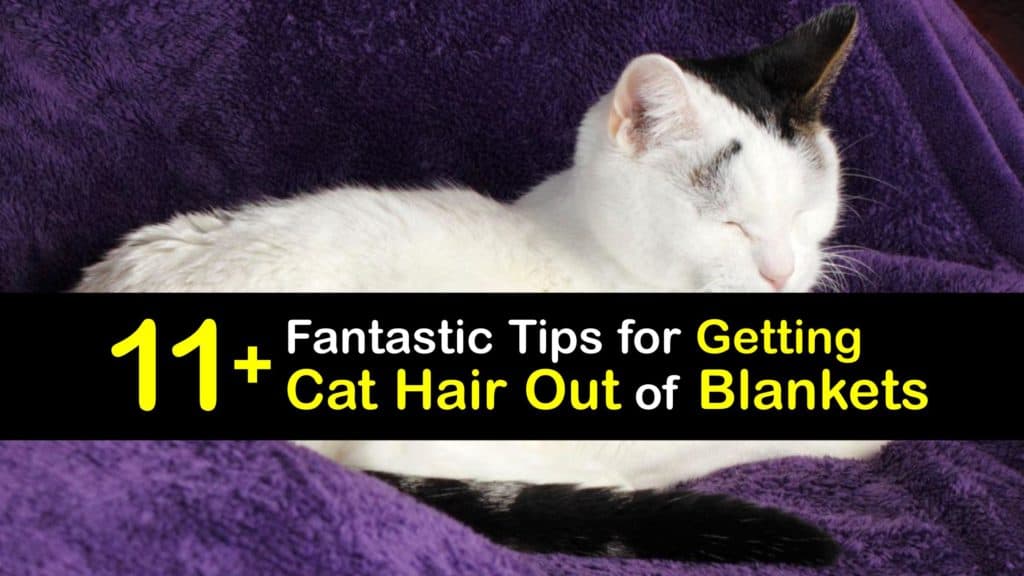 Remove Cat Hair from Blankets with Ease
The appearance of your blanket is degraded by cat hair, making it look dirty and unappealing. It's usually not an option to figure out what to use to keep cats away if they are part of the family.
Brushing your cat and removing loose fur before it falls out and becomes entangled in your blanket helps keep unwanted hair at bay. Vacuuming helps reduce pet hair buildup to avoid the need to get cat hair off blankets.
If finding out how to get cat hair out of blankets is one of your least favorite aspects of owning a pet, try these simple procedures to remove cat hair from blankets with items you already have on hand.
How to Get Cat Hair Out of Blankets in the Washing Machine
Run your blankets through the dryer with wool dryer balls and fabric softener sheets to remove extra hair. After drying, toss them on a wash cycle to get rid of the pet odors. Vinegar added to the wash cycle gets rid of any cat pee smell and leaves your clothes odor and fur-free.
Because pet hair catches in the lint trap, which is easy to empty, the dryer is well capable of handling pet hair. Drying before using the washing machine saves hair from clogging up your washer drum and breaking the device. It's the best way to wash blankets safely.
Make DIY liquid fabric softener sheets to help remove dog hair in the dryer.
Blend warm water, white vinegar, and essential oil to make liquid fabric softener. Submerge each fabric square in the liquid fabric softener, wring it out gently, and store them in an airtight container in the laundry room.
Add these sheets to the tumble dryer with wool dryer balls and blankets. Run a dry cycle before washing on a normal rinse cycle; the fabric sheet and dryer ball capture loose pet hair. Clean the lint screen or lint trap after each load and check inside the dryer for stray hair to prevent overheating or fire.
Use Duct Tape to Get Cat Hair Off Blankets
Duct tape is a helpful tool for removing cat hair from blankets or clothes, and you're sure to have some at home or work. The adhesive surface of sticky tape attracts stray hair and lint, making it a quick solution to remove cat hair from blankets, carpets, or other surfaces. Duct tape and packing tape both work well.
To build a DIY adhesive glove to press to cloth and use to lift pet hair, wrap the duct tape around your hand. Cover your fingers and palm with the non-adhesive side against your skin, and apply pressure firmly to get dog hair off comforters and blankets or clothes. To catch all cat hair and lint, repeat as many times as necessary.
Rubber Broom for Pet Hair Removal
Remove tenacious pet hair from blankets with a rubber broom. The rubber component creates static cling, enabling loose fur to stick to each rubber bristle. Running a rubber glove over the blanket has the same effect if you don't have a rubber broom.
The most effective method is to sweep from one end of the blanket to the other. Make sure the blanket is completely dry for best results. Repeat until all stray hairs lift onto the rubber broom. Remove the cat hair from the broom and discard.
Clean Loose Fur with a Velcro Curler
Use Velcro curlers to fix your hair or remove pet hair from fabric such as blankets and carpets. The adhesive Velcro is excellent for trapping stray hair and making it easy to dispose of in the garbage. The Velcro curlers' tiny bristles capture excess hair and tug it out of blanket fibers or fabric upholstery, leaving you hair-free.
Lay your blanket flat to have a smooth surface to work. Test the Velcro curler on a small section of your blanket to ensure it won't cause any damage. To remove stray hair, roll the Velcro curler over the fabric.
Anti Static Spray to Collect Cat Fur
Static electricity causes loose hair to adhere to your blankets, carpet, and upholstery, causing static cling. Sticky static makes removing pet hair challenging and causes a headache. This anti-static spray helps you remove cat hair from your blanket by reducing static electricity.
Combine in a sprayer, shake, then lightly spray the blanket evenly. Pat the excess liquid dry with a microfiber cloth to remove cat hair without static cling. Allow the blanket to air dry.
Try a Dryer Sheet for Stubborn Hair
Dryer sheets are terrific to rapidly get rid of stray hair on your blankets and work well on carpet or clothing. Place the dryer sheet flat against your hand and run it over any surfaces coated in loose hair to keep cat hair off clothing or other fabric at home.
Make long, even strokes over the material with a scooping motion. Pull the dryer sheet off when pet hair accumulates and toss it in the trash. Repeat until all the pet hair is collected and your blanket is cat hair-free.
A Lint Roller Picks Up Stray Hair
A sticky lint roller, similar to duct tape, is helpful for pet hair removal. You may already have a lint roller in your closet, or you can purchase one at most stores. Peel away the box or the previous dirty layer to use a new lint roller surface. As you roll the tool over your blanket, allow the sticky surface to pick up pet hair.
Pause if the lint roller gets full and pull off that layer to reveal more adhesive. Use a lint roller in long strokes with the blanket on a hard, flat surface and push with consistent effort to get the best results.
Pick Up Pet Fur with a Vacuum Cleaner
Using a handheld vacuum is an effective technique to remove pet hair from blankets. Choose a vacuum with high suction power and a pet hair removal attachment. Lay the blanket out flat and work in long, smooth strokes. For maximum results, empty the bag or dustpan frequently and ensure the filter is clean.
A Lint Brush Cleans Excess Hair
Use a lint brush to remove cat hair from your favorite blankets, carpets, furniture, and clothes, but test it on a small part of the fabric first to ensure it won't snag. The firm bristles catch lint and stray hair for simple cleanup.
Brush the blanket from one side to the other in a light sweeping motion. Once all the cat hair is collected, empty the tool and enjoy your clean, hair-free blanket. If you don't have a lint brush, a clothes brush is a suitable alternative.
Animal Hair Remover Tool
Various professional pet hair removal tools are available at most pet stores. If you don't have supplies or are away from home, go to a store and look around. Many gadgets use the same concepts as our DIY methods, such as rubber to produce static or stiff brushes to collect hair safely.
A Squeegee Collects Lingering Hairs
A squeegee is useful for more than just deicing your car windshield. A squeegee is a versatile instrument to remove cat hair from blankets efficiently. Like the rubber broom, the squeegee is a rubber blade that collects undesired cat hair using static cling.
Use the squeegee you probably already have in your car to run smooth strokes over your blanket. Remove pet hair as it accumulates on the rubber blade and toss it in the garbage.
Avoid Loose Hair on Blankets with Prevention Techniques
You may avoid having to launder your beloved blanket by purchasing a dedicated cat blanket or repurposing one from home. Place a blanket in the area where your cat prefers to sleep. The blanket catches wayward hair. Remove and wash your cat's blanket regularly to avoid it becoming covered with fur.
Grooming your pet regularly reduces shedding and gathers loose hair before it enters your home. To capture pet hair in a controlled manner and avoid undesired shedding on your bedding, brush your cat frequently or hire a professional groomer.
Pet hair extraction doesn't have to be complicated; use everyday household items thanks to homemade and DIY methods. Use these creative ideas to get cat hair off blankets using things you have at home, along with vacuuming often and grooming your cat to remove loose hair before it gets on your blanket and furniture.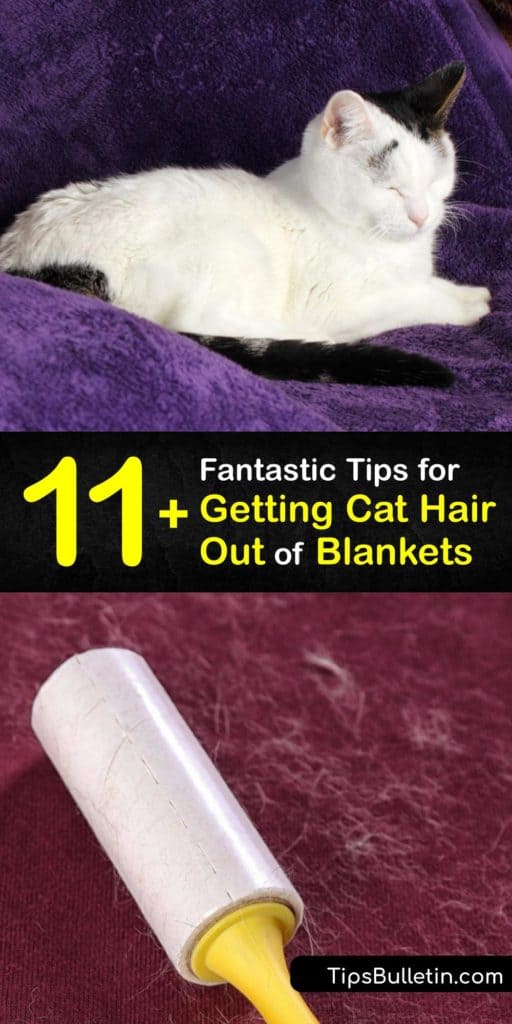 If you loved this article on how to get cat hair out of blankets, please share these clever tips to remove cat hair from blankets with your friends and family on Pinterest and Facebook.