Animals bring so much joy to a household, and cats are one of the most popular pets in the world. Whether you have one cat or several, you've probably wondered how to get cat hair out of clothes.
Though cats are great fun, and for many people, they're considered another family member, their stubborn hairs get everywhere, leaving your clothes, fabric bedding, and even your washer drum full of loose fur.
Pet hair removal is tricky and seems like a constant battle. Not only is pet fur unsightly and unprofessional on your clothes, but it also builds up in your washer drum and may damage the machinery if left unchecked.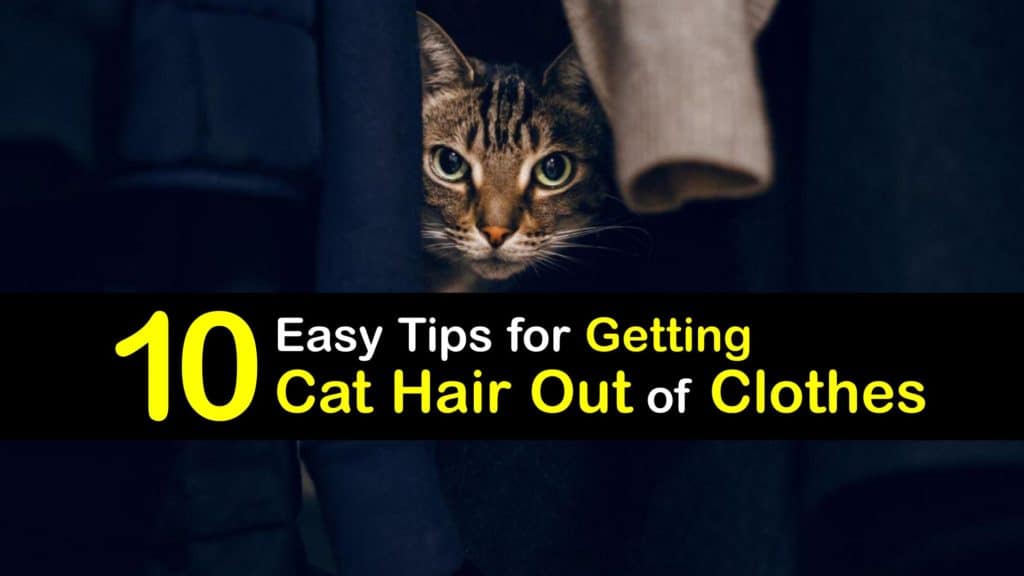 Remove Cat Hair from Clothes with Ease
Whether you're just a brand new pet owner or a long-time cat lover plagued by pet hair removal, learning to remove cat hair from clothes is critical to a happy life with your feline.
Thankfully, it's easy to get rid of cat hair on clothes using a few simple tips and some household items.
Cat hair ruins an outfit by looking unclean and unprofessional. It helps control excess hair if you groom your cat regularly and collect any loose fur before it falls and reaches your wardrobe or carpet.
Vacuuming often helps avoid pet fur buildup, which leads to less hair making its way onto your outfits and around your home.
If excess hair is your least favorite part of owning your pet, try these easy ideas to help you get cat hair off clothes in the washing machine or by hand, using items you already have available.
Beat Static Cling with DIY Anti Static Spray
Unfortunately, loose hair has static cling and sticks to clothes and other fabric items due to static electricity. This sticky static cling makes pet hair challenging to remove and causes a significant headache.
The DIY anti-static spray helps by reducing static electricity and making loose fur easier to remove.
Shake the spray bottle to mix and lightly spray all over clothes. Pat excess liquid dry with a microfiber cloth, and remove cat hair without static cling. Allow clothes to dry naturally.
Remove Animal Hair with a Rubber Glove
A thick cleaning-type rubber glove like the one you use to wash the dishes or even a medical-type rubber glove is an effective tool for pet hair removal in two ways.
The first is using the principle of static electricity. Put on the rubber glove and rub your hand over your clothing or use it as one way to get cat and dog hair off your couch.
Static cling causes pet hair and pieces of lint to stick to the rubber glove making it easy to pick up. This solution also works well on carpet floors.
The second method only needs the addition of a bit of water. For the way to get dog hair out of blankets, as well as cat hair, dampen the rubber glove, run it over your clothes, the carpet, and other fabric with excess hair.
The wet rubber glove loosens and collects hair which you wipe off the glove and into the trash with ease.
Dry before Washing for Pet Hair Removal
The easiest way to get cat hair out of the laundry is using the dryer first. Running your clothes through the clothes dryer with wool dryer balls and fabric softener helps remove excess hair before you put them in the washing machine.
Putting clothes covered in pet hair into the washing machine creates clogs and may do lasting damage to your washer.
The dryer can better handle pet hair as it collects it in the lint trap, which is quick to empty, and the lint filter is replaceable as needed.
It's easy to make your own homemade liquid fabric softener-based sheets for this purpose.
Combine the white vinegar, warm water, and essential oil to make a liquid fabric softener.
Take each fabric square (you can also use a microfiber cloth) and dip it into the liquid fabric softener, gently wring, then store in an airtight container until use.
Add these sheets to the clothes dryer with wool dryer balls and your clothes. Run a dry cycle before you wash, and the dryer ball and fabric sheet will collect loose pet hair and keep it from ending up in your lint trap or washing machine.
Be sure to clean out your lint filter after every load and check inside the dryer for any loose hair to avoid the risk of dangerous overheating or fire.
Get Cat Hair Off Clothes in the Washing Machine with Vinegar
Cat owners often wonder about the best way to get cat hair off clothes in the washing machine. White vinegar – an ingredient you probably already have in your pantry – makes the answer easy.
Add the mixture to your detergent tray or directly into the washer drum with the clothes and run the regular wash cycle.
The vinegar lifts the stubborn hair and gets cat hair off clothes in the washing machine during the wash. It's also essential to clean your washing machine regularly, check for excess hair buildup and remove any clogs.
As a bonus, vinegar is ideal to get rid of cat pee smell on clothes, too.
How to Get Cat Hair Out of Clothes with Sticky Tape
Sticky tape is a handy tool to remove cat hair from clothes or to remove pet hair from a car, and you'll probably find it at home or the office. The adhesive surface on sticky tape picks up stray hair and pieces of lint, making it an easy strategy to remove cat hair from furniture or the way to get rid of cat hair on clothes.
Wrap the sticky tape around your hand with the nonadhesive side against your skin, covering your fingers and palm to create a DIY adhesive glove which you press to fabric and lift pet hair.
Use a patting motion to press down firmly and lift to pull hair from the fabric surface. Repeat as many passes as necessary until all animal hair and lint are collected.
You can also try this method to remove gum from fabric, although there are other strategies that may work better for larger pieces.
Remove Loose Fur with a Lint Roller
A sticky lint roller is easy for loose fur removal, like sticky tape. You may already have a lint roller or lint brush lying around your closet, or you can purchase one at most stores.
Peel off the packaging or the previous dirty layer to expose a new lint roller surface. Roll the tool over any areas of excess hair and let the adhesive surface pick it up.
If the lint roller gets full, peel off a layer to expose more adhesive, and carry on. Use a lint roller or lint brush while wearing your clothes, or lay them out on a hard, flat surface and roll with even pressure to achieve the best result.
Pick Up Cat Hair with a Rubber Broom
A rubber broom works well for removing pet hair from clothes and carpet floors alike. The rubber material acts similarly to a rubber glove, using static electricity to cause static cling, which makes loose hair stick to the bristles.
Lay the fabric out on a flat, dry surface and use a sweeping motion from one end to the other. Repeat as necessary until loose hair lifts onto the broom. Clean cat hair out of the broom and into the trash.
Use a Dryer Sheet for Animal Hair Removal
Many pet owners wonder how to get cat hair out of clothes with items they already have at home. Head to the laundry room because dryer sheets are an excellent tool for removing stray hair efficiently.
A Velcro Curler Collects Cat Hair
A Velcro curler is not just great for your hair but also unwanted pet hair. The grippy Velcro is excellent at picking up loose fur.
Lay clothes out on a smooth, hard surface and press out any wrinkles. Roll the Velcro curler back and forth over the fabric to remove all the stray hair.
Remember to test your Velcro roller on a smaller area of your clothes or carpet floors to ensure it won't cause damage.
Try a Clothes Brush for Stray Hair Clean Up
A clothes brush works well to remove cat hair from clothes and may be one of your chosen alternative ways to do laundry if the clothing is not overly soiled. The stiff bristles trap lint and stray hair for easy clean-up. Before using a clothes brush, test it out on a small area of the fabric to ensure no plucking occurs.
Run the brush over the outfit from one side to the other in a light sweeping motion. Once all the cat hair is collected, empty it from the tool and enjoy clean, hair-free clothes.
Whatever kind of pet hair you are challenged by, a few simple tricks help remove it from clothes and even carpet floors and furniture.
Pet hair removal doesn't have to be stressful with homemade and DIY options using practical and easy things you already have.
In addition to regular vacuuming and brushing your pet to remove loose fur before it gets in your closet, try these simple ways to get cat hair off clothes in the washing machine, or use tools you find at home.
If you found this article on how to get cat hair out of clothes enlightening, share these brilliant tips to remove cat hair from clothes with your family and friends via Pinterest and Facebook.