We love our cats, but they're just so hairy. Somehow, pet fur always finds a home on clean clothes and upholstery, but it doesn't have to stay there. Discover some superb tips for how to get cat hair out of the laundry, so you're able to spend more time enjoying your best furry friend.
It probably won't surprise you to know that approximately seventy percent of American households have a cherished pet. That is an incredible amount of animal hair! You may not know that water and pet hair make a clumpy mess that clogs your washer drum and affects your plumbing.
Take back control of your clothes, furniture, and life using items you may already have hanging around the house. Avoid future washer trouble and loose hair build-up while keeping your clothes hair-free and looking sharp. Conquer pet fur and cat hair on laundry for good and never look back.
Get Cat Hair Off the Laundry for Good
Learn how to get cat hair out of the laundry and keep your wash cycle safe from pet hair clogs with these simple tips. Whether you need to get rid of cat hair on clothes or dog fur on the recliner, these solutions work every time.
Wet Rubber Glove
The standard kitchen rubber glove is a surprisingly effective way to get cat hair off the laundry or as the best way to remove dog hair from couch. Wet the glove and rub it all over your clothes or furniture. The cat hair (or dog fur) instantly comes right off for disposal.
Do a quick once over with the rubber glove, and toss your clothes in the hamper. Make a habit of it before you take your clothes off at the end of the day. Less to worry about at laundry time is always better.
Rather than a rubber glove, purchase a rubber-bristle broom to remove pet hair from carpet in a pinch or to keep from clogging the vacuum cleaner.
Lint Roller
Use a sticky lint roller to help remove cat hair from the laundry or to get cat or dog hair off blankets. Lint rollers or a lint brush are a great first line of defense against excess hair in the washing machine. Always clean as much loose pet hair as possible before washing your clothes to prevent plumbing trouble.
A lint roller or brush is inexpensive and usually the best way to remove dog hair from car carpets and seats or to get cat hair off the couch and loveseat. Keep one in the glove compartment if you have a pet you transport regularly.
To remove pet hair from clothes, lay your clothes on the bed or ironing board and go over them with your lint brush or lint roller. If you don't have a clothes brush, wrap some sticky tape around your hand for a similar effect – it works well in a crunch. Go a step further and pre-treat your clothes with an anti static spray for even less hassle in the future.
A lint brush can also be a helpful tool and it's reusable. Use a lint brush to get dog hair out of a car seat, carpeted stairs, clothes, or pet bed. When it's full, gather the fur and discard.
Pre-Treat with the Dryer
It's not advisable to use the washer to eliminate a lot of pet hair. It usually just clogs the machinery and will require a DIY washing machine cleaner for top loader or front load models. You'll likely have to clean front load washer gasket, too, to remove hair so the washer operates efficiently.
Unlike the washing machine, the dryer will help in the battle to remove cat hair from the laundry. To get pet hair out of the laundry or as a quick way to get cat hair out of blankets, pop your hairy clothes into the dryer for ten minutes on no-heat with some dryer sheets to get cat hair off the laundry. Any unwanted pet hair gets caught in the dryer's lint trap for removal instead of your pipes.
A dryer sheet or fabric softener is phenomenal at lubricating and loosening dirt and hair, as well as for getting static out of clothes. You can even dilute liquid fabric softener with water and spray upholstery. Using the dryer for animal hair not only prevents static cling but also helps extend the life of your washing machine.
How to Get Cat Hair Out of the Laundry with a Microfiber Cloth
Instead of agonizing about how to get cat hair out of the laundry, why not use a damp microfiber cloth to pull any stray hair right off your favorite clothes or as the way to get dog hair off couch?
Dampen a microfiber cloth and wipe your fabrics down before putting them in the washing machine. You'll be pleasantly surprised after the rinse cycle to see how little hair is clinging to your washer drum.
Other Methods to Remove Cat Hair from the Laundry
Here are some other helpful ideas to minimize the pet hair lurking on your laundry and household surfaces.
We hope you found these ideas for how to get cat hair out of the laundry helpful. Sometimes it feels like there's no end to dirt and pet fur; however, pet hair removal becomes more manageable and much less of a tiresome inconvenience with regular attention.
Our dear animal friends enhance the quality of our lives in so many ways. Pet fur is the price we pay for companionship, but you can tackle excess hair today for a happier tomorrow.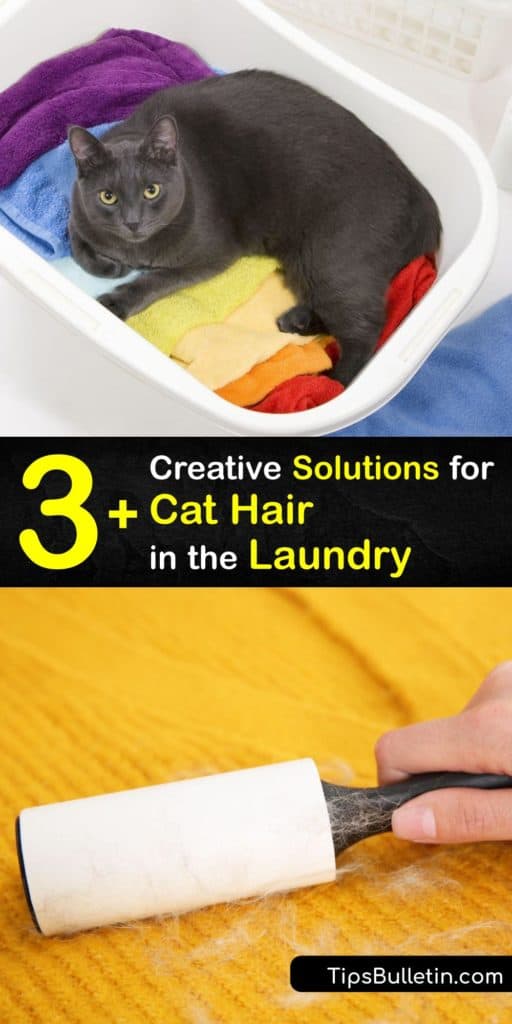 If you loved these tips for how to get cat hair out of the laundry, please share with your pet-loving friends on Pinterest or Facebook to help keep all clothes free of pet fur.