Cats are one of the most highly beloved pets, and for a good reason – felines are fairly easy to care for and provide companionship to many families. Foot odor alone is foul enough, but when your cat has an accident outside of the cat litter box and in your shoes, figuring out how to clean cat pee out of shoes is urgent. Many cat owners wonder how to get cat pee out of shoes.
Unfortunately, like most pets, pet stains and pet odor are some of the drawbacks, and the cat pee smell is even worse when it's in your shoes. Nobody wants to wear a smelly shoe.
Understand how to get cat pee out of leather boots with these simple solutions, whether you're dealing with cat pee odor or a pee stain too. Taking care of the cat pee odor has the bonus of removing sweat smell and any foot odor from your shoes.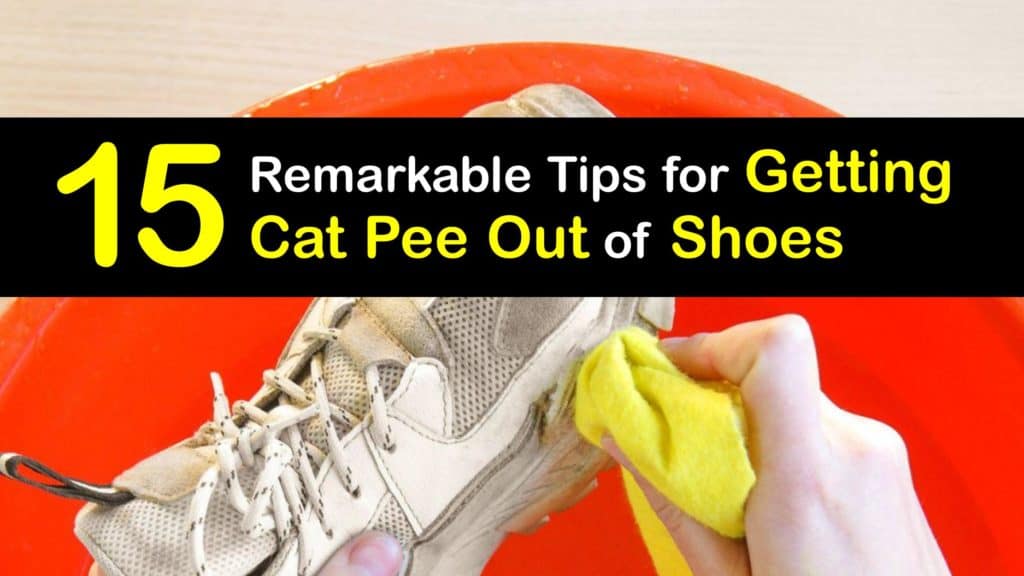 Easy Tips for How to Clean Cat Pee Out of Shoes
Removing a pee stain and cat urine smell from your shoes is straightforward and easily achieved with items you already have at home.
Cat urine odor is unpleasant and makes you appear unclean and unprofessional. It helps to investigate why your cat is having accidents outside the cat litter box and consult a veterinarian about a urinary tract infection. Finding the cause of the accidents and eliminating it avoids stress in the future.
If the awful ammonia smell of pet urine is your least favorite part of owning your pet, try these ideas to help you get the cat pee smell out of your footwear in your washing machine or by hand, using supplies you already have available.
How to Get Cat Pee Out of Shoes with Baking Soda
Discover how to get cat pee out of leather boots with baking soda, renowned for its multipurpose cleaning properties. Sprinkle some in your shoes, evenly coating the insoles, and let it sit overnight.
Sift the powder into a plastic baggie or onto newspaper in the morning, and the shoes are ready. Baking soda absorbs cat urine's foul odors, leaving shoes smelling fresh; use it to make handmade sneaker balls.
Snip the toes off the socks, fill them with two teaspoons of baking soda and glue them shut. Instead of sprinkling the powder, drop these easy-to-make baking soda sneaker balls into your cat pee smell shoes overnight.
How to Get Cat Pee Out of Leather Boots – DIY Odor Remover
Use pantry goods to make this very effective cleaning solution to erase the urine odor and help lift the urine stain. Thanks to the essential oils, this mixture smells great too.
Add the liquids to the sprayer bottle and shake the sprayer vigorously before misting the solution into the shoes, including the insoles. Make sure the deodorizer doesn't get on the outside of your shoes. After completely covering the inside surfaces, wipe them with a clean cloth or paper towels and let them air dry.
Cat Litter is a Great Absorbent
The moisture and ammonia smell caused by uric acid in pet urine are two things you don't want in your shoes. Thankfully, cat litter absorbs both from your shoes just like it does in the litter box, and if you're a cat parent, you probably already have this on hand. While serving as a shoe deodorizer and leaving your dirty shoe fresh, cat litter will eliminate the moisture odor-causing bacteria require to thrive.
Pour cat litter in the insides of your shoes, being sure to fill the full insoles. Leave the litter in your footwear overnight, throw it into the trash, and wipe them down with a damp cloth or a damp clean paper towel to enjoy odor-free footwear.
Remove Cat Pee from Shoes with Hydrogen Peroxide
Because of its antibacterial properties, hydrogen peroxide is a fantastic cleaning solution frequently substituted for vinegar. Hydrogen peroxide's only disadvantage is it may stain lighter-colored shoes, so proceed with care.
In a big jug or bucket, combine all of the ingredients to make this homemade cat urine cleaner. Scrub the urine spot with a soft-bristled brush or a washcloth after pouring the liquid directly on it. For optimal results, let the mixture remain overnight before rinsing thoroughly.
Use Borax to Get Cat Urine Out of Shoes
Borax is a powerful cleaner that works well to remove pet odors. Wash your shoes with a mild detergent in the machine or hand wash if they're leather. Once dry, sprinkle a tablespoon of Borax in each shoe and leave it to sit overnight. Vacuum out the powder and enjoy fresh and clean black shoes without that sharp smell of cat urine.
Enzymatic Cleaners are Made for Cat Pee Problems
To get rid of the odor of cat urine, you need more than simple soap and water. However, using an enzymatic cleaner is one of the simplest ways to get rid of cat pee odor. These cleaners use enzymes to eliminate organic stains and smells.
Most pet products sold at pet stores, particularly those designed to remove pet stains, contain an enzyme cleaner. Enzymatic cleaners are a non-toxic, pet-friendly option instead of harsh cleaning chemicals. Enzyme cleaners work well in shoes and are great for accidents in other areas like the carpet.
Of course, you can make your own DIY carpet cleaning solution for pet urine, too. Make an enzymatic cleaner or use hydrogen peroxide with water and baking soda.
Dryer Sheets have Multiple Uses
When dealing with stinky shoes, most of us have dryer sheets on hand, and they quickly remove the unpleasant odor. Get the cat urine stench out of your boots by heading to the laundry room.
After washing your shoes with antibacterial soap and rinsing them with cool water, put a dryer sheet inside the stinky boots and leave them there overnight to dry.
The dryer sheet serves as a shoe deodorizer, neutralizing foot odor and cat urine odor; remember to discard the dryer sheet before putting on your footwear. Use a dryer sheet when storing your shoes, and when you seal your shoe bag, toss a dryer sheet inside it to absorb odors with no effort.
Getting Cat Pee Out of Leather Boots with Teabags
If you're looking for a way to deodorize shoes after a cat urine accident and need a little help getting rid of cat urine smell, the kitchen is the place to go. A black tea bag helps you get rid of odors and restores the cleanliness of your smelly shoes.
Each black tea bag contains powerful tannins to fight microorganisms and eliminate odors from your shoes, including pet urine smell. After washing your shoes with antibacterial soap and warm water, boil water in a pot and add the teabag.
Remove the teabag from the boiling water after 2-3 minutes and set it aside to cool. Squeeze some liquid out of the teabag and place it inside your dirty shoe for an hour to deodorize naturally. After removing the teabag, mop up any residual liquid with a paper towel or clean cloth before allowing your boots to dry.
Apple Cider Vinegar Cleans Away Cat Urine
Apple cider vinegar's naturally acidic properties make it a fantastic solution to remove yellowing from shoes soles at home caused by cat urine The uric acid and bacteria on the shoes are eaten away by the apple cider vinegar, which masks the smell of cat urine. Make a natural cat urine cleanser quickly by combining apple cider with warm water.
Allow about five minutes for the cleaning solution to rest on the afflicted region of your shoes before pressing it with paper towels to soak up any moisture and carry away the odor.
How to Get Cat Pee Out of Shoes with Vinegar
Remove pet urine odors and ammonia smell from shoes with vinegar, a tried and proven cleaning remedy. It is a good choice for a green, non-toxic shoe cleaning because it handles intense odors like cat urine. Use apple cider vinegar or white vinegar, whichever you have on hand in your pantry.
To prepare this easy DIY cat urine cleanser, combine the ingredients in a spray bottle and mop up any excess pee before spraying with vinegar. Using the vinegar solution, saturate the area. Instead of mixing vinegar with water, use pure vinegar for extreme odors or to clean grass stains off shoes.
Once applied, gently rub the vinegar into the shoe, including the insoles. Rinse with cool water, dry the area with a clean cloth.
Rubbing Alcohol Eliminates Cat Pee from Leather Shoes
Rubbing alcohol works well as a deodorizer and disinfectant for shoes. Wash your soiled shoes with soap and warm water. To kill the bacteria in cat urine, spray the interior of the shoes with rubbing alcohol.
Allow the boots to air dry to eliminate the odor. Spritz your shoes frequently to prevent odors from returning. Although it's easy to get stains out of leather with rubbing alcohol, it may dehydrate leather, so be sure to condition leather shoes well after the moisture dries.
Use the Washing Machine
One easy cleaning method is to use the washer to clean the cat pee smell out of your shoes. Soak the shoes in white vinegar first to lift the pee odors. It helps to use an enzymatic cleaner to clean your clothes, which has the added benefit of eliminating sweat stains and foot smell.
Allow your shoes to sit for 30 minutes to an hour before washing them with a potent washing powder in the washing machine, following the laundering directions.
Cedarwood Chips and Oil
Cedarwood is a highly effective shoe deodorizer. Essential oils in cedar have antibacterial capabilities, which help to destroy odor-causing microorganisms in urine. Cedar essential oils also have antifungal characteristics, which help keep your shoe odor-free even when you sweat.
Add cedarwood chips to your shoes, being sure to fill the entire space. The wood chips absorb moisture from the urine and destroy the bacteria, leaving you with clean shoes.
Cedar mulch is ideal for cat problems outside. While it repels some bugs, it also keeps cats away from your house. Sprinkle some cedar chips in garden beds as one of the simplest home remedies to stop cats pooping in your yard and garden. The animals find the odor of cedar distasteful.
Steam Cleaning to Remove Urine Smells
Steam cleaning is often disregarded while removing pet urine odor from dirty shoes. Steam cleaners are inexpensive, effective at eliminating odors, and gentle on most fabrics.
These portable machines use heat to remove hazardous chemicals and unwanted germs, killing 99 percent of odor-causing bacteria. The device is environmentally friendly and may be used to clean various items suffering from cat pee smell around the house, not just your shoes.
Denture Tablets Clean Cat Pee Out of Shoes
Denture pills are quickly gaining favor as a great all-purpose cleaner, and they're great for getting rid of odors like pet urine from shoes. Fill a bucket or sink with some warm water and a couple of pills, then soak your stinky shoes overnight.
Wash the shoes in the washing machine to remove the pee smell. Denture pills include potent antibacterial chemicals to eliminate pet scents, and the effervescent action penetrates deep into the fabric to kill bacteria beneath the surface.
Essential Oils Get Cat Pee Out of Shoes
Essential oils have a strong scent and effectively disguise an undesirable odor like cat pee. Like tea tree oil, many essential oils have antimicrobial qualities to aid odor elimination and masking.
For this easy DIY cat odor remover, combine an essential oil and water in a spray bottle. Spray the insides of the shoe with the mixture and let it sit for a few minutes. To keep odor at bay, spray the shoes frequently. For fresh shoes, always put a few drops on a cotton ball or clean cloth and shove them in your shoe overnight.
Note: When using essential oil around cats, exercise caution. Many essential oils, including often-used tea tree oil, are harmful to a pet's health.
Cat urine odor or pee smell ruins your favorite shoe or leather boots. Understanding ammonia smell is due to uric acid and odor-causing bacteria that thrive in moisture makes it easy to know how to clean cat pee out of shoes.
Choose an easy odor eliminator method based on available supplies and how much time you want to take, and easily remove the pet urine smell.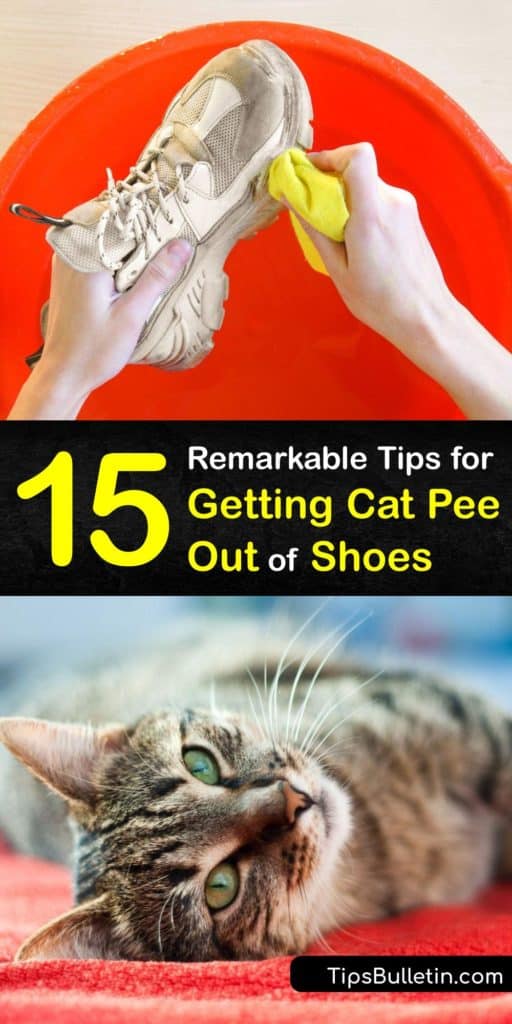 If you loved this article on how to get cat pee out of shoes, please share these valuable tips on how to clean cat pee out of shoes with your family and friends on Pinterest and Facebook.