Whether you have a new kitten or you're a long-time cat owner, everyone with a feline companion is tasked with getting cat urine smell out of clothing. Unaltered male cats may engage in scent marking behavior, and young kittens experience confusion about the correct place to potty indoors. Understanding how to get cat pee smell out of clothes makes cat ownership much smoother.
Sometimes tensions in the home, illness, or a change in the environment cause your once well-trained kitty to seek alternative bathroom accommodations. It's upsetting to grab your clothing for the day only to be greeted with the awful smell of cat pee. Worse yet is leaving the house and only realizing away from home that your outfit carries an unpleasant odor.
Aside from dry cleaning and harsh chemical products, many everyday items are perfect for getting cat pee out of your clothes. Explore how to remove urine smell from clothes with simple things, and never worry again about embarrassing odors on your garments from your pet.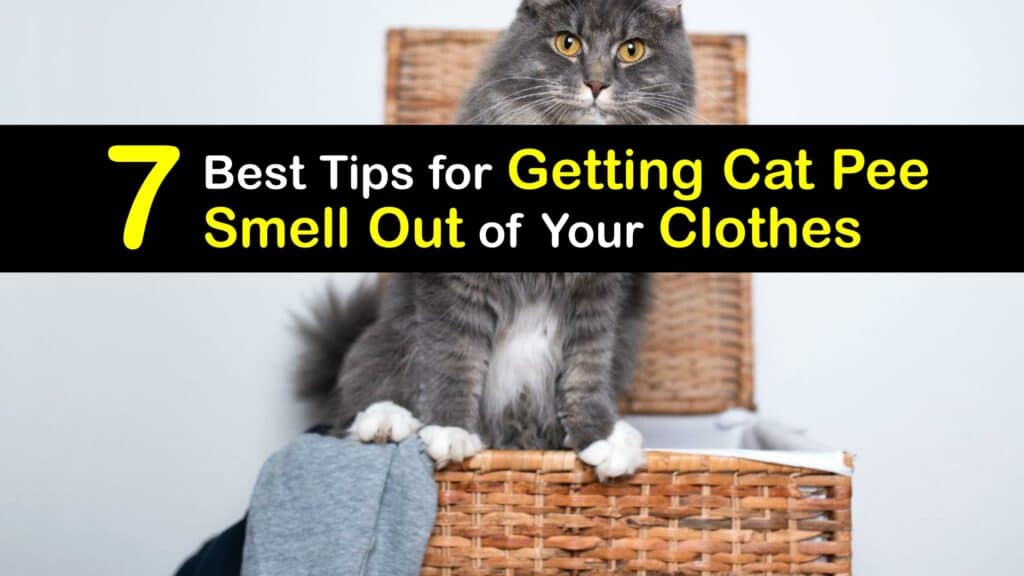 Getting Cat Urine Smell Out of Clothing
Every cat owner has wondered how to get cat pee smell out of clothes. Learning how to remove cat urine smell from clothes is one of the learning curves of owning a feline. Despite best efforts, your cats urine will likely end up somewhere you don't want it.
Getting cat urine smell out of clothing may feel daunting, thanks to the pungent stench. Cat pee contains high levels of uric acid, which account for the strong urine odor and the persistence of the smell.
Fortunately, it's easy to become a pro at using at-home methods of restoring your clothes to cleanliness after your feline friend urinates on them.
How to Get Cat Pee Smell Out of Clothes with White Vinegar
White vinegar is the answer when your clothes have a persistent cat urine odor, whether you need to remove cat urine smell from a mattress or your favorite outfit. Distilled white vinegar is brilliant for cleaning, deodorizing, and refreshing clothing. The slight natural acidity of the vinegar means it effectively breaks down urine and its stench-causing molecules without damaging your clothes.
Use a large container or a five-gallon bucket to soak your clothes in distilled white vinegar overnight to allow the liquid to penetrate deep into the material and draw out lingering urine.
Follow the same process to remove mothball odor from clothing or to eliminate moldy smell in towels. Wring your clothes out in the morning and launder them in the washing machine with your favorite detergent for a fresh outfit.
How to Remove Cat Urine Smell from Clothes with a DIY Odor Remover
When the worst happens, and your cat pees on your clothes, whip up a batch of this simple and natural cat pee remover to get rid of the smell and the stain quickly. Tea tree oil has antibacterial properties that leave your pants smelling great, while distilled vinegar is a heavy-hitter in stain and odor eradication. Using essential oils to remove cat urine odor is a popular choice for those who don't like the smell of vinegar.
Clean the urine from your clothes using soap and water, or run them through the washing machine. Lay them flat, add the ingredients to a spray bottle, shake well, and spray the stain thoroughly. Let the spray dry on your clothes naturally, and repeat if necessary.
Concentrated Laundry Detergent Will Get Rid of Cat Pee Smell in Clothes
A typical wash cycle is sometimes not enough to tackle stubborn cat pee odor or a cat urine stain. If conventional laundering fails, try using your regular laundry detergent in a more concentrated manner to eliminate stubborn stains and odors.
Lay your clothes flat, apply a generous amount of laundry detergent to the urine stain, and gently use a wet sponge or brush to scrub the material. After working the detergent in, let it stand for five to ten minutes, and rinse well with warm water. Repeat as required until there's no sight or scent of the cat's urine.
Try Baking Soda for Removing Cat Urine Smell from Clothing
Baking soda is a renowned cleaner and deodorizer with many applications. A baking soda treatment is ideal for lifting an old urine stain or dealing with fresh pet urine on your clothes.
As soon as you notice the accident, use a paper towel to absorb as much moisture as possible, and make a simple baking soda paste to deodorize and clean the soiled area.
To make a simple DIY cat pee cleaner, blend the powder and water in a small bowl until you have a thick baking soda paste, and apply it liberally to the wet part of your clothes. Leave the paste on the garment for at least an hour, ideally overnight, rinse it off in the morning, and wash it in the washing machine on a regular cycle.
Though baking soda is a fantastic deodorizer, it has the potential to lighten dark colors. If you're unsure about the suitability of baking soda for your jacket, test a small patch first to ensure no brightening or discoloration occurs.
Baking soda works well to remove cat urine smell from wood, as well. Sprinkle baking soda on the stain and let it sit for several hours to soak up liquid and odor. Vacuum or sweep up the powder.
Get Cat Pee Smell Out of Fabric with Oxygen Bleach
Oxygen bleach is well known for removing the toughest stains and odors, including cat pee smell, without being hard on your clothes. When blended with water, oxygen bleach releases hundreds of tiny oxygen bubbles that penetrate deep into your garments to loosen and eliminate the cat odor at its source.
Oxygen bleach brightens dull areas, including those yellowed by pet urine. For dark-colored items, be sure to use color-safe oxygen bleach, which won't lighten or fade the color of your clothes.
An Enzyme Cleaner Eliminates Cat Urine Smell from Fabric
Enzymatic cleaners break down the uric acid and smell-causing components of animal urine and those in pet odor to leave your home clean and fresh. Most pet stores have a wide range of enzymatic cleaners to choose from.
An enzyme cleaner uses the natural process of an enzyme breaking down a substrate to neutralize odor and remove a stain, rather than relying on bleaching and other harsh chemical processes. Utilize the enzyme cleaner per the label to get the best results.
Cat Litter is Excellent for Cleaning Cat Pee
Cat litter is designed to soak up pet urine in the litter box. Though it might seem unconventional, its unique properties make cat litter a valuable tool for removing a urine stain or smell from your clothes or shoes.
Spread a generous layer of your cat's litter over the urine-stained area of your clothes, or sprinkle it inside your shoes if they've been urinated on. The granules of the litter efficiently absorb excess liquid, drawing it out of the fabric while neutralizing the scent to make clean-up simple.
Let the litter sit for an hour, brush it into the trash and run your clothes or shoes through the washing machine on an appropriate cycle.
Whether you have a scent-marking male cat or a female cat who's having potty accidents, the smell of pet urine is overwhelming. While cleaning other surfaces seems more straightforward, a carpet cleaner quickly takes care of carpet cleaning; removing the stench from your garments might seem challenging.
Chemical cleaners are abrasive to your clothes. Next time you get cat urine on your favorite pants or shirt, try an easy DIY technique to eradicate the smell without causing fading.
If you loved this article on how to get cat pee smell out of clothes, please share these brilliant tips on getting cat urine smell out of clothing with your friends and family on Pinterest and Facebook.