Are you eager to find hacks for how to get ChapStick out of clothes? Lip balm is a lifesaver for dry, cracking lips and a daily staple. Keeping a tube of lip balm in your pocket means you're always prepared to treat your lips, yet if you smear it on your clothes or wash it by accident, it leaves a stubborn stain.
ChapStick is a waxy, oily substance formed into a semi-solid tube for easy application. Wax stains smear onto fabric fibers, adhering to them, and drying, making them tricky to lift. Fortunately, there are some clever tips for how to remove ChapStick from clothing to make the process painless.
Clothes with lip balm marks or lipstick streaks make you seem untidy and ruin the impression you give. Explore the best remedies for getting ChapStick out of clothing to ensure you're prepared and comfortable yet able to deal with accidents with your lip balm so it doesn't ruin your attire.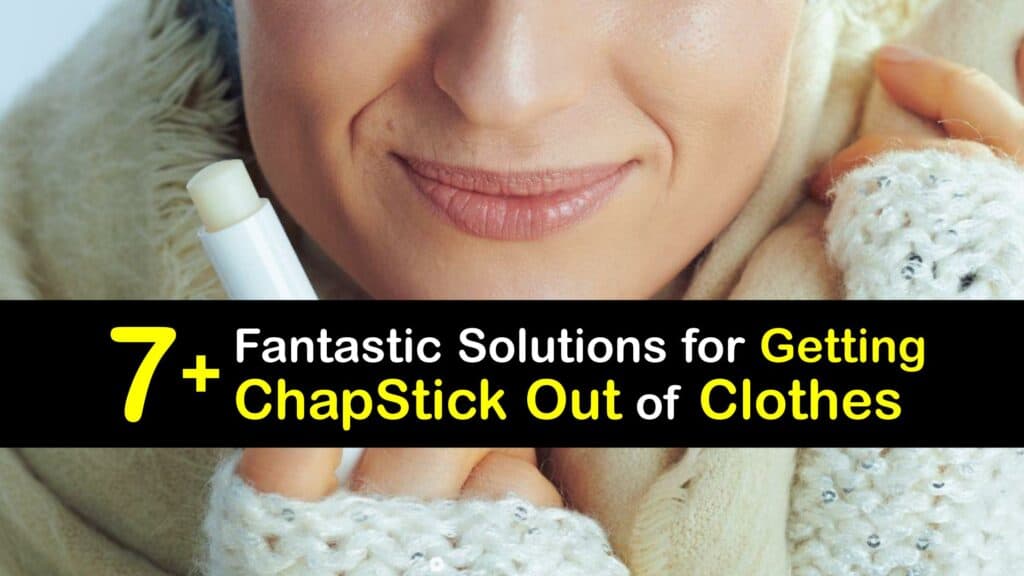 How to Remove ChapStick From Clothing
If you accidentally put your clothes in the dryer with a tube in the pocket, it's time to figure out ways to get ChapStick off white clothing. Though it's tough to wipe up, lip balm comes out readily with the correct information and tools.
Getting ChapStick out of clothing doesn't have to be tedious, but using the wrong method risks rubbing the ChapStick residue deeper into your garment. Rely on tried and tested ChapStick removal techniques to make the clean-up painless.
Can You Save Lip Balm Stain Clothes?
We've all squeezed too much lip balm out of the container and accidentally left a greasy mess on our shirts. Or, you left your jeans in the backseat of your vehicle on a scorching day while your chapstick was in the pocket, and they were discolored and covered in waxy residue.
Whatever the case, if lipstick stains find their way onto your clothing, it's upsetting. Lip balms like ChapStick, Burt's Bees, and others have waxes, pigments, and semi-solid oils. These substances cling to the threads of your beloved sweater, similar to an oil stain.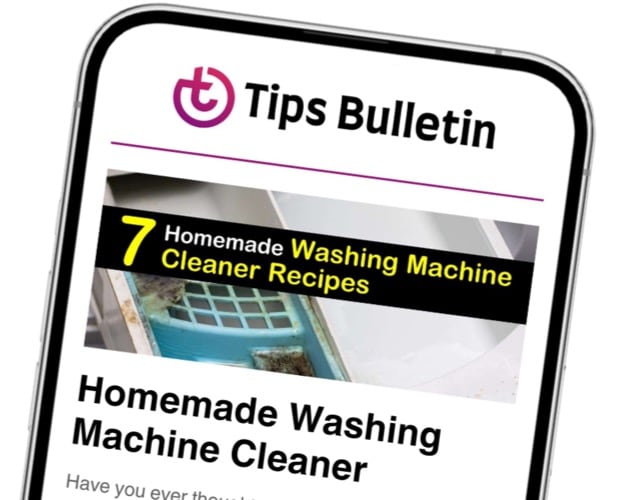 Finally, an email that Transforms Your Home.
Get the latest home and garden tips from our experts, delivered straight to your inbox.
Once lip balm melts, it seeps through clothing and leaves behind oily stains that require the proper removal tools. The good news is a garment with ChapStick or Vaseline stains is salvageable with a suitable stain remover.
Never toss your clothes with lip balm on them into the wash. The substance melts off and adheres to the inside of your washer drum and dryer drum. Instead, use one of our tricks to spot clean before laundering.
Preparing to Clean a ChapStick Stain
Before spot cleaning your stained garment, it's wise to eliminate as much ChapStick as possible to make cleaning less challenging. Carefully use a paper towel to pick up chunks of lip balm from the fabric. Focus on not spreading the mess or pressing it deeper into the stained area.
Lay the article of clothing on a flat surface, such as a countertop, and use a butter knife, spoon, or even the edge of an old plastic card to scrape up the ChapStick. You can also use this method to scrape waxy chewing gum off clothing when this other sticky mess occurs.
Pull the fabric taut between your fingers and work methodically from one side of the wax spot to the other, gathering as much as you can. With the bulk of the lip balm cleared, use a technique from the list below to address the remaining blemish.
How to Get ChapStick Out of Clothes
Dish soap won't wear or damage your treasured sweater because it is mild on fabric while tough on greasy streaks for removing ChapStick from clothing. Most people reach for Dawn dish soap when they think of clearing up a greasy stain.
Dish soap is the best stain removal item to remove lip balm or blood stains from your clothes, although it is typically used on plates, silverware, pots, and pans. If you want to remove the ChapStick from your clothes quickly, try Dawn soap as a pretreatment.
Using a moist paper towel or soft-bristled brush, apply two teaspoons of liquid detergent to the lipstick. Let the liquid dish soap stay on the item for up to five minutes, and rinse it with hot water. Dish soap should be reapplied, rinsed many times until no lip balm is visible, then machine washed.
Getting ChapStick Out of Clothing
Rubbing alcohol is a standard option to get white deodorant and ChapStick stains off clothing because of its gentle solvent properties. Like dry cleaning solvent, rubbing alcohol breaks down the bonds binding lip balm to apparel. Although it frequently sits in the first aid box, rubbing alcohol performs several cleaning and laundry tasks.
Press the lip balm stain with a clean cloth thoroughly soaked in rubbing alcohol. Instead of rubbing at the wax, use a dabbing or pushing motion. Scrubbing and using heavy pressure tends to spill and spread the ChapStick.
Wait ten minutes, rinse off the alcohol-treated spot with warm water and soap, and inspect the cloth. If the ChapStick is gone, launder it. If the splotch is still visible, repeat the cleaning.
White Vinegar Lifts Melted Lip Balm
ChapStick is a stubborn stain, but a distilled white vinegar soak swiftly removes it from the fabric. White vinegar is renowned for eliminating difficult marks like dye stains from textiles. The lip balm's oil loosens after soaking it in white vinegar. The remaining grease comes out in the washing machine along with the vinegar.
Measure and pour hot water and distilled white vinegar to create a soak in a large bucket or laundry basin. White vinegar instantly begins to break down the oil stain without affecting the clothes fabric.
After soaking the clothing for at least 30 minutes, check the blemish. If you still see ChapStick after soaking and rinsing, repeat the process. Wash your shirt in the washing machine and dry it as directed.
Concentrated Laundry Detergent Will Remove Stains
It's widely accepted that liquid laundry detergent is an excellent stain remover; it works even better when used as a concentrate. Though you can't throw your lip balm-stained clothes in the washer, there's still a way to take advantage of laundry detergent's cleaning power.
Apply plenty of liquid washing detergent to the stain. Heavy-duty detergents operate quicker on greasy and waxy spots than milder detergents with fabric softeners. Use an old toothbrush or a clothes brush to gently press the detergent into the ChapStick and fully penetrate the fabric. Give it 20 to 30 minutes to sit.
Put the clothes through a complete wash cycle in hot water. Check the area to ensure the lip balm has vanished, and repeat the cleaning if needed. Any oily streaks left on the fabric after putting it in the dryer are permanently fixed by the heat. Once the mark disappears, your garments are safe to dry.
Baking Soda Soaks Up Melted ChapStick
Baking soda is the answer if you need to get ChapStick stains out of washed clothes. It's distressing to run your clothing through the wash with lip balm in the pocket and unload it to find grease spots everywhere.
Lay your clothes on a flat table, scrape ChapStick with a spoon, and cover the splotches in baking soda. Baking soda absorbs oil, lifting it from your clothes. Allow the powder to sit on the fabric for an hour, shake it off and inspect the material. If signs of lip balm persist, mix a baking soda cleaning paste.
Blend the baking soda and water and use the clothes brush to work the paste into the garment. Rest the baking soda on the lipstick blemishes for an hour, and rinse with warm water. Launder and dry your apparel as directed on the care label.
Commercial Grease Stain Removers
If you're not ready to try a home remedy to get the ChapStick off your clothes, check the laundry aisle or the hardware store for a store-bought option. A vast range of commercial cleaners for waxy, oily, and greasy stains exist.
Be sure to look for a product marked as safe for the fabric with natural ingredients. Grab Goo Gone or something comparable and use it according to the manufacturer's directions to get an optimum result.
Was this article on how to remove ChapStick from clothing enlightening? Many people rely on ChapStick to keep their lips in good condition and avoid discomfort through the drier months.
Don't let fear of ruining your clothes stop you from taking care of yourself. Learn the best tips for getting lip balm off clothes and use your ChapStick confidently, knowing you're prepared to handle an accident.
If you loved this helpful article on how to get ChapStick out of clothes, please share it with your friends and family who are getting ChapStick out of clothing on Pinterest and Facebook.