Getting chocolate ice cream stains out can be simple.
Act quickly with cold water to prevent the stain from setting.
Blot the stain gently with a paper towel without rubbing it in.
Apply a mix of dish soap and water to attack the grease and proteins.
Use vinegar and water as a natural, cost-effective stain remover.
If the fabric allows, wash the item using enzyme detergent for thorough cleaning.
First, you want to immediately rinse the stain with cold water; this helps prevent the proteins in ice cream from bonding with the fabric. Next, blot the area with a paper towel to absorb excess ice cream, but be sure not to rub it deeper into the material. Create a solution of dish soap and water and spray or dab it onto the stain. The dish soap is formulated to break down fats and proteins, making it ideal for tackling chocolate ice cream stains.
For a natural alternative, mix equal parts of vinegar and water and apply it to the stain. It's an affordable and effective method that harnesses vinegar's ability to break down proteins. If possible, wash your garment with an enzyme detergent, which targets protein-based stains and helps lift them off during a laundry cycle. Following these steps can effectively remove chocolate ice cream stains quickly, easily, and cheaply.
Hot summer days and drippy, delicious ice cream cones are a match made in heaven for most Americans. The trouble is, ice cream doesn't last long at room temperature, and it only takes a few minutes before your hands, face, and clothes are covered. Discover how to get chocolate ice cream out of clothes and carpets with incredible how-to tutorials.
We all scream for ice cream; almost every country has its own version of this old-fashioned treat. From Italian gelato and Japanese mochi to Indian kulfi and Alaskan akutaq, ice cream remains incredibly popular worldwide. We might never know ice cream's origins, but many scholars believe modern ice cream appeared in the Americas with early European settlers in the 1700s.
The first commercial ice cream parlor opened in New York in 1790. Since then, America has become the second-largest ice cream consumer in the world, following closely behind New Zealand. About 9% of all American dairy cow milk goes to make ice cream; stain-fighting tips for dairy-based drips and dribbles is an absolute must. Read on for some interesting ice cream information and legitimate laundry tips.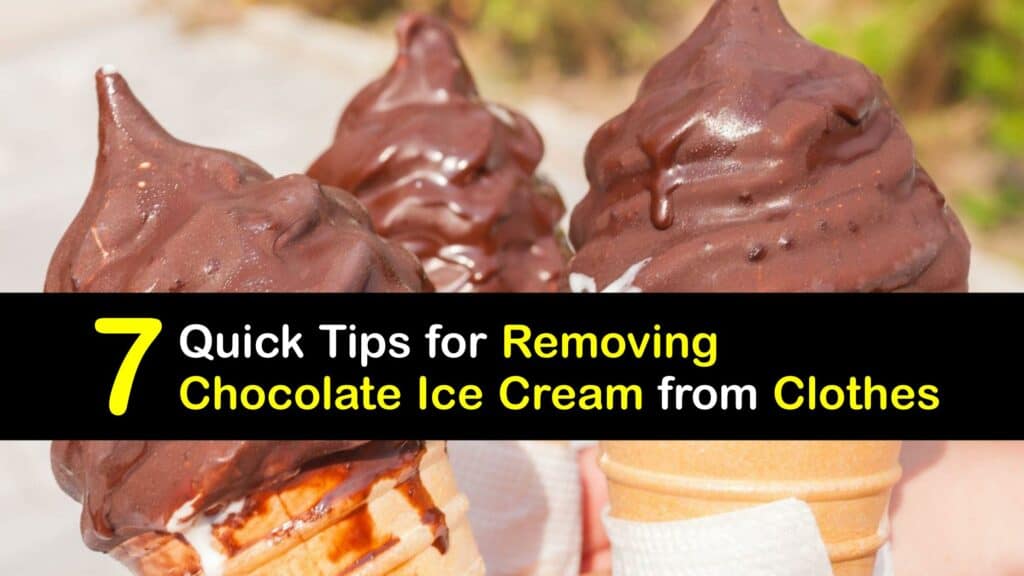 How to Remove Chocolate Ice Cream Stains From Fabric
Dairy stains like chocolate milk, ice cream, and yogurt contain fat, proteins, oils, and tannins. Milk is an animal secretion, and these types of stains leave a protein-based discoloration behind on clothing and fabric, even after a run through the washing machine.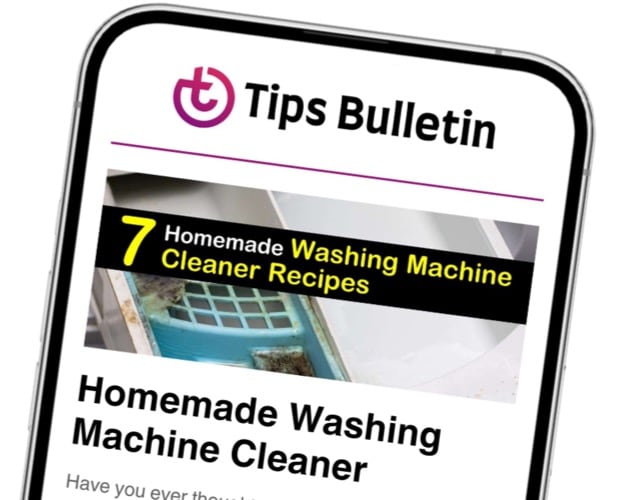 Finally, an email that Transforms Your Home.
Get the latest home and garden tips from our experts, delivered straight to your inbox.
Learn how to master ice cream stains so you can get back to making summertime memories and sampling any dairy dessert your heart desires.
Rinse the Ice Cream as Soon as Possible
Does chocolate ice cream come out of clothes? Acting quickly increases your chances of successful ice cream stain removal. Untreated dairy stains start to smell sour if left to set. If an unexpected ice cream spill occurs, dash for the cold water as soon as possible.
Ice cream is a protein-based stain, so cold or cool water is ideal. Warm water tends to set the chocolate stain, making it impossible to eliminate. First, gently blot the excess chocolate away with a damp paper towel, careful not to ground the stain into the fabric.
Remove your clothing and turn it inside out. Flush with cold water from the back to the front to help push the ice cream out of the fibers. Check the tag on your clothes for special care instructions, and use the washing machine if safe.
How to Get Chocolate Ice Cream Out of Clothes
You don't need to run out and spend money on expensive cleaners and harsh detergent. A dab of dish soap is often enough to successfully loosen a chocolate ice cream stain for easy removal in the washing machine. Discover quick ways to remove spilled coffee from clothes and chocolate ice cream stains from fabric with liquid dish soap.
Fill a new or repurposed spray bottle with two cups of cold water and a teaspoon of gentle dish soap; substitute liquid laundry detergent if you prefer. Flush the ice cream stain with cool water, and spray the stained area thoroughly with the dish soap mixture.
Use a clean cloth or a paper towel to blot away the chocolate ice cream stains from your clothes; rinse and wash as usual.
Getting Chocolate Ice Cream Out of Clothes
Not all stain removal products are created equal; it's a matter of finding the best solution for the specific stain. Getting chocolate and strawberry ice cream stains off clothing and fabric is much easier with a deep soak in a sink full of enzyme detergent.
Ice cream stain removal requires ingredients that break down protein in washable fabric; enter enzymatic cleaners and detergent. Prewash stains with an enzyme detergent and soak them for 30 minutes before using the washing machine. Try a color-safe oxygenated bleach if you're struggling to remove stains from clothes and fabrics.
How to Remove Set-In Chocolate Ice Cream Stains From Fabric
Removing chocolate ice cream from clothing after it has dried is a challenge. However, ice cream's not impossible if you follow some tips for removing chocolate stains. Scrape off dried ice cream stains with a butter knife or flat edge.
Soak the item in cold water to loosen the old stain. Use a pretreatment like an enzyme detergent or our dish soap tutorial to break up the ice cream stain. Run your clothes through the wash cycle and admire the results.
Make a DIY Stain Remover for Ice Cream
Vinegar is a versatile stain remover with many uses around the house. It's a great option for getting dark stains off your clothes without liquid detergent. Distilled white vinegar helps with protein-based problems like a grass stain or chocolate ice cream. It even breaks up more challenging compounds like nail polish.
Follow the best laundry tips for how to get ice cream out of clothes with a DIY vinegar-based stain remover.
Vinegar is an inexpensive, non-toxic way to deal with germs and certain bacteria. Vinegar's acetic makeup means it's great at breaking up stains and making things uncomfortable for germs. While vinegar might not work on everything, many recommend it for stubborn ice cream stains.
Choose a spray bottle, and fill it with vinegar and cold water. Shake the bottle and spray directly onto each stubborn stain. Leave the vinegar for ten or 15 minutes, and flush with water. Always check your clothing tags for proper care information, and test the vinegar on a hidden area first.
How to Get Ice Cream Stains Out of Carpets and Upholstery
Knowing how to remove chocolate ice cream stains from fabric, carpet, and upholstery is a huge plus, especially if you have ice cream-loving children. Tackling any tough stain caused by melting ice cream is best done immediately, so waiting for a carpet cleaning isn't always an option.
Try dish detergent for tough chocolate ice cream stains on the carpet and upholstery. It seems deceptively simple, but you don't need anything harsh that will strip the color out of your living room carpet. Avoid hydrogen peroxide, bleach, and concentrated lemon juice, as these compounds might cause white or yellow patches.
Remove any excess chocolate ice cream with a slightly damp paper towel. Blot softly, and don't overdo it with heavy pressure. Wet a sponge with your dish detergent mixture, and start soaking the chocolate out of the carpet. Use the clean cloth to deal with excess water on the rug, and continue until the stain lifts completely.
Try a Local Dry Cleaner for Ice Cream Stains
Getting chocolate ice cream out of clothes is always easier with a bit of expert advice, especially for expensive designer clothes and certain fabrics like satin, lace, silk, or chiffon. Maybe you've spilled ice cream on your bridal gown or stained an expensive wool sweater.
No matter the ice cream issue, your local dry cleaner has the skills to refresh and revive almost any piece in your closet. When in doubt, get a dry clean estimate.
We hope you liked our hot tips for how to get chocolate ice cream out of clothes, carpets, and other fabrics. Remember, chocolate ice cream contains dairy, which leaves stubborn protein-based stains that adhere to materials and fibers. These stains are treatable with these tips and tricks.
Act fast when it comes to protein-based dairy stains from chocolate milk, ice cream, or yogurt. Keep the ice cream stain from spreading by soaking it with a damp paper towel or a clean cloth. Try a simple dish soap and water mixture, which should do the trick.
Try vinegar for stubborn stains, or incorporate an enzymatic detergent into your laundry routine. Always check your clothing tags to ensure you follow the manufacturer's instructions for proper care. Don't be afraid to call your local professional dry cleaner for delicate clothing or special occasion items.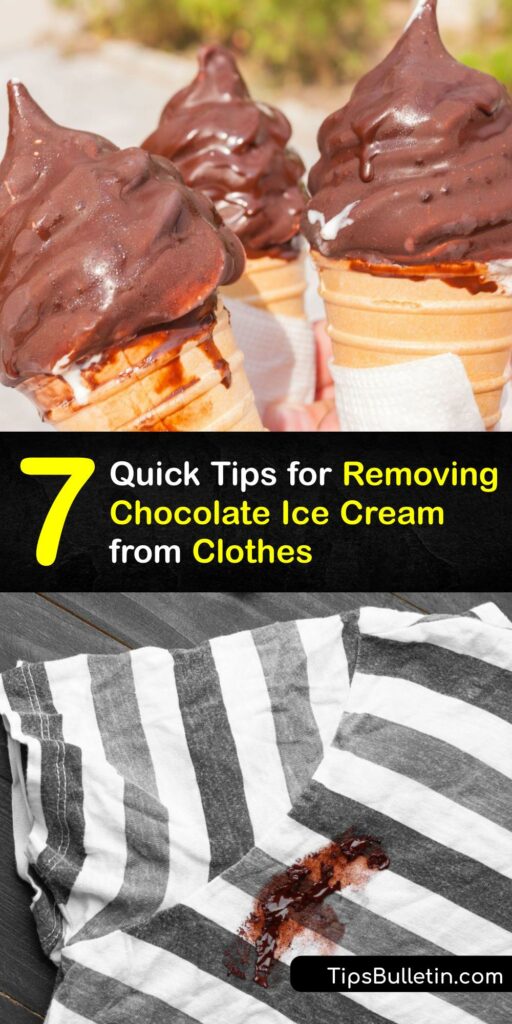 If you enjoyed these tutorials about how to get chocolate ice cream out of clothes, share them with friends on Pinterest or Facebook who love chocolate ice cream and clever laundry tips.