It may seem perplexing to figure out how to get cigarette smell out of furniture. Smoke has a lingering scent and loves to stick around long after the cigarette has been put out, especially in fabrics and even on solid surfaces like wood. In an enclosed environment like your house, only a minuscule amount of smoke is necessary to produce a noticeable odor.
If you smoke or have a visitor who smokes, you probably want to learn how to remove cigarette smell from wood furniture. Thankfully, getting cigarette smell out of furniture isn't difficult with the right equipment and knowledge. Baking soda, coffee grinds, and activated charcoal are excellent DIY odor eliminators if you're short on time and want a less time-consuming solution.
To thoroughly clean your hardwood furniture and remove the smell of smoke, forego costly cleaning chemicals and instead create your own deodorizing sprays using inexpensive ingredients like distilled white vinegar.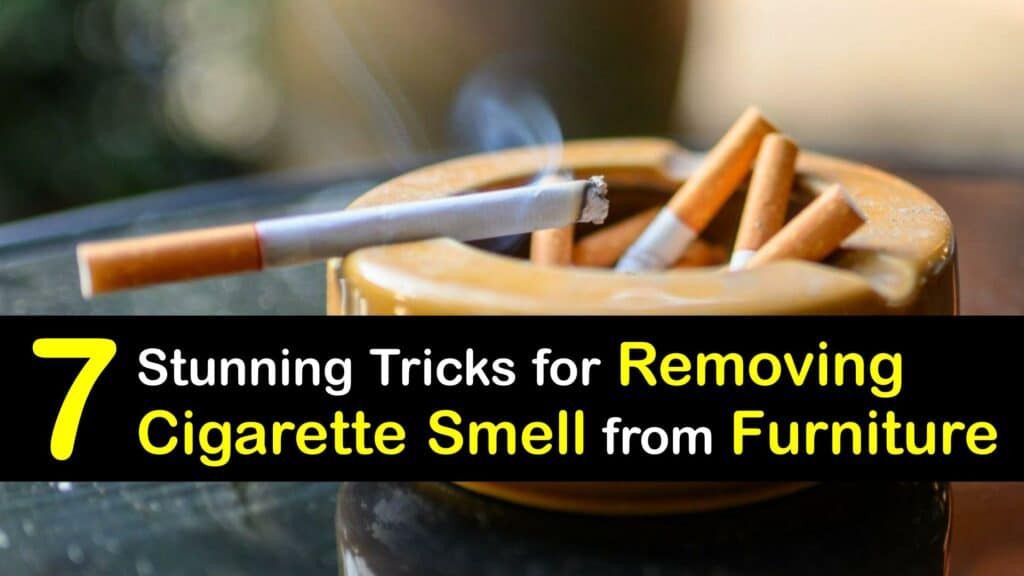 How to Remove Cigarette Smell From Wood Furniture
There are many reasons to learn how to get cigarette smell out of furniture or for getting fire smoke smell out of a house. When visitors smoke in your house, or you purchase furniture from a smoker, the smell of cigarette smoke clings to the wood grain even if you don't smoke.
Wood furniture makes your home look classy and stylish, but getting smoke smell out of furniture can seem daunting. Unlike clothing or fabrics, you can't throw your wooden table in the washing machine to remove the smoke odor.
Instead, use simple tips and tricks to oust the smoke odor and enjoy your wooden pieces without the unpleasant smell.
Is Getting Cigarette Smell Out of Furniture Possible?
While many people are familiar with secondhand smoke, or smoke particles in the air, few know about thirdhand smoke. Cigarette smoke molecules settle on indoor surfaces like upholstery, becoming thirdhand smoke.
In addition to causing smoke damage, this indoor smoke residue has an unpleasant odor and reduces the air quality in your home. While removing cigarette odor from fabrics is straightforward through laundering and carpet cleaning, removing them from wood is more challenging.
Fortunately, it is possible to eliminate the lingering odor from your wood furniture and restore your home's welcoming aroma.
How to Get Cigarette Smell Out of Furniture
One of the best ways to deal with a lingering stench on your wood furniture is to use baking soda, an odor eater that sucks foul odors into itself for effortless disposal. This white powder is a valuable tool to remove an offensive odor from wood objects and has numerous uses in cleaning and deodorizing.
Lightly cover wooden tables and chairs with baking soda powder and your couch if your fabric sofa smells musty or reeks of tobacco odor. To freshen up a couch, let the powder rest overnight to soak up the foul smoky smell to keep your wood smelling fresh. In the morning, sweep or vacuum it away.
Get Cigarette Smell Out of Wood Furniture Quickly
In contrast to commercial smoke odor removers, a white vinegar solution is organic, safe, and free of risky chemicals or unknown additives. Because of its slightly acidic pH, distilled white vinegar dissolves smoke particles while cleaning and sanitizing wooden surfaces.
Hot water and white vinegar make a low-cost, convenient cleaning spray for removing the smell of cigarettes and smoke stains from wood items. Make your own couch deodorizer spray the same way. Use care on delicate fabrics – test a small spot first.
Shake the ingredients in the spray canister and spritz for light, even coverage on all your wood furniture, then wipe with a soft cloth. This spray also makes an excellent leather cleaner and deodorizer and will remove smoke smell from old leather furniture as well as newer items.
Always test a white vinegar solution in a hidden spot before using it on all of your furniture. If you dislike the vinegar smell, consider adding a few drops of essential oil for a more pleasant aroma.
If you need to start cleaning sticky nicotine residue from ceilings and walls, this spray works just as well for this application. Spray, let it sit for a few minutes, and wipe away. Repeat as needed.
Since vinegar is so useful for cleaning and odor removal around the house, deep clean white plastic chairs with this solution, too. Mix a double batch if needed, spray liberally, scrub stains, and rinse with the hose.
White distilled vinegar is also the most effective solution to get smoke smells out of fabric and clothing. Discover more ways to get cigarette smell out of clothes to eliminate these nasty odors all around your home.
Removing Cigarette Smoke From Wood Furniture Fast
Due to its enormous surface area, activated charcoal is renowned as an excellent natural air filter. Place small mesh baggies filled with a couple of teaspoons of activated charcoal on and under your wood furniture and anywhere smoke smell is an issue.
The surface area of a single teaspoon of activated charcoal powder is equivalent to a football field. All this space is used for odor removal to absorb smoke from the air and wood grain. Getting smoke smell out of the carpet is easy using the same strategy. Put the used activated charcoal powder in the trash and refill with fresh when you note the effectiveness starting to wane.
Use Essential Oil to Erase a Cigarette Smoke Smell
If you don't have the time to clean your wood furniture, an air freshener is ideal for covering smoke odor in this and fabrics or the air in your home. Though dozens of chemical air fresheners are for sale, most contain toxic substances and harmful propellants.
It's better for your family's health and the environment to make your own air freshener with non-toxic essential oils. Choose your favorite fragrance or combine several to create a unique scent for your home.
Add the liquids to the spray can and shake to blend the essential oils and warm water before spraying into the air and around your wood furniture to erase the unpleasant smell.
Add several drops of essential oil to a cotton ball and clip it to a car vent to deal with cigarette smell in car vents and hide the unpleasant odor. Add more drops of oil as needed for a fresh-smelling vehicle.
Coffee Grounds Erase Cigarette Smoke Odor
Although coffee grounds are best recognized for producing a tasty hot beverage, they are also an ideal technique to remove odors like cigarette smoke. Coffee grounds are an easy and cost-effective solution to get rid of the smoke smell from hardwood furniture without going to the hardware shop or buying expensive tools.
Put a few tablespoons of dry coffee grounds in tiny mesh bags, scatter grounds on your furniture directly, or put small containers of grinds around the smelly items. Let them sit overnight. Remove and vacuum all grinds in the morning so your wood smells rich and pleasant rather than bitter cigarettes.
An Air Purifier is a Smoke Odor Eliminator
Air purifiers are electronic devices that remove odor molecules like cigarette smoke from the room, so your furniture is surrounded by fresh air. Good ventilation allows your wooden furniture to air out and releases the lingering smell.
An air purifier keeps smoke particles from circulating and settling on other surfaces. Set up your air purifier and run it according to the manufacturer's instructions. For the best results, combine an air purifier with another cleaning method.
Learning how to remove cigarette smell from wood furniture helps improve the air quality in your home and ensures your wood furniture is pleasant to sit on and interact with.
Smoke is a stubborn odor, and its unpleasant stench sinks into fabrics and wood, lingering long after the cigarette causing it has been put out. Select the most convenient remedy based on the ingredients you have and the time you plan to spend eradicating the smoke smell.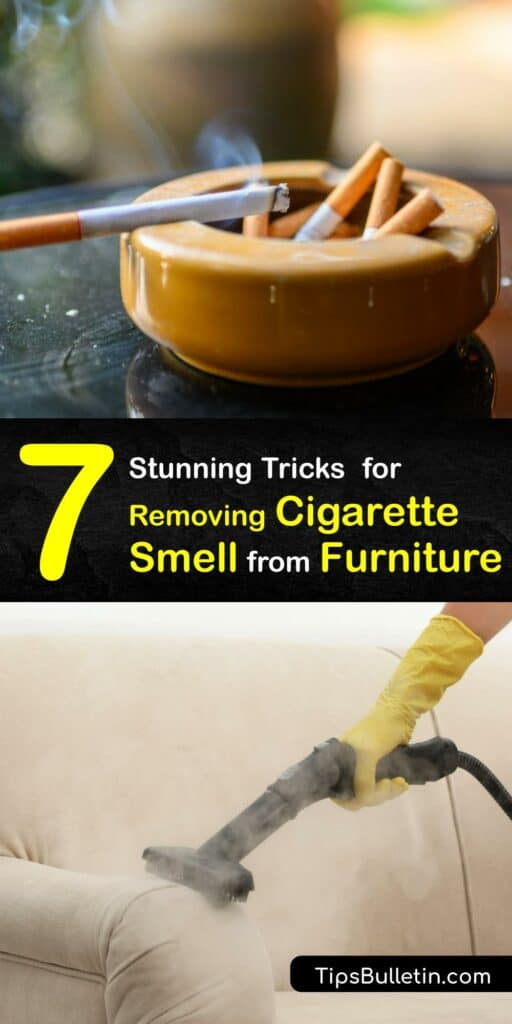 If you loved this article on how to get cigarette smell out of furniture, please share these brilliant ideas on getting cigarette smell out of furniture with your friends and family on Pinterest and Facebook.