Coconut oil is a popular substitute for seed oils in cooking and baking; many use it as a hair or skin moisturizer. Unfortunately, this versatile oil quickly absorbs into porous materials, and an accidental spill leaves your favorite shirt with an unsightly stain. Discover how to get coconut oil out of clothes with everyday household items and keep your clothing items looking their best.
Does coconut oil stain sheets? The short answer is yes. Not only does the oil stain clothes, but it can also stain sheets if you go to bed immediately after applying a coconut oil skin product. While it isn't noticeable at first, you may find an old coconut oil stain the next time you launder your bedding.
Cooking oil is notorious for leaving a grease stain on fabric, and coconut oil is no different. This type of stubborn stain is particularly troublesome if it's on delicate fabric. However, there are simple remedies for getting oil out of clothes.
Ways to Get Coconut Oil Out of Clothes
Coconut oil saturates fabric, causing a dark stain on the material. Though oil stains are tricky to remove, there are ways to get your clothing clean. Here are several ways to safely and effectively remove coconut oil stains from clothes.
Why Does Coconut Oil Stain Clothing?
We are familiar with grease stains from vegetable oil, but does coconut oil stain clothing? Unfortunately, this type of oil stains fabrics; learn what causes the oily stain to help you understand how to treat it.
Coconut Oil Staining
Unlike water that passes through the fabric, coconut oil adheres to the fibers and darkens as it sets. The amount of time it sits on the material determines the severity of the stain.
If you see the oil stain as it happens and take action immediately, it probably won't damage the clothing. However, rinsing the material with water alone doesn't do much for the stain, and it's best to treat the spot with a cleaner since coconut oil is a hydrophobic substance.
How to Remove Coconut Oil from Clothing with Pre-treatment
The simplest way to get oil stains out of clothes is to clean them right away, but washing and drying the item with heat may cause the stain to set. Understand how to remove coconut oil from clothing and prepare the fabric for cleaning.
Lay the stained item on a clean surface, use a butter knife to gently scrape away excess oil, and take care as you work to prevent the oil from spreading further. Once you remove as much of the oil glob as possible, use a paper towel or clean rag to absorb and scrub away the oily residue.
How to Get Coconut Oil Out of Clothes with Baking Soda
One of our favorite methods for removing coconut oil from clothes is baking soda. Use this miracle powder to lift oil off clothing, whether you have oil stains on polyester or cotton. The powder soaks up the oil from the cloth fibers, making the stain removal process more manageable.
Spread out the clothing with the stain facing up and sprinkle enough baking soda over the oil to cover it. Baby powder, cornstarch, flour, and even dry shampoo work just as well if you don't have baking soda.
Use a soft brush to scrub the powder with an inward motion to keep the stain from spreading, and let it sit for at least an hour as it soaks up the oil. Brush away the oily powder with paper towels
Get Coconut Oil Out of Clothing with Toothpaste
Everyone has toothpaste at home, and it has more uses than cleaning your teeth. The ingredients in white toothpaste are excellent for removing oil stains. Learn how to remove coconut oil from clothing with a tube of toothpaste.
Lay the stained item on a clean surface and squeeze some non-gel toothpaste directly on the coconut oil stain. To get rid of oil stains on fabric, use a clean, old toothbrush to gently scrub the affected area with small circular motions, being careful not to spread the oil to clean areas. Let it sit until it dries, and brush away the residue with a clean rag.
Using Rubbing Alcohol to Remove Coconut Oil from Clothes
If toothpaste or baking soda doesn't do the trick, try soap and rubbing alcohol to remove stains. The alcohol breaks down the oil, and the soap cleans it out of the fabric.
Pour rubbing alcohol onto a ball of cotton and use it to blot the affected area until it's wet. Rub the stain with a soap bar and rinse it well beneath lukewarm water. Check to see if the oil stain persists, and repeat if necessary.
Combining Vinegar and Baking Soda to Remove a Coconut Oil Stain
While you may feel discouraged after getting coconut oil on clothes or you are looking for a way to get baby oil out of sheets and clothing, you probably have two items in your home that work to remove oily stains naturally. White vinegar and baking soda are common household ingredients; combining them creates a strong cleaning action.
Fill the sink with equal amounts cold water and white vinegar and soak the stained garment for an hour or two, whether you have an oil stain, need to remove peanut butter stains from fabric, or need to remove food coloring from clothing quickly. Drain the vinegar solution from the sink and sprinkle baking soda over the oil stain. Let it sit for a minute, scrub the area with a soft-bristled brush, and rinse the fabric beneath running water.
Remove a Dried Coconut Stain from Fabric
We don't always notice a stain until it's already dry. While cleaning a dried coconut oil stain is a little more complicated than cleaning a fresh stain, it's not impossible. Discover how to remove a dry coconut oil stain with WD-40 and baking soda.
Spray or apply WD-40 onto a cotton ball, rub it into the coconut oil stain or old motor oil stains, and sprinkle baking soda over the top. Use a soft-bristle toothbrush to clean the area with an inward motion.
Remove the dirty baking soda bits, apply a couple of drops of liquid dishwashing soap over the spot, and scrub it again with the brush. Finish by rinsing the item beneath running water.
Removing Coconut Oil from Clothes with a Lemon
Does coconut oil stain clothing? While it doesn't always stain clothes as severely as other oils, it does leave a dark spot on clothes, especially if you don't get to it promptly. Use lemon juice to break up a coconut oil stain.
Lemons contain citric acid, an excellent degreaser to remove tough stains like coconut oil. Sprinkle cream of tartar over the stained area and drizzle some lemon juice over it to create a cleaning paste. For a tough stain, add a drop of dish soap.
Rub the area with a sponge, using a small circular motion, to loosen and lift the oil. Rinse the clothes underneath running water until it runs clear.
Machine Washing Your Clothes to Remove Coconut Oil Stains
Stain pre-treatment is only the first step to get castor oil out of clothes since there may still be oily residue left in the material. Safely wash and dry your clothing after pretreating the cooking oil stain.
Place your clothes into the washing machine, add the usual amount of laundry soap, and use the hot water cycle. Using the hottest water cycle is essential to ensure the oil comes out of the fabric.
When the washer stops, do not place the item into the dryer, which may cause the stain to become permanent. Instead, hang the garment to air dry and check the fabric after it is completely dry to determine if the oil stain is gone.
Grease stains are some of the most challenging to remove, and a coconut oil stain is not much different. The key is to use powder to absorb the excess coconut oil and vinegar or lemon juice to break up the oil stain. Finish by washing the garment in the machine, and you're good to go.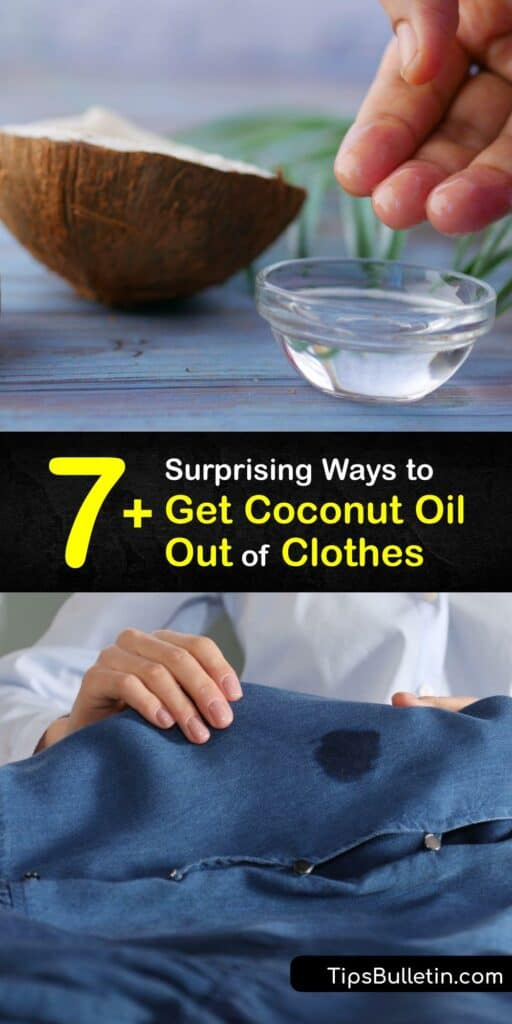 We hope that knowing how to get coconut oil out of clothes keeps your pants and shirts looking nice, and we'd love it if you'd share our coconut oil stain cleaners with your family and friend group on Pinterest and Facebook.