Most of us have a reasonably demanding morning routine that requires a little bit of caffeine to push us through it. So when that miraculous cup of coffee ends up on your car seats, it's doubly upsetting, both for the loss of your energy-boosting drink and the stains you now have to handle. Luckily, learning how to get coffee stains out of car seats is a relatively simple process with equally accessible ingredients.
The most crucial step in the cleaning process is to remove coffee stains from car seats as soon as possible. While you don't want to tend to this mess in the middle of traffic, cleaning up the coffee spill as soon as you get to your intended destination is ideal.
If this isn't possible, then we also have some tips for how to remove old coffee stains from car carpet right here. If you're ready to learn more about blasting these stubborn stains from your car seat with a homemade car cleaner, then follow the amazing cleaning steps below.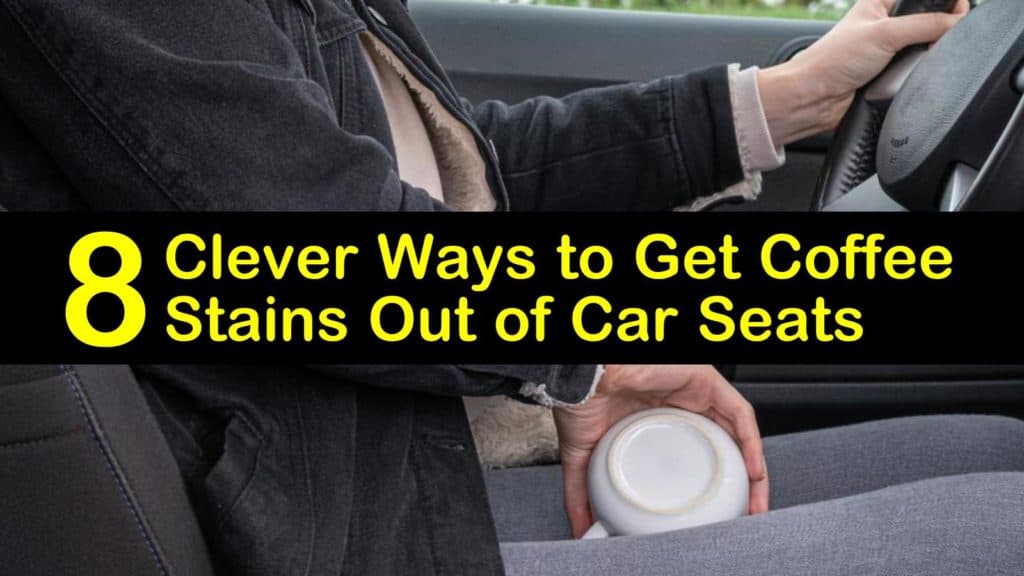 Remove Coffee Stains from Car Seats with Ease
Finding the best cleaning product for your vehicle depends on the material used for the car interior. Cleaning cloth car seats with household products is an easy and cost-effective alternative to using potentially caustic commercial cleaning agents.
Leather seats not only require specific stain-fighters to prevent damaging the fabric, but they may also need a conditioner to restore luster and shine. In any case, start with a milder cleaning agent first before moving on to more powerful stain removers.
Getting Coffee Stains Out of Car Seats
One of the first things to try during the stain removal process is mild dish soap and warm water. It's a simple cleaning strategy, but it works exceptionally well when the stain is still fresh. Dish soap also works on most types of fabrics, including leather upholstery.
Before cleaning, make sure you use a vacuum cleaner to remove any coffee grounds or loose dirt in the area. Doing this prevents scrubbing any grimy particles into the fabric and making matters worse. After you clean it, treat the stain with soapy water, rubbing in circular motions.
If cleaning leather, only use the foamy part of the mixture, not the water itself. The stain should lift away with just a little scrubbing. Dry with a clean cloth when finished to absorb any excess moisture.
Dish soap can also be used on sticky messes in your car. Use it to get gum off the car seat or carpet on the floor. The slippery nature of the soap helps to dislodge the gum stuck to fabric.
Homemade Vinegar Based Coffee Stain Remover
If the soap alone doesn't do the trick, then adding some stronger ingredients like vinegar and baking soda helps. Both are natural cleaners that are effective at eliminating tougher stains, even coffee.
Before treating the stain, make sure you blot the area with a paper towel to remove as much coffee from beneath the surface as possible.
After blotting the stain, mix the ingredients above to form a runny paste. The baking soda acts as an added abrasive when combined with the stain-fighting power of the vinegar. For extra help when scrubbing, use a toothbrush to work in between the cracks and crevices of the car seats.
Add a little water to this mixture and put it in a spray bottle and use as an effective car ceiling cleaner. For stains or general cleaning and deodorizing, you can't beat the superpower combo of vinegar and baking soda.
Clean Stubborn Coffee Stains with Glass Cleaner
Another great alternative to removing coffee stains from your vehicle is to use a glass cleaner. Just a small spritz of the substance is enough to clean most stains, and many vehicle owners already have the cleaning product handy.
Blot the area to absorb as much of the coffee as possible first, then make sure to remove all coffee grounds before cleaning. After spraying the area and scrubbing with a clean towel, complete the process by rinsing the fabric with some cool water.
Doing this prevents the ammonia in glass cleaner from damaging the material on your car seats. Similarly, using baby wipes is another great option.
Cleaning Coffee Stains with Club Soda
One of the best car carpet cleaner recipes out there includes using club soda. The bubbly properties of The carbon dioxide in club soda makes it an excellent spot remover. Combine with other cleaning ingredients and it amplifies the effects of the club soda.
To clean coffee off carpet or anywhere else it may have spilled in the car, combine the dishwashing liquid, white vinegar, and club soda in a large spray bottle. Spray the surface of the stain without completely saturating it.
Gently scrub or blot the area to clean up the spot using a microfiber cleaning cloth. If you still have difficulty removing the stain, then sprinkle a little baking soda over the stain and scrub again until it vanishes.
Quickly Getting Coffee Stains Out of Your Car Seat
If you can't stand the smell of vinegar in your car, then a refreshing alternative to the ingredient is to use lemon juice to tackle stains on car seat areas or carpets. Lemon juice works either when combined with other cleaners, as in the recipes above or by itself.
The citric acid is one of the best ways to remove yellowing of all kinds and works just as well to dissolve the tannins in coffee as it does dark and discolored nails. To diminish those ugly coffee stains from car seats using lemon juice, simply spray the area with the ingredient or apply it using a damp towel.
Scrub until the stain slowly lifts away. Rinse with cold water when finished and enjoy the lemony-fresh scent of your car without any stains.
DIY Car Upholstery Cleaner with Borax
Another way to save yourself a trip to the detailer is to use a DIY cleaner for car upholstery with Borax. The alkaline properties in Borax make it a fantastic way to break down acidic food stains like tomato sauce or berries. The same idea applies to coffee, which is also considered an acidic drink.
Start by using boiling water to loosen up the stain properties of the coffee. Next, mix everything in a small bowl, then use a soft cloth to treat the area. If the stain still isn't budging, then let the cleaning solution soak for approximately five minutes before blotting dry.
Removing Old Coffee Stains from Car Carpet
If you're still struggling to remove the coffee from your vehicle's seats, especially if it's had plenty of time to seep into the fabric, your only alternative may be a cleaning solution like hydrogen peroxide. Hydrogen peroxide is a bleaching agent that is highly effective when it comes to lightening stains.
As a result, this cleaning strategy should only be used on lighter fabrics or after testing a small inconspicuous area of the car seat first. Add a few drops of the hydrogen peroxide to either a cotton ball or a dry towel.
Dab the stain with the cloth until you notice the stain slowly starts to disappear. Once finished, rinse the surface with clean water, then pat dry.
Cleaning Leather with Linseed Oil
If you're worried about ruining the material of your car seats, another available option for cleaning leather upholstry is to use linseed oil. Olive oil also works, with both acting as a cleaning solution and a leather conditioner.
Not only do these oils safely eliminate stains from leather upholstery, but they even restore moisture to prevent the car seats from drying out.
To use this method, combine the products, then rub them gently into the surface of the leather. Allow the mixture to soak into the leather car seat for approximately ten minutes. Buff the area to restore the leather's shiny appearance.
Stubborn stains are a thing of the past with just a little bit of elbow grease and your favorite homemade cleaners. These tips for how to remove coffee stains from car seats are all you need to leave your vehicle looking squeaky clean.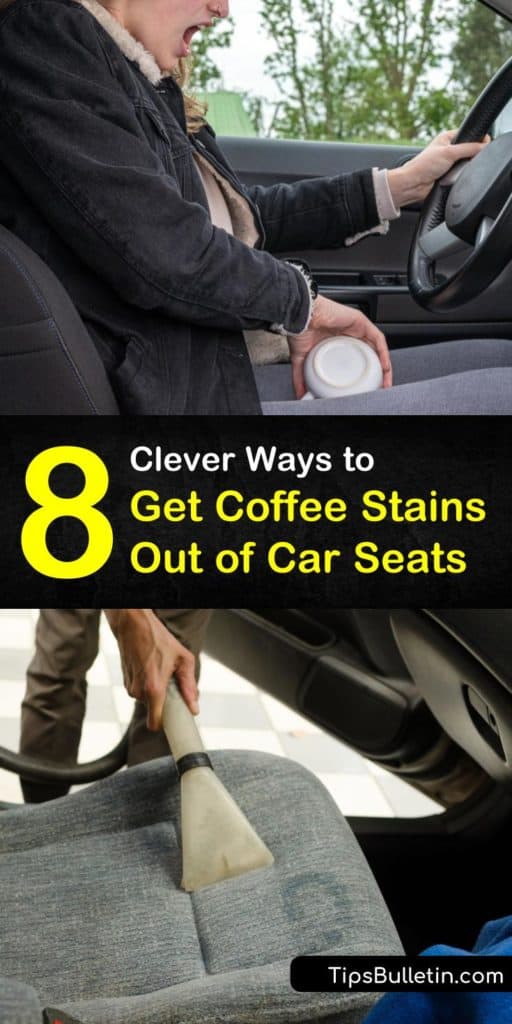 We hope you enjoyed learning these brilliant coffee stain-fighting recipes. If you found your new favorite coffee cleaning method in our article, then please share how to get coffee stains out of car seats with friends and family on Facebook and Pinterest.