No one enjoys doing laundry, and it's frustrating when your once-white clothes turn pink, blue, or other colors from a color run. There are varying reasons for color bleeding stains, whether you accidentally washed white socks with a new red sweatshirt or a white t-shirt with a pair of dark blue jeans. Fortunately, there are ways to remedy the problem. Learn how to get color bleed out of clothes.
We've all been taught to wash white clothes separately from colored clothes. However, a colored item sometimes sneaks its way into the laundry basket of white clothing. It's not until after the wash cycle completes that you realize you have a problem as you notice that the whites are no longer entirely white.
It's not usually a big deal with socks and underwear, yet it can be devastating when a color bleed appears on your favorite white shirt or blouse. Luckily, there are cleaners that remove a dye transfer stain so that you don't have to retire your stained clothes to the ragbag.
Ways I Remove Color Bleed Stains from My Clothes
You may already have many things that are great at removing a fabric dye stain, from white vinegar and hydrogen peroxide to oxygen bleach and baking soda. There are several methods for removing bleed stains from clothes using these items and more.
What Causes My Clothes to Color Bleed?
Why does color transfer from dark clothes to whites, and does color bleed come out of clothes? Fortunately, there are ways to remove dye from clothes. Find out how to help the color last longer on dark clothing and what causes fabric bleeding to help prevent future stains.
Color bleeding is when the fabric gets wet and the dye leeches out of the fibers. It often happens in clothes made by manufacturers that use cheap dyes and ineffective drying techniques. Color fading occurs when fabrics that go through wear and tear lose their color vibrancy over time.
How I Remove Color Bleed Stains From Fabric
The simplest way to remove a dye transfer stain is with a color remover product – there are many types on the market. Discover how to remove color bleed stains from fabric with commercial cleaners.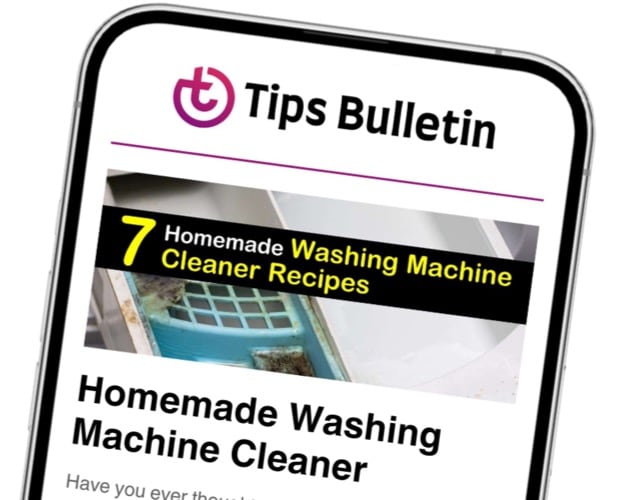 Finally, an email that Transforms Your Home.
Get the latest home and garden tips from our experts, delivered straight to your inbox.
Commercial Dye Removers
The best way to remove color bleeding if you've already dried the clothes is to dry clean them. You can also use a store-bought product like Carbona Color Run Remover or RIT Treatment Color Remover.
Read the instructions for your product to ensure it is safe for your clothing type. Mix it according to the directions and soak the clothes for the recommended time before laundering the item.
Removing Color Bleed From My Clothes With Laundry Detergent
A soapy water soak is the most straightforward method for getting color bleed out of clothes. While laundry detergent doesn't always remove tough dye stains, it helps remove excess dye from the fabric.
Pour a gallon of water into a washtub or sink. Spread the fabric on a clean surface, apply a couple of tablespoons of liquid laundry detergent to the color stain, and work it into the fabric with an old toothbrush. Place the clothing in the water and soak it for about half an hour. Rinse the fabric beneath running water and check for remaining stains.
Getting Color Bleed Out of My Clothes With Oxygen-Based Bleach
Chlorine bleach is excellent for removing tough stains, yet it may be too intense for cleaning delicate fabrics. Oxygen bleach is the best option for getting color bleed out of clothes without using harsh chemicals.
Follow the directions for your oxygen bleach brand and add the recommended amount to a sink of hot water to dissolve the powder. Add just enough cold water to cool the liquid and soak the color-stained clothes in the solution for 15 to 30 minutes. After soaking, remove the items and rinse beneath running water until the water is clear.
How I Get Color Bleed Out of My Clothes
The acidity of white vinegar works wonders for removing many types of stains, including those from dye. Tie dye will come out of clothes if vinegar is used to eliminate the dye stains. Learn how to use vinegar to get loose dyes out of clothes.
Fill a plastic tub or sink with a gallon of water and add a cup of white distilled vinegar. Soak the clothes in the liquid for at least half an hour, and rinse the fabric beneath running water. Check the material to see if the color bleed is gone, and repeat if necessary.
Hydrogen Peroxide Gets Color Bleed Out of My Fabric
Hydrogen peroxide is popular for disinfecting skin abrasions and has mild bleaching qualities that lift stains from clothes. Discover how to remove color bleed stains from fabric with peroxide.
Pour equal portions of water and hydrogen peroxide into the sink, ensuring enough liquid to cover the color bleed stain. Soak the garment in the solution for half an hour or until the color fades. Once the stain is gone, hold the fabric beneath running water to rinse away the residue.
Removing Color Bleed Stains From My Clothes
If you only use baking soda to make baked goods, it may surprise you that this natural powder has many other uses, including removing stains. This inexpensive powder removes color bleed and dye stains from clothing with ease. Use this method to clean food coloring stains on white clothes; the baking soda is gentle enough to keep your clothes looking new.
Shake some baking soda into a bowl and add just enough warm water to form a paste. Spread out the garment and place a piece of cardboard between the fabric under the stain to prevent transferring the dye to other areas of the clothing.
Smear the baking soda paste over the dye with the back of a teaspoon to completely cover the stain, and let it rest until the morning. Scrape the dry powder into the sink or trash with the spoon and check to see if any stains remain. Repeat the steps if there is still some color present.
Machine Washing My Clothes to Remove Color Bleed Residue
After removing color bleed from clothing with a stain remover, whether you use vinegar, hydrogen peroxide, or a commercial product, clean your clothing in the washing machine to remove color dye residue.
Place the affected item in the washing machine and add your favorite laundry detergent. Consider adding OxiClean to give the cleaning process an extra boost. Wash the clothes on a regular, warm water cycle, and check the fabric thoroughly for leftover stains.
If there is still color bleed remaining, rewash the item. Otherwise, transfer the clothes to the dryer with a fabric softener sheet, and dry the garments as usual. Do not place stained clothing in the dryer since the heat sets the stain permanently.
Ways I Prevent Colored Clothing From Bleeding
We all have better things to do than spend our time trying to get dye stains out of clothes. Explore some tips for preventing color bleeding in clothes to ensure your whites stay white.
Always wash new clothes separately from other laundry items since they are likely to bleed. Avoid mixing white garments with colored clothes. Turn clothes inside out to prevent friction which leads to fading, and use the cold water setting to trap dye inside the fibers. The gentle or permanent press setting is easier on fabric than the normal setting.
Add a color catcher sheet to the washer with laundry detergent to prevent bleeding. Or, add a half cup of salt to the wash cycle and a cup of white vinegar to the rinse cycle to retain dye. If you dye your own clothes, use a dye fixative to reduce bleeding.
If you accidentally transfer color dye from dark to light clothes, treat the stain immediately with vinegar, baking soda, hydrogen peroxide, or another stain remover.
Discovering your white laundry is no longer white due to bleeding dye is annoying. While regular washing may remove a blood stain and other stubborn stains, it doesn't always work to remove stains resulting from dye. Luckily there are ways to remove a color stain using safe and effective solutions.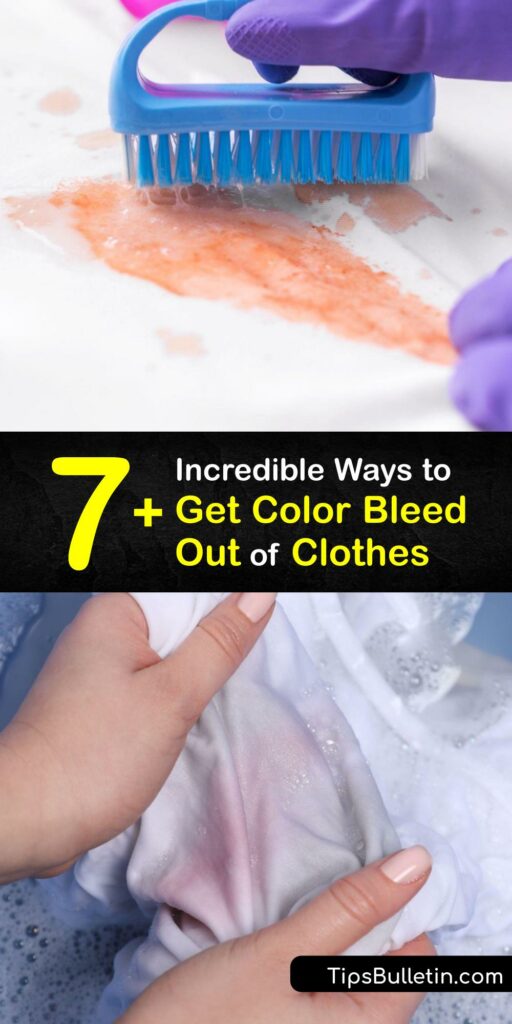 We hope that learning how to get color bleed out of clothes keeps your whites looking their best, and we'd love it if you'd share our color bleed stain removal methods with your friends on Facebook and Pinterest.