When you remove your clothes from the wash and find dye stains, you need to know how to get color bleeding out of clothes fast. Color bleeding is an inconvenient occurrence where loose or excess dye from one article of clothing settles on another, usually lighter, garment to leave a streaky, messy dye stain.
It's miserable to try to clean your clothes and end up with staining. Luckily, figuring out how to remove color bleeding stains from fabric doesn't have to be a chore. We select our clothes for their color and style. Dye stains ruin the aesthetic of your clothing, so removing them and restoring the original colors of your clothes is vital.
Trust everyday products for getting color bleeding out of clothes using uncomplicated at-home tips and tricks. If you have chlorine or oxygen bleach, distilled white vinegar, or regular laundry detergent at home, you already have an excess dye remover ready.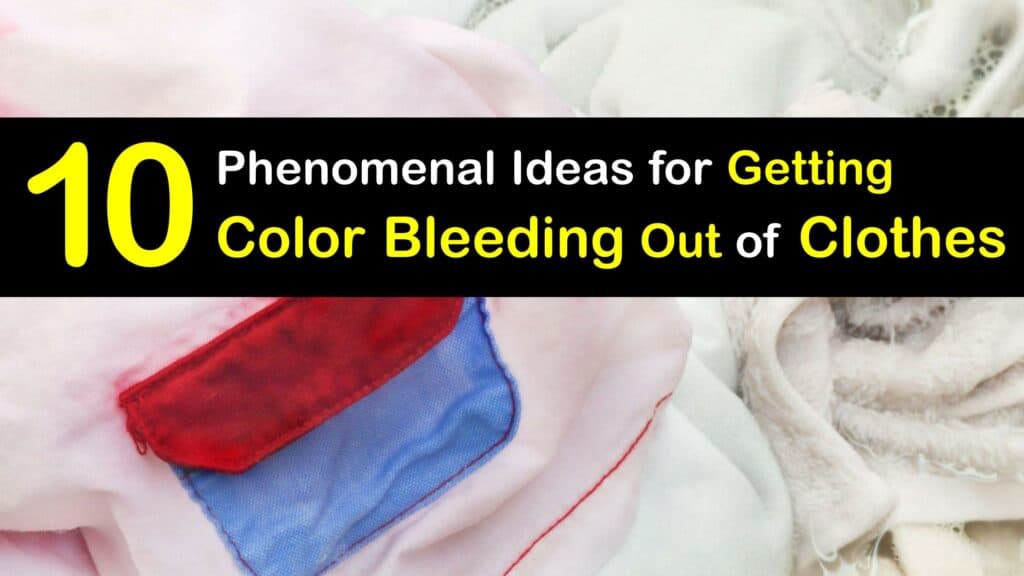 Getting Color Bleeding Out of Clothes
Learning how to get color bleeding out of clothes lets you wash with the confidence of being ready to handle dye runs. While there is a range of commercial products for cleaning up dye stains from color run, they're expensive and use potentially harmful chemicals.
Save money and a journey to the store by discovering ways to get color bleed out of clothes using things you already have. Explore brilliant ideas for color stain removal, and choose the one you prefer to restore your clothes.
Does Color Bleeding Come Out of Clothes?
Discovering that a colour run in your washing machine and dye transfer has created a stubborn stain on some of your clothing is disheartening. The first thing you want to know when the worst happens is if it's reversible.
Thankfully, throwing out your apparel after color bleeding is unnecessary. Numerous home remedies erase unwanted stains from loose dye and restore your clothes to their original color.
What Causes Color Bleeding?
When a garment is moist, and the dye is drawn out of its fibers, color bleeding occurs. Color bleed frequently happens when laundering in the washing machine, causing the dye from one piece to transfer to another.
When the wrong dye is used (not all dyes perform on every type of fabric) or when the dye is not thoroughly washed off, leaving an excess of unbound dye in the cloth, color bleeding occurs.
Another cause of color bleeding in the washing machine is when the manufacturer fails to bind the dye to all the fabric through a dye fixative or mordant. These cleaning techniques target only unfixed or unbound dye, so they remove the stain without removing the intended color of your clothes.
How to Get Color Bleeding Out of Clothes
A run through your washing machine may not be enough to remove the color from stained clothes, but concentrated liquid laundry detergent might. When you add laundry detergent to your washer, it gets heavily diluted in water, reducing its cleaning capabilities.
Using laundry detergent in a higher concentration ensures it lifts even challenging stains such as dye. One alternative for laundry soap is adding vinegar and baking soda to the wash.
Pour liquid laundry detergent directly onto the color bleed stain, work it in with an old toothbrush, and leave it to settle for 30 minutes. Rinse the detergent out with cold water and inspect the area. Repeat until no evidence of the dye stain remains.
How to Remove Color Bleeding Stains From Fabric
Chlorine bleach is a heavy-duty cleaner and stain remover. While it's paramount you read the label and take the appropriate safety precautions, such as wearing rubber gloves and working in a well-ventilated space, chlorine bleach is very efficient at eliminating dye bleed stains from clothing.
Combine the bleach and water in the washing basin and submerge your item, whether you are trying to get mud out of a white shirt or have a dye transfer stain. Watch your clothing closely and look for loose dye in the water. Once you notice coloring coming out, let your clothes soak for no more than 30 seconds longer. Remove them, rinse thoroughly, and launder .
Never submerge your clothing in a bleach solution for more than five minutes; only use this trick on light-colored clothes. If the bleach leaves a yellow stain on your clothes, follow our ways to get bleach out of clothes and restore the color once and for all.
Removing Color Bleeding From Clothing With Baking Soda
Baking soda is useful for many at-home stain removal procedures. Though it's readily available at every grocery store and affordable, baking soda packs a considerable punch when addressing dye stains from color bleeding or for removing black axle grease from fabric. Mix the baking powder into a paste with water to make a potent stain remover.
Craft a thick paste by combining baking soda and warm water. To prevent color bleed from passing directly through the item and staining the garment's back, place the cardboard inside the item, behind the stain. The cardboard will catch any escaping color, protecting the back from dye stains.
Work the baking soda mixture into the stain and let the mixture dry overnight. Remove the baking soda mixture with a butter knife before washing the item on a cool setting with your regular laundry detergent.
A Color Catcher Prevents Color Bleeding Stains
Color catchers offer a labor-free solution if you don't have time to sort your laundry by color or are nervous about bleeding dye. Much like a dryer sheet or fabric softener sheet, a color catcher is a sheet that goes right into the washer drum with your clothes and soaks up any loose excess dye during the cycle.
Color catcher sheets act as magnets, drawing any free floating pigment to them, so they come out stained, not your clothes. Find color catchers at most home stores and add a box to your laundry room to forget about color bleeding concerns.
White Vinegar is a Color Remover for Stubborn Stains
Distilled white vinegar is a popular choice to remove stains. The vinegar carries a mild acid known as acetic acid, which neutralizes the bonds in the dye and removes it from the fabric. Dilute vinegar with water to make a simple soak to get excess dye out of the material.
Soak your stained clothes overnight in vinegar and water to release the dye or to get food coloring out of jeans and other clothes, and launder as standard with a color catcher.
Oxygen Bleach is a Color Bleed Stain Remover
An oxygen bleach like Oxi Clean is an ideal cleaner for dealing with color bleeding stains. Unlike chlorine bleach, oxygen bleach is gentle and environmentally friendly. When oxygen bleach is hydrated with water, it releases hundreds of tiny oxygen bubbles, which go deep into your clothes to break down the dye stain and remove it.
Since the only byproducts of oxygen bleach are water and oxygen, it's an excellent choice if you're environmentally conscious. Pick up oxygen bleach from the store and use it under the manufacturer's guidelines to erase an unsightly dye stain after washing machine color bleeding.
Use a Commercial Dye Fixative to Prevent a Color Stain
If an article of clothing has released dye in the washing machine, it's wise to use a dye fixative to prevent future issues. Check out your local fabric store for a dye fixative.
These compounds treat the loose dye on your garment and bind it to the fabric so it no longer rinses out in the wash and stains the rest of your load. Most dye fixatives are simple to use and work well. Always follow the package guidelines when using dye fixative to ensure you don't accidentally damage your clothes.
An Easy Laundry Tip to Prevent Color Transfer
You've probably heard you're not supposed to launder colored clothes with white clothes, and though it's a chore, it helps. Washing similar colors together reduces the visibility of a dye stain.
In addition to sorting your colored clothing from your white clothing before washing, it's prudent to go one step further. Try to put dark colors such as blue and black together in the washing machine and reds and pinks together. For the ultimate protection from color bleed, only wash the same colors together and include a dye catcher.
Knowing how to remove color bleeding stains from fabric is a valuable skill. No matter how cautious you are with the laundry, there is always the chance of experiencing color run.
Understanding what to do when this happens saves unnecessary stress and prevents you from throwing away clothing that's easily fixed. Select a cleaning technique based on your preferences and products at home, and make quick work of dye stains from color bleed.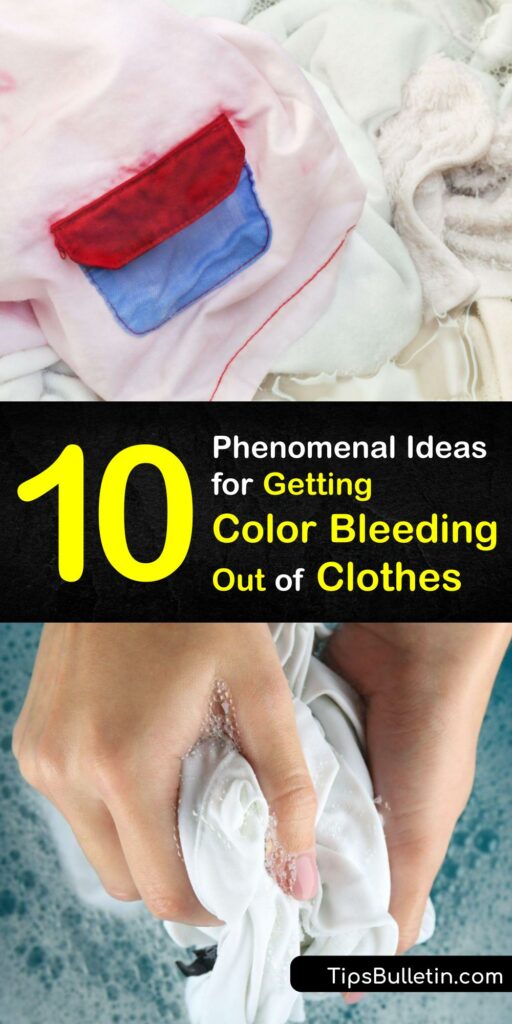 If you loved this article on how to get color bleeding out of clothes, please share these incredible tips for getting color bleeding out of clothes with your friends and family on Pinterest and Facebook.