If you're replacing your garage floor or have a family member who works in construction, learning how to get concrete out of clothes is a must. Thanks to its incredible strength and durability, getting dried concrete out of clothes sometimes presents a challenge.
Concrete penetrates deep into the fibers of any kind of fabric, and after it sets, it clings tight to these fibers, so it's difficult to wash out. Cement demands careful handling, and the dust, wet, and dry versions are all potentially harmful and may burn the skin if not dealt with appropriately. One of the challenges in figuring out how to remove dried concrete from fabric is doing so without destroying your clothing in the process.
Use uncomplicated at-home ideas to eradicate wet or dried concrete from your clothes. Reach for supplies you already have, such as the pressure washer, white vinegar, and bleach, and efficiently and safely remove cement from clothing to restore your apparel and keep your family safe.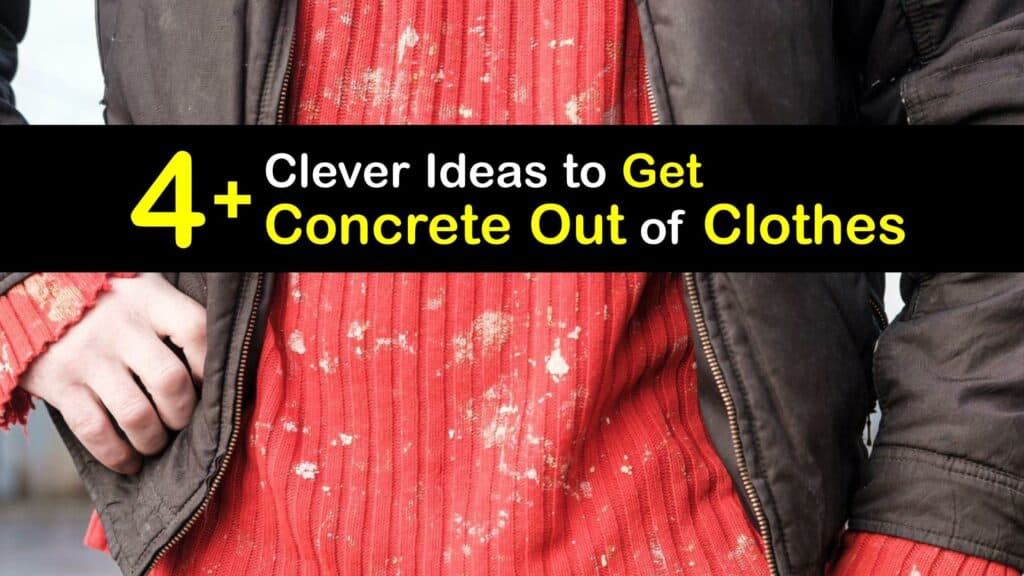 How to Remove Dried Concrete from Fabric at Home
Explore how to get concrete out of clothes and work on your concrete patio or another concrete surface without worrying about ruining your pants. Getting dried concrete out of clothes may seem challenging, but it's straightforward with the right supplies and knowledge.
Concrete is a hazardous material, so personal protection equipment, including gloves, safety glasses, and a face mask, is advised when handling it. The same is true for fiberglass. Removing fiberglass insulation from clothes requires safety gear to ensure you don't get it on your skin.
The Importance of Getting Dried Concrete Out of Clothes
Constructing a concrete floor or concrete driveway or renewing your concrete stain almost always results in some wet concrete or cement dust getting on your clothes.
According to the Portland Cement Association, you should wash concrete off your skin immediately after contact to avoid a cement burn or other physical harm. Concrete dust is dangerous if inhaled, so wear a mask before dealing with concrete. In addition to being a health hazard, concrete stains are unsightly and ruin your clothes.
Concrete is easiest to remove from fabric in its dust phase before it becomes wet. Try to address a concrete spill at this point by using a stiff brush to flick the particles out of your apparel. Hose wet concrete off, ideally with a pressure washer, to remove it before it dries.
If you're dealing with dry cement, use sandpaper to rub off as much as you can while wearing safety glasses and a mask. Take care not to pluck or pull the fibers in your clothing, and continue until you remove all you can mechanically; then, use one of our concrete removal methods for the remaining stain.
How to Get Concrete Out of Clothes
White vinegar is a powerful concrete stain remover, and combined with concentrated liquid laundry detergent, it loosens and lifts tough concrete marks from fabric.
After sanding as much of the cement away as possible, apply a thick layer of laundry detergent to the stained area and gently use a scrub brush to rub it into the concrete and fabric. Add distilled white vinegar to a sprayer to evenly distribute it over the cement stain, saturating it all the way through and letting it sit for at least two hours.
Use the scrubbing brush to clean the clothes again and rinse them out with clean water. Put your outfit in the wash, adding regular detergent and an extra half cup of white vinegar. When the cycle is complete, allow the clothes to dry. Repeat the entire procedure if traces of the stain are still visible.
Concentrated laundry detergent and vinegar can also be helpful to remove diesel stains from clothes, as well as standard gasoline. Eliminate stains and the unpleasant odor with this pre-treatment before washing in the machine.
This cleaning solution can be effective to remove PVA glue from clothes, along with other adhesives and sticky materials.
Removing Concrete from Clothing with a Pressure Washer
While you might usually grab your power washer to clean concrete driveways, it will also clean dry or wet cement from fabrics like clothes. Pressure washers deliver water under great force to penetrate deep into surfaces for thorough cleaning.
After removing all the cement possible by rinsing and sanding, lay your garment out and weigh it down. Aim the power washer hose at the stained area and move back and forth over it in methodical strokes. Start at a lower pressure and raise it slowly to avoid wearing out your shirt.
For stains on your garage floor or driveway, add a DIY concrete floor cleaner recipe to your power washer for even more effectiveness.
Bleach is a Concrete Cleaner
Bleach is a leader in stain removal, so it's unsurprising it plays a role in removing concrete from fabric. Choose a color-safe bleach to avoid accidentally fading or lightening your garments. Rub away as much dried concrete as possible with sandpaper to prepare the surface for the bleach.
Mix a bleach solution according to the manufacturer's guidelines and soak as directed before rinsing well. Repeat the process until the concrete stain is no longer visible on the clothes, then wash as usual in the washing machine and dry. Bleach removes concrete and destroys mold to keep your clothes clean and ready to wear.
Work with a Dry Cleaner on a Stubborn Cement Stain
Dry cleaning solvent is effective on tough stains like rust stains or concrete stains. If your attempts at at-home removal are unsuccessful or you don't feel confident tackling a cement stain by yourself due to the fabric type or severity of the mark, reach out to your local dry cleaner.
Dry cleaners are experts at removing difficult stains and cleaning many types of fabric with excellent results.
Like an oil stain or rust stain, a challenging concrete or concrete sealer mark may seem daunting to clean. Luckily, in most instances, you can wash concrete out of your clothes at home with a few tips and basic household items. Learn how to remove dried concrete from fabric to avoid painful concrete burns or a messy outfit.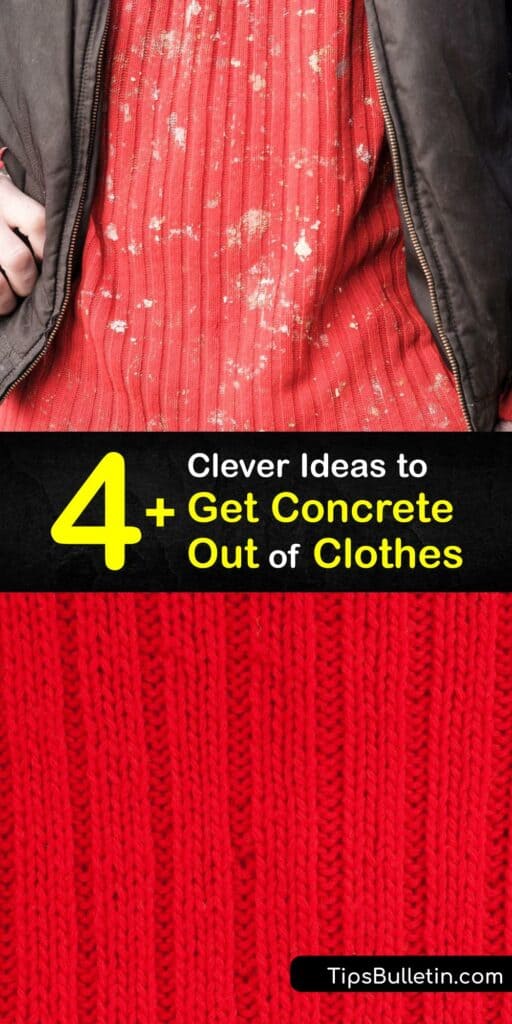 If you learned from this article on how to get concrete out of clothes, please share these brilliant tricks for getting dried concrete out of clothes with your friends and family on Pinterest and Facebook.