Don't let a greasy splatter on your best shirt or an oily mess on your favorite pants ruin your day. Believe it or not, oily stains and greasy residue are fixable; all you need are the right tips. Discover how to get cooking oil out of clothes and other fabrics with our golden guide to grease and grime.
Oil stains come from a variety of places. How many of us have suffered a dribble of pesto sauce or caught splashback from bacon grease? Exposure to natural oils and fats is unavoidable. Vegetable oils like soy, avocado, butter, and olive oil coat our fingertips and leave greasy smudges where we least expect them.
Vegetable oils comprise a group of fats that come from the oil of nuts, seeds, and cereal grains. Commonly called plant-based oils, we harvest them from crops like corn, sunflower, and canola. Manufacturers distill the oil, purify it, and send it to market. Oily stains are incredibly stubborn, but it's time to rescue your favorite clothing from the recycle pile; enjoy our excellent oil-fighting tutorials.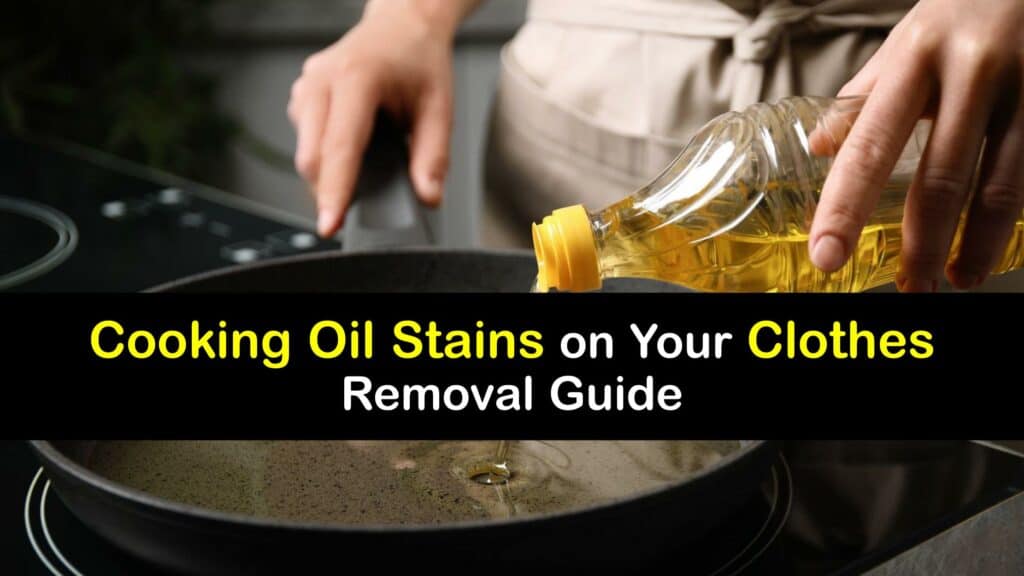 How to Remove Cooking Oil Stains From Clothes
Getting vegetable oil out of clothes isn't the chore it used to be – not with these tips and tricks. Oil stains don't have to be the end of the line for your best jeans and expensive sweaters anymore. Discover ways to get stubborn stains out of clothes with ease while using simple household ingredients. Learn tricks to break down butter and cooking oil, waterproof high-traffic fabric surfaces, and more.
Stop, Drop, and Blot Oily Stains
The moment you notice an accidental olive oil stain, it's time to take action; the first is the most crucial step in the stain removal process. Grab a paper towel and gently soak the excess oil out of the fabric. Don't rub or push the stain into the delicate fibers; simply press, soak, and repeat until the oil stops lifting.
Removing cooking oil stains from clothing is a multi-step process. While grease and oil stains dissolve best in warm water, some fabric is unsuitable for the hot water cycle. Delicate fabric types like silk or wool often have unique requirements to preserve clothing quality. Check clothing labels for general care instructions before proceeding.
How to Get Cooking Oil Out of Clothes
Dish soap is known for its ability to break down grease and oil on dishes. Liquid detergent surrounds and separates grease molecules, making them easier to remove with water. A dab of dish soap also works wonders to fix oil stains on clothing left from the dryer. Discover how to get food oil out of clothes with grease-busting liquid dish soap.
Separate the stained clothes and place the stained part on a flat surface; it's essential to prevent the grease stain from bleeding through to other pieces of your clothing. Blot excess oil with a paper towel, and place a small dot of dish soap on the cooking oil stain. A little dish detergent goes a long way; one or two drops is more than enough.
Loosen the oil with a toothbrush in light circles. Don't push the oil deeper into the fabric weave; lightly scrub and lift. Rinse the stained area with warm water and repeat as required.
Dish soap is a very effective pre-treatment for most oil stains. However, dish detergent is not meant for direct use in the washing machine or as a laundry detergent substitute.
Getting Vegetable Oil Out of Clothes With Baking Soda
Does vegetable oil stain clothes? Vegetable oil definitely stains clothing and fabric. Vegetable oil usually refers to an odorless soy oil with a high smoke point that makes it ideal for high-heat cooking. Common kitchen vegetable oils include olive oil, sunflower oil, coconut oil, and avocado oil. Baking soda and baby powder absorb oil stains on fabric faster than most commercial cleaners.
Baking soda is fantastic for light grease absorption and works great on any fresh, oily stain. Coconut oil stains clothing badly, so be sure to work quickly to eliminate the stain with this baking soda mixture.
Sprinkle baking soda, baby powder, or cornstarch directly onto the oil and leave it to sit for an hour or two, allowing it to absorb as many of the oil molecules as possible. Shake the baking soda into the garbage, rinse the stain in warm water, and launder as usual.
A second stain removal option for getting vegetable oil out of clothes involves making a mixture and using a cup of baking soda, a half cup of water, and a drop of dish soap. Use a toothbrush to lightly work the baking soda mixture into the oil stain and rinse under hot water. Pop the clothing into the washing machine and air dry.
How to Get Motor Oil Out of Clothing
Motor oil is a lubricant developed for internal combustion engines; it reduces friction and cools the engine by dispersing heat away from the moving parts. Most motor oil contains base oils, antiwear additives, dispersants, and detergents, that are challenging to remove from fabrics and fibers. WD-40 can be used to clean car oil off jeans and tough fabrics that motor oil often winds up on.
Motor oil stain removal starts with a spray of WD-40 and a toothbrush. WD-40 is a moisture displacer, rust preventative, and lubricant. This unique formulation was invented for the Rocket Chemical Company in 1953 and made available for public use in 1961. The formula is so secret that the creators did not patent the product to avoid disclosing the ingredients.
Pour the WD-40 on the stain and let it sit for 15 minutes. Rinse with warm water and apply a drop of liquid dish soap. Use a soft toothbrush to work the dish soap through the oil stain, and complete a second warm water rinse. The grease and oil should break down enough to rinse in the regular washing machine cycle.
How to Get Oil-Based Makeup Stains Out of Clothing
Explore tips for how to remove cooking oil stains from clothes. Did you know that a lot of modern makeup is oil-based, too? Lipstick, cream blush, and many foundations are oil-based and require some degree of pre-treatment to eliminate the stain.
If you notice a makeup smudge, lightly scrape away the excess, and turn your garment inside out. Place a piece of paper towel on a flat surface and lay the stained part of the garment over it; the paper towel helps absorb the excess makeup as you clean.
Use a makeup wipe or a cotton pad soaked with rubbing alcohol to dab the back of the stain, working the makeup out of the fibers and into the paper towel. Rinse the fabric and repeat; be gentle and patient.
For tough makeup stains, use a dab of dish soap. Once the stain lifts, put your garment into the washing machine; ensure the care instructions allow it.
Using Enzyme Cleaners for Stubborn Oil Stains
Discover some important points about how to remove cooking oil stains from clothes with enzyme cleaners, which are more popular than ever due to research-backed science and undeniably effective results.
There are many kinds of enzymes, and they all perform a different, yet equally important, role in removing tough stains. For example, protease enzymes eliminate blood and sweat, amylase enzymes take care of starches, and lipase enzymes dissolve grease and oil-based stains.
An enzymatic stain remover is a fantastic non-toxic alternative to harsh chemical cleaners. Lipase enzymes function as protein molecules that bond to the fatty substances in an old oil stain. When used as part of a detergent, these enzymes break apart the stubborn stain and allow for easy washing.
How to Grease-Proof Household Fabric
Why worry about how to get cooking oil out of clothes when you can waterproof many vulnerable household fabrics? Our how-to tips for wax waterproofing are ideal for upholstered dining room chairs, slipcovers, and even shoes or backpacks. All you need is fresh wax from the craft store and some elbow grease.
Fill a saucepan a third of the way full and boil the water, then place the metal mixing bowl on the saucepan to create a double boiler. Cut the paraffin wax into small chunks and add it to the metal mixing bowl along with the beeswax pellets. The boiling water and the metal bowl generate the heat to melt the wax.
Once the wax is completely melted, use a cheap stiff-bristle paintbrush to apply the liquid wax seal in a one-inch layer. Once the fabric is coated evenly, use the blow dryer to melt the wax into the fabric and allow everything to cool – you just sealed your material with a waterproof wax!
We hope you benefit from exploring how to get cooking oil out of clothes with this grease guide. Spills happen, but they don't have to ruin your best outfit. Remember to tackle grease stains as quickly as possible to increase your chances of success; grab a paper towel and blot until there is no more grease to lift.
Follow up with a rinse; remember to use warm water over cold water when possible. Next, choose a pre-treatment. Although white vinegar works for many things, oil stains aren't one of them. Vinegar is ineffective against oil and grease because it's acidic; oil stains require an alkaline soap.
Once you pretreat with either dish soap or a lipase enzyme cleaner, you're ready for the washing machine. Always air dry the clothes to ensure the grease stain vanishes completely. The dryer's heat might bake the stain in, making it permanent. Save your shirts from grease and grime; always wear an apron when cooking.
If you enjoyed learning how to get cooking oil out of clothes with these easy-to-follow tutorials, share this article with friends on Pinterest and Facebook who are always looking for legendary laundry tips.