Unless you master the art of walking without ever bending your foot, creating creases in your sneakers is unavoidable. The upside is that creases don't have to be permanent, and learning how to get creases out of sneakers is fairly simple.
Like clothes, the appeal of footwear goes beyond durability and comfort and extends into appearance. The longer you maintain the pristine look, the better. Ideally, our shoes would remain in the condition they come out of the box in. However, the only way this is possible is never to wear your shoes.
Because shoes don't belong closed in a box or on display on a shelf, you risk dirt, scuffs, and creases, all bringing down the condition and appearance of your footwear. Regardless of the type of shoe – leather, canvas, or suede – they're all capable of creasing, and regular activity increases the rate at which your shoes begin to crease. Follow our guide to remove creases from your shoes effectively.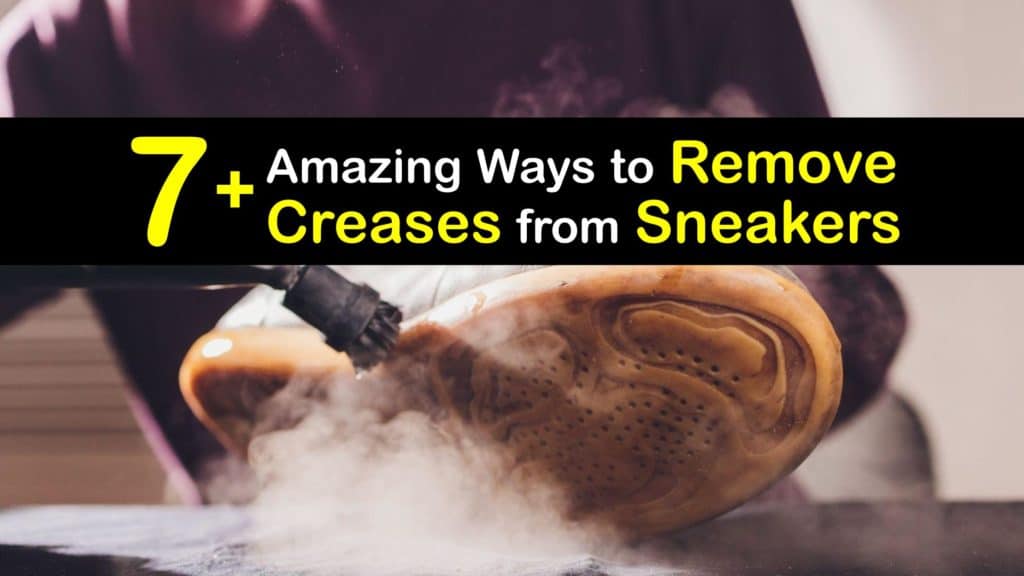 Removing Creases from Sneakers
The term "sneakers" refers to the quiet way the rubber soles of tennis soles move on the ground instead of the hard leather soles of dress shoes.
Manufacturers create sneakers designed for physical exercise, and due to the increased activity, they are more prone to creases than other types of shoes.
Thankfully, removing creases does not require a lot of work and makes extending the clean look of your shoes simple.
How to Remove Creases from Sneakers with an Iron
Using an iron to remove wrinkles is no secret to anyone who has had to remove wrinkles from their clothes. Heat, moisture, and pressure smooth out folds and applies to removing creases from your shoes.
Ironing creases from shoes works best on leather by safely warming the leather material of the shoe or leather boot to smooth out creases.
Before trying to remove the creases, start with a clean shoe. Washing muddy sneakers first ensures you don't make the stains worse when applying heat.
Placing a damp cloth or towel between your heat source and your shoe prevents your iron from damaging your shoe in the process.
Start by stuffing your shoe full of newspaper or tissue paper so that the toe box is full. Using old socks will work to stuff your shoes, but paper fills the front of the shoe better because it is more pliable.
Stuffing your shoe full to get creases out of shoes stretches the fabric taut to straighten out creases. Dampen your cloth and place it over the creased area of your shoe.
Heat your iron to 60-80°F and begin ironing over the towel in ten-second increments. After ironing, check under the cloth to check the appearance of the creased area.
Continue ironing until the crease is gone. Remove the cloth and leave your shoe stuffed until the fabric cools.
Note: This trick is also effective for removing creases from suede shoes, but water and suede do not work well together. Squeeze excess water from your damp towel before laying it on your shoe if you use this method.
How to Get Creases Out of Sneakers with a Blow Dryer
Because heat is an effective solution for smoothing creases, if you don't have an iron, a hair dryer also works to remove creases from your favorite pair of leather shoes.
To ensure your crease removal technique is effective, maintain the shape of your shoes.
Since you are working with a heat source, we do not recommend using paper as it may heat up inside the shoe. Instead, insert a cedar shoe tree into each shoe.
Turn your blow dryer to a low setting and hold it ten inches away from your shoe like you would to dry your wet sneakers. Pass the hair dryer over each shoe several times to warm the leather before turning the dryer off.
Use your fingers to rub the leather directly against the shoe tree to smooth out the deep crease. Repeat the process until the creases are gone. Allow your shoes to cool with the shoe tree inside.
To protect your leather after applying heat, use a leather conditioner or shoe polish to keep your leather looking good once the crease is gone.
A shoe tree is also a handy tool for making your shoes just a little larger if they get too tight. Sneakers will stretch about a half a size or so depending on the material. Stretching tight sneakers helps them fit your feet better so you can get more wear out of them.
Removing Creases from Suede Shoes by Steaming
Steam is a great way to moisten the fabric of your shoes, making reshaping them easy. Use a steamer designed to smooth wrinkles in clothes or the steam from a kettle if you don't have a steamer.
Brush the material of your shoes using a rubber suede brush and place shoe trees inside to keep them in the right shape as they dry.
Use a Heat Gun to Remove Creases
Heat guns, like blow dryers, are handheld devices that pump out concentrated hot air. The difference between these two is that blow dryers are used to dry hair and do not get too hot.
Insert wooden shoe trees into your shoe to force your shoe to maintain its natural shape; avoid using paper or plastic.
For heavy-duty material like leather boots, turn your heat gun onto a low setting and run the gun over the material to quickly warm up your shoe.
Smooth out creases with your hands as needed against the shoe tree and reapply heat as needed. Once all creases are gone, allow your shoes to cool with the shoe trees inside.
Remove Creases with a Hot Towel
This method for how to remove creases from sneakers involves a unique tool to eliminate creases, the microwave.
Dampen a small towel, place it in a microwave-safe dish, and heat it for thirty seconds. The towel should be warm but not too hot to handle.
Insert shoe trees into your sneakers and rub the warm towel over your creased shoe to warm the leather. The heat, combined with pressure from your hand, smooths creases out of the shoe.
If your towel cools before all creases are gone, re-wet the towel and place it back in the microwave as needed. Leave your shoe trees inside as your shoes cool.
How to Remove Creases from Sneakers without Heat
If you're looking to avoid applying any heat to your sneakers, using a leather oil or conditioner is a safe way to get rid of a shoe crease.
To ensure the product is safe to use on your shoe, patch test on an inconspicuous area of your shoe to prevent discoloration.
Apply leather oil to the entire shoe and massage the product in, focusing on the creased area. Although shoe creasing typically only occurs around the toe box, apply oil or shoe polish to the entire shoe to maintain the overall appearance.
After massaging in the product, insert a wooden shoe tree to preserve the shoe's shape as it dries after treatment.
Use a Shoe Tree to Remove Creases
A simple way to remove creases from your shoes is to insert shoe trees to force the shoe to stretch back to its original shape.
Shoe trees can be left in your shoes overnight, and we recommend using them often to maintain the condition of your shoes, especially for shoes that do not get worn often.
Using a shoe tree is not a fast method of crease removal, but it is perhaps the safest as it does not involve using heat and works for shoes of all materials. Using cedar shoe tree inserts also helps reduce any lingering odors in your shoes, too.
Smooth Creases with a Homemade Solution
If you don't have leather oil or conditioner on hand, create your own solution using rubbing alcohol.
This mixture is easy to use and makes leather flexible to remove creases but may dry out your leather quickly, so it is crucial to hydrate your leather after it dries.
Insert a shoe tree into your shoes, then mix water and rubbing alcohol and pour into an eight-ounce spray bottle. Spray the conditioner onto your leather shoes and massage it into the material until the leather feels supple. This mixture also works well for removing scuff marks from leather shoes and boots or to clean yellowing sneaker soles that may have this issue.
After you take care of the creases and removing scratches from leather shoes, reshape and smooth out your shoes with your fingers before allowing your shoes to dry with the shoe trees still inside.
How to Prevent Sneakers from Creasing
Although avoiding creasing is nearly impossible, you can minimize the risk of creases by storing your shoes the right way and using preventative methods.
Knowing how to prevent sneakers from creasing helps extend the life and appearance of your shoes throughout daily use.
Using a Shoe Horn
If you are struggling to put on a shoe that fits a bit snugly, avoid creasing the back of your shoe by using a shoehorn. Shoe horns are tools with handles designed to help your heels slide into your shoe with ease.
Roughly jamming your foot into shoes causes creases to form; forcing your heel down into a shoe causes the back to fold down or crease. Use a shoe horn to gently pull on the back of the shoe to allow your foot easy access inside.
Wearing a Crease Protector
Like shoe trees that fit nicely into shoes to maintain their shape, crease protectors function as small shields that fit inside your shoe; wear them over your socks so that they are flush against the top of your shoe.
Once you put them on, any creases should smooth out on the top of your shoe, and the plastic protectant keeps the shoe from bending or creasing too much during normal usage.
Regular Treatment with Conditioner and Oils
Because leather comes from animal skins, it must remain supple and hydrated to stay crease-free. Keep leather shoes hydrated with a conditioner or oil to avoid your shoes becoming too dry and more prone to creasing.
Non-leather shoes do not require oil or a leather conditioner; instead, apply a fabric spray regularly. Always place your shoes on the shoe tree after treating them to keep the shoe shape as they dry.
Oils can be used in another way on your shoes as well. Get gum off the bottom of your shoe by saturating it first with some olive oil. It's easier to scrape off.
Rotate Shoes to Avoid Shoe Creasing
If possible, try to minimize the time you wear your shoes. Regular use of our favorite shoes means they get dirtier faster than others.
If you're wearing the same pair of sneakers for physical activity or sport, they are likely to start creasing quickly.
By rotating which shoes you wear and protecting them in advance, you keep the condition of your shoes looking new longer than wearing the same shoes every day and not allowing them time on the shoe tree to hold their original shape.
As we know, creases come with wearing shoes, but they are treatable. With the proper care, you minimize the effect they have on your footwear in the long run.
Share our guide on how to get creases out of sneakers on Facebook and Pinterest with your fellow shoe-lovers to guide them on how to prevent sneakers from creasing.