Removing diesel smell from clothes is straightforward.
Pre-treat the garment by blotting it with paper towels and soaking it in warm, soapy water overnight.
Wash with a mixture of laundry detergent, white vinegar, and baking soda to deodorize.
For stubborn smells, soak clothes with a combination of Coca-Cola and baking soda for 24 hours before washing.
Use Fast Orange in a regular wash cycle for a quick and effective remedy.
Eucalyptus oil or ammonia can be used in the washing machine for their degreasing properties.
Now, let's dive into the easiest and most cost-efficient method using baking soda and vinegar, which are common household items.
First, manually pre-treat the affected area by thoroughly blotting out the diesel fuel with paper towels. Soak your clothes in warm water mixed with dish soap to further break down the diesel compounds overnight. After soaking, rinse the clothes well to remove the soapy solution.
Next, place the pre-treated clothes in the washing machine. Add your usual laundry detergent for cleaning power. Pour in half a cup of white vinegar, which acts as a natural deodorizer. White vinegar is an affordable and effective way to neutralize odors without the use of harsh chemicals.
Sprinkle half a box of baking soda directly onto the clothes in the washer. Baking soda is another inexpensive and readily available product that absorbs and negates odors effectively.
Run a full wash cycle, allowing the vinegar and baking soda to work together. These ingredients not only deodorize the fabric but also help lift the diesel residue from the fibers of your clothing.
After the cycle finishes, give your clothes a sniff test. If any diesel odor remains, repeat the washing process. Typically, one round is enough, but a second wash cycle ensures complete odor elimination.
With this method, you address the diesel smell effectively, leveraging the power of simple household items for a solution that is both easy on the wallet and easy to accomplish.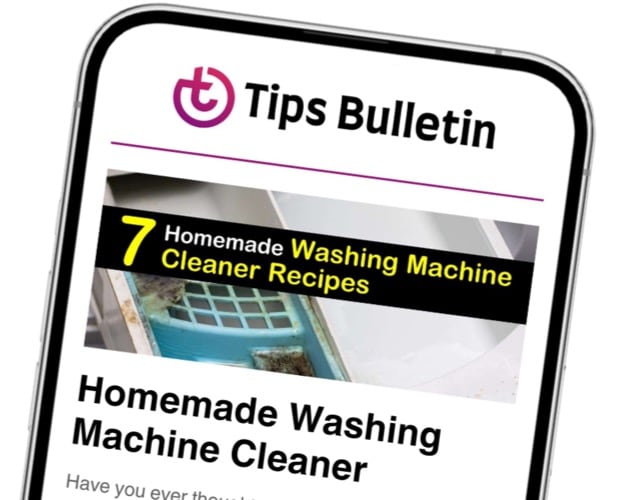 Finally, an email that Transforms Your Home.
Get the latest home and garden tips from our experts, delivered straight to your inbox.
Diesel fuel odors are notorious for clinging to clothing, whether you spent the weekend working on your truck or had an accidental diesel spill. Tossing your clothes in the laundry room without treating the odor is a bad idea since the gasoline odor quickly fills the house. Learn why a fuel smell stubbornly clings to materials and how to get the diesel smell out of clothes.
If you've ever gotten fuel on your hands while pumping gas or spilled gasoline while filling the lawn mower, then you're aware of its noxious odor. Diesel smells even more potent than regular fuel, making it more challenging to remove from materials.
While you may not notice the diesel fuel smell so much while you're outside, it's hard to miss when you head indoors. It permeates your clothes and skin and follows you wherever you go. Unfortunately, tossing it into the washing machine for a basic wash cycle isn't always enough to remove the gasoline stain or odor.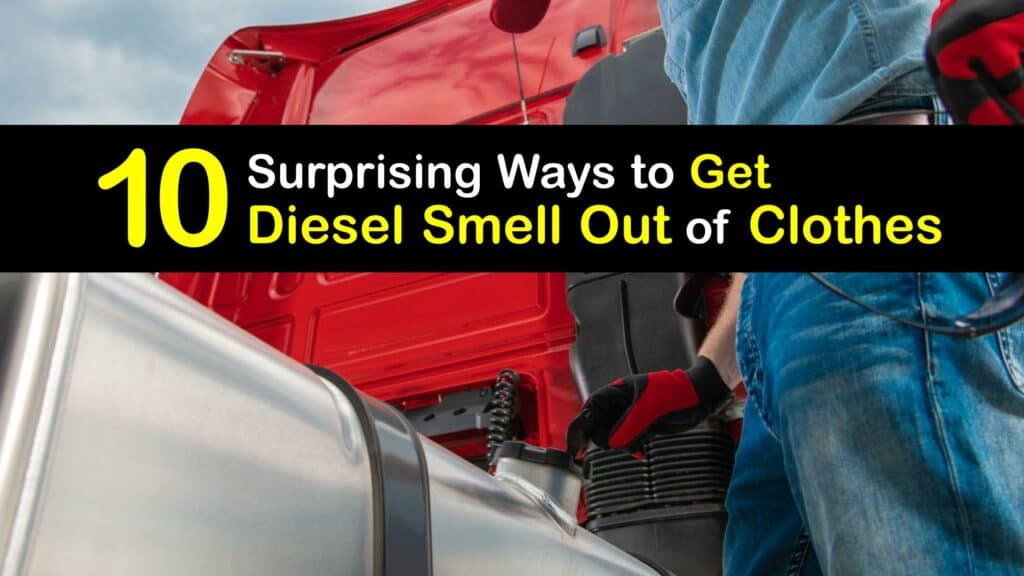 Ways to Remove Diesel Odor From Clothing
Though your diesel-stained clothes seem doomed for the trash, don't throw them away yet. There are several ways to remove a fuel stain from clothing and eliminate diesel odor.
Why Doesn't Regular Detergent Remove Diesel Smells?
You know you made a mistake if you've ever tossed a clothing item with a diesel stain in the washing machine. Not only does it smell like gasoline, but the rest of your laundry also has a bad smell. So, why doesn't laundry detergent get rid of diesel odor?
Diesel Stains and Odors
Diesel fuel has a high percentage of nitrogen and sulfur, resulting in a strong chemical smell. Unlike regular gasoline, which evaporates fast, the sulfur and nitrogen particles cling to clothing and shoes, and the stench may linger for six to eight weeks.
Unfortunately, laundry detergent alone cannot completely break down these types of stains, and it's essential to use a degreasing agent and deodorizer.
Prepare for Getting Diesel Fuel Smell Out of Clothes
It's helpful to remove as much of the stain as possible and soak the item before treating it to get the best results from the diesel stain removal process. Pretreat the fabric before getting diesel fuel smell out of clothes.
Before doing anything else, use a paper towel to blot up the gas stain. Discard dirty towels and use clean ones until you remove as much of the diesel as possible.
Fill a large plastic bin or tub with warm water, add a tablespoon of dish soap, and soak the clothes in the soapy water overnight. Rinse the item with clean water, wring out the excess liquid, and apply a degreaser or odor absorber to the stain. This method is also the best way to get diesel smell off your hands if any lingers after cleaning your clothes.
How to Remove Diesel Smell From Clothing
White vinegar and baking soda can deodorize clothing quickly – combining them is an inexpensive way to remove a gasoline smell. Discover how to remove diesel smell from clothing with these two ingredients.
Place the clothes in the washing machine by themselves to prevent spreading the fuel smell to other items. Add laundry detergent, white vinegar, and baking soda over the top of the clothes. Run a full wash cycle and smell the items for any remaining scent. Repeat the process or use another cleaning method if there is still a gas smell.
How to Get Diesel Smell Out of Clothes With Coca-Cola
While you may not think of using a fizzy beverage on your clothing, Coca-Cola has impressive cleaning properties for spilled gas on shoes and clothing. Mixing it with sodium bicarbonate gives it an extra kick. Here is how to get the smell of diesel out of clothes with a bottle of Coke and baking soda.
Soak your stained clothes in the washing machine for a couple of hours. Drain the water, start another soak, and add the Coca-Cola and baking soda to the machine as it fills. Soak the items for 24 hours and run a final wash cycle to flush away the soda.
Using Rubbing Alcohol to Remove Diesel Odor From Clothes
Rubbing alcohol is a stain lifter, and baking soda absorbs foul odors – both ingredients are safe for use on many kinds of fabrics. Learn how to remove diesel smell from clothing with rubbing alcohol and baking soda.
Place the stained item on a large towel and sprinkle baking soda over the stain. Pour rubbing alcohol over the top of the powder and let it soak through for about an hour. Wash the item as usual and check for stains before drying it in the dryer.
Getting Diesel Smell Out of Clothes With Eucalyptus Oil
Eucalyptus oil contains degreasing agents, and its pleasant scent is excellent for getting diesel fuel smell out of clothes. Use this essential oil when diesel stains clothes to remove fuel stains and odors.
Place the item in the washer on the warm water wash cycle and add several drops of eucalyptus oil after the water fills. Clean the clothes on the normal setting and check them when it completes for leftover smells.
Removing Diesel Fuel Odor From Clothing With Ammonia
If you don't have white vinegar, baking soda, or rubbing alcohol, consider cleaning your clothes with ammonia. Diesel fuel and engine oil will come out of clothes with strong ammonia. While you may find using a strong-smelling solution to eliminate another odor odd, ammonia is fantastic at removing diesel smell from fabric.
Place the garments in the washing machine and add laundry soap as usual. Allow the washer to fill, and add a half cup of ammonia. Use a normal wash cycle and check the item for odors when it completes. Repeat if necessary, or hang up the material to air dry.
Eliminating a Diesel Fuel Odor From Fabric
Listerine does more than freshen your breath. This product contains ethanol and eucalyptus oil, and it works well to remove odors from fabric. Explore how to get fuel smell out of clothes with mouthwash.
Pick the normal wash setting with warm water, and add your favorite laundry detergent and the stained clothes. Pour a cup of Listerine into the bleach compartment or the water, close the lid, and let the washer run its course.
Smell the item when the cycle ends. If it still has a gas odor, repeat the process, but this time add a half cup of washing soda to the washer with the detergent.
Use Fast-Orange to Remove Diesel Stains From Clothes
Fast Orange is a popular product for mechanics since it removes grime and grease from the skin. Additionally, this hand cleaner quickly removes diesel stains and odors from clothes.
To remove a diesel stain, spread the garment on a towel and apply a dab of Fast Orange directly onto the affected area. If there are no stains present, but the clothes have a diesel odor, run a regular wash cycle with a tablespoon of Fast Orange and laundry detergent.
Final Treatment for Getting Diesel Fuel Odor Out of Clothes
It's essential to give your clothes a final cleaning after using vinegar, eucalyptus oil, ammonia, or another odor-eliminating method to remove leftover residue. Machine-wash your item as the last step in the stain removal process.
Do not place the affected clothing in the machine with other items, even if you feel confident that most of the diesel fuel is gone. There may still be some gas remaining even after pretreating the clothes.
Place the clothes in the washer with your laundry soap of choice, and use the warm water standard wash setting. When the cycle completes, give the garments a good sniff test, and if they pass, transfer them into the clothes dryer with fabric softener. Otherwise, put them through another wash cycle or air dry them.
While soap and hot water usually work to get everyday stains out of clothes, it takes more than regular laundry detergent to get diesel smell out of fabric. Luckily, several everyday items eliminate a gas smell from clothes without taking them in for dry cleaning. You probably have at least one of them right now.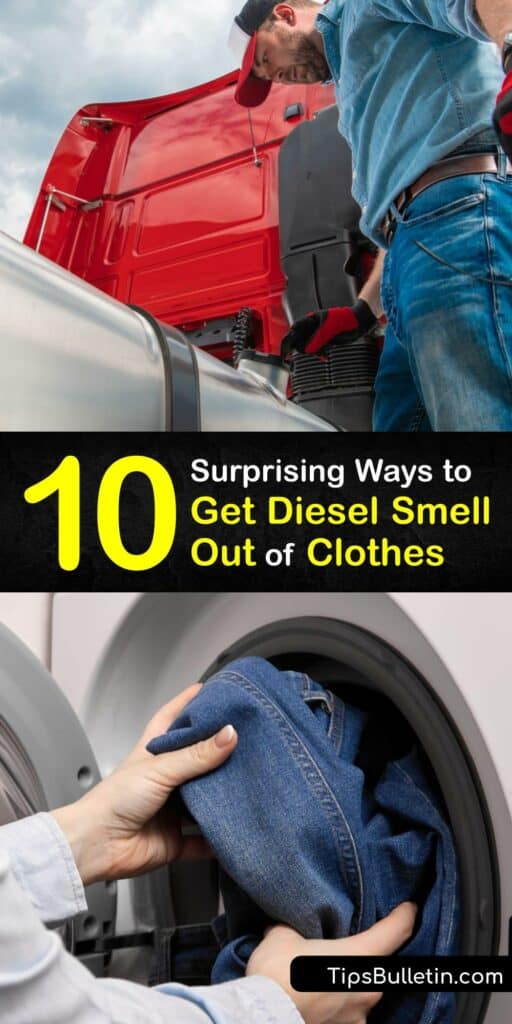 Now that you've learned how to get diesel smell out of clothes and keep your clothes smelling fresh, why not share our diesel odor-removing methods with your family and friends on Pinterest and Facebook?