Slipping on a brand new white pair of shoes makes you feel stylish. But have you ever noticed that white shoes are a magnet for dirt and seem to get stained almost immediately? We show you how to get dirt out of white shoes using several easy methods and give them a look they had the first day you bought them.
If you do not tread carefully through life, then your shoes undoubtedly have scuff marks. Unfortunately, these scuffs, stains, and areas of loose dirt are startlingly obvious on white shoes. They stand out in stark contrast as if to proclaim to the world of your many travels. Embarrassed by their appearance, you probably shove them aside in favor of a less offensive pair.
However, your favorite shoes don't belong at the bottom of the closet simply because they are no longer the bright white color of newness. It's time to dig out your once-white shoes and restore them to their former glory.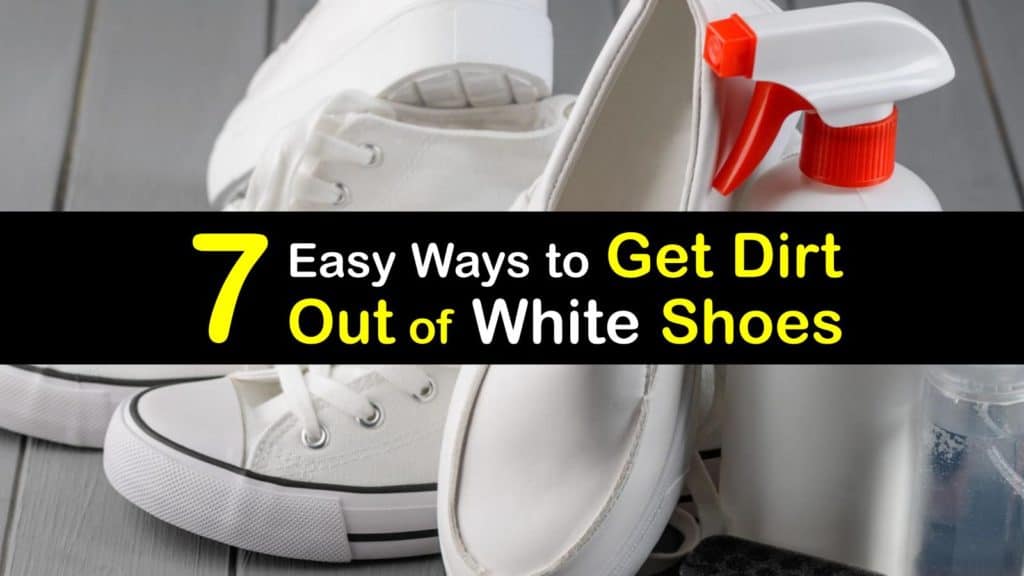 Ways to Get Dirt off White Shoes
White shoes are classy, but not when they begin to turn gray with dirt. It can sometimes be challenging to keep white shoes clean. Here are several simple ways to clean-white-shoes, whether they are canvas, suede, leather shoes, Adidas, Converse, or any other shoe brand.
Clean Dirt off White Shoes With Soapy Water
Not all shoes, such as leather or suede, are safe to toss into the washing machine, and it's essential to use a gentler method to clean dirt off white shoes. This is when a basic solution of soap and water comes in handy. Use this method for washing Toms canvas shoes.
For this homemade shoe cleaning solution, combine a cup of warm water with a teaspoon of dish soap and agitate it to make a soapy solution. Any type of liquid dish detergent is fine to use to clean your shoes. Dip the end of a cloth or rag into the soapy water and apply it to the dirty area of your sneaker.
Use circular motions to clean the spot and then wipe it with a cloth and fresh water to clean yellowish shoes. Dry the shoe thoroughly with a towel when finished and use a shoe conditioner to treat leather.
Getting Dirt Stains Out of White Shoes With Bleach
Bleach helps get dirt stains out of white shoes made of fabric or canvas. However, it's vital to dilute the liquid with some warm water to prevent the material from yellowing.
Pour one part bleach and five parts warm water into a bowl and stir the liquids. Dunk the bristles of an old toothbrush into the cleaning solution and rub it gently on the dirty areas of your canvas shoes.
Start with the shoe's fabric areas, and then work your way to the harder areas, such as the soles. Use a clean cloth damp with cold water to wipe away residue and let them air dry.
How to Get Dirt Out of White Shoes in the Washing Machine
If your white sneakers are machine washable, then the easiest way to remove dirt from white shoes is toss them in the washer. Doing this gets the entire shoe surface clean and is ideal if they are particularly filthy. Here is how to wash Vans in the washer safely.
Remove the insoles and shoelaces and place the sneakers in the washing machine. Add your regular laundry detergent and use a cold, gentle cycle.
After the washer completes, remove your shoes and allow them to air dry before putting the insoles and new shoelaces back in place.
If you don't want to put the shoelaces in the washer, clean white laces with baking soda to bring back their bright color. Do not dry shoes or laces in the clothes dryer to prevent shrinkage and damage.
Of course, you may wonder, "Can you shrink shoes?" There may be some instances where you shoes need to be a little smaller. In that case, add them to the dryer in short increments so you can check their progress and get the best fit.
Cleaning Stains off White Shoes
A natural way to clean dirt off white shoes or to get scuff marks off shoes is to use white vinegar and baking soda. Combining these two ingredients creates a powerful cleaner that removes grime and stains from many materials. Try this home remedy for how to get rid of grass stains as well as mud.
Pour the baking soda, white vinegar, and hot water into a bowl and mix the ingredients. Dip a toothbrush head into the mixture and dab it on the stained areas of your shoes or apply it to the entire surface to remove mud stains from shoes or get rid of other unwanted blemishes.
Use a gentle scrubbing motion as you work your way over the fabric, and let the sneakers dry in a sunny area for about three hours. After the paste is dry, slip your hands inside the shoes and slap them together to shake off the powder.
Try this remedy to remove paint from shoes and eliminate all kinds of other stains. Depending on the stain, re-treatment may be necessary.
Using Toothpaste to Clean White Shoes
If you do not have cleaners in your home, there is a secret ingredient hiding in your bathroom that doubles as a cleaner. It may be the best way to clean white shoes. Believe it or not, toothpaste works great for getting dirt stains out of white shoes and can even get grass stains out of shoes.
Put a small dab of white, non-gel toothpaste on the head of an old toothbrush. Wipe the stained area of the shoes with a damp cloth and rub the toothbrush bristles over the stain to get grass stains out of white shoes or just plain old dirt. Use the damp rag to wipe away the dirt and toothpaste residue.
Using Hydrogen Peroxide to Clean White Shoes
Hydrogen peroxide is an antiseptic that also has mild bleaching action. This natural liquid is safe for cleaning and works wonders for removing stains from white tennis shoes. It's ideal to get blood out of white shoes and other stubborn stains.
Pour hot water, hydrogen peroxide, and baking soda into a bowl and mix the solution well. Dip the toothbrush head into the cleaner and apply it to your shoes' fabric using a gentle, circular motion.
Set the sneakers outside in the sun to dry for three to four hours, and then smack the shoes together with your hands to shake the dry residue free.
How to Remove Dirt From White Sneaker Soles With a Magic Eraser
Sometimes you don't have the time to give your shoes a thorough cleaning. If you're in a rush to get out the door and you notice that the soles of your white shoes are unsightly, try using a Magic Eraser for getting tar off shoes and cleaning dirt off white shoe soles.
Magic Eraser Shoe Sole Cleaning
Get one side of a clean Magic Eraser wet to activate the micro-scrubbers and wring out the excess water. Slip one hand inside the sneaker and rub the damp eraser back and forth over the sole of your shoe.
After you finish cleaning around the whole sole, repeat the steps on the opposite sneaker. A Magic Eraser is also useful for cleaning the toe box, wedge, and eyelets.
Most of us have different shoes for different occasions, and clean white shoes are top of the list.
However, their crisp whiteness fades with time, and it's not long before those shoes look drab and filthy. Fortunately, there are ways to restore those shoes to new using everyday cleaners.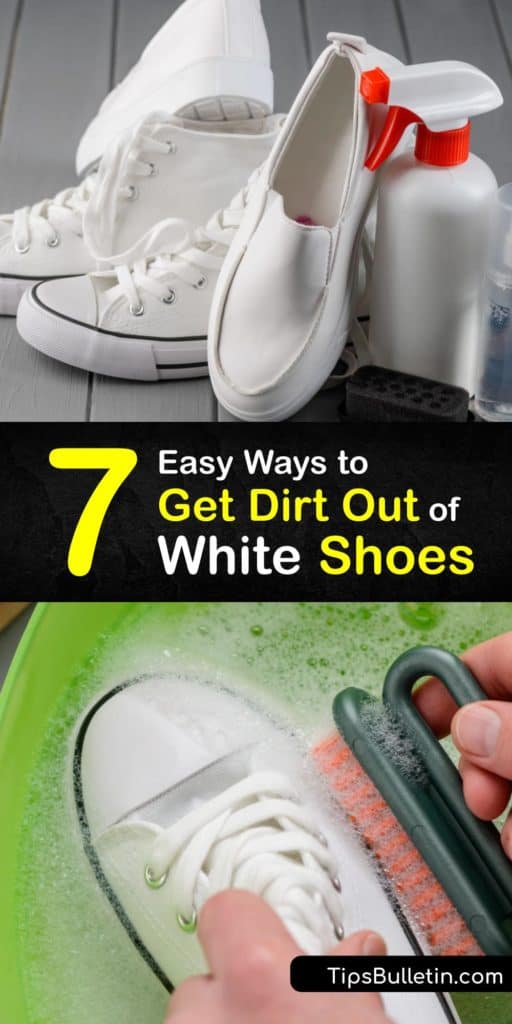 Now that you know how to get dirt out of white shoes so that you get to walk in style again, why not share our white shoe cleaning tips with your social circle on Facebook and Pinterest?