Pets are beloved family members; however, the hair they leave behind can be unsightly when you find it covering your furniture's upholstery. On top of appearances, loose fur on your furniture may be an allergen to guests. Learn how to get dog hair off furniture to keep your furniture fabric looking and smelling clean.
Professional grooming services are pricey, and even with regular grooming at home, you may be unable to prevent all dog or cat hair from sticking to your furniture. Investing in couch covers keeps unwanted hair off your furniture, but hair may still gather on any protection you use on your couch unless you have a microfiber cloth covering your furniture.
Because of how often you use your furniture, keeping your couches free of hair is directly linked to keeping pet hair off your clothes. Continue reading to find new ways to get dog hair off your furniture.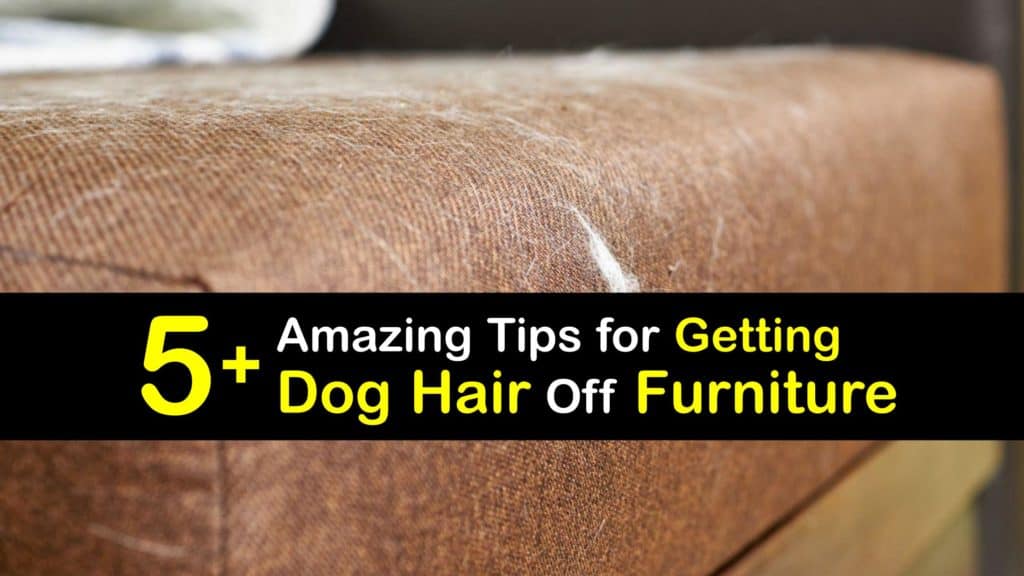 Tips for Getting Pet Dog Hair off Furniture
If your dog enjoys lounging on the furniture with you, it's essential to know how to clean their hair off. Depending on your furniture color, it may be hard to tell how much hair your pets leave behind, but with our help, you'll be able to get rid of any hair you find.
Remove Dog Hair From Furniture Using Adhesives
Items like lint rollers easily roll across surfaces and pull hair and lint away, sticking it to the roller. Rollers are inexpensive and easy to find, and you get a lot of uses out of them. They're the perfect way to remove pet hair from fabric of all types. If you can't find a lint roller or a non-sticky lint brush, tape works just as well to remove pet hair from furniture.
Strong tape adhesive is perfect for pulling stubborn hairs out of your furniture fabric. Duct tape is known for its strength; many use it for quick home repairs, and wrapping a loop of tape around your hand creates an ideal hair puller.
Another type of sticky tape that works well for getting stray hairs off your furniture is packing tape due to the large size of the roll. To remove dog hair from sofa cushions, press the sticky side of the tape to the couch and watch the hair come off with ease.
Fabric Softener Spray
In terms of laundry, fabric softeners loosen fabrics to prevent wrinkles, makes your clothes feel softer, and reduces cling. To get the same benefits on your furniture, create a safe fabric softener spray.
To make fabric softener safe to use on furniture, dilute it with water and add it to a spray bottle for easy application, whether you are keeping cat hair off outdoor furniture or taking care of indoor pieces. Once you spray your furniture, use a paper towel to wipe up excess hair.
Getting Pet Hair off Furniture Using a Pumice Stone
Pumice stones are lightweight stones with an abrasive texture ideal for scraping and removing dead skin. Outside of using them for self-care, pumice stones collect pet hair from various fabrics.
Start at one edge of your furniture cushions and gently drag the stone across to pull loose pet fur together into piles. Because of the stone's texture, we don't recommend using it to remove hair from between leather seats.
How to Get Dog Hair off Furniture With a Vacuum Cleaner
If you have hardwood floors in your home, you may not use a vacuum cleaner, but it is the best pet hair removal tool, whether on your carpet or couch, and is ideal for cleaning dirty suede furniture that's a bit dusty or contains pet hair.
Many standard vacuum cleaners come with attachments like a small rubber broom designed to drag across surfaces to pull hair and lint into the vacuum. Some vacuums even come with extension pieces and brushes to make getting rid of unwanted pet hair easier.
Getting Pet Dog Hair off Furniture With Rubber
Many of the best pet grooming items are made with rubber because the rubber teeth in grooming gloves easily pull hair from your dogs coat into the grooming tool. Rubber brushes quickly clean hairs from dog fur off your furniture and are great for cleaning dog hair from a car, too. The rubber bristles won't damage your furniture as they draw in loose hairs for easy dog hair removal.
If you don't have any rubber grooming tools, use a rubber glove. Put on the rubber glove and run your hand across your furniture in one direction or use this remedy for getting rid of dog hair on clothes. Watch as the hair pulls from the furniture or clothing, sticks to the glove, and gathers into clumps for easy removal.
Removing Pet Hair in the Dryer
If you have removable cushion casings, remove dog hair from furniture by tossing your couch cushions into the dryer. As fabrics tumble in the dryer, static electricity builds and causes fabrics to stick to each other. This cling is why clothes seem stuck together after coming from the dryer without a dryer sheet.
This same static causes loose pet hair to stick to our clothes. While the dryer doesn't remove all animal hair, many commercial items make hair removal possible.
Spraying your seat casings with an anti static spray before placing them in the dryer also reduces the amount of static cling on your cushions, making it easier for hair to fall off in the dryer. Toss a damp washcloth into the dryer to allow pet hair to stick to it rather than your seat cushions.
Unless you have short-haired pets or tight synthetic fibers in your home, it's essential to know how to get pet dog hair off furniture. Keeping your furniture hair-free keeps it looking better and smelling fresher longer.
Adding dryer sheets or wool dryer balls to the machine creates anti-static to help repel hair from your casings. Loose hair in the dryer gets sucked into the lint trap.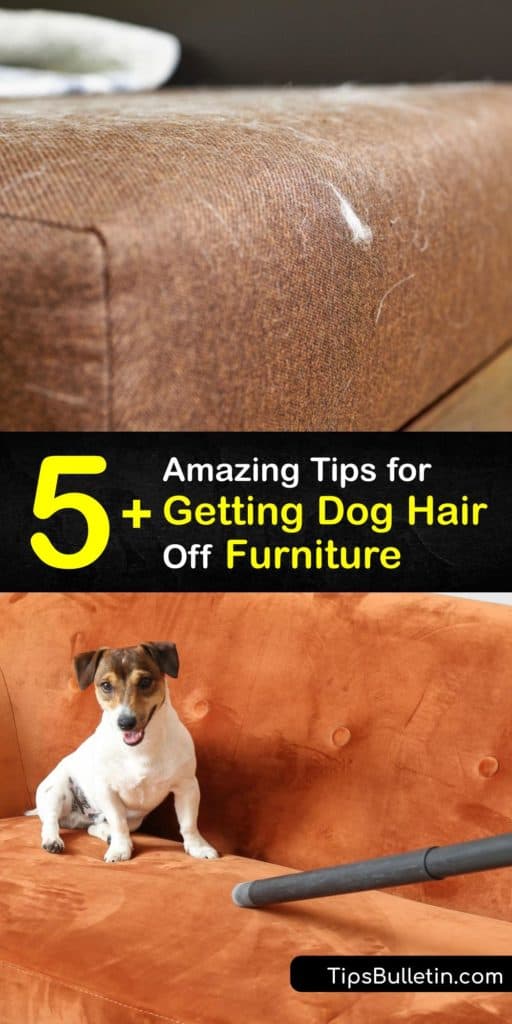 We hope you learned how to get dog hair off furniture with help from our guide and will share our tips on Facebook and Pinterest with your friends who may need advice on how to remove dog hair from furniture.