Dogs enjoy nothing more than going for a car ride, with their head hanging out the window and the wind in their fur. While it's an enjoyable experience for your pet, it often leaves your car carpet and upholstery covered with hair strands and pet odors. Discover how to get dog hair out of car seats, whether loose or embedded hair.
You know it's time to clean the upholstery in your car when a stray dog hair flutters across your face while you drive down the road and your clothing has shed hair on it after sitting on the car seat.
As a pet owner, you find yourself constantly plucking these hairs from just about everywhere. Taking your dog for joy rides is fun for both of you. However, these adventures leave your car upholstery covered with pet hair.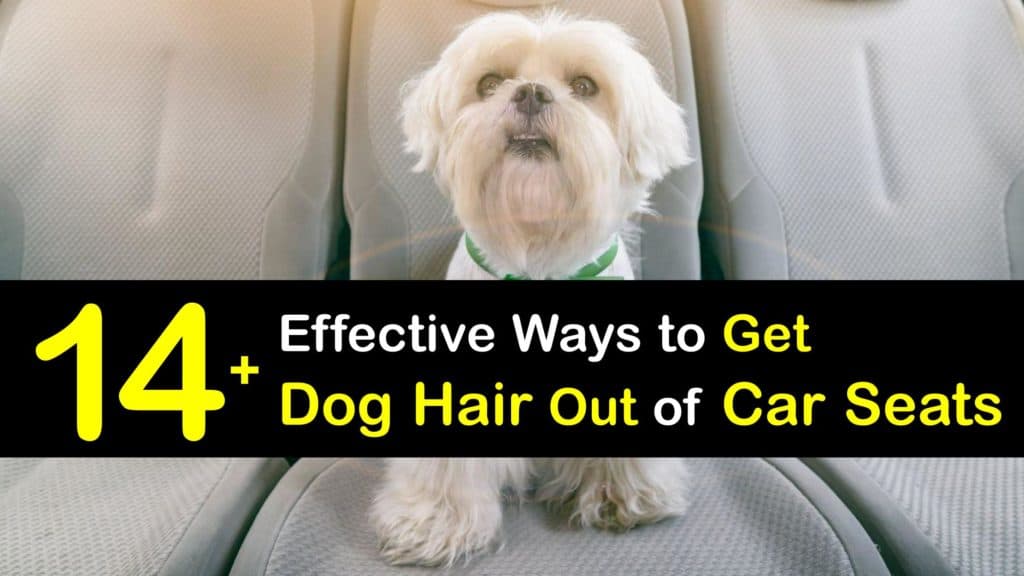 Simple Ways to Remove Dog Hair Off Car Seats
While leaving your dog at home is a simple solution, how can you possibly say no to that sweet, furry face? Fortunately, there are many ways to remove stubborn dog hair from the seats and carpet in your car.
No one wants to spend the afternoon picking dog hairs from their cars upholstery. Luckily, there are many quick and effective ways to remove this stubborn hair.
We put together a range of pet hair removal hacks to get your car seats clean and fur-free.
Using a Lint Brush to Remove Dog Hair from Car Upholstery
While we often use a lint brush to get pieces of lint and dust off our clothing and as a way to get dog hair off blankets, it's also helpful to remove dog hair from car upholstery. These handy gadgets are inexpensive, and you can find them at any convenience or department store.
To remove dog hair from car carpet or car seats, begin at the top of the seat or one end of the carpeting and roll the lint roller in one direction. Remove the old sheets as needed and clean the top, bottom, sides, and back of each seat to remove dog hair.
Use a lint brush in the same manner and remove the hair from the brush with your hands as you work.
How to Get Pet Hair Out of Car Seats by Vacuuming
If it's been a long time since you cleaned your car, a vacuum cleaner is your best bet to get pet hair out of car seats. It's also a great way to remove dog hair from carpet in the house. Here is how to remove pet fur from upholstery using a handheld vacuum or a full-size unit with a brush attachment.
The best type of vacuum to use to remove pet hair from car seats is one that comes equipped with a rubber bristle brush. The rubber brush collects hair better than the standard type and is easier to clean.
Begin at the top of the car seat, turn the vacuum on, and work in sections by moving the brush from top to bottom.
Once the pet hairs are gone, move on to the seat section, making sure to use the hose crevice tool to get into the crevices.
Use this same technique for removing dog hair from furniture, whether it's a couch, loveseat, or recliner.
Here is How to Get Dog Hair Out of Car Seats with Fabric Softener
While a fabric softener's main job is to soften clothes while reducing static, it also pulls stray hairs off the upholstery. Here is how to remove pet hair from car seats with a fabric softener.
Pour three teaspoons of fabric softener into a spray bottle and fill it up with water. Shake the container and spray the liquid on your car's upholstery.
Use a paper towel to wipe away the loosened strands of pet hair. If you do not have liquid fabric softener, dampen a dryer sheet with water and use it to wipe the seat surface to remove pet hair.
Using a Balloon to Remove Upholstery Pet Hair
If you've ever rubbed a balloon on fabric and then held it over your hair to watch the strands rise from your head, then you know about a balloon's power to harness static electricity.
This method is an effective and fun way to remove dog hair from car upholstery.
Rub a blown-up balloon over the areas of your car covered with pet hair. The hairs should stick to the balloon and are easy to remove with a damp paper towel. Repeat the process until your car seats are hair-free.
Getting Pet Hair Off Car Seats with Rubber Gloves
While you can use your hands to remove loose strands of pet hair from fabric, putting on a pair of rubber gloves speeds up the process since the hairs stick to the material. Learn how to get pet hair out of car seats with a rubber glove.
Slip your hand into a rubber glove and sweep it in one direction over the seat's upholstery. Continue this motion to get loose strands to stick to the glove while pushing larger sections into clumps.
If the hair does not come off the fabric, dampen the glove with water before cleaning the seat.
A rubber glove comes in handy to use as part of the way to clean throw up out of car, whether it's from the dog or someone else. Grab an old towel you keep in the car for emergencies and pick up as much as you can. Dispose in an old plastic bag.
Use a cleaner on the stain. Make a simple car seat cleaner to keep in the car for these types of situations so you'll be ready when the worst happens.
Removing Pet Hair from Car Seats with Velcro Curlers
Velcro hair curlers seem like a thing of the past. However, a velcro curler is an excellent tool to remove dog hair from car seats. Keep one in your glove box and use it to pick up even the most stubborn pet hair on the go.
Velcro Curler Pet Fur Removal
Start at the top of the car seat and roll the velcro curler down the fabric to the bottom.
Remove the hair from the curler and continue cleaning in sections until you reach the other side. Repeat the steps on the seating area, sides, and back until all pet hair is gone.
Using Sticky Tape to Clean Dog Hair Off Upholstery
If you don't have a roll of duct tape in your home or car, it's a good time to get one. This tape repairs just about anything, and it even works to get dog hair out of car upholstery.
While most types of tape work, duct tape and packing tape have the most stickiness for picking up hairs. First, roll a large piece of tape around your hand with the sticky side facing outward.
Press your hand firmly on the affected area of the car seat to lift and collect loose hairs. Repeat the steps with fresh tape as it gets full to remove all pet hair.
How to Use a Squeegee to Remove Pet Hair from a Car Seat
The best way to get dog hair off car seats quickly is to use a squeegee, and you may already have one in the trunk of your car.
The rubber section pulls loose hairs and debris away from the seat upholstery, forming a wad of hair that is easy to remove.
Squeegee Pet Hair Removal
A squeegee works much the same way as rubber gloves. The rubber material gently and safely pulls the hair away from the surface of the seat fabric.
Start at the top of the car seat and pull the squeegee downward to pull the hair into a pile, and remove it with your hands.
Removing Pet Hair from Car Seats with a Wire Brush
If you have a dog that is a heavy shedder or more than one dog, a wire brush might be the tool you need to remove stubborn and excessive pet hair from car seats. It's also handy for getting to hard-to-reach areas.
Brushing Strategy
Starting at the top of the seat, gently press the bristles of a wire brush to the upholstery, and pull the brush downward.
Some of the pet hairs stick to the bristles, while others form a clump near the bottom of the seat. Use your hands to remove the loosened hairs and move on to the next section until all the pet fur is gone.
How to Remove Stubborn Dog Hair from Car Seats with a Toothbrush
While rubber gloves and duct tape get pet fur off the surface areas of car seat upholstery, they often miss nooks and crannies.
A toothbrush works wonders to remove pet hairs clogged in crevices and along the seams of the car seat fabric.
Locate the crevices and seams of your car seat and use an old toothbrush to gently brush the pet hairs out of the hard-to-reach spaces.
Use a pulling motion to brush the seat edges and remove the hair with your fingers as you work. If the dry toothbrush doesn't do the trick, get it damp with water to help loosen the hairs.
Using a Damp Sponge to Remove Pet Hairs Off Upholstery
A damp sponge is handy for picking up stray pet hairs if you don't have the other tools like a squeegee, rubber glove, or Velcro hair curler.
This method is ideal if you're in a hurry, and you can also use a slightly damp washcloth or paper towel.
Get a sponge or washcloth damp with water and wipe the car seat from top to bottom in a line. Remove the hairs from the sponge and move on to the next section to repeat the steps.
Check the seat near the bottom for clumps of hair that may gather as you pull the sponge across the surface.
While removing pet hair, what happens if you spot some gum stuck to the seat? Don't panic. Add some ice cubes to a zipper seal bag and apply the cold to the gum until it hardens. You should be able to remove gum from car upholstery with the edge of a butter knife. Repeat as needed until all the gum is gone.
A sponge is another emergency item to keep in the car. Use it with a DIY enzyme cleaner for dog urine that you have on hand for pet accidents when travelling with your furry friend.
Getting Pet Hair Off Car Seats with a Pumice Stone
A pumice stone is a good choice to remove stubborn hairs from car seats and carpeting.
The fine-grain stone removes the hairs with ease and is convenient to store in the glove compartment. However, it's not recommended for use on delicate upholstery.
Pumice Stone Hair Removal
Grip the pumice stone in your hand and press it lightly to the top surface of your car seat. Pull the stone from the top to the bottom to pull up loose hairs from the fabric and then remove them by hand before moving on to the next section.
Repeat the steps on your car seats and carpeting until the pet hair is gone.
How to Make a Homemade Pet Hair Repellent Spray for Upholstery
As much as we love our pets, we don't want to deal with removing their fur from the car daily. Try this homemade pet hair repellent spray to stop stray hairs from sticking to the upholstery.
Combine two tablespoons of liquid fabric softener and a cup of water in a spray bottle and shake it gently to mix.
Mist the anti-static solution lightly over the upholstery and carpeting in your car to eliminate static build-up and prevent pet hairs from sticking to the surface.
Ways to Prevent Pet Hair on Car Seats
While you may still discover stray hair here and there, there are ways to prevent your dog from shedding all over the car upholstery and carpet. Here are some tips for keeping dog and cat hair from taking over your vehicle.
One of the simplest ways to keep pet hair from sticking to the seats in your car is to cover them with seat covers.
Remove the covers as they collect hair and clean them in the washing machine. If you'd prefer not to cover the seats in this manner, a towel or blanket works as well.
If your dog is prone to shedding, brush them well before taking them on a car trip to prevent excess hair from sticking to the upholstery.
It's also useful to keep a squeegee, lint roller, roll of duct tape, or another pet removal tool in your glove box or trunk for quick cleaning after the car ride is over.
Grooming Your Pets to Prevent Shedding in Your Car
Even if you use a pet hair removal technique every time you drive and take steps to prevent the accumulation of shed fur, it's impossible to have your car completely hair-free.
Regular grooming of your pet goes a long way to keeping a shedding problem in check.
It's essential to brush your dog every couple of days to remove loose hair, especially when shedding.
A slicker brush works for most dog hair types, a fine-toothed comb is ideal for short-hair dogs, and a wire brush is perfect for dogs with a thick coat.
Another way to reduce the number of hairs shed by your pet in the car is to bathe them. Use a gentle shampoo and conditioner and bathe your dog at least once every two to three months.
Our pets are a part of the family, and we love to take them for car trips when running errands. However, they constantly shed hair wherever they go, and car seats are a magnet for this excess fluff.
Fortunately, removing dog fur from upholstery using the proper techniques is easier than you may have thought.
Now that you learned how to get dog hair out of car seats so that you and your furry friends can go on adventures together without all the fuss, why not share our pet hair removal methods with the dog-lovers in your life on Pinterest and Facebook?