Removing dog hair from clothes can be quick and effortless.
To effectively remove dog hair from clothing:
Dampen your hands or a rubber glove and briskly run it over your clothes to clump the hair together for easy removal.
Apply a mixture of fabric softener and water from a spray bottle onto the clothes, then wipe down with a paper towel to gather and eliminate hair.
Press a dryer sheet against your garments to gather up hair and leave your clothing smelling fresh.
Roll a lint roller over your clothing to lift both loose and embedded hairs, refreshing the adhesive strip as needed.
For hair that's extra stubborn, wrap sticky tape around your hand, sticky side out, and pat down your clothes to pull the hair off.
Each of these steps is a quick and inexpensive way to ensure your clothes stay hair-free. With these methods, you can easily tackle pet hair on your clothing, saving time and money while keeping your outfits looking their best.
As a dog owner, dealing with pet hair is likely a part of daily life. Keeping pet hair under control may come in the form of grooming excess hair from your pet, vacuuming loose hair out of your car, or finding stray hair on your favorite pieces of clothing. With pets loving to be close to us, knowing how to get dog hair out of clothes is essential to keeping your wardrobe clean and hair-free.
Constant grooming to minimize shedding becomes costly, and as careful as you try to be, it seems inevitable your dog's hair wants to cling to your favorite black sweater.
While it may be impossible to avoid altogether, there are ways to remove pet hair from clothes quickly and easily. Continue reading for several simple and effective methods for dog hair removal and tips to ensure you stay ahead in the war on pet hair.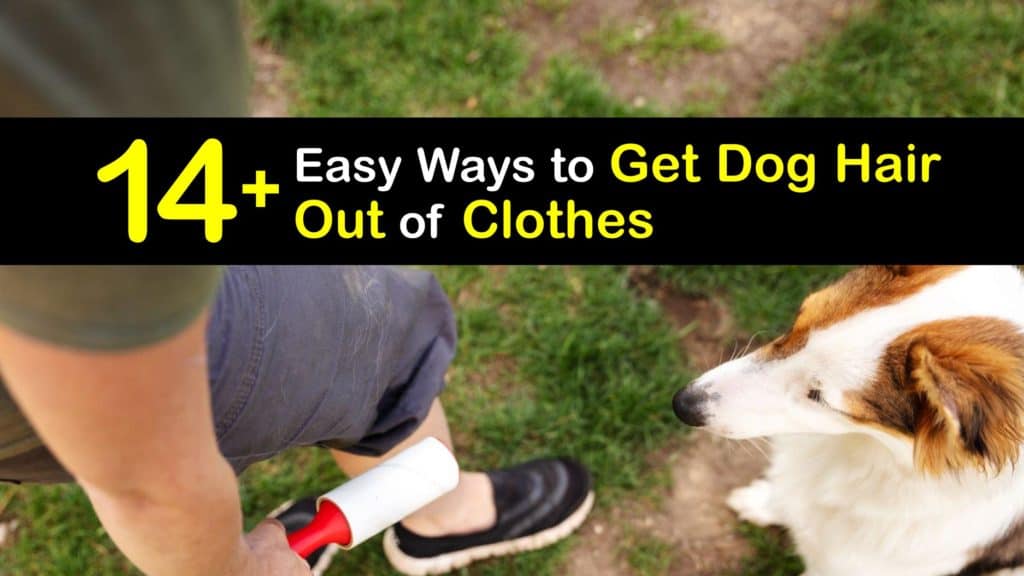 Get Pet Hair Out of Clothes Easily
Luckily for pet owners, getting pet hair off your clothes doesn't have to be costly, and it's much easier than getting dog urine smell out of clothing. Many options for removing dog or cat hair involve items already available in your home or inexpensive solutions from the store.
Use Water to Remove Dog Hair From Clothes
Perhaps the easiest method for pet hair removal involves lightly spraying your clothes with water or just getting your hands wet.
Before getting dressed, look over your clothes for loose hairs and spray the area with water from a spray bottle.
Using your hand, dry or wet, run it across the fabric in one direction. The water makes pulling hair and lint easy, and it gathers into small bundles on the material, making removal quick.
How to Get Dog Hair Out of Clothes With Rubber Gloves
Like using water to gather and pull hair from your clothes, place a rubber glove onto your hand to create an easy pet hair removal tool, whether you need to get dog hair out of your car or your shirt and pants.
Rubber efficiently picks and rolls hair together, and using a rubber glove makes cleaning large portions of your clothes simple.
Use a sweeping motion in one direction to roll and collect pet hair on your clothes. Small bits of loose hair stick to the gloves as you move it across the fabric and larger clumps of pet hair gather into balls, making it easy to pick off your clothes.
If you are cleaning a lot of hair off your clothes, spray water onto the fabric before using the glove. Follow the same procedure for furry furniture. It's a great way to get dog hair off couch cushions.
Fabric Softener Makes Dog Hair Easier to Remove
When used in the laundry, fabric softener loosens fabrics and hair follicles and is a great way to get static out of clothes, especially right after you put them on.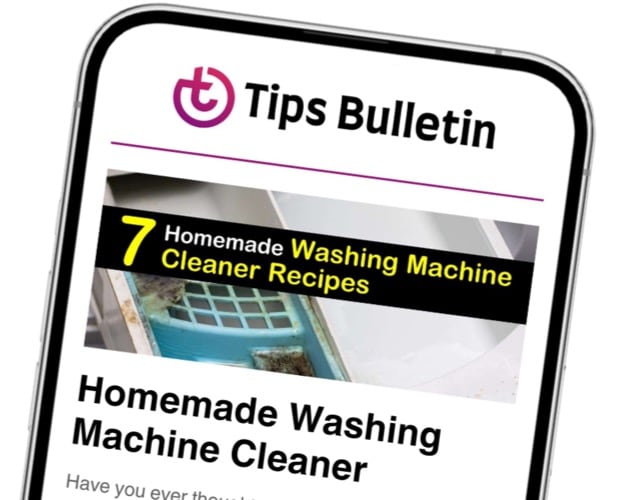 Finally, an email that Transforms Your Home.
Get the latest home and garden tips from our experts, delivered straight to your inbox.
Used in combination with other hair removal methods that specifically pull dog hair from the material, applying a fabric softener spray to your clothes makes it easy to remove embedded hairs.
Use water to dilute the fabric softener in a spray bottle before using it on your clothes. Spray your clothes to saturate them and any hair. Use a paper towel to wipe up large amounts of the loose hair and pluck off anything that remains.
Using a fabric softener spray also works well to freshen your clothes and quickly remove any lingering pet odors.
Collect Animal Hair With Dryer Sheets
Using a dryer sheet in the dryer causes loose hair to repel from your clothes, which allows it to gather in the lint trap of your machine. Dryer sheets are also practical to quickly remove dog hair from clothes.
Holding the sheet in hand, drag the sheet across your clothes to pull animal hair onto the dryer sheet.
Once the sheet is full, dispose of it, and use another dryer sheet as needed to remove more hair. Like using fabric softener, rubbing dryer sheets across your clothes leaves them smelling fresh.
Roll Hair From Your Clothes With a Lint Roller
Lint rollers are wide adhesive paper strips on a handle that make removing dog hair from clothes easy. If you're dealing with pet hair stuck in your clothes or on a thicker fabric, lint rollers are effective pet hair removers.
Run the lint roller across your clothes to pull loose and embedded hair away. Tear off the top sheet to use a fresh roll once the roller becomes full of hair and loses its effectiveness.
Using a Non-Adhesive Lint Brush
If you need to get pet hair out of clothes but don't want to run through adhesive tape too quickly, a non-adhesive option exists. Lint brushes use a cushion on a handle to gather hair when rubbed across the fabric.
Lint brushes tend to be on the smaller side and may require frequent cleaning if you're removing a large amount of pet hair. Get rid of cat hair on clothes, as well as dog hair or fur from other pets, easily with a lint brush. To quickly clean off your brush, reverse the direction of movement you are brushing.
Shave Pet Hair From Clothing
Anyone who has had to remove pill balls of fabric from furniture may be familiar with a non-electric fabric shaver.
Typically made from a wooden or plastic handle, the shaver comes with a metal blade that gathers lint and pet hair from fabric.
Drag the shaver across your clothes to scrape loose hair, as well as any loose fabric balls, from your clothes.
Unlike other handheld pet hair removal methods, the blade of your shaver will not need to be replaced and is excellent for continuous use.
Vacuuming Loose Pet Hair
It might seem odd to break out the vacuum to clean hair on your clothes from your pet's fur, but as many vacuums come with handy attachments, it might be a perfect choice.
You may find an add-on resembling a small rubber broom among various attachments.
Once attached to the vacuum, run the attachment wand across your clothes or to get fur out of car upholstery to attract and pull loose hair away from them while allowing the vacuum to remove the hair from your clothes altogether.
Remove Pet Hair With a Cleaning Sponge
Removing unwanted pet hair from your clothes is easy with a sponge; yes, the kind you use in the kitchen. Don't use the same sponge for your dishes; open a new sponge and delegate it expressly for hair removal.
Drag the sponge across your clothes to use it to gather loose hair as the hair follicles cling to the sponge. Dampen the sponge with water for added effectiveness.
Pet Hair Lifter
Like using a cleaning sponge to remove pet hair, a product in the pet market is made specifically for getting pet hair off clothes and furniture. Gonzo's Pet Hair Lifter resembles a large sponge and is safe to use on various surfaces.
Only use the Pet Hair Lifter while dry and rub it across your clothing to pull hair onto the sponge. To clean, wash the sponge with soap and water and allow it to dry completely before using it again on your clothes.
Steaming Wool Fabric to Remove Pet Hair
If hair on your dark wool sweater is a problem, use a clothes steamer to dampen the fabric and fur, loosening them and making removal more manageable. The dampness makes removing the hair with a brush easier than doing so dry,
If you do not have a steamer, hang your clothes in the bathroom before taking a hot shower to allow the steam to dampen the fabric.
Anti Static Spray
Surprisingly there is a bit of science behind why hair from pet fur sticks to our clothes.
If you've ever pulled clothes from your dryer and noticed articles of clothing sticking together or the sound of small ticks as you separate your clothing, it's all due to static cling.
Electrons build up in the atmosphere, some negative and some positive, and while similarly charged objects repel each other, two objects with opposite charges are attracted.
Like our clothes, dog fur is also subject to static cling and is sometimes visible when rubbing your pet.
If you've ever run down through dog or cat fur and felt a zap, it's thanks to static electricity transferring charged particles to you from your pet.
When rubbing against our clothes, their charges cause loose fur to stick to us. Use an anti static spray on your clothes to loosen the hair to make removing it easier by hand or brush.
Remove Stubborn Hairs With Sticky Tape
If you're running low on other options for removing loose pet hair from your clothes, a roll of tape may come in handy. The adhesive property of tape makes it helpful in pulling hair from your clothes.
Pull out a stretch of tape and wrap it around your hand, sticky side out. Press it to your clothes to pull pet hair from the fabric. As the tape becomes full with hair and loses its adhesiveness, replace it with new tape.
Using the Washing Machine to Remove Pet Hair
If water is one of the easiest ways to remove dog hair from clothes, washing your clothes should be the ultimate choice for pet hair removal.
Unfortunately, this isn't the case. Because hair clings to clothes when you add water, large amounts of hair clump together and stick to the side of your washer drum. To avoid this, dry your clothes first.
Removing Pet Hair in the Dryer
One of our favorite methods for removing hair from a dogs coat on your clothes is to place them in the dryer. This method is especially effective before washing your clothes and is a great way to freshen up clothes without washing them first. Add your favorite pet removal tool and dry away.
Remove as much excess hair as possible using a tool like a lint roller before placing your clothes into the dryer along with dryer sheets, wet microfiber cloths, or dryer balls.
Static electricity builds in the dryer due to the tumbling motion of the machine that causes fabrics to rub against each other to build charges.
Using dryer sheets or dryer balls reduces the static produced by creating anti-static that repels hair from your clothes.
Loose hair will also become drawn to the wet cloth instead of your clothes and it will easily get cat hair off blankets before you clean them. Wash your clothes afterward if necessary, or put your clothes on and enjoy fresh, hair-free, warm clothing.
Get Dog Hair Out of Clothes in Washer
Before running your clothes through the rinse cycle, remove as much fur as much as possible by drying them.
While anti-static laundry detergent doesn't exist, you can add a half cup of vinegar to the rinse cycle to loosen fabrics and make hair less likely to stay stuck in your clothes during the cycle.
After the wash cycle and you move your clothes to the dryer, clean the inside of your washer to remove any hair stuck to the sides of your washer drum to prevent future loads from having more hair stuck to them.
Preventing Pet Hair From Sticking to You
For most pet owners, avoiding pet hair on their clothes by never cuddling with their pets is not an option. This means we have to know how to get pet hair out of clothes and prevent loose fur from sticking to us in the first place.
Regular Grooming
Scheduling a professional to shave or groom your pet may be costly, but a pet glove designed to remove hair from your pet's fur isn't nearly as expensive.
Pet gloves are typically made with small rubber teeth to attract and gather the hair, making it enjoyable for your pet.
Turn this chore into a bonding moment by regularly brushing your pet to remove excess hair, especially during shedding season.
Coordinate Fabric
If you know you're going to be spending a lot of time around your pet either in the car or at the vet, if possible, match your clothing to your pet's fur to minimize the appearance of their hair on you.
Your dog's black hair won't be as much of an eyesore on a black shirt as it would be on a white one. The same can be said for furniture if you're in the market for a new living room set.
While building your wardrobe around your pet's fur may seem extreme, if your pet is long-haired and shedding is something the breed is known for, taking this preemptive step could help in the long run.
With help from our guide, we hope you can deal with any loose fur from your four-legged friends and can manage pet hair and pet dander in your home and on your clothes.
If our article helped you learn how to get dog hair out of clothes, consider sharing our tips on how to remove dog hair from clothes on Facebook and Pinterest with other pet lovers.