Every dog owner has to know how to get dog pee smell out of the car. No matter how well-trained your dog is, accidents happen to all pet owners. Traveling is part of life with animals, whether you bring home a new puppy, an adult dog, or an older pet going to an appointment. Bringing your dog or cat into your automobile frequently leads to foul odors inside.
A dirty car is unsightly and unsanitary. Pet pee stains and the unpleasant scent make you and your passengers uncomfortable. Thankfully, you can try a few uncomplicated methods at home with items you already have for getting dog urine smell out of a car.
Once you understand how to remove dog pee smell from the car, you can confidently travel with your pet. Choose from ideas such as odor eaters, cleaning sprays, and tools like carpet cleaning to take care of pet odor in your car quickly.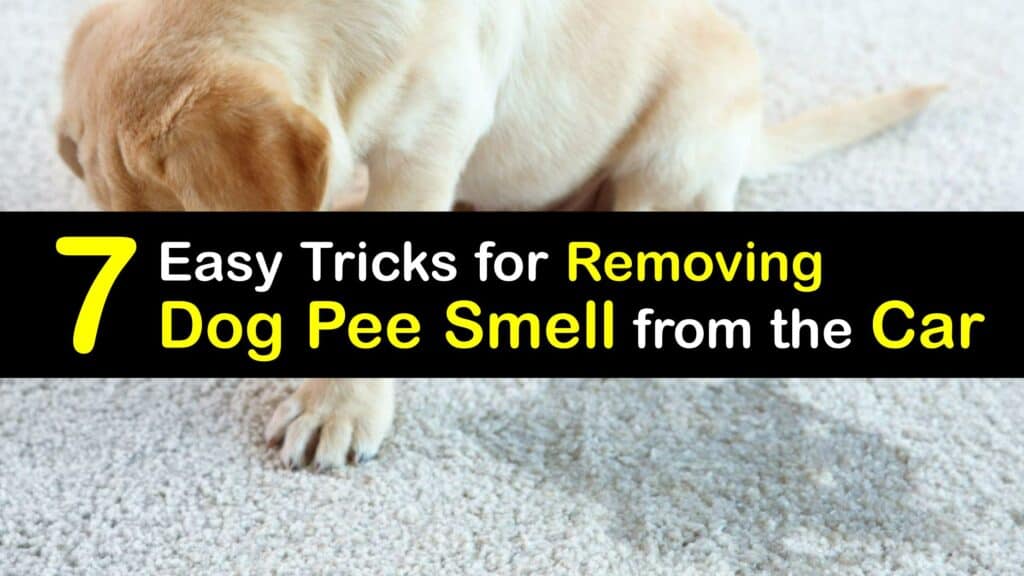 How to Remove Dog Pee Smell From the Car
Figuring out how to get dog pee smell out of the car doesn't have to be a headache. Many home remedies for getting dog urine smell out of a car use familiar and readily available products.
Almost every pet owner is faced with their pet making a mess or leaving an odor in their vehicle. Use helpful ways to get dog smell out of the car, whether it's the smell of wet dog or urine odor after a potty accident.
Getting Dog Urine Smell Out of a Car With Dish Soap
Pet urine is an organic substance, much like food and grease. Dish soap destroys stubborn food residue and greasy stains, making it easy to clean off cutlery and plates.
Liquid dish soap is an ideal way to eliminate a urine stain and the accompanying smell inside your vehicle. Make a straightforward cleaner for pet odor, including urine smells, with liquid dish soap and warm water.
If you notice a pet accident while it's still wet, use a paper towel to soak up as much urine as possible. Put on a rubber glove and wipe down the area with your gloved hand as one way to remove dog hair from car carpet or seats before cleaning the pee to keep from spreading it around.
Dip a sponge or rag into the soapy water and thoroughly scrub the affected area before allowing it to dry. If the stain or smell lingers, re-wash with the dish soap cleaner.
Removing Dog Urine Smell From a Car Fast
Baking soda is famous for its ability to soak up foul odor, making it ideal for removing the dog or cat urine smell from your car. To effortlessly deodorize dog pee smell out of carpet in the house or your car, sprinkle baking powder over the interior.
Place a fine covering over the seats, carpet flooring, foot mats, and even plastic components, such as the console and dash. Let the baking soda rest, absorb the dog smell overnight, and vacuum in the morning.
Baking soda can also be used as a method of getting dog pee smell out of concrete in the garage. Dogs can go pee in very inconvenient places or by accident, so it's important to keep baking soda on hand to eliminate any odors in the car or garage.
Get Dog Pee Smell Out of a Car Seat Quickly
Most pet stores carry enzymatic cleaner; they quickly remove a dog pee stain and the accompanying odors. These treatments successfully eliminate the stench from your automobile and clean old dog pee from carpet because they are made especially for pet urine.
Enzymatic cleaners break down the chemical patterns in urine to leave behind harmless, odorless molecules that are simple to remove. To get rid of offensive pet odors without hazardous chemicals, pick an enzymatic cleanser that suits your needs and follow the instructions on the packaging.
Enzymatic cleaners are great for cleaning up urine and its smell. While you can purchase it, it's easy enough to make your own enzymatic cleaner for dog urine or cat urine. It just takes a little time.
You can make your own homemade dog urine repellent spray for carpet that deters your pets from using the same area for elimination again.
Erase Dog Urine Smell in Your Car by Carpet Cleaning
A carpet cleaner offers a simple solution to your car's pet urine stains, dog hair, and general dog odor. Carpet cleaning penetrates deep into carpet fibers and upholstery to remove smell-causing particles and restore freshness.
Use a carpet cleaner with upholstery or carpet shampoo to clean your vehicle's fabric seats, foot mats, and carpeted parts. Focus on heavily soiled or stained areas. Leave the car windows open after cleaning to ensure good ventilation so the interior dries out completely.
Remove Dog and Cat Pee Smell With White Vinegar
Utilize the strength of white vinegar and pure tea tree oil to create a concentrated cleaning solution to eliminate leftover pet scents. This spray works wonders on pet odors and stains thanks to the antibacterial qualities of tea tree oil.
White vinegar is used for a variety of cleaning tasks, including getting rid of difficult stains. Distilled white vinegar has excellent cleaning capabilities, eliminates odors, and disintegrates the urea molecules in pet pee to ensure that it completely lifts out of your automobile.
After wiping up a dog mess with paper towels, combine the components in a spray canister and apply a liberal layer to the soiled area. Spray the cleaning agent in sufficient amounts to allow it to seep into the carpets or seats of your car, leave it for a few minutes, blot it with fresh paper towels. Repeat as necessary.
Activated Charcoal is an Odor Eliminator
Activated charcoal is a smart choice for a pet odor remover. Using an odor eater, such as activated charcoal, is the perfect solution if you'd prefer to remove the pet urine smell from your car without arduous cleaning.
Activated charcoal has a massive surface area; using it all to soak up unpleasant pet smells and take them out of your car. Add a few heaped tablespoons of activated charcoal to mesh bags or small containers and leave them around your vehicle.
Over time, the charcoal takes in the urine smell to leave your truck smelling clean. Replace the activated charcoal when you notice it losing effectiveness or every month.
How to Get Dog Pee Smell Out of the Car
There are many store-bought cleaners for dog and cat urine odor. If you don't have time to work on a DIY solution or don't have supplies at home, pick up a pet stain and odor cleaning solution like Angry Orange from the store.
Select an appropriate product for the surfaces you plan to clean. Some cleaners are intended for carpets, while others are safe for leather vehicle seats. Follow the directions on the pet cleaner to get the odor out of your car.
Every pet owner wants to know how to remove dog pee smell from the car. No matter how well-trained your dog is, accidents are a part of life with a canine. When an accident happens in your vehicle, the small enclosed space makes the smell unbearable. Use proven at-home techniques to oust the stench and keep your car clean.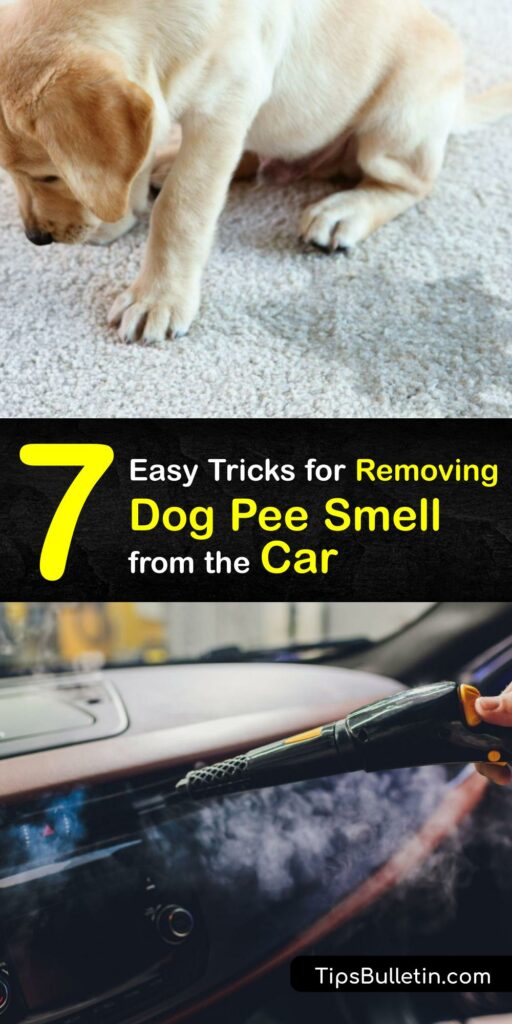 If you loved this article on how to get dog pee smell out of the car, please share these clever tricks for getting dog urine smell out of a car with your pet-owning friends and family on Pinterest and Facebook.