Every dog parent needs to know how to get dog pee smell out of the carpet. No matter how trained your canine friend is, all pet owners experience an accident at some point. Whether you're bringing home a new puppy, rescue dog, or have an older pet, accidents are a part of life with animals.
A dirty carpet is unappealing and unhygienic. Pet urine stains ruin the look of your carpet, and the smell is off-putting. Thankfully there are several straightforward techniques to remove the smell of pee on carpet using everyday supplies you already have. Getting dog pee smell out of carpet is also important to help your pet with potty training.
The aroma of urine helps your pet understand where to use the bathroom, and leaving urine smell on your carpet may cause more accidents to happen in the future. Whether you own a pet cat or a dog, add some excellent pet urine cleaning tips to your arsenal, and never worry about a pet stain or urine smell plaguing your home again.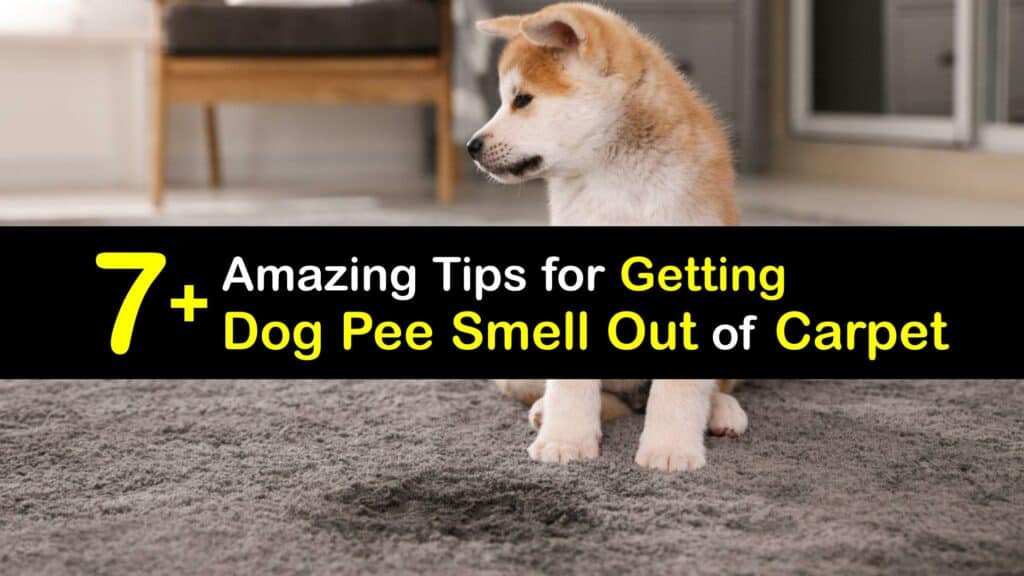 Remove Dog Urine Smell from Carpets Fast
Urine is a persistent stain with a lingering smell thanks to its uric acid content. Dog and cat pee may seem challenging to clean after multiple accidents and on fixed surfaces like carpet and carpet padding.
Explore how to get dog pee smell out of the carpet and avoid embarrassing stains and smells from your pets. There are many methods for getting dog pee smell out of carpet. Choose one based on the tools and supplies, or use more than one to tackle the toughest odors.
What to Do When You Find a Urine Spot
Clean dog pee as soon as you notice it to avoid giving it time to soak into your carpet and the padding beneath and create an unpleasant smell. When an accident happens, grab a paper towel and place it over the stain to soak up the moisture.
Once you blot most of the surface wetness, lay clean paper towels over the pee stain, and press down hard.
Pressure helps to encourage liquid out of the carpet fiber and carpet pad below, soaking up as much as possible. Pick a cleaning method from the list below to remove human pee smell from carpet along with many other smells and stains.
How to Get Dog Pee Smell Out of the Carpet
Make a strong cleaning solution to tackle lingering pet odors by harnessing the power of white vinegar and tea tree oil. White vinegar is used in many cleaning applications, from removing dried-on stains to brightening stubbornly dirty bathrooms.
In addition to its cleaning properties, distilled white vinegar is a great odor remover and breaks down the urea molecules in pet urine to ensure it lifts completely out of your rugs. Tea tree oil lends some antibacterial properties, making this spray an excellent choice for pet smells and stains.
Blend the ingredients in a sprayer and apply a liberal layer after soaking up a pet mess with paper towels. Spray enough of the cleaning solution to allow it to soak into the carpet padding before blotting it with clean paper towels and repeating if necessary.
Try Baking Soda to Remove Dog Urine Smell from Carpets
Baking soda is revered for its ability to soak up unpleasant odor, including dog and cat urine smell. Combat pet odor by sprinkling baking soda on urine spots once they're dry, or make handy odor eater balls to set out around a room and absorb unwanted smells.
Pour two tablespoons of baking soda powder into the old sock and knot it closed, or use the glue to seal it tight. The fabric of the sock allows odors to pass through yet keeps the powder contained to avoid a mess.
Place your new odor-eating ball by the urine-stained area or make several and set them out around the space to soak up pee smell and other pet odors.
To deal with the odor outside, getting rid of poop smell in your yard is just as easy. Sprinkle baking soda in the area your pet uses the bathroom to eliminate odors.
Getting Dog Pee Smell Out of Carpet
Using a steam cleaner to remove dog urine smell from carpets is simple and efficient. Steam cleaning is a highly effective method of carpet cleaning and perfect for upholstery cleaning, too.
When you use a steam cleaner to reduce the dog pee smell, you avoid introducing toxic chemicals into your home that could harm your pets and your family.
Pat the urine spot with paper towels, then use your steam cleaner per the manufacturer's directions. The heat quickly breaks down the smell-causing molecules in the urine and has the bonus of also destroying bacteria and fleas while penetrating deep into the carpet fiber for a deep clean. Your carpet smells good and is free of stains.
Use Dish Soap to Get Dog Urine Smell Out of Carpet
Finding a pet stain when you have no cleaner is stressful. Thankfully it's simple to make a DIY pet odor cleaner using liquid dish soap and water. Dish soap is intended for biological stains and odors from food. Pet urine is another example of biological material, so dish soap works exceptionally in breaking it down and removing it from the carpet.
Dip a clean cloth into the blended soapy water and use it to scrub back and forth over the urine spot for a few minutes. Ensure the entire area is damp with the soapy solution but not soaking wet. Dry the carpet with a clean towel or paper towels. If the smell persists once the rug is completely dry, rewash with more soapy water.
Removing Dog Pee Smell from the Carpet Quickly
Hydrogen peroxide is an antibacterial product that gets rid of pungent smells. Find a bottle in most grocery stores and pharmacies and treat a stained area with a hydrogen peroxide-based spray to sanitize it and remove foul odors.
Combine the supplies in a small bowl and apply and work into the carpet with a scrubbing brush. Leave the mixture to soak into the carpet fibers overnight and rinse out the following morning to remove any traces of urine smell.
An Enzymatic Cleaner is a Powerful Odor Remover
Enzyme cleaners eradicate a dog urine stain and the accompanying smell quickly and are found at most pet stores or ordered online. Enzymatic cleaners use enzymes to dismantle the chemical structures in urine and leave behind harmless and odorless molecules that are easy to remove.
These products are designed specifically for pet urine and are highly effective. It's a natural way to stop your dog from peeing in house areas as it gets rid of the smell completely. Choose an enzymatic cleaner suitable for your needs and use it under the label's guidance to eliminate unsavory pet smells without turning to dangerous chemicals.
Note that it's possible to make a DIY enzyme dog pee cleaner, too. However, it takes a few weeks for it to "cure," so plan accordingly.
Make Apple Cider Vinegar Cleaner for Pet Urine Odor
Apple cider vinegar is a natural liquid; it eats uric acid and removes the accompanying odor thanks to its acidic properties. This non-toxic substance has many uses in pet care and is a budget-friendly way to mix an effective cleaner to eradicate odors after your pet uses the potty in the house.
Several drops of your favorite essential oil – many people like lavender or peppermint – mask some of the vinegar smell and leave your carpet with a pleasing aroma.
To make a DIY carpet cleaner solution for pet urine, shake the ingredients in a sprayer, saturate the affected carpet area, and let the mixture settle for ten minutes. Pat the wet spot with paper towels to collect lingering moisture and remove the stench. You may find that this also works for removing dog poop smell from carpet and rugs, too.
Beat Dog Urine Smell with Laundry Detergent
If you've ever had animal pee on your clothes, you likely know regular laundry detergent in the washing machine doesn't always get rid of the odor. However, a concentrated laundry detergent application is an intelligent way to treat a pet urine stain and rid your home of the associated smell. It's also great to get a smell out of a couch or your bedroom mattress.
After cleaning as much of the wetness as possible with paper towels, apply a thick layer of your preferred liquid laundry detergent to the area of the pet stain and scrub well with a brush, taking care not to damage your carpet fiber. Let the laundry detergent rest on the pet stain for 15 minutes, rinse with warm water, and pat dry with paper towels.
Urine odor is one of the downsides of being a dog owner. Dogs are fun and friendly pets who are part of the family, yet their potty accidents leave behind unsightly stains and an unpleasant smell.
Learning to clean up cat and dog pee stains to remove the urine smell is vital for everyone with pets. Though it might seem daunting, it's simple to use household items to take care of pet mess and the associated stench to keep your home clean and fresh.
If you loved this article on how to get dog pee smell out of the carpet, please share these brilliant tips to remove dog urine smell from carpets with your friends and family on Pinterest and Facebook.