Every dog owner should learn how to get dog poop smell out of carpet. While it's not one of the fun parts of owning a pet, getting rid of dog poop smell in carpet is essential. Dogs and puppies sometimes use the potty in undesirable locations.
When the worst happens, and your pet uses the bathroom in your house, don't panic. Pick up solid feces quickly, yet the staining and stench are more daunting. While there is an array of commercial and chemical cleaners, many pet owners are discovering how to remove dog poop smell from carpet with everyday items.
DIY and at-home methods save time and money and give you total control over the substances you introduce into your home. Turn to familiar products like baking soda, distilled white vinegar, rubbing alcohol, and more to take the smell out of your carpet after your pet poops in the house.
How I Remove Dog Poop Smell from My Carpet
Discover how to get dog poop smell out of carpet using budget-friendly, simple ideas. Getting rid of dog poop smell in carpet doesn't have to be frustrating. Use common items found in most homes to destroy pet odor.
Getting Rid of Dog Poop Smell in My Carpet
White vinegar is a versatile cleaner with deodorizing properties, making it an excellent choice for destroying dog poop odor. Combined with tea tree oil, distilled white vinegar makes a pleasing-smelling cleaner for pet mess and is a great homemade carpet cleaner for pets of all types, whether cats or dogs.
Shake the liquids in a spray can and spritz odorous surfaces. Allow the cleaner to dry for ten minutes, and pat any excess with a clean cloth.
How I Remove Dog Poop Smell from My Carpet with Dish Soap
Dish soap breaks down organic food stains, making it perfect for cleaning other organics like dog poop and pee.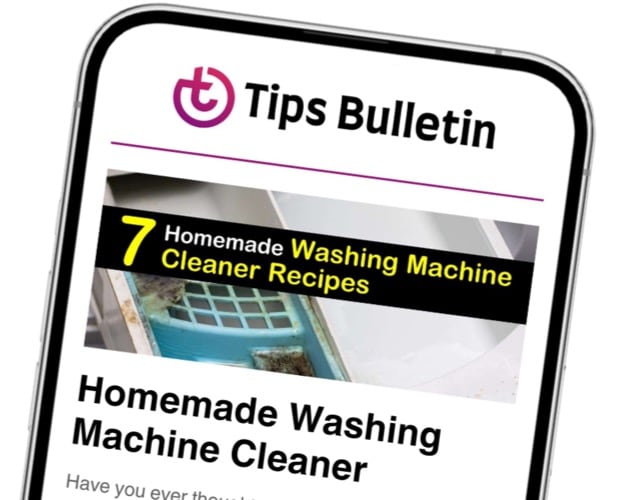 Finally, an email that Transforms Your Home.
Get the latest home and garden tips from our experts, delivered straight to your inbox.
Use a scrub brush to work the soapy solution into the dog poop stain after removing the solid waste. Scrub in small circles to lift poop particles and ensure no odor remains. Rinse well, soak up excess moisture with a paper towel, and allow your rug or carpet to dry.
Carpet Cleaning Eliminates Dog Poop Smell in My Carpet
Whether dealing with dog urine or cat poop, a carpet cleaner is a simple solution for a carpet stain and the associated smell. A carpet cleaner is made to wash your carpet or rugs and reach deep into the carpet fibers to ensure a thorough cleaning.
Use an enzymatic or pet-appropriate shampoo and follow the instructions in the owner's manual to clean your carpet with the carpet cleaner. Spend more time on areas of heavy staining or stench.
How I Get Dog Poop Smell Out of My Carpet
Rubbing alcohol is economical and sold almost everywhere. The high alcohol content means it's an efficient cleaner, deodorizer, and disinfectant.
Pick up solid waste in a poop baggie or paper towel, wash the area with warm water, and spray the area with rubbing alcohol to kill microbes and remove odor. Once the liquid is dry, spray again if the smell persists.
Use this easy solution to clean dog poop from shoes and boots, too, whether they are suede, leather, canvas, or another material.
How I Eradicate Pet Urine Odor Quickly with Baking Soda
Baking soda offers an easy and affordable way to oust dog poo and pee smell from your carpet, as well as to get old cat pee smell out of carpet. Collect solid waste, and wash and dry any urine before beginning a baking soda treatment. Sprinkle a thin covering of baking soda powder over the entire stained area and allow it to sit for at least an hour.
After the baking soda draws the unpleasant smell from your carpet fiber, vacuum or sweep it up and toss it. For strong odors, consider leaving the powder on your carpet longer to allow more time for it to work.
How I Remove Dog Smell and Poop Stains Fast
Enzymatic cleaners are created especially for pet stains and odors. Enzymes are naturally occurring molecules that break things down. When you apply an enzymatic pet cleaner to your carpet, the active compounds deconstruct the particles associated with pet dirt and smells to make them effortless to wash away.
Check your local pet store and explore enzyme cleaner options to remove the dog poop smell from your home. You may also find a recipe to mix an effective DIY dog pee cleaner of your own. It's not difficult to make an enzymatic cleaner but it does take a little time for it to ferment.
I Use Activated Charcoal as a Dog Odor Remover
Activated charcoal is a super absorber. Though this fine black powder has many uses, it excels at pulling odor out of a room and cleaning the air. Clean any obvious sources of bad smells, such as dog feces and cat urine, and use activated charcoal to eradicate a lingering stench.
Add a small measure of activated charcoal to bowls or muslin bags and set them out to absorb odor. When the smell returns or the active charcoal is less efficient, throw it in the trash and replace it with new powder.
Make DIY Odor Eaters to Absorb Dog Poop Odor
When dog poop smell lingers in a room without an apparent source, odor eaters help absorb the odor and freshen the space. Stuff old socks with an odor-eating compound like baking soda or activated charcoal and tie off the ends.
Set the odor eater pouches around the room to take in unwanted smells and leave the air smelling cleaner. When the odor eaters lose effectiveness, dump the old powder and refresh it.
How I Use Hydrogen Peroxide for a Dog Poop Stain and Smell
Whether you have a urine stain or a poop smell, hydrogen peroxide is a straightforward way to deal with a pet stain or odor on your carpet fiber. Hydrogen peroxide is known to clean, brighten, and deodorize, making it an ideal cleaner to tackle a tricky pet mess.
Mix the ingredients, pour a small amount of the solution directly onto the filthy carpet, and scrub it with a brush. Leave the peroxide mixture for at least 12 hours before rinsing thoroughly. Hydrogen peroxide may lighten darker-colored carpets, so use with caution.
How Tea Bags Are My Odor Eliminator
Discarded tea bags are rich in tannins, and these potent molecules destroy the bacteria associated with unpleasant pet smells and eradicate odor.
Add a tea bag to boiling water for about three minutes, remove it and carefully wring out about half of the liquid, then set it on the stained and smelly area of your carpet.
Let the tea bag sit for about an hour while the tannins clean and deodorize; before you remove it, soak up any extra liquid with a paper towel and allow the carpet to dry. Take care when using this method on a lighter-colored rug.
I use Apple Cider Vinegar to Clean Dog Poop
Apple cider vinegar is a fantastic cleaning solution that penetrates deep into carpet fibre and fabrics and removes unwanted pet smell. Use it for getting smell out of a couch cushion or recliner material, too.
The naturally occurring acid in apple cider vinegar breaks down dog poop and urine molecules, so they're easily washed away. Dilute apple cider vinegar with a little water before using it on the carpet to avoid discoloration.
Pick up solid waste in a paper towel and spray the carpet generously with the apple cider vinegar solution. Let the vinegar mixture sit on the soiled spot for five minutes before drying the area with a clean paper towel.
Creating a Homemade Air Freshener for Pet Odor
Air fresheners are a valuable tool when you own pets. Whether you struggle with urine smell or dog poop odor, an air freshener is a quick way to mask the worst of the stench until you can address the source. Mix your own homemade air freshener using natural essential oils, and personalize the fragrance of your home.
Mix one or a blend of your preferred essential oils in a spray canister with water and mist them into the air or spray them on the carpet anywhere odor is a problem. Tea tree oil, lemongrass, and eucalyptus are popular fresh and clean scents.
Whether you own one dog or several, finding out how to remove dog poop smell from carpet is imperative. A stinky home is unappealing and makes you seem dirty. When an unpleasant dog smell permeates your space, use at-home techniques to address them and restore the fresh air in your home.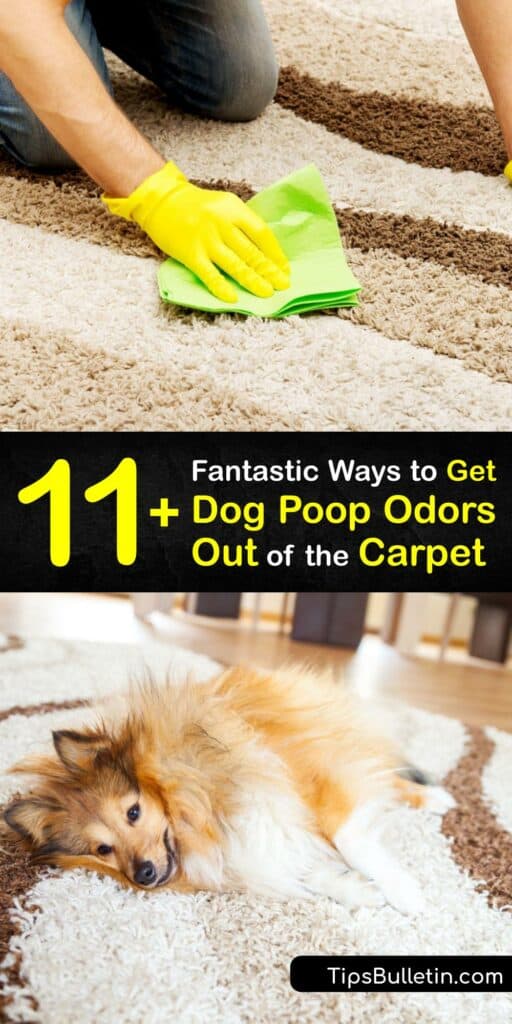 If you loved this article on how to get dog poop smell out of carpet, please share these fantastic tips on getting rid of dog poop smell in carpet with your friends and family on Pinterest and Facebook.