Decorating Easter eggs is a favorite pastime of many families, and it's easy to get egg dye on your skin while turning white eggs into blue, yellow, and red eggs. More often than not, the stains are on tiny hands, and harsh chemicals are not safe for delicate skin. Learn how to get Easter egg dye off skin using a variety of safe and straightforward solutions.
Dying Easter eggs is both fun and extremely messy, whether you use a store-bought Easter egg dye kit or food dye to color your eggs. No matter how careful you are, you always end up with a splatter of food color somewhere on your skin and clothes while dyeing eggs.
Unfortunately, rinsing your hands under running water doesn't always do the trick to remove the stain. While it may seem that you have to live with red or blue stains on your hands for the next week or so, there are ways to get Easter egg dye off your skin using some surprising solutions you already have in your home.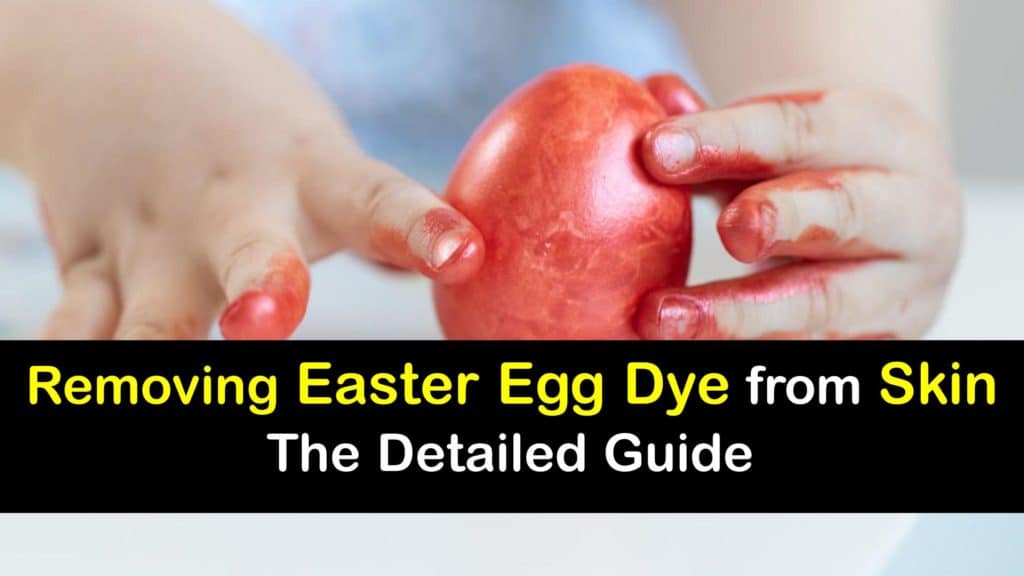 Easy Ways to Get Easter Egg Dye Off Skin
Bright colors look great on a dyed egg but not so wonderful on your skin. While it seems impossible to remove egg dye from your hands, and you are doomed to walk around with red or blue-stained fingers, there are ways to get the dye off your skin quickly and safely.
Find out how to get egg dye off your hands using basic methods like soapy water and stronger solutions like rubbing alcohol. Discover a recipe to naturally dye Easter eggs without the fuss of artificial food coloring stains.
Remove Egg Dye from Your Hands with Soapy Water
The simplest way to remove egg dye from your hands if the satin is fresh is to use soap and water. While water alone doesn't get food coloring off your skin, adding soap often loosens the dye, whether you use a mild or heavy-duty hand soap.
Fill a plastic tub or the bathroom sink with warm water and pour liquid hand soap into the water. Use a mild soap for sensitive skin or heavy-duty hand soap for stubborn stains.
Soak the affected hand in the soapy water and use a washcloth to gently scrub the stained area. Repeat the steps until the egg dye is gone, and rinse your hand with clean water.
Get Egg Dye Off Your Hands Using Shaving Cream
It may seem strange, but shaving cream has more purposes than shaving your legs or face. We're not sure exactly why it works, but this standard household product effectively gets dye stains off of skin. Here is how to get egg dye off your hands or remove hair color from skin using shaving cream.
When getting food dye off your hands, squirt some shaving cream on your hand and rub your hands together while working the cream into the dye stain. Clean your hands under warm, running water and check to see if any color remains. If the stain persists, repeat the steps until it's gone and dry your hands with a soft towel.
How to Get Easter Egg Dye Off Skin with Baking Soda
If you don't already have a box or two of baking soda in your home, it's time you do. This inexpensive and natural powder has so many uses, from baking to cleaning, that it's something of a miracle. It also works wonders to clean egg dye from hands and fingers and is safe to use on little ones.
When dealing with food coloring on skin surfaces, set the affected area of your skin wet with warm water and sprinkle a decent amount of baking soda over the spot to cover it. Use your finger or a washcloth to rub the powder and water into a paste, and use circular motions to gently scrub the dye stain off your skin.
Rinse your hands with running water and repeat the steps if necessary. Once the food coloring is gone, dry your hand with a towel and apply some hand lotion to prevent your skin from drying.
Using Vinegar to Remove Egg Dye Stains from Skin
White vinegar is another multi-purpose product that everyone should have in the home. This acidic liquid is the main ingredient for pickling, it gently breaks up grease, and it also helps to loosen Easter egg dye stains from your skin.
Combine a cup of warm water and a quarter cup of white vinegar in a container and soak a washcloth in the liquid. Press the wet cloth on the affected area of your skin and let it sit for a few minutes before rubbing the spot with a gentle, circular motion. Try this solution to get super glue off your fingers, too.
Once the egg dye stain or super glue is gone, rinse your hands under running water and dry them with a soft towel. Finish by applying hand lotion since the acidity of vinegar tends to dry the skin.
Removing Easter Egg Dye with Rubbing Alcohol
While it's not as gentle as baking soda or soapy water, rubbing alcohol is the go-to solution for removing stubborn dye stains from your hands. It works by dissolving the dye and lifting it from the skin and is ideal for removing set stains.
Open a bottle of rubbing alcohol, place a cotton ball over the top, and flip the container over to soak the cotton. Press the soaked ball on the stained area of your skin and hold it there for a minute to dissolve the dye.
Throw the cotton ball in the trash and use a freshly soaked ball to clean the stained area with small, circular motions while trying not to spread the stain outward. If you do not have rubbing alcohol, try using an acetone-based fingernail polish remover or hand sanitizer.
Once the stain is gone, clean your skin or hands with hand soap and warm water. Rinse the area completely with fresh water to remove any residue, dry off with a soft towel and rub hand lotion over your skin to prevent drying.
If you find yourself in a sticky situation, get Gorilla Glue off hands and skin with alcohol, too. It may take a little while to loosen the bond but should work just as well as when you remove dye.
How to Use Onion Skins, Beets, and Cabbage to Dye Easter Eggs
If you'd prefer to avoid using food coloring to dye eggs during Easter, why not make a natural egg dye? Here are several natural dye methods to dye eggs blue, green, lavender, red, orange, brown, pink, and yellow.
Gather all the ingredients and equipment and prepare to make separate batches of colored eggs or one large batch of a single color.
Purple or red cabbage turns white eggs blue and brown eggs green, red onion skins turn them lavender or red, yellow onion peels change a white egg orange and a brown egg rusty red, a beet makes white eggs pink and brown ones maroon, and turmeric creates yellow eggs.
The ratio of water and vinegar varies depending on your desired outcome. For example, if you are making a dozen Easter eggs, use four cups of dye liquid and four tablespoons of white vinegar.
Pour the amount of water needed for the dye into a saucepan and add the onion peel, beet, cabbage, or turmeric. If you plan on doing a large batch of one color, pour four cups of water and four cups of dye matter into the pot. To make a small batch, use one cup of each.
Bring the dye mixture to a boil, turn down the heat, and simmer while covered for fifteen to thirty minutes. The longer you simmer the dye, the stronger the hue. Take the pan off the stove and let it cool to room temperature before pouring the coloring liquid through a fine-mesh strainer into a bowl or container.
Place each hard boiled egg in a large baking dish and arrange them in a single layer. Add the recommended amount of white vinegar into the dye liquid and pour the dye over each boiled egg until all the eggs are submerged.
Place the dish of dyed Easter eggs in the fridge and let them sit until they reach the desired color. After dyeing, use a spoon to remove each hardboiled egg, dry it carefully with paper towels, and store the naturally dyed Easter eggs in the refrigerator until you're ready to eat them.
Dyeing Easter eggs is a fun project for the whole family – until you discover that you have a mess on your hands, literally. Luckily these dye stains are easier to remove than you think, and all you need is a little bit of baking soda and some soapy water.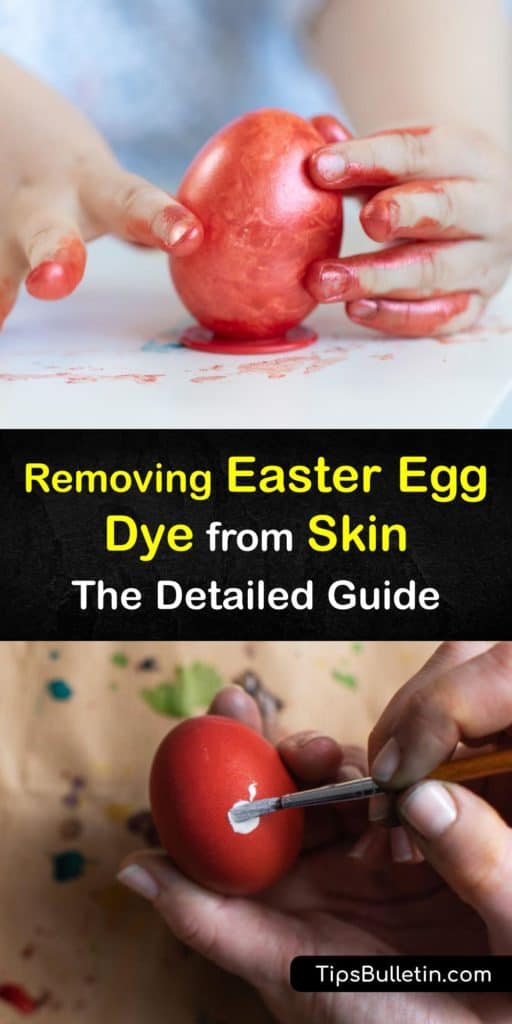 Now that you know how to get Easter egg dye off skin quickly and safely, why not share our food dye removing methods with your family and friends on Pinterest and Facebook so that their Easter egg coloring projects are stain-free?