Learn how to get fabric paint out of clothes, whether wet or dried paint. Fabric paint is excellent for DIY projects, allowing you to customize clothing, upholstery, and other crafts. However, discovering a paint spot on the carpet or your clothes while painting is not a happy accident, and it's essential to clean it promptly.
Fabric paint is an acrylic paint bonded with color and emulsified, making it a durable paint that tolerates routine use and multiple washes. This paint type is often challenging to remove from clothing, especially if it's dry paint. While there are ways to remove set fabric paint, it's better to treat the stain as soon as possible for easy cleaning.
Unlike water based paint, textile paint attaches to fabric and does not dissolve easily with water. It dries faster than oil based paint, and special cleaners are necessary to remove dried fabric paint from clothing.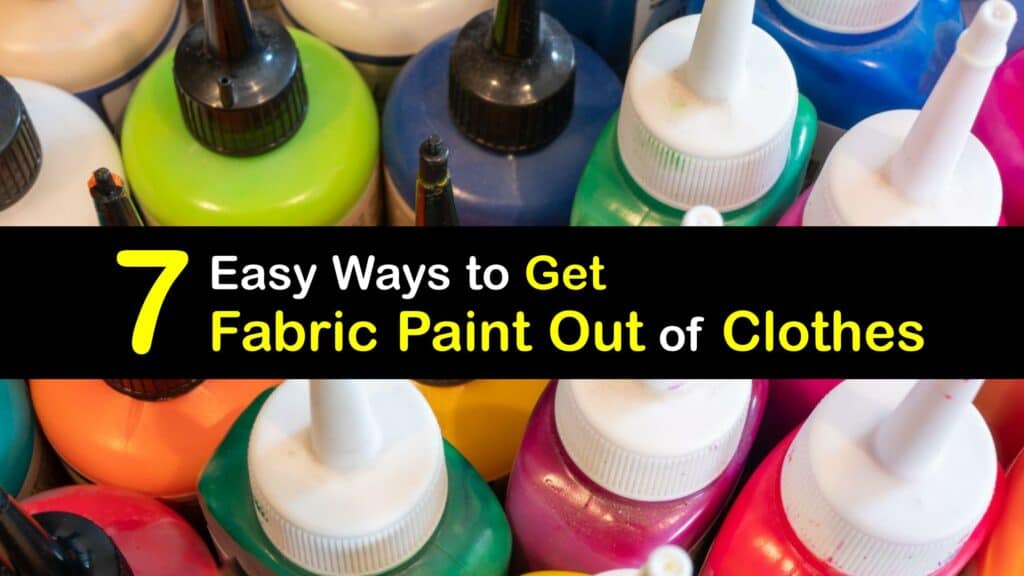 Ways to Remove Fabric Paint from Clothes
Fabric painting is a fun way to give clothes a new life, but only if you get the paint on the intended materials. Don't toss a stained item in the trash or retire it to the ragbag. Discover several ways to get spray paint out of clothes using rubbing alcohol, nail polish remover, and other home remedies.
How to Get Fabric Paint Out of Clothes if It's Wet
The best way to get fabric paint off clothes is to clean the stain while it's still wet. Quickly remove wet fabric paint from clothes before cleaning them in the washing machine.
Since most fabric paints set with heat, avoid applying heat to the area you want to clean. Instead, absorb the wet paint with a paper towel, discarding and using fresh towels as needed to diminish the stain. Hold the fabric beneath cold running water until the water runs clear. This step is vital, whether it's acrylic paint, oil paint, or latex paint.
How to Remove Fabric Paint from Clothes When It's Dry
Ideally, you want to clean the fabric while the paint stain is wet, but this isn't always possible. Here is how to remove fabric paint from clothes when the paint is already dry.
Spread the clothing on a towel and gently use a plastic putty knife to scrape away the excess paint. Scrub away leftover paint with a soft-bristle brush or old toothbrush. Once you remove as much dry fabric paint as possible, clean the stain with acetone or rubbing alcohol.
Learn How to Get Puffy Paint Out of Clothes by Hand-Washing
Unlike fabric spray paint, puff paint is water-based and easier to remove from fabrics with warm water and soap. Understand how to get puffy paint out of clothes by hand-washing with soapy water.
Lay the clothing item on a clean surface, apply a small amount of liquid dish soap, and clean the painted fabric with a damp sponge. Rinse and wring out the sponge as necessary to remove the paint, and repeat the steps until the stain is gone.
Finish by rinsing the item beneath cool, running water and hanging it up to air dry. Do not place the item in the clothes dryer unless you are sure all the paint is gone. Otherwise, you take the chance of setting in the paint stain.
Use Hairspray to get Fabric Paint Off Clothes
If there is leftover paint residue after hand-cleaning the fabric, try using an alcohol-based hairspray to remove the stubborn stain. Explore how to get puffy paint out of clothes with a bottle of hairspray and clean rags.
To take puffy paint off clothes, use a plastic putty knife to gently scrape away as much of the paint as possible. Spray the area with hairspray and rub it with a clean rag. Once most of the visible stain is gone, rinse the item beneath running water to flush away the remaining paint residue.
Using Rubbing Alcohol to Remove a Fabric Paint Stain from Clothes
Rubbing alcohol is a common household item we usually use to sanitize surfaces and dissolve sticky materials. While it's ideal for taking hair dye off clothes, discover how to remove fabric paint from clothes with this disinfectant liquid.
To prevent transferring paint to the workspace, spread out a clean towel and lay the stained fabric over the towel. Pour rubbing alcohol onto a cotton ball, apply it to the dried stain, and use a circular motion for getting lipstick out of clothes or to remove the paint.
Use fresh cotton as needed until the stain is gone, and finish by holding the fabric beneath running water until no more color is present.
Use rubbing alcohol or hand sanitizer to remove clothes dye from skin if you get it on your fingers. Works like a charm!
Getting Fabric Paint Off Clothes with Nail Polish Remover
The simplest way of removing fabric paint from clothing or to get Sharpie out of fabric is to use fingernail polish remover. However, it's essential to use an acetone-based remover to dissolve the paint stain.
Spread a towel on a flat, clean surface and lay the stained clothing item over the top, with the paint facing up. Apply some acetone fingernail polish to a clean cloth and blot it onto the stained area to prevent the stain from spreading.
Use fresh areas of the cloth and more nail polish remover as you work, cleaning the area with a circular motion. Inspect the clothes for remaining paint and rinse the item beneath cold running water.
Follow the same process to get paint out of carpet. Work from the outside in to contain the stain until it lifts.
Removing Paint from Clothes in the Washing Machine
It's vital to run the item through the washer to clean away leftover residue after you remove as much of the fabric paint as possible with acetone, rubbing alcohol, or paint thinner.
After using one of the stain removal methods, it's time to give the clothes a final washing. The way to wash out tie dye is to place the stained items into the washer with your favorite laundry detergent and clean them on the cold water setting.
Avoid washing them with other laundry items to prevent transferring leftover paint to the fabrics, and do not use hot water unless the paint stain has disappeared. When the washer finishes its cycle, ensure the stain is gone, transfer the clothes to the dryer, and dry them as you usually do.
If any paint is still present, run another wash cycle to clean the item before drying it with heat to prevent the stain.
Painting clothes with a fabric medium is an excellent way to give them a whole new look. However, sometimes accidents happen, and you may get the paint on the wrong materials. Fortunately, there are ways to remove fabric paint stains and keep your clothes looking their best.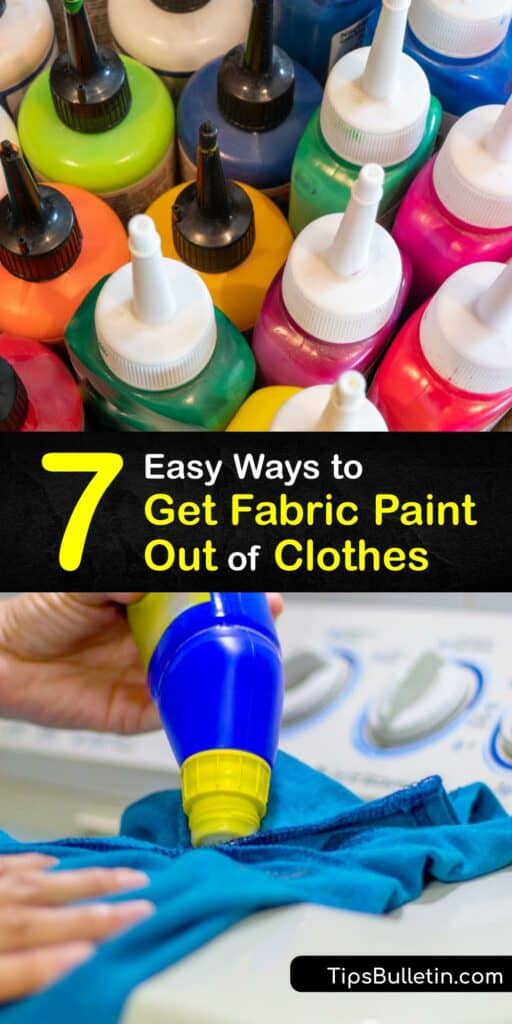 We hope that knowing how to get fabric paint out of clothes keeps your favorite shirt or pants looking fresh, and we'd love it if you'd share our fabric paint removing solutions with friends on Pinterest and Facebook.