Whether you're making tasty holiday treats, creative cake decorations, or a DIY craft project, food coloring is fun and easy to use. However, if you spill a bit on your kitchen countertop, it is vital to act quickly before the dye stain can soak in. In this article, find out how to get food coloring off counter tops safely and effectively.
The best way to remove food coloring from a counter depends on what type of countertop material you are trying to clean and how old the stain is. The last thing you want to do is make the problem worse by damaging your counters, so knowing which cleaning products are safe to use is essential.
Since the kitchen countertop is such a frequently used workspace, stains happen occasionally. Nevertheless, plenty of stain removal options do not involve using expensive or harsh chemicals in your home. Read on to discover valuable tips and tricks to clean up a food dye stain from different types of kitchen countertops.
Best Ways to Remove Food Coloring from a Counter
When you spill food color on your kitchen counter, immediately blot or wipe up as much of the excess dye as possible with a paper towel. Work from the outside toward the center of the spill to avoid spreading it further.
In most cases, harsh chemicals are not necessary for getting rid of food coloring stains. You can simply use a DIY quartz countertop cleaner to remove the stain. Furthermore, potent solvents like bleach and ammonia may damage certain materials like granite or laminate countertops.
A red dye stain is often more difficult to remove than other colors. Turmeric is another frequent culprit of persistent kitchen counter stains. While they may require a little bit more time and effort, we have a solution for even the most stubborn stain.
How to Get Food Coloring off Counter Tops with Dish Soap
Dish soap is one of the easiest ways to remove food coloring from a counter and is safe to use on any material. You can even remove hair dye from face and skin with it. The surfactants in dish soap designed to break down grease and grime also draw a food dye or oil stain out of your countertop.
Squeeze a liberal amount of liquid dish soap directly onto the stain. For fresh spills, allow it to sit and absorb for about ten minutes. If you are trying to remove an old stain, leave it for at least one hour.
Wipe up the dish soap and the stain with a damp, clean cloth. Keep wiping until the color is completely gone, and repeat as many times as necessary.
Before trying anything harsher, consider using dish soap to get Easter egg dye off hands. Sometimes, washing your hands a few times will remove the dye completely.
Use a Magic Eraser to Clean Food Coloring from Counter Tops
A Mr. Clean Magic Eraser is an incredibly convenient and useful cleaning tool that works wonders to remove food dye stains from a laminate, tile, or quartz countertop. It also works well on stains from hair dye or a permanent marker.
However, the Magic Eraser is manufactured with melamine foam, which is abrasive. Don't use it on more delicate surfaces like granite or marble countertops to avoid scratching stone or damaging the countertop's sealant.
Eliminate a Food Coloring Stain using Vinegar and Baking Soda
Vinegar and baking soda are both powerful cleaning agents. When combined, they are incredibly effective at removing tough stains. If you don't have white vinegar on hand, lemon juice is acidic enough to remove stains, as well.
However, acidic cleaners like vinegar and lemon juice often damage natural stone countertops like granite, marble, or a quartz surface. In that case, use water to make a baking soda poultice and scrub gently to avoid leaving scratches.
To make this homemade counter cleaner, stir the ingredients in a small mixing bowl or plastic container to form a thick poultice roughly the same consistency as cake frosting. Spread it evenly over the stain and let it soak in for a minimum of 15 minutes.
Use a clean cloth, sponge, or old toothbrush to scrub the food coloring stain gently, similar to removing super glue from a laminate countertop. Wipe the affected area clean, and repeat the process as many times as needed until the mark is gone.
Store any leftover poultice in a lidded plastic container in a cool, dry location. This cleaner also works well to remove a rust stain or hard water deposits from bathroom fixtures, as well as to remove food coloring from carpet that is light-colored.
Remove Food Coloring from a Counter with Acetone
Acetone is the primary ingredient in most types of nail polish remover. It is safe to use on any kind of countertop material as long as you don't leave it sitting on the surface too long.
Use acetone to get food coloring out of granite, marble, laminate, tile, or white quartz countertops. It also cleans a hair dye stain on your bathroom counter or floor.
Dab acetone on your fingers for food coloring on hands and other skin. It usually works quite well.
Get Food Coloring Out of Granite with Hydrogen Peroxide
One of the safest stain removal products to use on your granite countertop is hydrogen peroxide. Whether you need to get water stains out of marble or treat bright red dye, it breaks up the strong chemical bonds in food dye and eliminates the granite stain without damaging the stone surface.
On the other hand, chlorine bleach wears away at the sealant layer, dulls the granite's finish, and causes discoloration over time.
Fill a clean spray bottle with undiluted hydrogen peroxide at a three-percent concentration. For a bit of extra stain-lifting power, mix a tablespoon of liquid dish soap with the hydrogen peroxide. Spray it directly onto the food coloring stain or use it for cleaning an old stained porcelain sink. Allow it to soak in for at least ten minutes.
Wash the area with dish soap and water, scrubbing vigorously with a clean cloth or non-abrasive sponge. Repeat the stain removal procedure as many times as needed to eliminate the food dye.
Remove Food Coloring from Natural Stone with Rubbing Alcohol
Natural stone countertops are an elegant addition to your home. However, they typically require special care to avoid accidentally damaging them. Avoid using acidic or abrasive cleaners to get food coloring out of granite or other types of natural stone.
Instead, treat food coloring stains with isopropyl rubbing alcohol at a concentration of 70% or higher. If you are trying to remove intense pigments like a red dye or turmeric stain, mix four or five drops of liquid dishwashing detergent with the rubbing alcohol.
Apply the solution with a spray bottle and let it sit for ten to 15 minutes. Use a clean white cloth or paper towel to scrub with soapy water.
While it's fun to use food coloring for cooking or craft projects, trying to get rid of dye stains on your kitchen countertop is not nearly as enjoyable. If you spill a little (or a lot) of food coloring during a recent activity, don't panic.
If washing it with dish soap doesn't do the trick, there are a variety of options for safe and effective ways to remove food coloring from a counter.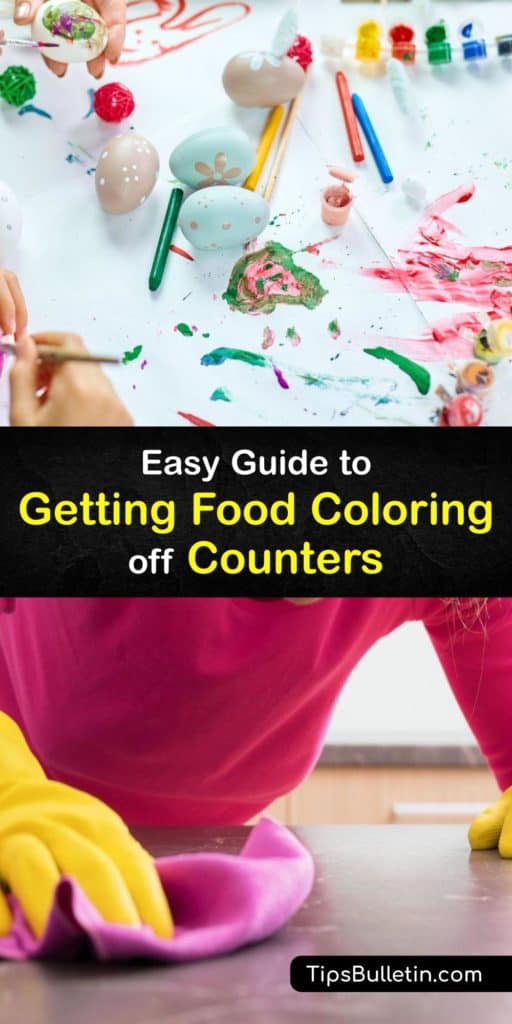 If you found these stain removal tips useful, please share this article about how to get food coloring off counter tops with your friends and family on Facebook and Pinterest.