Removing food coloring from your skin is an easy task.
Apply shaving cream to the stained area and massage for 30 seconds.
Rinse with warm water using a washcloth.
If needed, repeat with more shaving cream until the stain fades.
For persistent stains, use hand sanitizer or a mixture of vinegar and baking soda.
Rinse thoroughly with soap and warm water after treatment.
Shaving cream serves as an effective solution for removing food coloring from your skin. Start by rubbing foam shaving cream on the dye stain and massage it in for about 30 seconds. Rinse the area with warm water, using a washcloth to help lift the color. If the stain persists, you can apply shaving cream again and repeat the process.
For more stubborn stains, hand sanitizer can work wonders. Just dab some on a cotton ball and rub it onto the stained area. Alternatively, you can make a DIY remover with baking soda and vinegar. Mix the two into a paste, apply to the stain, and rub gently. After treatment, make sure to wash your skin with soap and warm water to remove any remaining dye and cleaning residue.
Have you ever used food coloring and not gotten it on your skin? Food coloring is messy but necessary for some of our favorite activities. Learning how to get food coloring off your skin is something that everyone needs to know at some point. Unfortunately, between Easter egg dye, hair dye, and food color, there are too many instances where sensitive skin gets covered in some type of color stain.
Does food coloring stain skin permanently? While food coloring lasts for a few days to a couple of weeks, it washes off over time.
Still, trying to remove food coloring from your skin is frustrating when you don't want your hands covered in dark hair color before a big event. Thankfully, there are quite a few effective tricks to removing food dye and hair dye stains from your skin.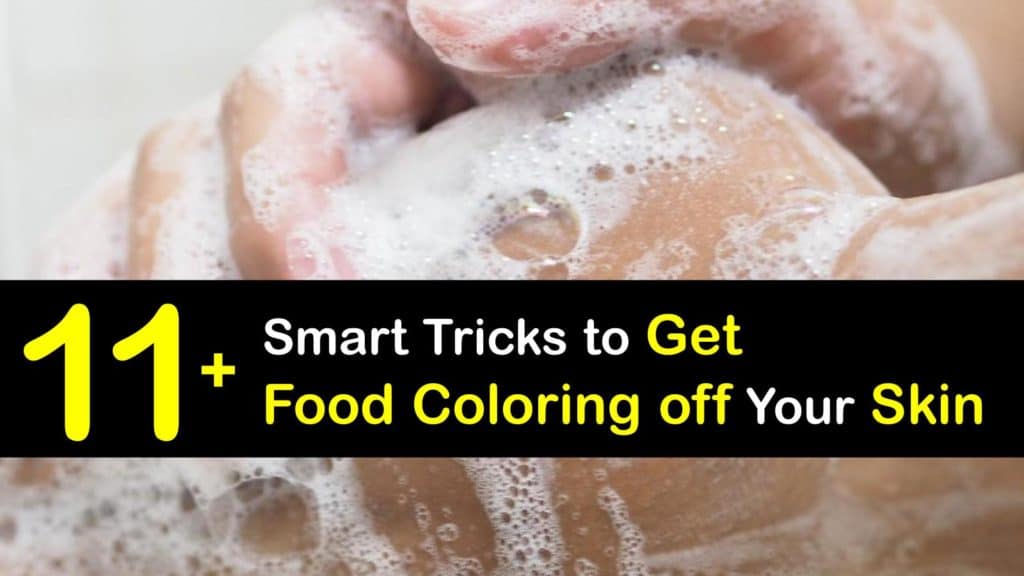 Does Food Coloring Stain Skin?
Food coloring or artificial color is often added to food and drinks to give them a specific appearance. Food coloring is present in our daily lives and there are a lot of foods and beverages that contain a color stain that you probably wouldn't expect.
Food coloring is used in sodas, candies, marshmallows, pastries, and even sometimes fresh fruit. They are far more prevalent than we think and don't usually require us to figure out how to get food coloring off your skin unless working with the chemicals directly.
Artificial coloring contains many different chemicals, mostly coming from petroleum products. There are liquid, powder, paste, and gel food coloring forms. In the United States, all food and beverage labels must list the artificial colors used to make that specific product.
Are there any safety concerns associated with these types of color stains? Some artificial colors have been linked to allergic reactions and behavioral changes in children.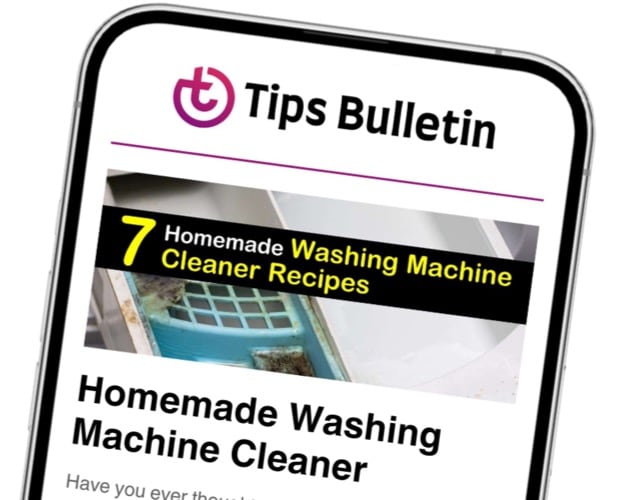 Finally, an email that Transforms Your Home.
Get the latest home and garden tips from our experts, delivered straight to your inbox.
The most dangerous of the ones approved by the Food and Drug Administration (FDA) is Yellow #5, which has been linked to cancer and provokes skin reactions, hyperactivity, and asthma attacks.
If you're uncomfortable using these artificial products, there are natural food colors that come from things like paprika, beta-carotene, and saffron. Still, many individuals prefer to use artificial colors because they are practical and inexpensive.
How to Get Food Coloring off Your Skin
Does food coloring stain skin? While the artificial dye isn't permanent on the skin, it could create a permanently stained area on fabrics. Work quickly to get food coloring off your clothes or skin. Listed below are some of the best ways to remove food coloring from your skin.
Using Shaving Cream to Remove Food Coloring from Your Skin
One unusual option to get food coloring off your hands or remove hair dye from your face is shaving cream. Shaving cream should be your go-to for removing a food coloring stain from skin. Rub foam shaving cream on the area of your skin with the dye stain.
Massage the shaving cream into your skin for about 30 seconds, then rinse it away with some warm water and a washcloth. Most of the stubborn stain should come off. If it doesn't, apply some more cream and try again.
Sometimes shaving cream also works well for removing food dye off counters, too, depending on the surface.
The Simplest Method to Remove Dye from Skin
Soap and water are excellent options if you work quickly. The moment you notice that some of the dye dripped on your skin, go to the sink and start rubbing the area with dish soap. Make sure to use warm water and an old dish towel or washcloth to scrub the area until the dye lifts.
Removing a Stubborn Stain with Hand Sanitizer
Have you ever had pen ink on your hand and realized that it disappeared after using a little bit of hand sanitizer? The same concept applies to food dye and also is a great hair dye remover from skin. Dab a small amount of regular hand sanitizer on a dry cotton ball and rub the stained area. The food coloring starts to disappear and leaves it completely clean.
Rubbing Alcohol and Food Dye
Rubbing alcohol is another excellent tool if trying to remove red food coloring from your skin. Like hand sanitizer, all you have to do is dampen an old cloth, cotton ball, or some clean paper towel with a small amount of rubbing alcohol. Rub the stained spot with the damp cloth until all traces of the dye are gone.
A Surprising Way to Remove Food Coloring from Skin
Toothpaste isn't only useful when brushing your teeth. There are many surprising ways to use this product, including getting rid of a food coloring stain.
Find a whitening or non-gel toothpaste and massage it into your skin. Allow the toothpaste to sit on the stained area for about two minutes. Wash your hands with warm soapy water. If there are still trace amounts of dye, repeat the entire process.
Recipes to Remove Dye
You probably already discovered the magic that happens when you combine vinegar and baking soda. These two items are miracle workers when you put them together.
They get rid of the toughest color stain and have become staple items for your regular cleaning routine. It's no shock that they work just as well when trying to remove food coloring from your skin.
Grab a dry clean washcloth and dip it into a bowl of distilled white vinegar. Rub the wet cloth on your dyed skin until the color starts to fade. If you cannot eliminate all of the dye with only the vinegar, add two tablespoons of baking soda powder with about one tablespoon of clean tap water to form a paste.
Rub the soda paste over the stain and let it sit for one minute. Wet your cloth in the vinegar again and rub the paste off your skin. Wash your stained hands with dish soap and water, and the dye should be completely gone. If the vinegar stings sensitive skin, dilute it with equal parts water to make it weaker.
Creating a Stain Remover with Salt and Lemon
The high amounts of acid in fresh lemons make it a perfect option for getting rid of dye stains. When you combine it with something abrasive, it only becomes more powerful.
Thoroughly wash your stained skin with soap and warm water to remove as much of the dye as possible. Combine three tablespoons of salt with the five tablespoons of lemon juice in a bowl and mix them to make a scrub.
If you don't have lemon juice, substitute apple cider vinegar. Apply the lemon paste to the stain and rub it in a circular motion until the stain starts disappearing. Rinse everything with warm running water and repeat the process if needed.
Baby Oil and Food Coloring
If you have baby oil stowed away in your medicine cabinet, get some good use out of it. Wash your stained skin with lukewarm soap and water to remove as much dye as possible Squirt a few large drops of baby oil onto a cotton ball and rub it on your skin.
Discard the used cotton ball and grab a fresh one before rubbing it over the same area to soak up some excess dye. Rinse your stained skin with more soap and warm running water. If it doesn't completely disappear, repeat the process once more.
Using Olive Oil to Remove Dye
If you don't have baby oil lying around, the chances are much higher you have olive oil or some other type of kitchen oil in the kitchen. The process is the same as with the baby oil. Wash your skin, rub the area with olive oil, and rinse the excess away. As always, continue until all remnants are gone.
How Hydrogen Peroxide Removes Food Coloring
You might consider using hydrogen peroxide if you've got food coloring stains on your skin or clothes. While hydrogen peroxide is known for removing blood and food dye stains from clothing, it may damage the fabric.
However, if the color is on your skin, it is perfectly safe to use. Wet a cotton pad or paper towel in some hydrogen peroxide and gently rub the stained area until it lifts into the cotton. Rinse the colored area thoroughly with soapy water.
Nail Polish Remover
Nail polish remover is another great solution if you're looking to remove dye stains and have sensitive skin. This product was designed for contact with skin and is highly effective in removing color.
How to Use Bleach to Remove Food Coloring Stains
You may have made more of a mess on your clothes than on your skin. We do not recommend using any type of bleach on your skin. However, this is a safe alternative if you accidentally drip some color onto your clothes.
Grab the stained clothing and sponge the dyed area with cold water to remove as much food coloring as you can. Mix chlorine or oxygen bleach with one gallon of cold water.
Submerge the clothing into the bleach water and allow it to soak for at least 30 minutes. Remove the material from the bleach water and rinse it. Put the fabrics into the washing machine and launder them as usual.
Protecting Yourself from Food Coloring Stains
Though it's fun to get a little messy sometimes, there are easy ways to prevent yourself from getting covered in food coloring stains so that you don't have to worry about removing them later.
When working with artificial color, it's essential to understand that accidents happen, and sometimes drips and splatters get on our skin, rugs, furniture, and clothing. Do your best to protect the entire area beforehand.
If you prefer to keep your skin clean, make sure that you wear rubber gloves, long sleeves, and pants to protect your skin. Always wear old clothing that you won't mind getting ruined.
Most people have designated articles of clothing that they wear whenever they are painting, staining, or working with other types of chemicals. To protect your furniture or flooring, spread out a few layers of newspaper, old towels, or paper towels that will soak up the dye before it reaches what is underneath.
If you're genuinely concerned about it, only work outside in the grass, where you can be as messy as you want without the fear of damaging any of the items inside your home.
How to Get Food Coloring off Wooden Furniture
There are times, like when you're coloring Easter eggs with the family, that you may be working on a wooden surface. The location is convenient, but it leads to disaster if you're not careful. If you get food coloring on your wooden table accidentally, don't panic!
Combine one teaspoon of dishwashing detergent with two cups of hot water in a bucket. Dip a washcloth into the sudsy water and apply it directly to the stain. Rinse the area with a fresh washcloth and more hot water. If that doesn't work, try the same method but with one part distilled white vinegar and two parts hot water.
Food coloring has many purposes, and it is a lot more common in our daily lives than many of us thought. While these artificial colors are expected in foods and beverages, there are many other types of dyes that leave skin covered in blotchy, colorful stains.
While these aren't always permanent, many of them last for a long time if we don't do anything to get rid of them. Thankfully, there are quite a few products, most of which we already have stored somewhere in our houses, that are the perfect solutions for removing them.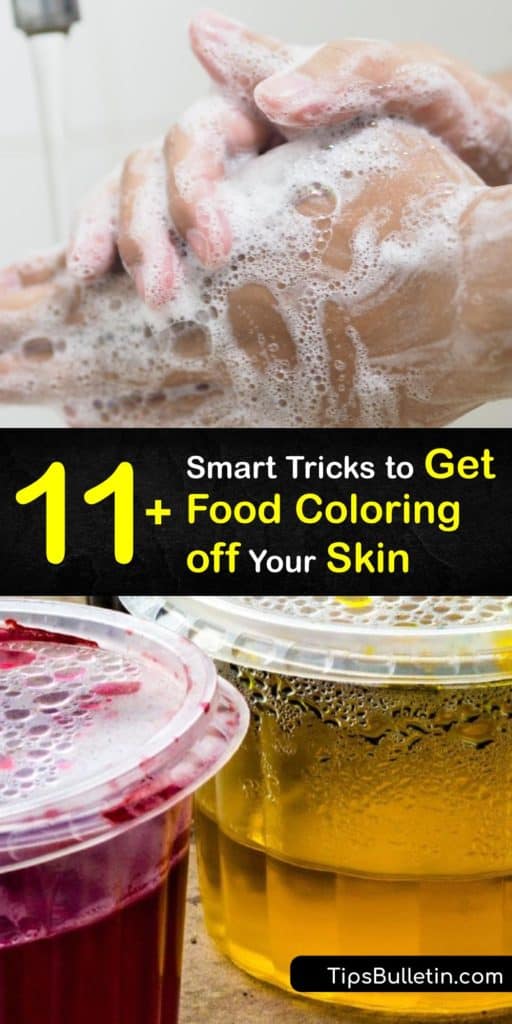 If learning how to get food coloring off your skin has made cleaning up after a project more manageable, share these ways to remove food coloring from your skin on Facebook and Pinterest.