Like most color additives, food coloring is a dye made with acid or natural ingredients that adds pigment to food and drinks and many household items like cosmetics or craft items such as slime. While the added color may be visually appealing, the added colorant may prove challenging to clean if allowed to stain fabric or carpet fiber. Improper cleaning may cause stains to spread or affect your carpet's condition, so it's crucial to know how to get food coloring out of carpet fibers safely.
Cleaning with proper ingredients and tools prevents you from causing accidental damage to your carpet during the cleaning process.
Different cleaning methods may be required depending on the nature of the stain, but we've compiled a list to help. Before scheduling a professional carpet cleaning service, here are simple ways to get food coloring out of your carpet.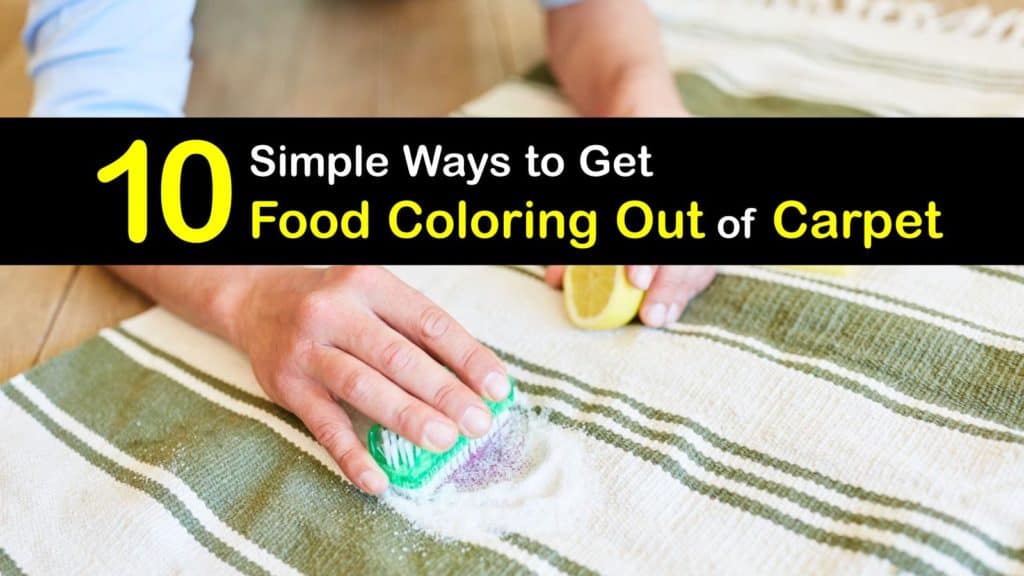 Easy Ways to Get Food Coloring Out of Carpet
Getting your carpet free of food color stains does not require a large amount of effort, as you can create cleaners from items found inside your home. Find simple strategies for cleaning a variety of stains, including the dreaded red stain.
How to Remove Food Coloring from Carpet with Water
Using a bowl, pour small amounts of cool water at a time to a dry stain, enough to soak the stain itself, and wait a few minutes to allow the water to saturate into the fibers.
Using a white cloth, blot the stain and re-dampen the area until your cloth comes away from the area clean.
If you are cleaning a food-based color stain, cool or cold water is best; however, if you're cleaning a protein-based stain like baby food, carefully pour warm water onto the stain to aid in lifting the dye from the carpet.
Remove Stains from Light-Colored Carpet with Hydrogen Peroxide
Hydrogen peroxide makes an excellent staple for cleaning due to its strong oxidizing properties. Water dilutes this recipe, but hydrogen peroxide does have whitening power, and when used on carpet, may lift color from the fibers. Patch test before use.
Mix the hydrogen peroxide and warm water in a spray bottle. Spray the mixture onto the stain, whether you need to get hair dye out of carpet or food coloring, and let it sit for 30 minutes. Cover the stain and the treated area with a thick towel to block out any light after 30 minutes.
When exposed to prolonged sunlight, hydrogen peroxide begins to break down and lose its potency to clean. Check on the stain periodically and remove the mixture from your carpet with a cloth once clean.
This spray also works quite well to get blood out of carpet or a fabric couch, as well as clothing.
Remove Food Coloring from Carpet with Ammonia
As a base, ammonia works well to neutralize acidic stains caused by acid dyes in food coloring. If allowed to soak too deep into carpet fibers, though, ammonia may diminish the color of your carpet. If any discoloration or damage occurs, discontinue use.
To remove food coloring from clothing or carpet or to get hair color off your carpet, combine warm water and ammonia in a bucket or large bowl and mix with a spoon. Dip a sponge or clean white cloth into the mixture. Wring out any excess liquid and blot the carpet stain with a sponge or cloth starting from the edge of the stain.
Note: Skin or eye contact with low concentrations of ammonia may lead to irritation. Exposure to high concentrations may cause burns or severe injury. To avoid, use gloves when handling and only use in a well-ventilated area.
Using Club Soda to Clean Food Coloring from Carpet
Club soda is another simple solution for cleaning carpet stains, including red stains from drinks and greasy stains. Although club soda is a more gentle option for carpet cleaning, test in a small area before use to avoid damaging your carpet.
For this way to get tie dye out of carpet, first blot the excess with a paper towel before wetting a clean cloth with club soda. Blot the stain to dilute and absorb it, but do not continue to press the stained portion of the cloth into the carpet.
Rinse out the cloth before reapplying club soda and continuing to blot the area until clean.
If the stain remains, sprinkle a pinch of salt onto the stain and allow ten minutes for it to sit. Vacuum the salt from the carpet before wiping the area with a fresh, damp cloth and plain water, not club soda.
Cleaning a Red Stain with Vinegar and Lemon Juice
Vinegar and lemon juice make an effective cleaning team when breaking down stains on carpets or to remove food coloring from hands due to their acidic nature. These cleaning agents work incredibly well on red stains, as acids are needed to break down any coloring that contains Red 3 before cleaning.
Mix white vinegar with lemon juice in a spray bottle. Spray directly onto the stained area. Once the site is saturated, blot the stain to lift it from the carpet.
As the stain comes free of the carpet, use clean parts of the cloth to continue blotting. Once the area is clean, rinse using water and dry thoroughly. Try this solution to remove old coffee stains from carpet, too.
Clean Food Coloring from Carpet with Chlorine Bleach
Chlorine-based bleach is known for disinfecting, whitening, and cleaning, and it's those properties that make stain removal simple.
Like with other whitening agents, a high concentration of bleach may harm your skin and carpet. Wear gloves and spot test your carpet before use.
Create a solution of chlorine bleach and cool water. Soak a white cloth in the cleaner and apply it to the stained area, allowing it to sit for 30 minutes. Blot the area with a separate cloth until the stain is clean, and rinse the area with fresh water before drying.
Removing a Slime Dye Stain from Carpet
Slime is incredibly washable because it is made chiefly of glue. Any food color stains left by its dye are easily removable with a bit of elbow grease and rubbing alcohol applied to the stain.
If slime is wet on your carpet, remove it with a spoon or butter knife as quickly as possible. If the slime has already dried or for the way to clean paint out of carpet, place an ice pack or as many ice cubes needed to cover the slime for ten to 15 minutes to freeze the slime and quickly scrape it from the carpet.
Once your carpet is clean of slime, wet a clean cloth or sponge with rubbing alcohol and carefully blot the area. Repeat until the stain lifts from the carpet. To avoid dirt gathering on the spot, allow the area to dry completely before walking on it.
To get food coloring off your skin, dab the area with a little rubbing alcohol. It usually takes the stain right off.
Cleaning Water-Soluble Stains with Dishsoap
Cleaning food coloring from carpet fibers is easy, especially when stains are water-soluble, like ink, mud, and grease stains. By making your carpet cleaner from household liquid dish soap and water, cleaning these stains can take no time at all.
Combine warm water with liquid dish soap in a bowl and dip a clean cloth into the solution. Press the damp portion of the cloth into the stain and apply pressure.
Leave the solution on the stain for five minutes, then blot the area with a clean cloth. Blotting lifts the stain, and once clean, press paper towels into the area to absorb any remaining liquid in the carpet and place a heavy item on the paper towels.
Get Set In Food Coloring Out of Carpet with Baking Soda
Capable of dissolving organic compounds, baking soda is effective against stains ranging from food coloring to pet stains. Applying baking soda to your carpet to remove a stain with water easily removes tough stains with minimal effort.
Sprinkle baking soda onto your carpet stain, ensuring that you cover the entire stain and lightly mist with hot water from a spray bottle.
Leave this mixture for a minimum of three hours, if not overnight; be sure to keep the area damp. Wet a cloth to lay over the baking soda to keep the area damp without constantly spraying. After allowing the baking soda to absorb and dissolve the stain, vacuum the area.
Homemade Cleaner with Laundry Detergent
A solution made from water and laundry detergent will prove effective against tough stains caused by food dye.
The main ingredient, detergent, is already a staple in the laundry cycle to remove stains. Focusing its area of effect yields the same results when attempting to clean food coloring from carpet or to remove lipstick from clothes and carpet.
Combine warm water and non-bleach liquid laundry detergent in a spray bottle. Apply to the stain and let it sit for five to ten minutes.
Blot with a clean cloth to absorb excess moisture. Carefully rinse with warm water and blot again to remove leftover detergent.
Side Effects of Poor Carpet Cleaning
When removing stains, it's best to blot your clean sponge or cloth from the stain. Avoid rubbing and scrubbing at all costs, or else you may end up causing the stain to spread.
When using a brush to work stubborn stains out of your carpet, do not use one with stiff bristles; this may damage your carpet fibers and affect the life of your carpet. Instead, opt for a soft brush when cleaning if possible.
How to Get Food Coloring Out of Carpet
The moment a stain occurs, it's time to begin work on cleaning it. While the stain is wet, removing the excess will be much easier before it seeps further into your carpet.
Once a stain occurs, use paper towels and blot the excess liquid from the carpet to reduce spreading.
Use a wet/dry vacuum over the area to minimize dirt or food near the stain before applying your favorite cleaner using a cloth, sponge, or a spray bottle to lift the stain from your carpet and dry with a clean cloth.
We hope that these tricks on cleaning food coloring stains from your carpet inspire you to tackle your next stain head-on. Knowing how to utilize simple cleaning methods can help avoid pricey professional cleaning or harsh commercial cleaners on your flooring.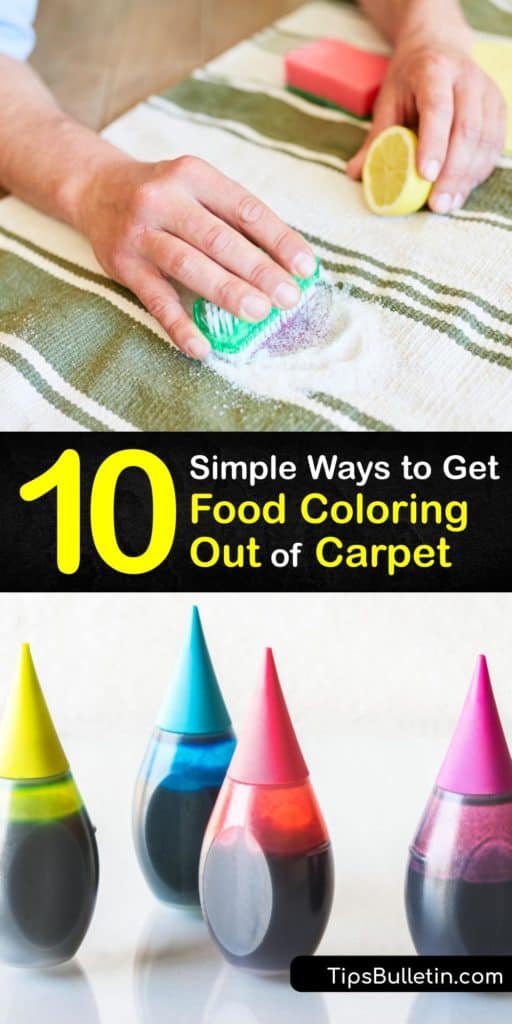 If these methods for how to get food coloring out of carpet were helpful to you, we'd love it if you'd share these tips on how to remove food coloring from carpet on Facebook and Pinterest.