Food colors are fun to make colorful desserts, especially during the holidays – until you discover your favorite shirt has a brightly colored yellow or red stain. Find out how to get food coloring out of clothes using safe and effective solutions.
Food coloring comes in liquid, powdered, and gel forms. All of them are highly concentrated and easily stain many surfaces, including your clothing. While it seems that coloring stains are impossible to remove, there are many simple ways to get food dye out of fabric.
The key to removing a dye-based stain is to get to it as soon as possible since a food coloring stain dries quickly. The faster you work on it, the easier it is to clean.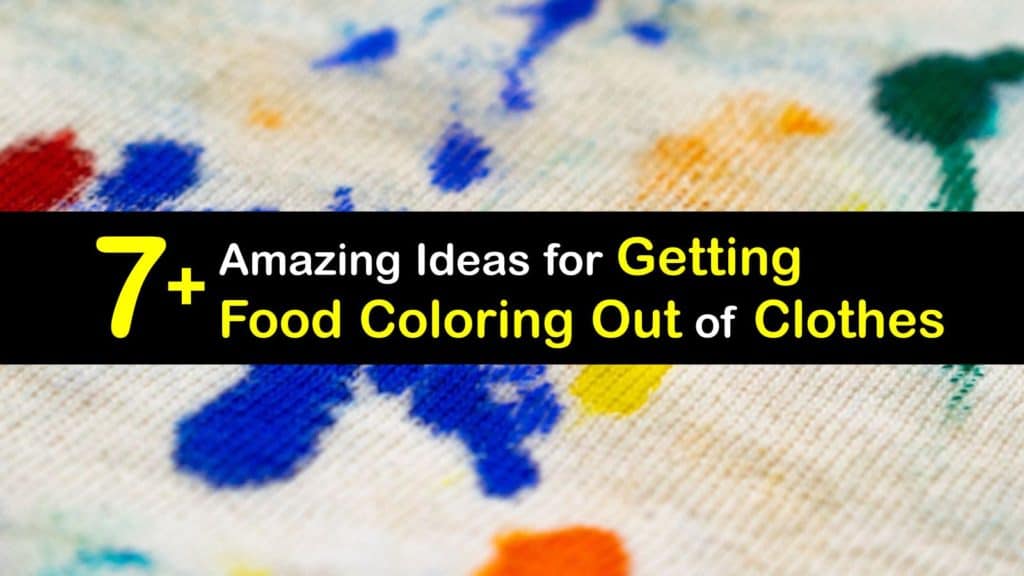 Ways to Remove Food Coloring From Clothes
Sometimes you're too busy creating blue cupcakes or fluffy pink frosting to notice the stain until it's already set. While this type of stubborn stain is more challenging to remove, all you need is the right cleaners and a little patience.
Discovering a dye stain on your hand while working with food coloring is one thing, but finding a bright yellow stain on the white cloth of your t-shirt is another. Try using our easy dye stain removal methods before tossing your clothing item into the rag bag or trash.
Remove Food Coloring From Clothing With Laundry Detergent
The easiest way to remove food coloring from clothing or wash out tie dye if you get to the stain quickly is to use laundry detergent. While this method doesn't work as well to clean away set stains, it is very effective if the dye stain is fresh.
Start by holding the garment beneath cold water to rinse away as much of the dye stain as possible. Turn the item inside out and hold the stained area beneath the running water.
Apply some liquid laundry detergent to the stain and use your fingers or a soft-bristled brush to scrub the area gently. Let the item sit for about fifteen minutes and launder it as usual. Check the article of clothing before drying it to make sure all the dye is gone.
This is also an excellent solution for removing motor oil stains from clothing. Repeat as needed to completely eliminate the grease stain.
Get Food Coloring off Your Clothes
Oxygen-based bleach is a safe alternative to chlorine bleach, and it works great for removing many stubborn stains, including a dye stain and to remove fabric paint from clothes. Here is how to get food coloring off your clothes by soaking them in oxygen bleach.
Follow the package instructions for your brand of oxygen bleach to determine how much product to add per gallon of water. Mix the water and oxygen-based bleach in a bucket or plastic tub and soak the clothing in the cleaner for at least eight hours. If the dye stain is gone, launder the item as usual. Otherwise, repeat the steps once more.
How to Get Food Coloring Out of Clothes
Hydrogen peroxide is a standard liquid in the home, and it has mild bleaching qualities that work well to clean food coloring from clothes or to get blood out of white shirt or pants. Combine the power of hydrogen peroxide with liquid dish soap to create a dye stain remover.
Combine warm water, hydrogen peroxide, and liquid dish soap or liquid hand soap in a bucket or sink. Submerge the affected area of the clothing in the solution and let it soak for fifteen minutes.
Use your fingers to gently clean the stain away and rinse it beneath cool running water. Check if any color remains, and wash the clothes in the washing machine with laundry detergent.
Get Food Coloring Stains off Clothes
To remove food coloring from clothing if the stain is dry, try rubbing alcohol. This liquid dissolves the dye stain from everything, including fabric and carpet, making it easier to lift from the material. Try to remove food coloring stains from kitchen counter tops too.
Place a cotton ball over the top of an opened bottle of alcohol and tip the container to soak the cotton. Spread the article of clothing over a paper towel on a flat surface and blot the affected area with the wet cotton ball.
Use fresh cotton and alcohol as you work to prevent spreading the dye. Once the stain is gone, rinse the clothing beneath cool running water and launder it in the washing machine with detergent.
Rubbing alcohol and hand sanitizer are also effective when trying to get food dye off your hands or for other types of stains. Turmeric does come out of clothes with rubbing alcohol. Turmeric is the pigment in mustard.
A Combo to Remove Food Coloring From Clothes
If you prefer natural ingredients to get food coloring off your clothes or to get food grease out of clothes, consider combining white vinegar with baking soda. These two ingredients create a powerful stain remover when you mix them, and you probably have some in the house right now.
For easy cleaning, pour white vinegar into a spray bottle and label it for storage. Spread the clothing item out on a clean towel on a flat surface with the dye spot facing upward.
Shake baking soda over the affected area to cover the stain, whether you have food dye or are getting egg yolk out of clothes, and spray white vinegar over the powder. Mix your own powerful laundry stain remover and let the two ingredients bubble and foam for several minutes as they break up the stain. Try this excellent remedy for washing mildew stains out of fabric, as well.
Use a soft, clean toothbrush to scrub the spot using a circular motion, taking care not to spread the stain outward on the fabric. Next, hold the item beneath cool running water to flush away the cleaning solution and food coloring residue.
Finally, check to see that the stain is gone. If any coloring remains, repeat the steps and wash the item in the washing machine with laundry detergent.
Keeping vinegar and baking soda on hand for stain emergencies is a good idea. White vinegar will remove grease from clothes and many other types of stains.
Get a Food Color Stain off Clothes
One of the simplest ways to get hair dye stains and food coloring off clothes is to use fingernail polish remover. However, it's essential to make sure you use an acetone-based solution for the best results.
Lay a towel on a flat surface and spread the clothing item over the top with the affected area facing up. Open a bottle of acetone fingernail polish remover and pour some of the liquid on a cotton ball.
Press the soaked cotton on the stain without spreading the dye outward. Continue dabbing at the spot, using freshly soaked cotton as needed, until the coloring is gone.
Rinse the fabric beneath running water and check the material to ensure all the food color is removed. If any remains, repeat the steps.
Once the dye is completely gone, wash the clothing in the washer with laundry soap. You should wash dark clothes at 80°F cold temperature for ideal washing.
Get Food Coloring off Clothes
Believe it or not, there are some everyday items in your bathroom that clean food colouring from clothes. For example, both shaving cream and toothpaste are handy for removing dye stains when you're in a hurry.
Spread the clothing on a flat, clean surface and apply a dab of whitening or non-gel toothpaste or shaving cream on the stain, similar to removing iron stains from your clothes. Use a soft-bristled toothbrush or your fingers to gently clean the area with a small, circular motion.
Be careful not to spread the dye to unaffected areas of the fabric. Hold the clothing beneath running water and check if any dye remains. If the material is still stained, repeat the steps. Otherwise, launder the clothes with laundry detergent.
Getting Food Coloring off Clothes With Lemon Juice
Citrus fruits contain citric acid that breaks down many stains, from slime stains and food coloring stains to a stubborn food stain. We prefer to use lemon juice since lemons are the best source of this stain removing acid.
Spread your clothing item out on a flat surface, making sure the stain faces up. Pour some lemon juice on a ball of cotton and dab it on the affected area. Keep applying newly soaked cotton to the spot to remove as much of the dye as possible.
If the stain is stubborn, sprinkle some baking soda on the dye and rub the area in a circle. Rinse the fabric beneath running water and inspect the surface for leftover stains. Repeat the steps if necessary and launder the item once the coloring is completely gone.
While food dye is an excellent additive in a dessert, it's not something you want staining your favorite t-shirt or sweatshirt. Fortunately, many things you already have in your home work wonders to remove dye stains from fabric, from white vinegar to rubbing alcohol.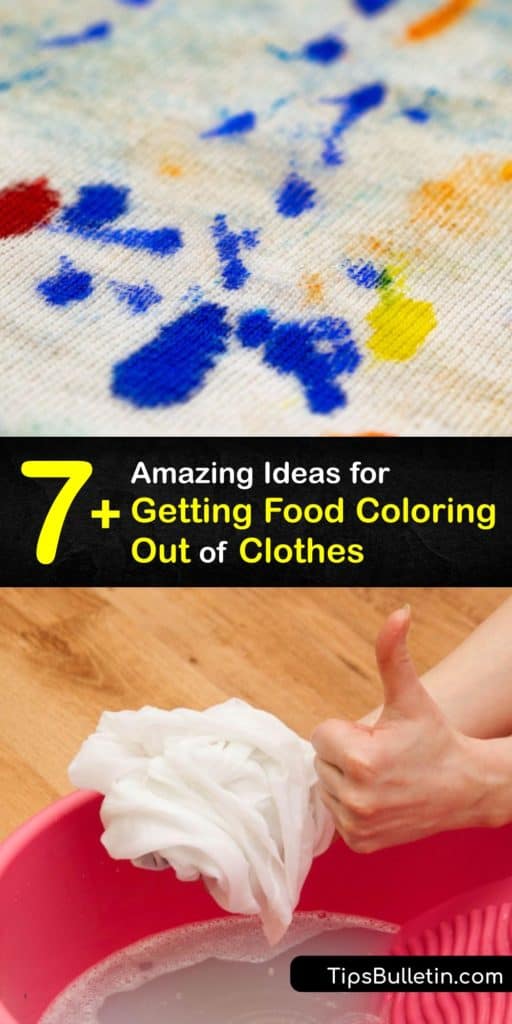 Now that you know how to get food coloring out of clothes the right way, why not share our food dye stain removal techniques with your family and friends on Pinterest and Facebook?