When you have a gasoline spill while performing car care, it's critical to know how to get gas smell off hands. An unsightly gasoline stain on your clothes may be annoying, but the health effects of gasoline poisoning constitute a significant concern for public health.
A diesel fuel accident or gas spill contains a chemical compound known as hydrogen sulfide, which poses several health risks, including skin and eye irritation and, more seriously, weakness, coma, and convulsions. Aside from the safety issues, gasoline fumes are inconvenient, and like a skunk odor, it may seem challenging to know how to remove gasoline smell from hands.
Gasoline vapor is dangerous when inhaled, and the liquid must not remain on your skin. Fortunately, getting a gas smell off hands is easy with a little knowledge and everyday household items. Take care not to touch your face or eyes, and select a straightforward method from this list to get rid of the gas odor fast.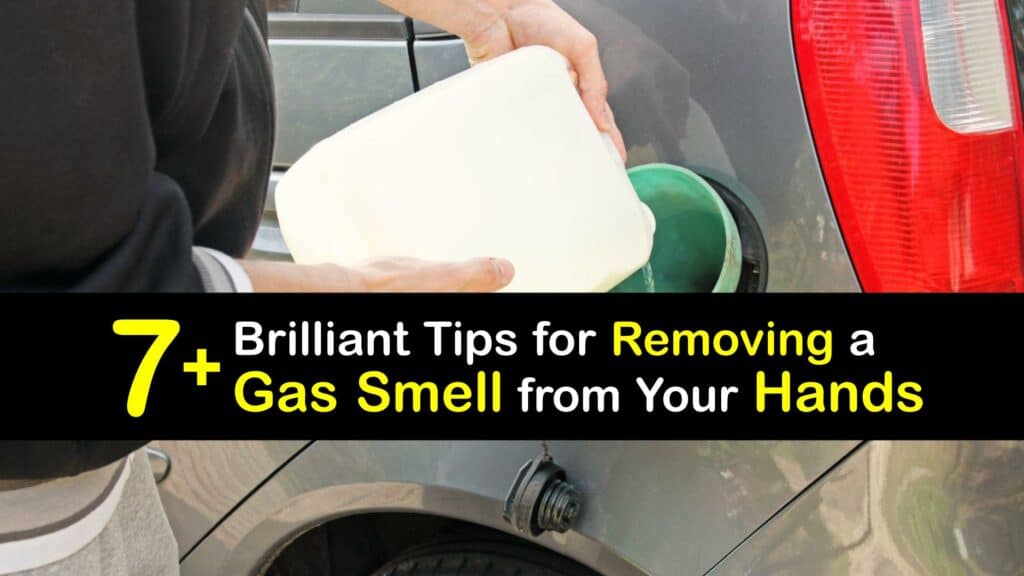 Getting a Gas Smell Off Hands Quickly
Like body odor, gasoline makes you smell unclean, so it's vital to learn how to get gas smell off hands. Gas spills happen at the worst moments, and getting a gas smell off hands might be a challenge depending on what supplies you have with you.
By exploring several methods for removing the smell of gas, you ensure you have lots of tools in your toolbox and can deal with an unfortunate gasoline accident at home or while on the road.
Learn to use items like coffee grounds, white vinegar, and hand sanitizer, and perform your car care confidently, as you have the know-how to handle a spill.
How to Get Gas Smell Off Hands with White Vinegar
Distilled white vinegar is widely used for cleaning and removing the worst undesirable odors. This brilliant deodorizer eradicates the smell of gasoline or diesel by dissembling the bonds holding it, making it easy to wash off your skin.
Vinegar is so effective that it doesn't need to be combined with anything and quickly removes gas from your hands. To use distilled white vinegar to get rid of the gasoline smell on your skin, pour enough into a bowl to cover your hands and submerge them.
Hold your hands in the liquid for about 30 seconds, take them out and rub them well, and rinse your hands with soap and water. Once your hands are dry, the smell of gasoline should be gone.
How to Remove Gasoline Smell from Hands with Dish Soap and Salt
A salt and dish detergent mixture attacks the gasoline smell and kills diesel smell in several ways. Salt absorbs odors while acting as a fine grit exfoliant to remove the dead layer of skin cells harboring the scent. Dish soap is designed to be harsh on grease and breaks down the chemical structure of gasoline to erase the smell from your hands.
Set out a few tablespoons of table salt and wet your hands. Apply a generous layer of dish soap to your skin, then pour on some of the salt crystals. As with any exfoliant, mild abrasion occurs to the skin of your hands, and open cuts or sores may sting when you use this strategy.
Rub the soap and salt in your hands until they combine, and use the mixture to scrub your hands. Work gently, focusing on the parts of your hand where the gas spilled for up to a minute. Rinse your hands under warm water and repeat if the smell persists.
If you feel your hands burning, tingling, or becoming irritated, wash the soap and salt off immediately and try another, more gentle method. Exfoliants are efficient at removing the gasoline smell from the skin, yet they may be too harsh for some skin types.
Use Hydrogen Peroxide for Getting a Gas Smell Off Hands
Hydrogen peroxide has many roles, from cleaning and whitening to eliminating odors. A hydrogen peroxide soak is tough on the skin yet lifts the gas odor quickly. It's important to dilute the hydrogen peroxide before soaking your hands; stop immediately if you experience tingling or burning, and rinse your hands well.
Submerge your hands in the hydrogen peroxide solution and soak them for up to a minute to remove the unwanted smell of gasoline from your skin.
Get Gasoline Smell Off Your Hands Fast with Vanilla Extract
Better known for its use in baking cookies and cakes, vanilla extract is an excellent way to remove gasoline odor from your skin and is one way to get the smell of bleach off your hands. Vanilla extract has a strong, sweet smell and leaves your hands smelling pleasant after the gasoline is gone.
To use vanilla extract to remove gas fumes from your hands, add ten to 20 drops to a cup of warm water and rub this solution into your hands for at least a minute. Follow with a thorough wash with hand soap and warm water, and rinse and dry your hands.
Baking Soda Paste Will Get the Smell of Gas Off Your Hands
If you're curious about how to remove gasoline smell from hands or need to get food dye smell off your hands, try baking soda paste. This household staple is found at almost any grocery store and is economical and practical. Baking soda is used in many industries for its odor-eating capabilities. Unlike chemical soaps and exfoliants, baking soda is natural and safe while still efficient.
Mix the water and powder into a thick paste, apply liberally to your hands, and rub in well for up to two minutes. Rinse your hands with warm water and hand soap, and repeat as required until the gasoline odor is gone.
Rubbing Alcohol Removes Spilled Gasoline Smell from Skin
Rubbing alcohol removes grime and dirt from the skin and eliminates unwanted odor thanks to its solvent properties. Find rubbing alcohol with the pharmacy's first aid supplies, or use an alcohol-based hand sanitizer.
Wash your hands with hand soap and water immediately after the gasoline spill occurs, and dry them thoroughly. Pour rubbing alcohol, or a large glob of hand sanitizer, into your palm and scrub your hands to work it into your skin.
Use the pads of your fingers and the heel of your hand to rub the alcohol into the areas touched by gas and work until your hands are dry and the liquid has evaporated.
Lemon Juice Eliminates Gasoline Odor
Lemons contain natural citric acid, which works to remove gasoline fumes from your skin. As a bonus, lemon is a fresh, clean scent and doesn't need to be removed from your hands after you finish washing them.
Juice a lemon into a small bowl, or use a few tablespoons of pre-squeezed lemon juice and add an equal amount of hot water. Rub the diluted lemon juice into your hands, focusing on the areas with the gasoline spill for at least a minute.
Use hand soap and warm water to rinse your hands well, and reapply the lemon juice mixture as necessary. While lemon juice is safe, its natural acid may sting open cuts and sores, so take care when using it on broken skin.
DIY Coffee Ground Soap Removes Diesel and Gas Fumes
Exfoliation lifts dead skin cells from the top layer of your skin and is a powerful tool for eradicating staining and odors. Many exfoliating soaps are available, though they contain chemicals and preservatives and are often expensive.
Try this straightforward coffee ground exfoliating soap to remove the lingering smell of gasoline from your hands and leave them smelling delicious.
Mix the grounds into the hand soap until combined, and use the exfoliating soap to wash your hands. Wet your hands with hot water from the faucet and apply a large amount of soap.
Rub your hands together until lather forms, then work the soap and grounds into your skin for 30 seconds or as long as a minute, then rinse well with warm water. Since the coffee grounds have an exfoliating effect, they are mildly abrasive. Stop with any pain or discomfort.
A gasoline spill is annoying, and having your clothes and skin smell like gas is inconvenient. Be sure to remove diesel smell from clothing as soon as the stain sets in. Aside from the unpleasant experience of carrying around a gas odor, the severe health complications of gasoline contacting your skin mean it's crucial to understand different ways to remove gas from your hands.
When gas gets on your hands, do not touch your face, eyes, or mouth, and head to the nearest bathroom to wash them thoroughly with soap and water. Once the liquid gas is cleaned away, choose a technique from this list and work on getting rid of the fumes so your hands are clean, and your health is protected.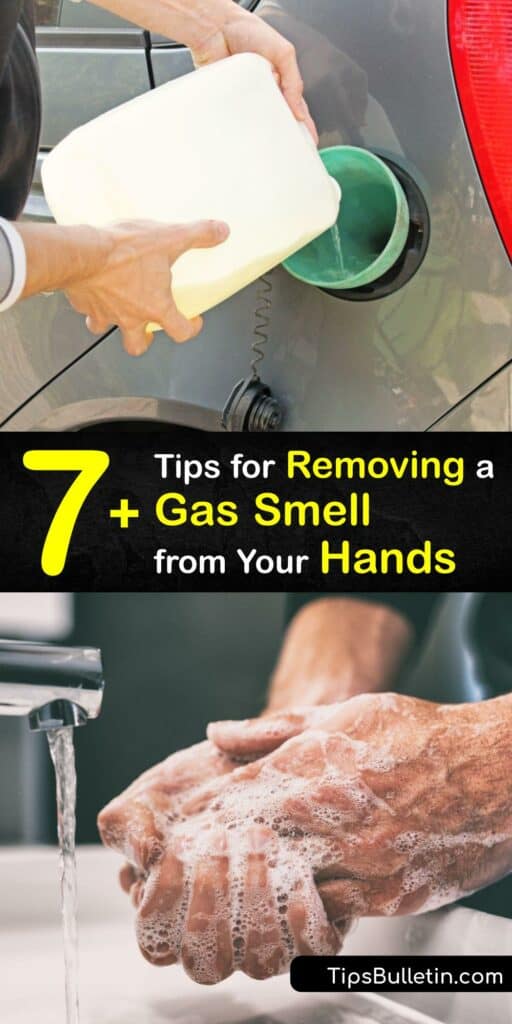 If you loved this article about how to get gas smell off hands, please share these fantastic tips on how to remove gasoline smell from hands with your friends and family on Pinterest and Facebook.