A gasoline spill makes a mess on the ground and can leave gasoline stains on your clothing, car upholstery, and leather. While it may seem like you've removed the stain from the fabric with basic cleaning, it may still have a lingering gas smell. Find out how to get gasoline out of clothes to ensure the stain and gas odor are gone.
A trip to the gas station should be simple. Yet, sometimes accidents happen, resulting in spilled gasoline, whether the gas pump malfunctions or you make a mistake while filling your car. Whatever the cause of the mishap, it's necessary to remove excess gasoline from your clothes as soon as possible.
Gasoline is a flammable liquid; gasoline fumes can cause headaches, nausea, and dizziness. In addition, gas and diesel gas will stain. They are petroleum products and leave an oily residue and lingering smell on fabrics even after washing several times. It's vital to clean gasoline soaked clothing with care while using the proper cleaning solutions.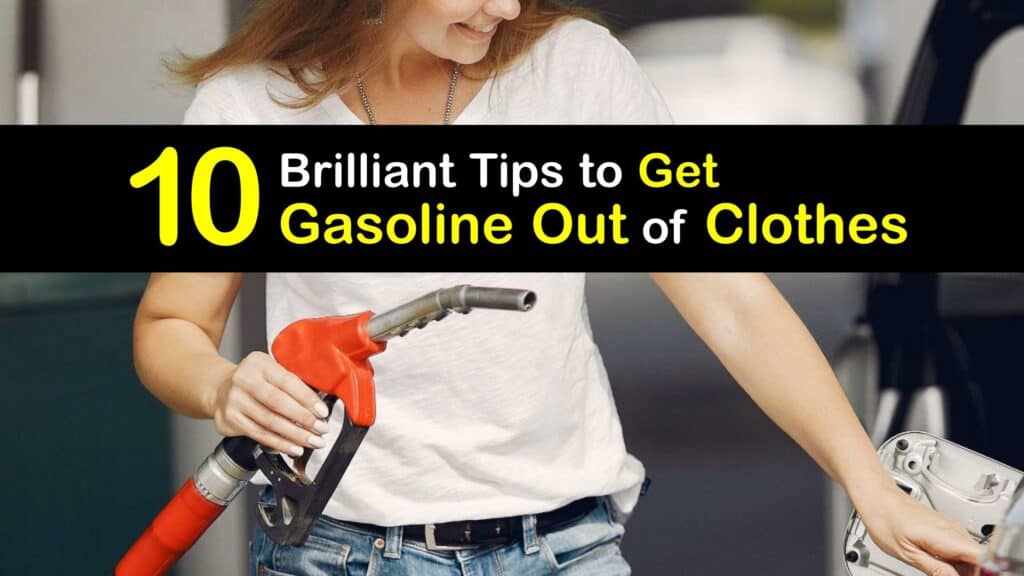 Get Gasoline and Diesel Fuel Out of Clothes
While a gasoline stain is a little more challenging to remove from clothing, there are ways to make the job easier. Learn how to remove these stubborn stains with a stain remover, deodorize a gas smell on shoes, and eliminate the gasoline and diesel smell.
Before Getting Gasoline Out of Clothes
There are a few steps to take before getting gasoline out of clothes to ensure the process goes smoothly and safely. Prepare for cleaning fabrics stained with gasoline.
Clothing Gasoline Spill
While it's tempting to remove the gasoline soaked clothes and toss them directly into the washing machine, this risks cross-contamination with other clothing and the washer. Additionally, placing the item in the clothes dryer could cause a fire due to the high heat. Take off the affected garment and set it on rags or a newspaper as you prepare for cleaning.
Avoid using strong cleaning chemicals when removing gas from clothing. Test the cleaners on an inconspicuous area before cleaning the entire item to ensure they don't discolor the material.
Absorbing Gasoline From Clothes Before Cleaning
The best way to get gasoline out of your clothes is to get to the stain immediately, and you're probably dealing with a wet stain. Absorb excess gas from your clothes to prepare them for cleaning.
Spread out a large rag, lay the clothes on top, and use another rag or a paper towel to blot the gasoline. Continue using dry rags until you absorb as much liquid as you can. Hang the rags outside until they are completely dry, place them into a plastic trash bag, seal it shut, and discard the bag in the outside garbage can.
How to Wash Gasoline Out of Clothes
Solvent-based stain removers are excellent for breaking up petroleum products, and several are on the market. However, treating the stain with dish soap or heavy-duty detergent is possible for cleaning motor oil off jeans. Discover how to wash gasoline out of clothes by pretreating the affected area.
Spread the fabric out and apply two tablespoons of liquid detergent to the stain with a soft-bristle brush. Clean the area with a circular motion and allow it to sit for five minutes. Finish by holding the item beneath hot running water until it runs clear.
How to Get Gasoline Out of Clothes With Ammonia
Ammonia is excellent for washing gasoline out of clothing, especially if the fabric has a strong gasoline smell. Remove a gas stain and odor from your clothes with ammonia.
Pour a cup of ammonia into a large tub of hot water. Soak the item in the liquid for several hours or overnight and rinse the fabric with warm water. Do not mix ammonia with harsh cleaners like chlorine bleach, which may produce toxic fumes.
Remove Gasoline Odor From Clothes
If your clothes still smell like gasoline after getting gasoline out of clothes, try using sodium bicarbonate. Baking soda absorbs odors naturally and eliminates even the worst smells.
Sprinkle baking soda into a container and add enough hot water to form a paste. Spread out the fabric and use a soft brush to apply the baking soda paste to the smelly area. Let it sit until the material is dry, and brush away the baking soda.
If this doesn't work, try soaking the item overnight in hot water and a cup of baking soda. Rinse the clothes with water in the morning and do a sniff test. If the odor remains, repeat as necessary until it's gone.
Removing Gasoline From Clothes With Orange Cleaner
Orange cleaners come from oranges. They contain citric acid, breaking up tough stains like gas and diesel. Use this cleaning product for removing gasoline from clothing.
Follow the instructions for your particular orange cleaner product and apply it to the affected areas as directed. Leave it for at least half an hour, or the recommended time, and rinse the clothes beneath warm, running water.
Soaking Clothes in Vinegar to Remove Gasoline
The acidity of white vinegar dissolves the bond of oily substances, and it's safe to use for cleaning your clothes. Soak your item in vinegar to remove a gasoline smell and stain.
Fill a washtub with equal amounts of white vinegar and hot water. Make sure that the water is as hot as possible for optimal results. Submerge the clothing in the liquid and let it soak for a half hour or more. Rinse the item beneath warm water and set it aside to air dry.
Using Baby Oil to Get Gasoline Out of Fabric
As strange as it seems, baby oil is effective at removing gasoline stains from clothes without damaging to the material. Learn how to wash gasoline out of clothes with this petroleum-based mineral oil.
Pour hot water into a plastic bin and add a few squirts of baby oil. Agitate the liquid to combine and soak your garment in the liquid for half an hour. Rinse the item beneath warm water and wash it alone with laundry detergent.
Can You Clean Gasoline-Stained Clothes in the Washing Machine?
It's not wise to wash gasoline-stained clothes in the washing machine until you remove the stain since the gas may transfer to the drum and stain other clothing items. However, it's helpful to clean the garment in the washer as a final step in the cleaning process.
After using a stain remover, place the clothes in the washing machine, add heavy-duty laundry soap, and use the hot water setting for the best results. Do not clean the garment with other laundry items. Check the clothing for gasoline residue when the cycle completes and transfer the clean item to the clothes dryer or hang it outside to air dry.
What to Do if Gasoline Doesn't Come Out of Clothes
What if you can't get gasoline out of clothes after washing them with baking soda, vinegar, ammonia, and other home remedies? Your only other option is to seek help from a professional cleaner since they have special cleaning techniques for removing tough stains and odors.
The dry cleaning process removes various stains, including tannin, dye, protein-based, fat, grease, and oil stains. It also removes cigarette smoke, sweat, and gas odor.
There are several steps your clothing goes through when you take them to the dry cleaner. First, they tag and inspect the item's wear and tear and check for stains. Next, they treat the stains and place the garment into a machine with a dry cleaning solvent. They check for lingering stains, remove them, and finish by pressing, folding, and packaging the garment for pickup.
Unfortunately, washing your gas-stained clothes with laundry detergent isn't enough to get the job done since gasoline residue still lingers in the fabric. Fortunately, white vinegar, baking soda, and other simple solutions typically remove the gasoline odor and stain, leaving your clothes fresh and clean.
Now that you know how to get gasoline out of clothes using home remedies, why not share our tips for removing gas stains and odor from clothing with your family and friends on Facebook and Pinterest?