You're not the only one to experience the moment of panic when you realize there is super glue stuck to your fingers. Your inner voice reminds you not to touch anything while trying to figure out what to do next. Learn how to get Gorilla Glue off your fingers painlessly, using a variety of simple methods.
The original Gorilla Glue is a wondrous invention. This polyurethane formula expands into just about any material as it dries, forming a strong bond, and it makes home improvement and crafting projects a breeze to complete.
While it bonds to everything from stone, wood, and foam to metal, glass, and ceramic, it also sticks to your skin. Getting caught up in a project happens to the best of us, and you don't often realize that you have super glue on your skin until it's too late.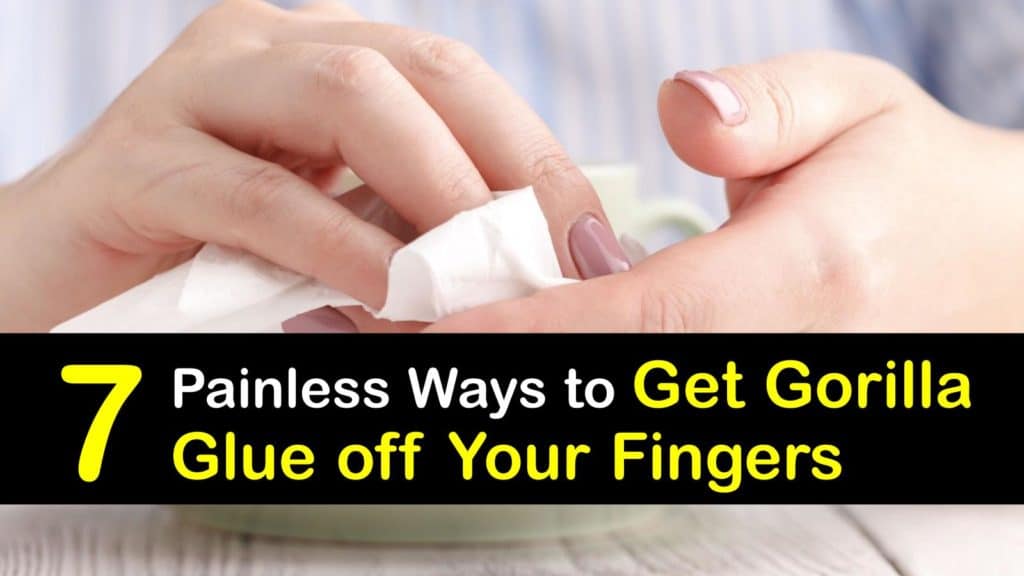 Easy Ways to Get Gorilla Glue off Your Fingers
Discovering sticky glue on your fingertips is one thing, but gluing them together is another problem altogether. Luckily, there are many simple ways to get your fingers unstuck.
While we are all aware of how Gorilla Glue works and understand that it's not a good idea to get it on our skin, sometimes accidents happen. We'll show you how to get super glue off fingers using both mild and strong solutions.
Remove Gorilla Glue from Fingers with Oil and Salt
If you got Gorilla Glue on skin, one of the easiest ways to remove Gorilla Glue from fingers is to use some form of lubricant, such as oil. Combining oil with salt gives the cleaning action a one-two punch by loosening the bond and scrubbing it away safely.
To remove glue and take care of Gorilla Glue cleanup, pour a small amount of cooking oil on the area. If you prefer not to use cooking oil, lotion, baby oil, or petroleum jelly are good substitutes.
Sprinkle some sea salt over the area and use your hand to massage the skin to work the adhesive free gently. Wash your hand under warm water and check if any glue remains.
If the skin is still sticky, repeat the steps. Finish by washing your hands with soapy water to remove leftover glue and oil residue.
To remove hair dye from gel nails, dab a cotton ball with oil onto the nail. Don't add the salt to keep from scraping off the gel. Rinse with fresh soap and water.
How to Get Gorilla Glue off Nails using Fingernail Polish Remover
Acetone is a solvent that helps dissolve many substances and is a common ingredient in fingernail polish remover. Here is how to get Gorilla Glue off nails and fingers using nail polish remover.
Apple some fingernail polish remover to a cotton ball by pressing it over the opening and flipping the container over.
Rub the wet cotton back and forth over the affected area to loosen its bond, and wash your hands under warm, running water. Repeat the steps with a fresh cotton ball if any of the glue remains.
Here is How to Get Gorilla Glue Off Your Fingers Using Lemon Juice
One of the ways to get rid of Gorilla Glue is with citrus. Lemon juice contains citric acid and is useful for removing stubborn stains and dissolving super glue bonds.
This natural glue remover is inexpensive, and you probably have a lemon in your fridge right now. However, do not attempt this method if your hands have scrapes or cracked skin.
Slice a lemon in two and rub the exposed side on the glue patch to release the citrus juice. Continue rubbing the lemon half on your skin using a circular motion to help the bond dissolve.
Wash your hands in warm water and apply the lemon again if necessary. If you do not have a lemon, an orange works as well, but it contains less acid. After the glue is gone, wash your hands with mild soap and water and apply hand lotion to prevent dry skin.
Using Washing Soda to Remove Gorilla Glue from Hands
Washing soda is a common ingredient for removing stubborn stains from laundry. It is also an excellent choice to remove Gorilla Glue from fingers, especially when combined with laundry detergent and warm water.
To clean Gorilla Glue off fingers, fill a container with warm water, add a small amount of washing soda, soda ash, and a liquid detergent.
Soak your glued finger in the solution for a couple of minutes, and then use your other hand to scrub the adhesive gently. Continue these steps until the bond is gone, and rinse your hand under running water.
How to Remove Tacky Gorilla Glue from Fingers
If you discover that there is fresh Gorilla Glue on your hands, it's a good idea to clean it with soapy water before the Gorilla Glue dries completely. Here is how to get Gorilla Glue off nails and skin if it's still tacky.
Use a dry towel to wipe as much of the glue from your skin as possible, and hold your hand beneath warm, running water.
Use bar soap or liquid soap to scrub the adhesive. If your skin is still tacky, consider using dishwashing soap unless you have sensitive skin.
Exfoliating Your Hands to Remove Gorilla Glue
Fingernail polish remover is a common liquid for dissolving away sticky substances, but what do you do if you do not have any? Removing Gorilla Glue from fingers without acetone if the adhesive is dry is easy by exfoliating it from your skin.
Use a gritty piece of material, such as a pumice stone, sandpaper, or a knife-sharpening stone, to remove the dried bits of Gorilla Glue.
Press the item against the sticky part of your finger and use a back and forth motion while pushing down gently to scrub away the adhesive.
Getting Dried Gorilla Glue off Fingers with Rubbing Alcohol
Rubbing alcohol is a standard liquid in many homes and useful for getting Gorilla Glue off fingers, as well as to remove Gorilla Glue from glass. This liquid is a solvent that works to remove everything from ink and paint to super glue.
Get paper toweling damp with rubbing alcohol and wrap it around your finger for a few minutes to get tie dye off your fingernails or remove sticky glue, similar to removing polyurethane from fabric and carpeting. Use a dry towel to scrub away the loosened bits of glue and repeat the steps if any adhesive remains.
If you do not have any rubbing alcohol, try using some paint thinner by soaking the liquid on a cotton ball and cleaning the glue from your skin. Wash your hands with mild soapy water and apply hand lotion to prevent your skin from drying.
There are two crucial things to remember once you realize you have super glue on your fingers – do not panic and do not touch anything – and not necessarily in that order.
After that, it's simple to remove Gorilla Glue as long as you use the right cleaning solution and technique.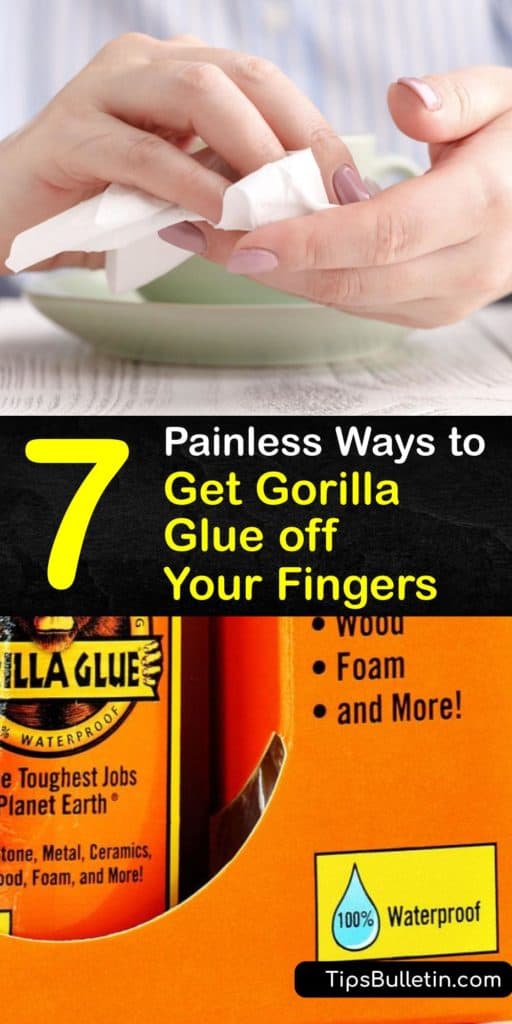 Understanding how to get Gorilla Glue off your fingers takes the panic out of a project gone wrong, so why not share our Gorilla Glue removal tips with your family and friends on Pinterest and Facebook and help them get unstuck.