Marketing itself as the toughest adhesive out there, Gorilla Glue is a polyurethane glue that bonds with most surfaces, including wood, stone, metal, glass, and many plastics. However, none of these features are very helpful—in fact, they're downright maddening—if you make a mess and need to figure out how to get Gorilla Glue off your hands.
The original Gorilla Glue comes in handy for challenging repairs inside and out, while other Gorilla Glues include a rapid-drying cyanoacrylate super glue.
Unlike standard white and yellow glues that shrink as they dry, polyurethane foams and expands as it cures or hardens via a chemical reaction. That's why the Gorilla Glue application process involves clamping two surfaces together.
To clean up excess wet glue, wipe with a dry cloth or use paint thinner. Once the Gorilla Glue dries, mechanical removal methods like sanding, chiseling, or scraping are the most effective.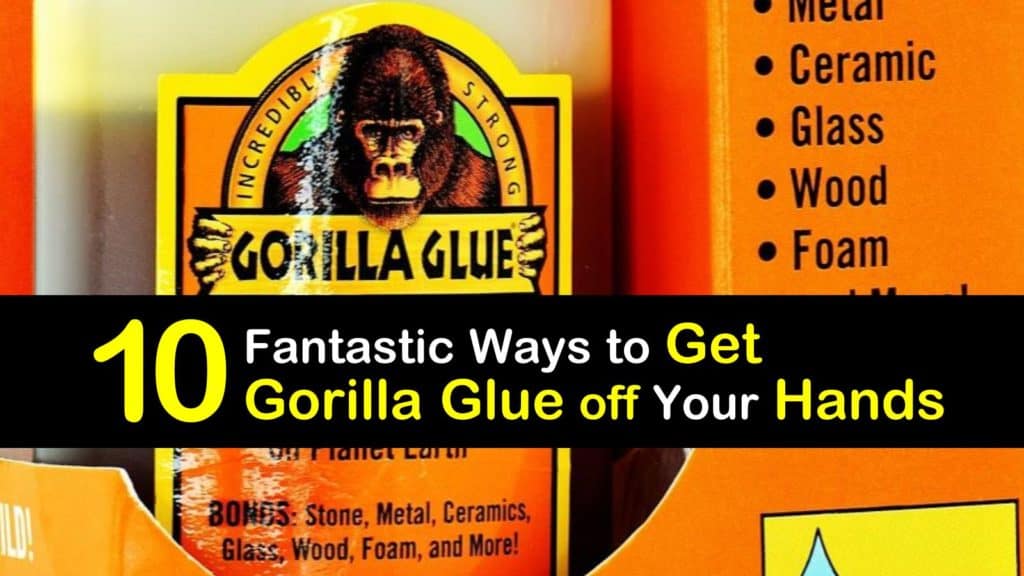 Getting Gorilla Glue off Hands
If you spill this sticky substance, you're probably wondering how quickly you need to act and whether the situation is fixable if Gorilla Glue dries.
Although the curing process takes up to 24 hours, a small spot dries within minutes. It's simplest to remove the adhesive immediately, but there are ways to remove dried Gorilla Glue, too.
How to Remove Gorilla Glue from Hands Right after a Spill
If you react within the first minute or two, it's possible to wipe off Gorilla Glue with a cloth or paper towel. The towel should be dry since water activates the glue's bond.
Keep a towel close by while you're working. This method only works for getting super glue off hands while it's still tacky. If you wait more than a couple of minutes, you need to try a different approach for getting Gorilla Glue off hands.
Use Soap and Water to Clean Gorilla Glue off Hands
If you manage to remove most of the glue with a cloth or paper towel, wash off the remaining adhesive with cold, soapy water. Soap and water is often enough to remove tie dye from your hands if you only get a little on them. Keep a bowl handy for easy cleanup.
You may also use soap and cold water but act fast since water hardens the glue. Bar soap adds extra friction, but liquid hand soap is more powerful. Dish soap is ideal as long as you don't have sensitive skin.
To get Gorilla Super Glue off, soak the affected area in warm, soapy water. Gently wiggle your hand to help the soap work. Warm water and soap can help soften Gorilla Glue before trying a different approach, as well.
How to Get Gorilla Glue off Your Hands using Oil
Several types of oil are useful for removing glue or as the best way to get hair dye off skin. Olive oil is not only handy in the kitchen but also gentle on your hands. To boost the oil's effectiveness, heat it for ten seconds in the microwave or mix in a pinch of salt.
Other standard products work, including lip balm, non-stick cooking spray, and petroleum jelly, also known as Vaseline. Whichever oil you choose, to get Superglue off hands, or even to clean food coloring from hands and fingers, rub it on the patch of glue or stain for several minutes.
Scraping to Remove Gorilla Glue from Hands
Once you've gotten your hands oily, it's time to scrape off the glue. Use a blunt-edged object, such as a dull butter knife, nail file, or your fingernails.
Hack gently at the lump of glue. If the adhesive won't come off, it's best to rinse off the oil, dry your hands well, and try a different approach for getting Gorilla Glue off hands.
How to Get Gorilla Glue off Your Hands with Citrus
It's no secret that lemon juice is an essential ingredient for DIY home cleaning, up there with vinegar and baking soda. For this trick, use lemon or lime slices, citrus oil, or a skin-safe citrus-based cleaner.
Rub the juice, oil, or cleaner into your hand, then wash your hands well. However, choose a different strategy if you have a hand injury or dry, cracked, or torn skin.
Getting Gorilla Glue off Hands with Acetone
Although it's the most powerful solution for getting Gorilla Glue off your skin, some people caution against employing acetone. It removes your hand's natural oils, making the adhesive more likely to stick.
It also dries out your skin, although that's easy to solve with a little moisturizer lotion. Acetone is present in most nail polish remover brands, a product that's also handy if you're looking to remove hair dye from hands.
Soak the affected area in acetone or cover it with an acetone-soaked cloth. Alternatively, pour a little acetone on a cotton ball and rub it in circles on the adhesive.
Work quickly since acetone is fast-drying. In any case, finish by washing and drying your hands and applying lotion.
Acetone and paint thinner are a great carpet glue dissolver that works well to remove carpet glue from the floor as well as your hands.
Separating Fingers that Have Gotten Stuck Together with Gorilla Glue
Whatever its possible downside, acetone is the most effective solution if your fingers get stuck together. If this happens, the first thing to do is to stay calm. Trying to force your fingers apart risks tearing your skin.
Instead, soak your bonded fingers in a bowl of acetone for two to three minutes. After removing them from the liquid, work a fingernail from your other hand under the glue. Gently wiggle your fingers to try to loosen them.
If they're still stuck, return your hand to the acetone for another five to six minutes. Repeat this process until you can scrape off the glue. When you finish, wash your hands with mild soap and warm water, then apply lotion.
Exfoliating to Remove Gorilla Glue from Hands
This method for getting Gorilla Glue off hands uses exfoliation to scrub away the adhesive. Use a commercial powdered exfoliator or make your own using this easy recipe. Rub the granules over dried Gorilla Glue like they're soap.
How to remove Gorilla Glue starts with mixing the ingredients in a bowl and storing it in an airtight container. You could also try scrubbing with a gritty-textured object, like a pumice stone. Loosen the adhesive with baby oil first.
Use a firm but slow motion with the stone, and take breaks to rub the patch with your opposite hand. After several minutes, the glue should ball up or peel off. Finish by washing and drying your hands.
How to Get Gorilla Glue off Your Hands with Cleaning Products
If you have the time and ingredients, this mixture is a powerful way to remove Gorilla Glue from hands. Before putting it on your skin, remove any oil or ointment.
Combine the ingredients until the mixture bubbles. Submerge your hands and rub them together to scrub off the glue. Afterward, rinse and dry your hands.
Wait for the Gorilla Glue to Come off on Its Own
If none of the other strategies succeed, wait four to five days. Natural skin replacement means that the glue comes off without doing anything. It's a good idea to keep your hands moisturized since Gorilla Glue often makes skin dry out.
If you're feeling impatient, mix rubbing alcohol, salt, hand lotion, and hand sanitizer, then rub it over your hands. Rubbing alcohol is one of several types of DIY glue remover. The glue should eventually start peeling off.
Is Gorilla Glue Toxic?
Like with many chemicals, you do not want to touch, inhale, or eat Gorilla Glue. It's toxic for pets, so store it away from children and animals. If the adhesive gets in your eyes, rinse them with water for 15 minutes.
If you have asthma, contact your doctor before using Gorilla Glue since the fumes may cause lung damage. If you breathe them in, move to fresh air.
Swallowing Gorilla Glue can cause a gastrointestinal blockage. If you swallow glue, call a Poison Control Center or your doctor immediately and do not induce vomiting. The company cautions against heating the product.
The good news is that a one-off spill is unlikely to cause any harm to your skin. However, repeated gluing can weaken the skin's hard outer layer, increasing its sensitivity.
How to Prevent Gorilla Glue from Getting on Your Hands
The easiest way to remove glue from hands is not to get it there in the first place. If you're asking, "What takes Gorilla Glue off your hands?" it's probably too late this time, but follow these tips to protect your skin in the future.
Wear disposable gloves and apply the glue with a toothpick or cotton ball for greater control. Put a protective covering under the work area to make cleanup easy and wipe up spills immediately.
Keep paper towel or dry cloths and a bowl of cold, soapy water nearby. Place the glue bottle away from your work area, resting it on a small item like a bottle cap. When you finish using it, close the lid tightly and wipe the nozzle with a cloth.
As a super-strong adhesive that bonds with many different materials, Gorilla Glue is useful for numerous projects around the house and outdoors.
Its application process is different from most other glues, involving dampening one surface and then clamping both surfaces together. Follow the instructions carefully to avoid getting any of the sticky substance on your skin.
If an accident happens, you'll be wondering pretty quickly how to get Gorilla Glue off your hands.
If you move fast enough, the answer is to wipe with a cloth or paper towel or wash with cold, soapy water. However, if the glue dries, don't panic since you have several options, including applying oil or acetone and exfoliating.
If our glue removal tricks helped you escape a sticky situation, please share these Gorilla Glue guidelines with your friends on Pinterest and Facebook.