Grape juice is a North American favorite for kids and adults alike. Unfortunately, this berry-colored breakfast juice leaves stubborn stains on fabrics and fibers. Discover how to get grape juice out of clothes, carpets, and upholstery with these time-tested tips and tricks; learn why grape juice stains clothing, how to tackle it, and what home remedies work best for every grape-related spill.
In 1869, an American physician named Thomas Bramwell Welch created grape juice by developing a technique to pasteurize grapes before they could ferment into wine. His son then went on to found the famous Welch's Grape Juice company in 1893, and consumer reports indicate that grape juice is still popular 150 years later.
North American purple grape juice comes from processing Concord grapes pulp, skin, and seeds. These grapes are loaded with tannins or bitter, astringent compounds. Tannins exist inside the skin of many fruits, vegetables, and even trees, and they help plants defend themselves from pests and diseases. However, tannins also cause that stubborn staining we all hate, so let's discover some sure-fire methods for how to remove grape juice from clothing.
Does Grape Juice Stain Clothes?
Unfortunately, many commonly enjoyed beverages like grape juice, tea, and red wine contain stain-causing tannins. Did you know that even a grease stain or coffee stain may also have tannins?
These natural tannins are everywhere, but we're here to make stain removal simple with this helpful how-to guide. Don't be afraid to give grape juice boxes to the kids anymore; make grape juice stains a thing of the past.
Start with Cold Water for Grape Juice Stains
Does grape juice stain clothes? It does, though only if you let it set. Make life a little easier and tackle those stains before they have the opportunity to set. Dealing with stains means time is of the essence; the longer you wait to remove grape juice stains from clothes, the more challenging it becomes.
Grab a white paper towel or a clean cloth and blot as much fruit juice stains as possible. Try not to wipe the stain; this spreads it to the surrounding fabric. Instead, blot gently, starting outside the grape juice stain and working toward the center.
Next, it's time for cold water treatment. Turn your stained clothing inside out, and flush it with cold water from the tap. Cold water is super-effective at stopping most types of stains from sticking to fabric and won't shrink delicate materials. Gently massage the juice stain to loosen it, and watch it disappear down the drain.
How to Get Grape Juice Out of Clothes with Lemon Juice
Find out how to get grape juice out of clothes with lemon juice. Lemons are acidic citrus fruits that also pack a punch when used as a natural stain-fighting solution. You might remember your chemistry teacher saying, "like dissolves like," when it comes to solvent interactions, and they were right.
Grape juice is moderately acidic, meaning something acidic is the best way to remove it, such as lemon juice. Pour the lemon juice straight onto the grape juice stain and blot with a clean cloth or paper towel.
Flush the fabric with cold water and repeat until the stained area starts to lift. Use fresh lemon juice or pre-squeezed containers; the acidity is what matters.
Vinegar Spray for Grape Juice Stains on Clothes
Vinegar is another inexpensive, acidic kitchen product that works wonders for acid-based stains like coffee, tea, wine, and fruit juice. Discover ways of removing food coloring from new clothes with this fabulous DIY vinegar cleaning solution.
To get your stain remover started, mix the liquid dish soap and distilled white vinegar in a clean spray bottle and give it a little shake. Spray the stubborn stain liberally; it's okay to soak it. Go to work with your cloth or paper towel and blot the juice stain, alternating between the vinegar spray and a cold water flush from the tap.
Try vinegar spray on an orange juice stain or coffee stain, and see how easy it is to fight anything that comes your way. This mixture is adjustable to meet your needs and makes as much as required for those "big spill" days. This DIY stain-fighting spray stores well for later use and works on various household clothing blemishes.
This distilled white vinegar spray will also clean blueberry stains on white clothing. Since blueberries leave nasty purple stains on your clothing, it's best to have this cleaning solution on hand to get rid of stains when they come up.
How to Get Grape Juice Out of the Carpet
Grape juice or a Kool Aid stain on the carpet is inevitable, especially if you have kids. There's no need to panic; removing Kool Aid stains from fabric and carpet is possible without professional intervention.
Blot the fruit stain immediately to soak away as much of the spill as possible before it hits the carpet padding. Always use a clean white cloth to prevent dye transfer to nylon carpet fibers. Soak up the stain from the outside edges and work inward; blot the stain straight down, and never rub.
Once the juice liquid stops transferring, it's time for the stain remover. Mix a tiny amount of dish soap into a small container filled with a cup of water. You want just enough dish soap to make a few bubbles, not enough to leave soap residue on the carpet.
Substitute dish soap with a bit of liquid laundry detergent if needed. Soak a clean white cloth in the mixture and blot the carpet stain until it disappears.
How to Get Grape Juice Out of Upholstery
Removing grape juice stain from upholstery isn't as hopeless as it sounds; for every tough stain, there's an even tougher solution. Always start by blotting the grape juice stain with a paper towel; continue until there's no more liquid transfer. Then, attack the grape juice spill with our DIY vinegar spray.
To get grape juice out quickly, consider adding a stain-fighting boost to our recipe with a ½ teaspoon of baking soda or ½ teaspoon of hydrogen peroxide. Continue to work the stain out gently with a clean cloth. Always test a new cleaning solution on an inconspicuous upholstery area to ensure no discoloration or transfer.
How to Remove Grape Juice from Clothing with Oxygenated Bleach
Removing grape juice stains is tricky, especially if they've set in over time. There's chlorine bleach for intense staining on white fabrics, but what about colored fabrics? Treating your colors with chlorine bleach strips the original color out of the material, and repeated use corrodes the fibers.
Oxygenated bleach is ideal for tough stains on colored fabrics. It contains a different, gentler active ingredient than chlorine bleach called sodium percarbonate. When exposed to water, oxygenated bleach breaks into hydrogen peroxide molecules that bust apart your toughest stains, including fruit juice stains.
If you don't have oxygenated bleach in your home, you can also use baking soda to eliminate these tough stains from your clothes. Baking soda will get mustard stains off many fabrics due to its natural cleaning powers.
Give Your Grape Juice Stains to the Professionals
When life gives you grape stains, you can call the professionals. Sometimes a stain is just too tough, or the fabric is too delicate to take on the challenge alone. Don't take any chances with wine and grape juice stains on dry-clean only clothing; always consult your local dry cleaning professionals for guidance.
Your neighborhood cleaning service has the best advice for fussy fabrics like silk, leather, and suede, and often the rates are much more reasonable than you might think.
We hope you enjoyed these tips for how to get grape juice out of clothes, upholstery, and carpets. Does grape juice stain clothes? Absolutely, but now you know all the best tricks to get rid of grape juice stains for good. Whenever you see a fruit juice stain, reach for this guide, and follow these words of wisdom.
The key to removing stains caused by grape tannins is to blot early and often; use white paper towels or any clean white cloth, and don't stop blotting until the liquid transfers.
Always use a cold water pretreatment and an acidic cleaning solution containing ingredients like white vinegar or lemon juice. For non-washable fabrics, follow the same steps, and never use chlorine bleach on carpets or upholstery.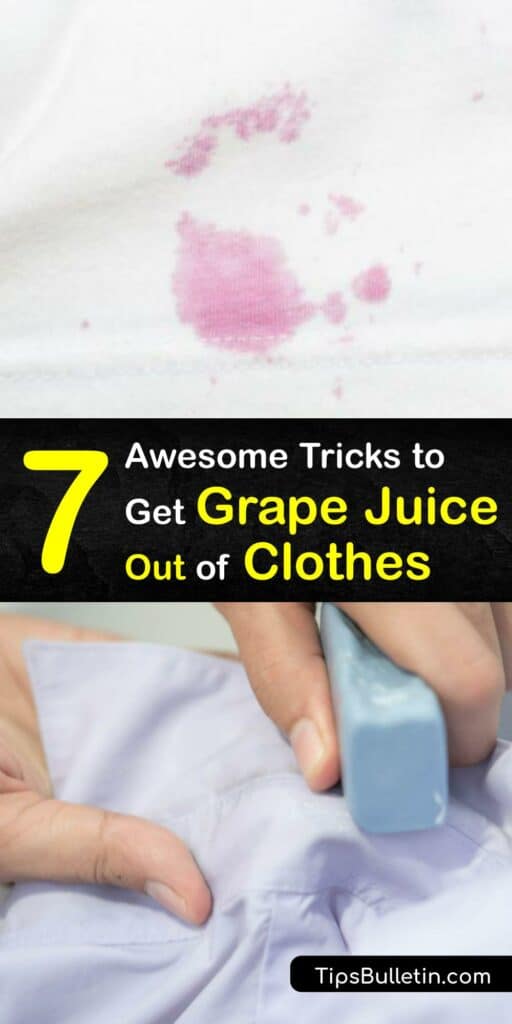 If you loved learning how to get grape juice out of clothes, carpets, and upholstery, share this article with friends on Pinterest or Facebook who are always looking for the best stain-fighting solutions.