Whether your mess ends up at work or in the kitchen at home, getting stubborn grease stains off of the walls is an unpleasant, difficult chore. Knowing how to get grease off walls is essential for keeping tidy countertops and backsplashes, too.
You don't want an ugly stovetop full of kitchen grease causing a fire safety hazard either. There are many different cleaning solutions for getting rid of smelly, nasty grease, so learning how to get grease off walls isn't hard.
More than likely, you probably have the supplies you need on hand already. In this guide, we'll teach you the best ways to remove oil stains from painted walls without damaging or leaving a stain on the paint.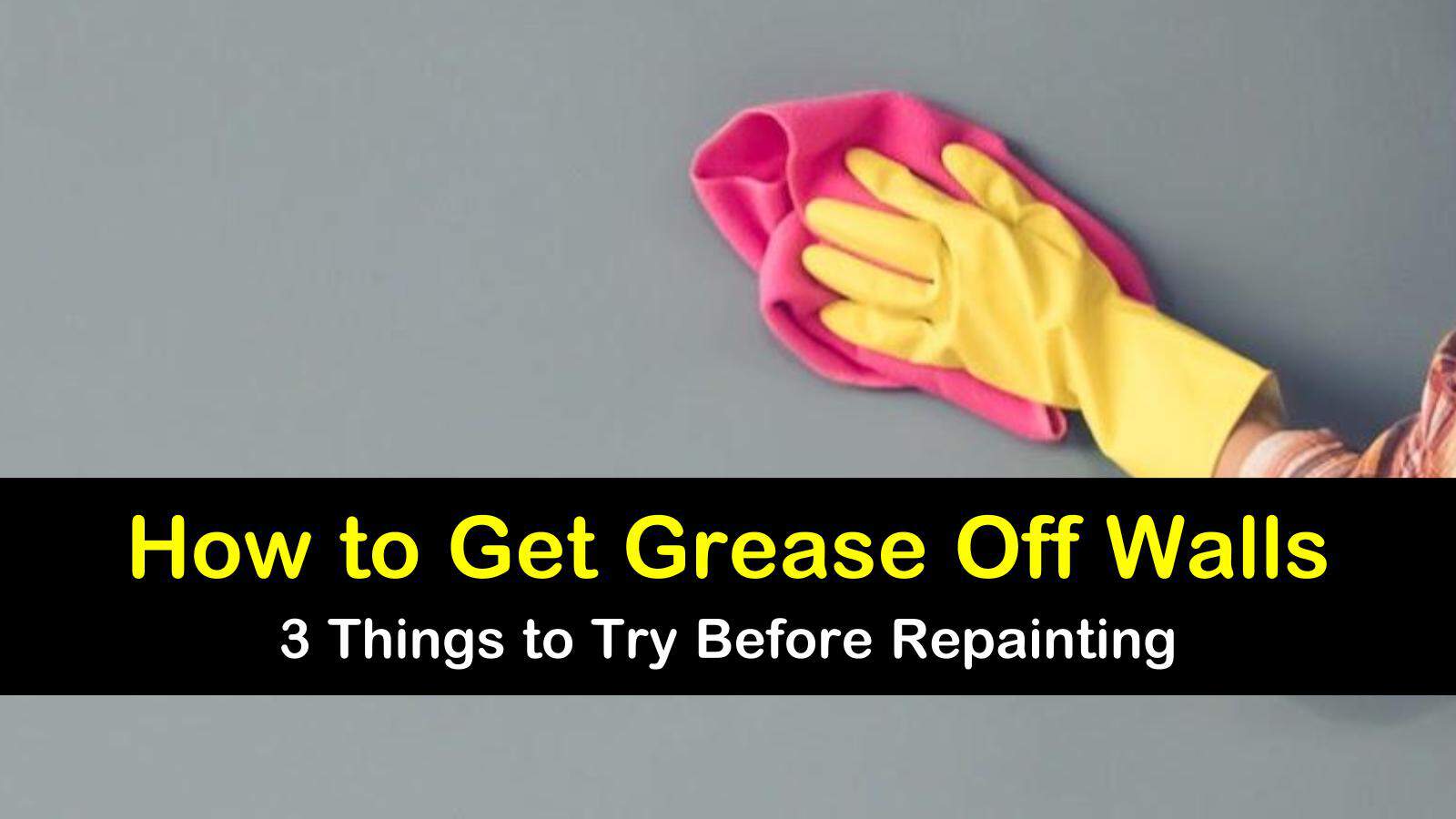 How to Clean Grease Off Kitchen Walls
When we cook with grease in the kitchen, it makes our food taste delicious and our pots and pans easy to clean. However, it can often spatter onto our counters, cabinets, and walls in the process, making a sticky, unpleasant mess!
When considering how to clean grease off kitchen walls, it's essential to think about things that are an effective grease remover. Dish soap is a winning example, of course, and probably the easiest method to use.
However, other cleaning products like baking soda, white vinegar, and Magic Erasers (they're not just for crayons!) can effectively clean up grease, too. If you're looking to power wash some walls after you get the grease off, we have a recipe for power washer detergent for walls, also.
These cleaners also work well to help remove wallpaper from plaster walls, too.
Getting Cooking Grease Off Walls with Dish Soap
Dish soap has always been an excellent degreaser and a reliable method of getting cooking grease off walls and out of all kinds of things. It makes getting cooking grease off walls very easy, and it makes an excellent everyday cleaner, too.
To make your wall cleaning solution, mix ¼ teaspoon of dishwashing soap for every cup of warm water. Wet your sponge with dish soap and warm water as you would when cleaning dishes.
The dish soap will lift and collect the cooking grease and grime, while the warm water and the damp sponge will wash it away. We recommend going over your counters with clean water once after using your soapy mixture.
This ensures that all the soap and oil have been washed away from your walls and counters, leaving no sticky residue. Air dry your surfaces if you didn't use much water, or use a paper towel if they're saturated, wringing it out as needed.
This dish soap solution will also clean other sticky messes off walls. Learn more ways to get sticky tack off walls with home made cleaning solutions.
Clean Greasy Kitchen Walls with White Vinegar
While dish soap is undeniably one of the best ways for removing grease itself, grease stains are a different story. If you're wondering how to clean greasy kitchen walls full of stubborn stains and residue, a solution of vinegar and water should do the trick. Vinegar is excellent for cleaning mold and mildew stains in the bathroom or sink, too!
For this recipe, combine equal parts white vinegar and warm water. A spray bottle is handy for applying the solution to walls, but not required. Apply the vinegar and water mixture to the grease splatters, let it do its work for several minutes, then wipe it off with a clean towel.
If you're looking for a little extra cleaning power, try rubbing a paste made with baking soda and water into the grease spots before spraying with vinegar. The vinegar will react with the baking soda, and the combination will fizz to help lift away the grease stain. Vinegar works well for removing rust from concrete, too.
Get Grease Off Walls with TSP
TSP, or trisodium phosphate, is a heavy duty cleaning solution used by many painting and cleaning professionals to remove stains and blemishes on all kinds of surfaces.
When you clean a wall with TSP, realize that this product is quite powerful. As with using any harsh chemicals, it should always be used carefully, with plenty of ventilation, and with gloves on your hands to protect them.
When using this product, always mix it with water according to the manufacturer's guidelines. Since TSP often comes in bulk, you may need a gallon of water or more. TSP can commonly be found at hardware stores.
While TSP is an undeniably strong cleaner, be very careful while using it to remove stains from painted walls, as it can strip paint gloss, too. Make sure to dilute it carefully or apply it sparingly to walls as a degreaser.
Tackling Grease Spatters on Appliances with Rubbing Alcohol
Rubbing alcohol makes an excellent cleaner for stainless steel appliances since it dries streak-free, but it works well for waxy buildup on walls, too. To clean with rubbing alcohol, dampen a clean cloth with it and wipe away any accumulation, but make sure to test it in an inconspicuous area first, as rubbing alcohol can strip painted surfaces.
If you plan to use rubbing alcohol on painted walls, it may be better to dilute it with water before adding it to the damp rag. However, because of it's stripping properties, rubbing alcohol excels at removing sticky or hard-to-remove coatings. Rubbing alcohol and water make an excellent DIY whiteboard cleaner, for example.
Did you like our article about removing grease stains from walls and other surfaces? While grease is no fun to clean out of or off of anything, it's an essential ingredient in the kitchen. Knowing how to remove it safely and effectively is critical in keeping your home or workplace looking its best. If you need to tackle some exterior walls, we have recipes for how to clean vinyl siding, too.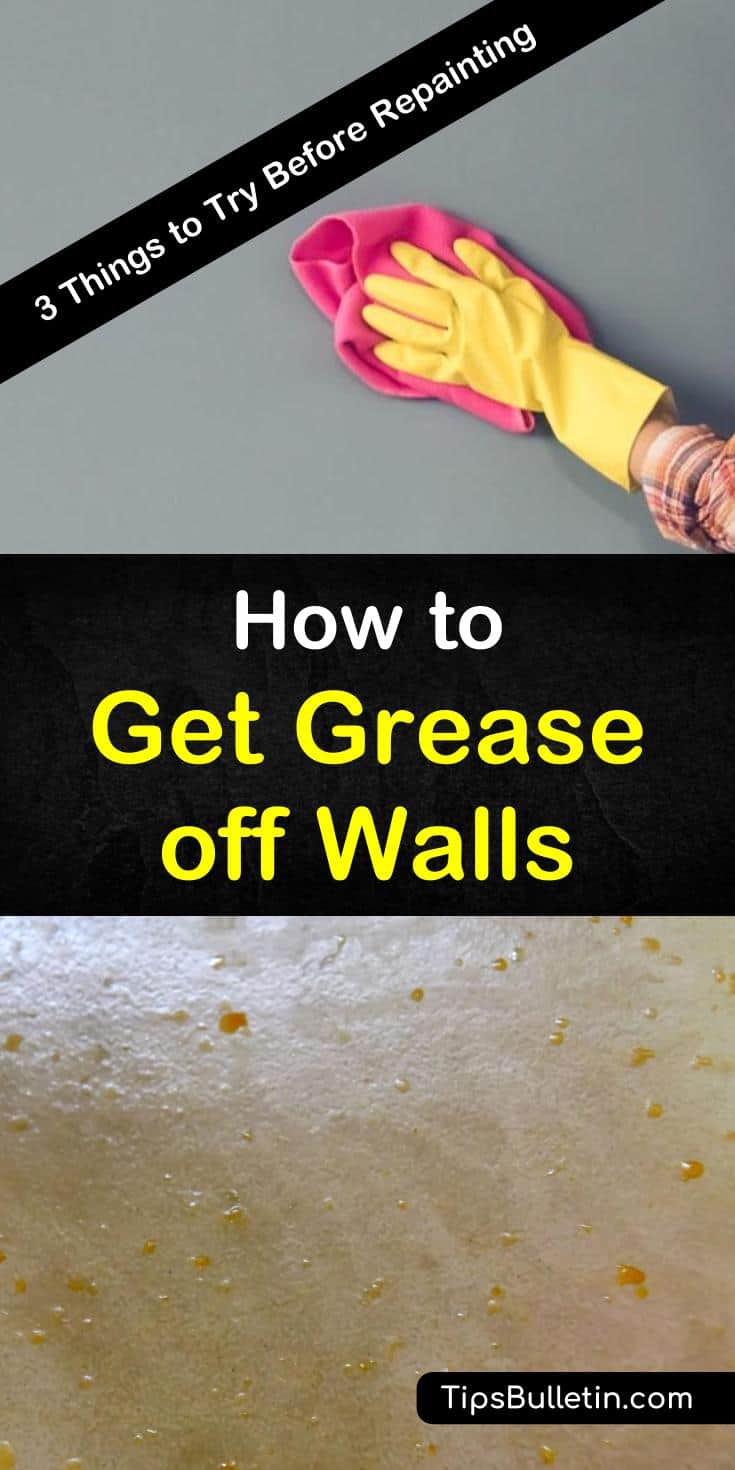 If you liked our cleaning tips and tricks about how to get grease off walls, tell your friends on Facebook and Pinterest about these degreasing recipes, too!