Have you ever thought about how to get grease out of suede shoes? Suede is a stylish and versatile fabric, yet its delicate nature makes it challenging to clean. While suede footwear completes an outfit and makes a good impression, when dirty, it quickly ruins it, so it's vital to know how to remove grease from suede shoes.
Suede is a soft leather with lots of tiny fibers, giving off an elegant appearance. It looks best when clean and buffed with a suede brush to ensure all fibers lie in the same direction.
Like water or ink stains, many people are intimidated by grease stains, especially on delicate materials. Grease and oil stains may spell disaster for suede, but with some knowledge and basic supplies, it's possible to completely wash suede sneakers and lift these stubborn stains to get your shoes fabulous again. Explore how to clean grease off suede shoes using straightforward techniques and everyday items.
How to Remove Grease from Suede Shoes at Home
Everyone who owns suede footwear needs to know how to get grease out of suede shoes. Suede leather complements many outfits and appears luxurious and stylish, yet its delicate nature means it is easily scuffed or stained.
Oil stains are particularly troublesome and might cause more wear to your boots if not dealt with correctly. You can clean suede shoes and remove grease stains to enjoy your favorite footwear confidently.
Discover methods below to keep your suede shoes looking clean and new. You can stretch suede shoes back into shape if they lose any structure during the cleaning process.
How to Get Grease Out of Suede Shoes Using Dish Soap
Oil on your suede or leather garments seems like a nightmare. Whether it's your suede couch or favorite dress shoes, a stubborn stain must be removed promptly. Dish soap from the kitchen is one answer to get oil out of leather shoes. This liquid soap is intended to break down the organic bonds in food stains and grease.
Dip a cleaning cloth into the soapy water and rub gentle circles over the oil-stained part of your shoes. The dish soap breaks down the grease, making it easy to remove. Rinse the boots with cool water, pat them dry, and buff with a suede brush or suede brush alternative to keep the material looking clean and new.
Corn Starch for Grease Stain Removal
Corn starch is the ideal answer if you're searching for how to clean grease off suede shoes. Cornstarch is a fine powder and a by-product of corn; its small particle size allows it to sink into the pores of your suede leather footwear and draw out the oil to make it easy to remove.
Corn starch is natural and safe and works on dry and difficult stains, posing no risk of discoloring your shoes. As soon as you notice the oil, pat up excess grease with a paper towel or clean cloth, thickly cover the area with corn starch and let it sit overnight.
Sweep off the cornstarch powder in the morning, and enjoy clean shoes. Baby powder has similar absorptive properties and works in a pinch.
How to Clean Grease Off Suede Shoes with a Suede Eraser
Specially designed to remove light staining from a suede boot without fading or wear, a suede eraser is made of melamine foam with lots of microscopic air bubbles. The melamine foam structure allows it to gradually work staining out of delicate fabrics like suede as you rub it back and forth over the area.
Soak up a wet oil spill with a paper towel or clean cloth immediately and treat. If any staining is left behind, use a suede eraser on the dry discoloration. Suede erasers only work on a dried stain, however. A pencil eraser may work if you don't have a suede eraser.
White Vinegar Eliminates an Oil Stain on Suede Boots
White vinegar regularly tackles tough stains on a variety of fabrics and surfaces, so it's unsurprising it makes a fantastic suede cleaner. If the spill is recent, use a microfiber cloth or paper towel to blot up as much excess oil as possible, and make this simple vinegar solution to eliminate the rest of the grease from your suede shoes.
Combine the supplies in a spray canister and saturate the grease-stained part of your shoes. The acetic acid in the vinegar gently breaks down the grease without damaging the suede fibers.
Let the vinegar mixture sit on your footwear for ten minutes, rinse well with cool, clean water and leave to dry. Brush your shoes with a suede brush, and consider applying a suede protector spray to guard against future accidents.
How to Remove Grease Stains from Fabric Shoes with Baking Soda
Baking soda is perfect for wet stains such as fryer oil or motor grease as it has dual-purpose characteristics. It can also work as a great way to clean moldy shoes and get rid of any mildew smell. Thanks to its dry powder structure, baking soda quickly absorbs lingering grease from suede fabric while removing odors.
Sprinkle a generous covering of baking soda over the grease on your suede boot as soon as the spill occurs, and leave it overnight to soak up all the moisture. Remove the powder with a suede brush or nail brush, taking all the absorbed oil with it.
Suede cleaning can be challenging. Whether dealing with a water stain on a suede jacket or a grease stain on a suede leather shoe, suede fabric requires a delicate approach. A tougher stain like grease or an ink stain demands a stain remover potent enough to lift the dirt without destroying the fibers of the suede.
Regular detergent is too harsh, and delicates like suede don't fare well in the washing machine. Always use a soft cloth for cleaning suede, and buff your shoes with a suede brush or nail brush when dry to restore the texture and finish.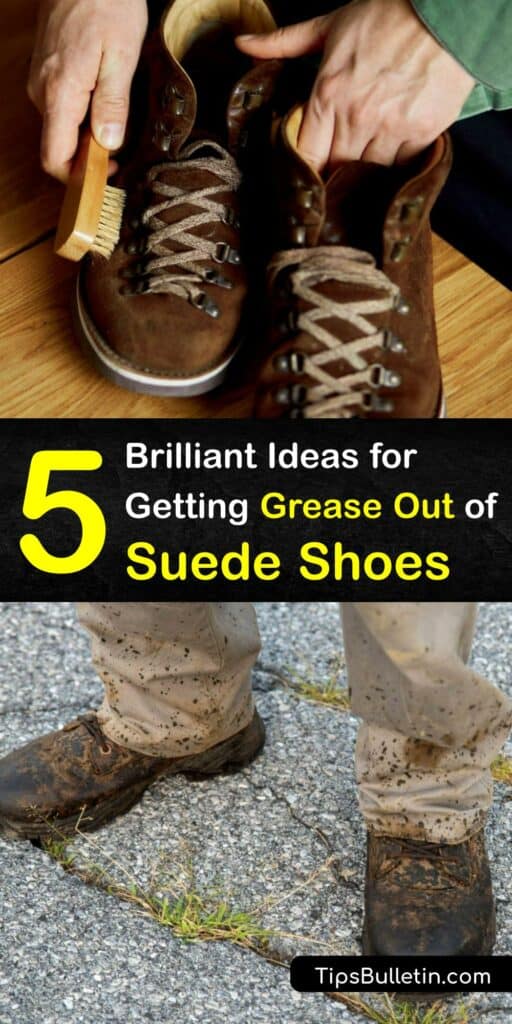 If you loved this article on how to get grease out of suede shoes, please share these valuable tips on how to remove grease from suede shoes with your friends and family on Pinterest and Facebook.