If you are a line-cook or do a lot of cooking at home, you have probably wondered how to get the grease smell out of clothes. Regular detergent might get the clothes clean, but they often do little to remove the scent of the oil and grease. Hand washing allows you to target specific areas that might need more attention, but it does little better than a machine and can stretch out a shirt and compound the problem.
Dryer sheets and fabric softeners might mask the smell at first, but unless you remove the cause, it can remain for the life of the fabric. Worse, the oils can rub onto your other clothes and spread the grease smell. A few minutes of standing by a dirty fryer or cooking some bacon on the stove is all it takes for the oil smell to permeate your work clothes.
Microscopic oil particles can travel through the air for several feet before embedding in your fabric. Water has a tough time with oil, but we can help. If you want to know what gets grease stains out of clothes, here are different things you can try out before taking them to a dry cleaner or tossing them in the trash.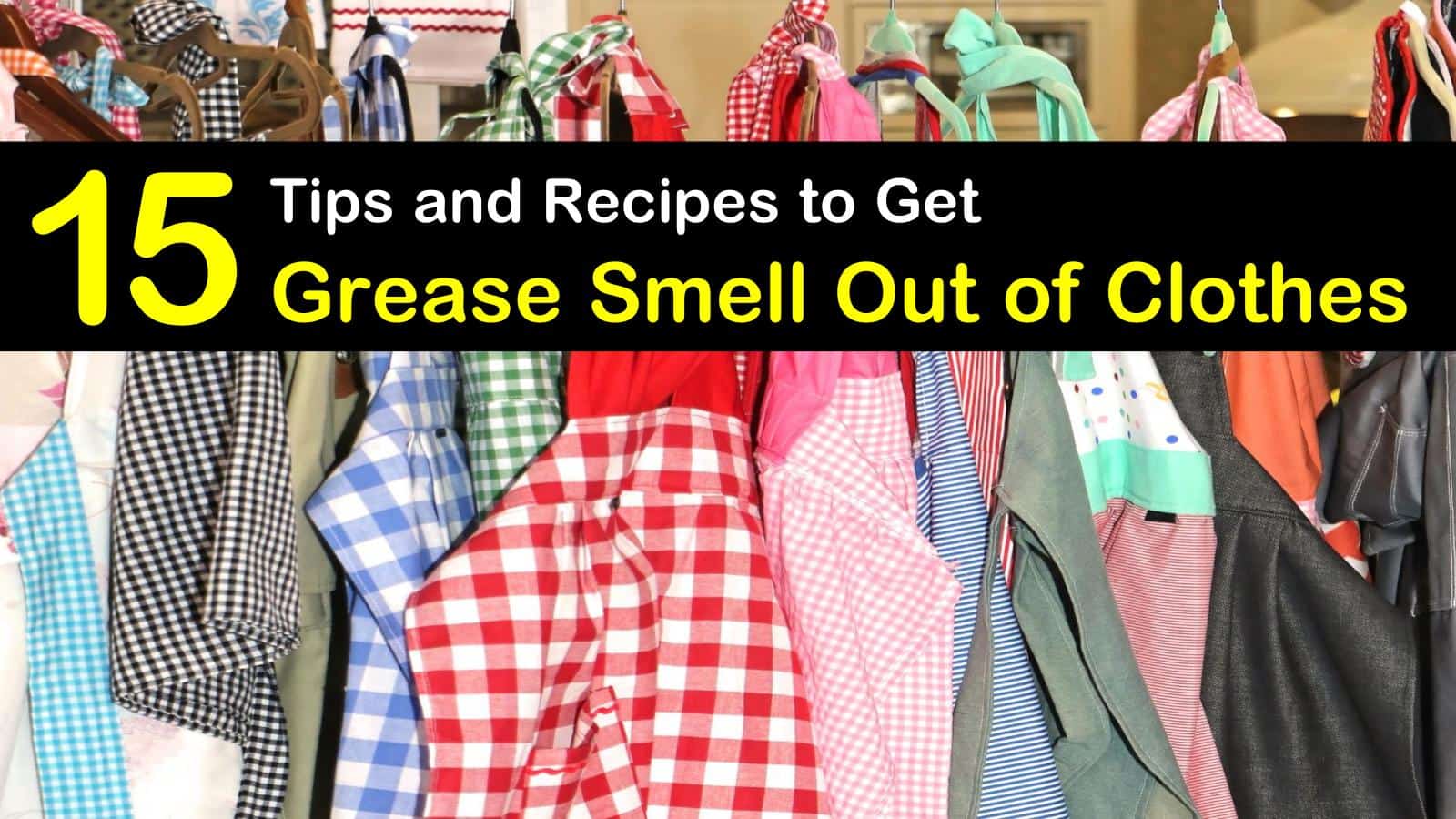 Tips to Get the Cooking Grease Smell Out of Clothes
We are going to break the list up into three manageable sections — one section for each type of tip, single ingredient, multi-ingredient, and products. There are many ways to get that nasty smell out of your clothes!
How to Get Grease Smell Out of Clothes with One Ingredient
Let's begin showing how to get grease smell out of clothes with the most straightforward tips that don't require mixing ingredients. Each of these tips is a single item that is added to the wash or scrubbed into the fabric.
Laundry Detergent
The easiest place to start is by trying a heavy-duty laundry detergent. Heavy-duty laundry detergents are specially formulated to remove impossible grease and oil stains. These products often contain additional provisions like enzymes to remove grease from fabric.
Bleach
It may seem unnecessary, but it might be worth mentioning that bleach is a great stain remover. Adding bleach to your wash will leave whites bright and odor-free.
A Can of Coke
An unlikely candidate to get oil out of clothes is Coke. Pour an ordinary can of Coca-Cola into the wash water with your clothes and regular detergent and launder as usual.
The acidic nature of the Coke gets to work removing grease particles and lifting stains to help your clothes smell better. It's safe for the environment, humans, and pets, and it won't stain your clothes. Give it a try – you may be surprised at the positive results.
Distilled White Vinegar
Use 1/2 cup of distilled white vinegar to the rinse cycle to help reduce odors in your fabrics. White vinegar is slightly acidic and can help remove any lingering grease particles that your laundry soap left behind in the wash cycle.
Vinegar is helpful for all types of smelly laundry. It works for removing mothball smell from clothes as well as musty odors.
Ammonia
If you are not using bleach, adding a cup of ammonia to your wash cycle will help you get the cooking grease smell out of clothes. Ammonia is a powerful degreaser that can help remove stubborn grease and oil stains, leaving your clothes smelling better.
Lemon-scented ammonia might be even better because it adds the power of citrus to help fight stains and odors. Note that ammonia gives off potent fumes that can cause burns to your sinuses and respiratory tract if you are not careful.
Borax
In a pail or tub, dissolve one tablespoon of Borax per one gallon of warm water and soak your clothes for thirty minutes before carefully dumping the entire contents of the bucket into the washing machine. Borax is extremely alkaline, and it works by neutralizing acidic stains and changing the pH of the wash water to make laundry detergent more effective.
You can add 1/2 cup of Borax to any load of laundry for cleaner better-smelling clothes. The downside to Borax is that it can be dangerous, as it can burn your skin, eyes, and insides. It's not good to have around children or pets.
Dawn Dish Soap
In a pail or tub, dissolve a 1/4 cup of Dawn dish soap into a few gallons of hot water. Soak the soiled clothes for 30 minutes, mixing them with your hands. This cleaning method works well for washing a baseball cap that has grease or other types of stains, too. If you don't like to wash clothes by hand, you can use a large wooden spoon or another object to agitate the clothing.
Once the laundry has had a chance to soak, transfer it to your washing machine. Dawn dish soap is specially formulated to break up grease and can work as a stain remover. It is an ideal solution to remove motor oil stains, as well as spots left by food grease. Care must be taken with some washing machines, however, because dish soap can get very sudsy if you use too much.
After washing, make sure the stain is gone before tossing the garment in the dryer. Cleaning may require more than one treatment. Although not impossible, it is much more challenging to try removing grease stains from clothes after drying in the dryer. Let baseball caps air dry rather than putting them in the dryer so they don't lose their shape.
Lestoil or Pine-Sol
Pour a little Lestoil or Pine-Sol directly onto any grease stains and scrub them into the fibers using an old toothbrush. Let it sit for 20 minutes before placing the laundry into the washing machine.
These cleaners can also be added directly to the wash water for general cleaning. Lestoil and Pine-Sol are both pine-scented all-purpose cleaners made by Clorox, and both are strong detergents designed for stain removal.
GOJO
GOJO hand cleaner is effective at removing grease, and it can also be used to get the grease smell out of your clothes. If you have heavily stained clothing, use an old toothbrush to scrub GOJO into the grease stains before you wash them. Wash the items separately and run the load through a second time using a cup of baking soda to get rid of the GOJO smell.
How to Get Oil Smell Out of Clothes – Multi-Ingredient Recipes
Hopefully, you're getting a few ideas about how to get grease smell out of clothes. Let's take a look at a couple of recipes that require combining a few ingredients. It is not necessary to be exact, and most of the elements are easy to acquire.
White Vinegar and Baking Soda Bath
Here is a highly recommended tip that utilizes the acidic nature of white vinegar combined with the odor-absorbing power of baking soda to lift stains and eliminate smells.
For washing clothes without detergent, the easiest method is to mix one cup of white vinegar and one cup of baking soda in a pail or plastic tub. Add in your foul-smelling clothes with just enough water to cover them and stir them well for about 30 seconds.
Let the solution soak for at least four hours, then dump everything into the washing machine and wash and dry as usual. Your clothes will be clean and fresh.
It's also pretty easy to take smell out of clothes without washing them. Spritz a little vinegar over affected clothing and pop them in the dryer for a few minutes. Unwanted odors should disappear.
White Vinegar and Baking Soda Multistep
Similar to the last step, we will use white vinegar, and the same baking soda used to get bad smell out of carpet at different stages of the wash.
Add the baking soda with your detergent during the wash cycle, then add the white vinegar to the final rinse. The smell of vinegar will not be left behind, but you can do an extra rinse with your fabric softener if you would like.
Eucalyptus Oil and Dawn Dishwashing Detergent
Here is a recipe that uses the stain lifting power of pure organic essential oils and liquid dishwashing detergent.
Blend eucalyptus oil and Dawn dishwashing soap and apply them directly to a grease-stained area. Scrub for a few seconds using an old toothbrush to work the solution into the fibers and let sit a few hours before washing.
The Trident
This final tip in our multi-ingredient category uses three powerful ingredients to remove grease from fabric and leave your clothes smelling fresh. This solution will work for grease and oil as well as get rid of any mildew on clothes.
Fill your washer using its hottest water setting before adding your clothes. Once the machine is full, add your laundry and the three ingredients.
Let the solution soak for about 20 minutes, then start the wash as routine. Once complete, rerun the laundry with your regular laundry detergent.
Products
Let's take a look at a few different products that have been specially designed to get the oil and grease stains out and leave your clothes smelling great.
Oxyclean and Oxypure
In a pail or tub of dirty clothes, mix a scoop of Oxyclean or Oxypure with enough cold water to cover the clothes. Stir well and let soak for at least four hours. Dump the bucket into the washing machine and launder as usual.
These products know how to get oil smell out of clothes because they contain sodium percarbonate, which releases hydrogen peroxide when it contacts water.
Simple Green
Spray a small amount of the biodegradable product Simple Green onto your clothing and brush it in with water and an old toothbrush. Let it sit for 30 minutes and wash as usual. Simple Green is a degreaser that will help remove tough stains.
We hope you enjoyed our article and now have a good idea of how to get oil smell out of clothes. Our choice for the best way to get the cooking grease smell out of clothes is to use Oxyclean along with a heavy duty laundry detergent. Oxyclean can be bought in most grocery stores as can the detergent and is reasonably priced.
It works very well, is relatively harmless to you and the environment, and does not require mixing ingredients. Oxyclean will remove the musty smell caused by mildew and is useful for removing deodorant stains, but it also has plenty of uses outside of the laundry room because it is a great all-around cleaner.
The runner up is Trident. This recipe is just as powerful as Oxyclean but requires some mixing. Combine this recipe with a heavy duty detergent for maximum odor-fighting properties.
The can of soda or the white vinegar is likely to be helpful if you cook occasionally. Any long term frying with oil will quickly cause them to become ineffective.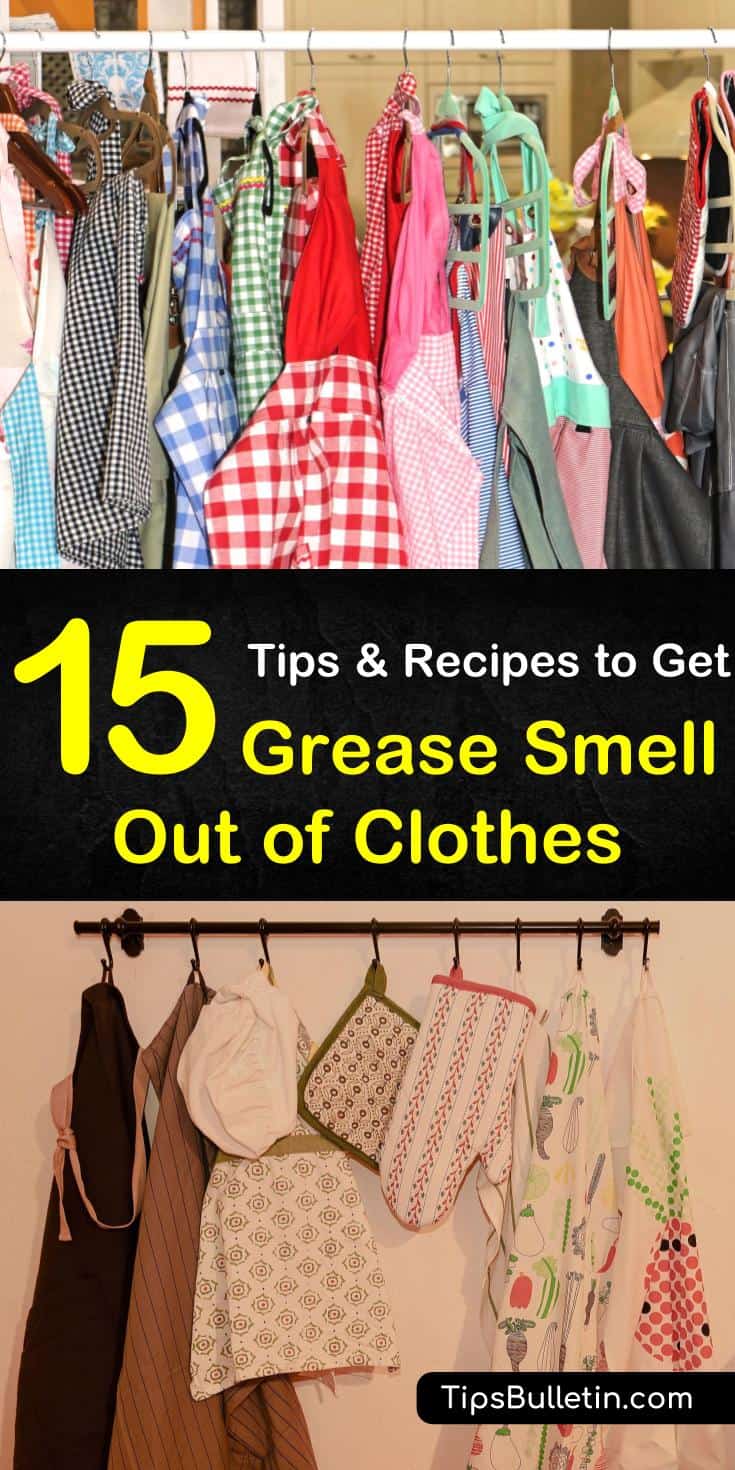 If you found these grease smell removing recipes helpful, please share this article about how to get grease smell out of clothes on Pinterest and Facebook.