Finding grease and oil stains on your favorite polyester blouse or dress shirt can be a bit disconcerting. The good news is, polyester is a pretty durable fabric that is also difficult to stain. If you are unfortunate enough to spill some greasy food on that favorite shirt, we can show you how to get grease stains out of polyester.
Getting grease out of polyester is not as difficult as it may seem. The first thing to remember is to take care of that stain as soon as possible.
The convenient thing is, you don't have to take that garment to the dry cleaning. There are only two things you need – the right know-how and one of our recipes for how to remove grease stains from polyester.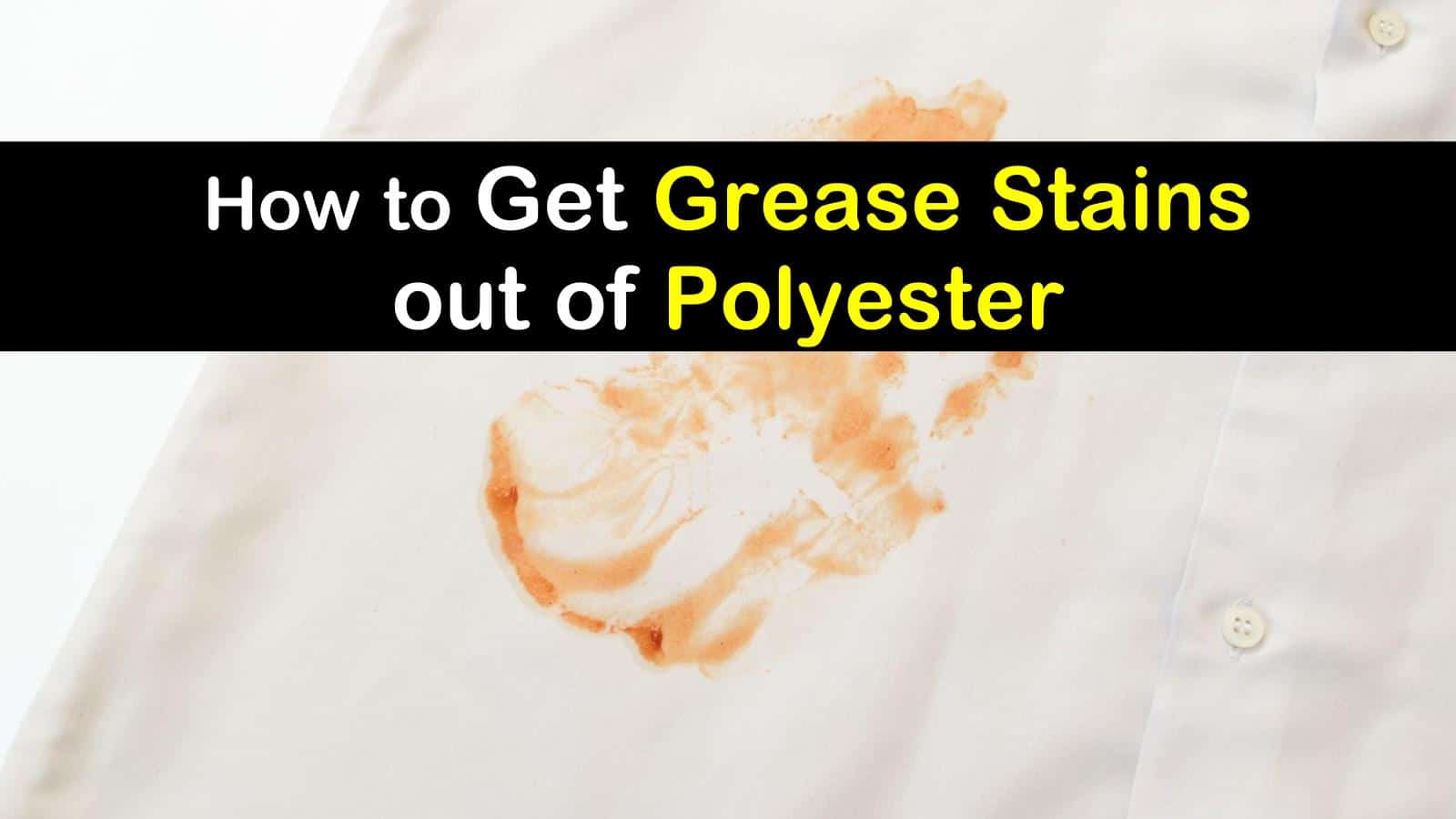 Getting Grease Stains Out of Polyester
Polyester is not made of natural fibers like cotton material, so it is more durable and doesn't wrinkle. It is also less resistant to permanent stains since it's not absorbent, so this makes it an ideal material when it comes to cleaning.
We'll show you how to get the smell of grease out of clothes made of polyester. Perhaps you have splattered cooking oil onto your shirt or dropped a bit of greasy food while eating.
Whatever the cause, we've got a few ways to remove these stubborn stains and safely take care of getting oil stains out of polyester for good. Whether you are looking for the best way to clean car carpet or tips for getting grease out of polyester, we've got your back.
How to Remove Grease Stains from Polyester
Removing a grease stain from anything is only a matter of absorbing the grease first, followed by soap and water cleaning. Believe it or not, a slightly altered version of the following method can also be used as an automotive carpet shampoo stain remover.
Lay the fabric out on a clean surface and sprinkle table salt onto the stain. The salt acts as a natural grease absorbent. You can also substitute cornstarch or baking soda for the salt.
Gently work the salt into the grease spot using your fingers. Allow it to sit for an hour and then shake the greasy salt off the material. Lay the material face down onto paper towels or white cloth, apply a squirt of laundry soap onto the backside of the stain, and use a paper towel to blot the stain.
Continue blotting with clean towels until the greasy stains are gone. Allow to air-dry and then rinse the material under cold water. Apply some laundry soap onto the front of the stain and wash it in the washing machine using the hottest water setting.
Using hot water is also one of the best ways to shrink polyester if you have a garment that's a little too big. To avoid shrinkage, follow the manufacturer recommendations on the care label.
Getting Grease Out of Polyester
Good grease-fighting dish soap can be used to clean the grease out of just about anything. It can remove leather stains, carpet oil spots, and even polyester fabric grease stains. The following stain removal method also works for removing oil stains.
Moisten the stained area with hot water and squirt the Dawn dish detergent onto the stained area. Any grease-fighting dishwashing soap works as long as it doesn't contain bleach. Use your fingers or a gentle toothbrush to work the dishwashing detergent into the stained fabric.
Allow the soapy stain to sit for a few minutes without letting it dry. Rinse the stain under running water to check that the stain is gone. Repeat if necessary.
When preparing to wash the material, take care of sorting laundry first. If you have several polyester items that had grease stains, you may want to wash them by themselves rather than mixing them in with the rest of the clothes.
Use your regular laundry detergent and wash in the washing machine. Before drying, ensure that the grease stain is completely gone. You may need a second or even a third treatment.
Use this remedy as a DIY fabric car seat cleaner, as well. Dish soap removes a multitude of stains, including grease, coffee, and vomit. It should be your go-to cleaner for almost every kind of stain in polyester and most other types of fabric.
Should I Hand Wash or Machine Wash Polyester?
Many fabrics say that they are hand wash only. While you may opt to wash your polyester clothing by hand, you can clean it in a washing machine using the warm water cycle and standard liquid laundry detergent or you can make your own homemade liquid laundry detergent.
If you are unsure if your garment can be washed in the machine or want to know specifics, check the care label for the recommended water temperature before washing and drying.
This also applies to how to wash a polyester pillow. In many cases, it is fine to wash and dry a polyester pillow but always check the manufacturer's guidelines to see what they recommend.
Can I Put Polyester in the Dryer?
"Does polyester shrink in the dryer?" is a common question many people have when wanting to know how to care for polyester clothing properly. Because polyester is a man-made synthetic fiber, it does not shrink or wrinkle easily.
With that said, it could be damaged if you dry it at a high temperature for too long. It's recommended that you dry it on a low-temperature setting for a short period.
Removing grease stains from your favorite shirt is not as difficult as you may think and you don't need store-bought stain removal products. You can easily remove stains using the right DIY techniques and ingredients. A little salt, liquid detergent, dishwashing liquid, baby powder, and a few other items are all you need to launder those stains away.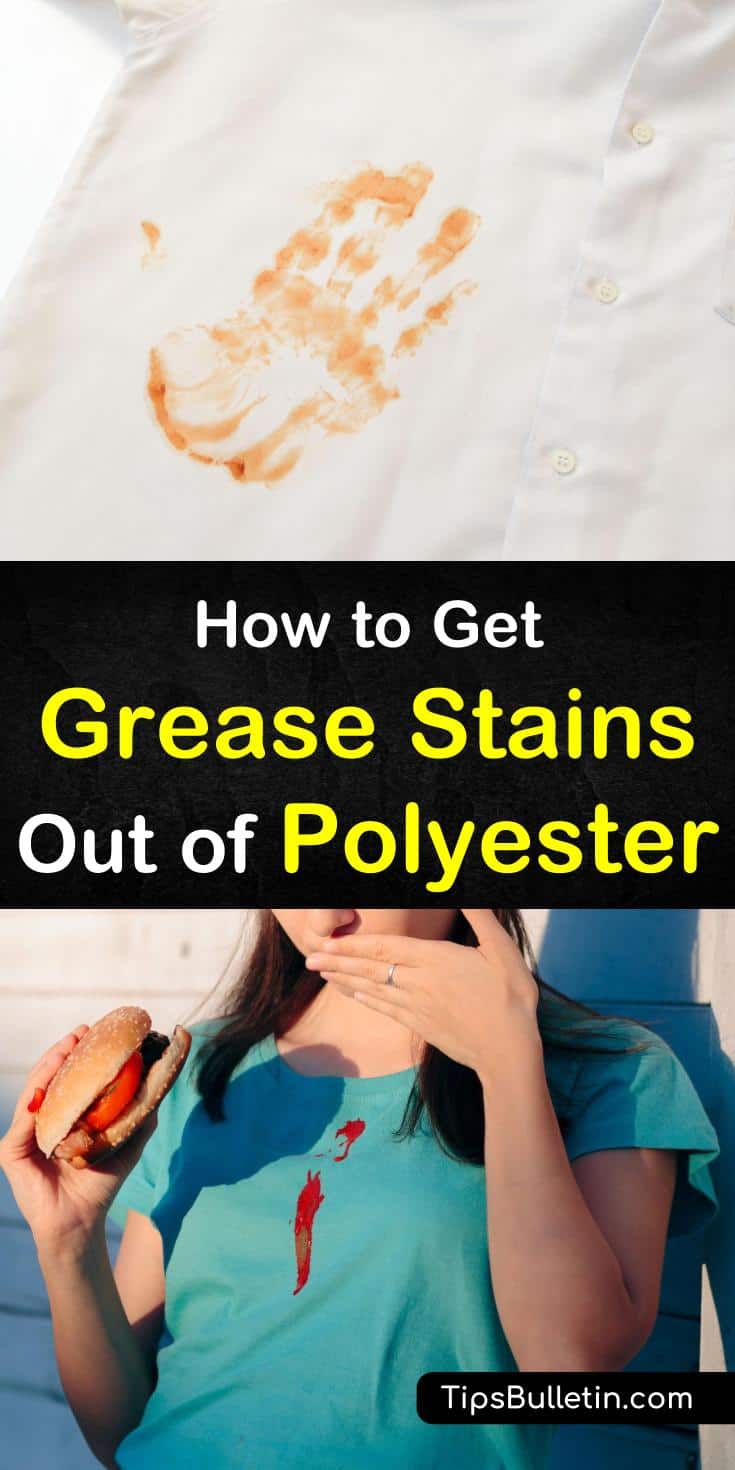 Now that you know how to get grease stains out of polyester, we'd love it if you shared your new-found knowledge about cleaning polyester with friends and family on Pinterest.