Learning how to get gum off your shoe is essential because it's inevitable that you'll step in someone's poorly disposed of gum wad. The longer the gum sits on your shoe, the more it becomes pressed into the grooves of your shoe, and you accidentally track wet gum onto your carpet.
Because of the hydrophobic polymers that contribute to the chewiness of gum, it easily sticks to oily surfaces like skin, hair, sidewalks, and the sole of shoes. It's these hydrophobic polymers that make gum removal such a pain. Gum base, made from several chemicals, stretches rather than breaks when pulled.
There are several reasons to enjoy gum, from its use throughout history as a taste stimuli, everyday use for teeth cleaning, and breath-freshening capabilities. Whether your preference is bubble gum or chewing gum, one essential part of chewing gum is how you dispose of it.
Tossing it on the ground risks the chance of someone stepping in it, and after cleaning gum off your shoe, you'll never want to make someone else go through that process.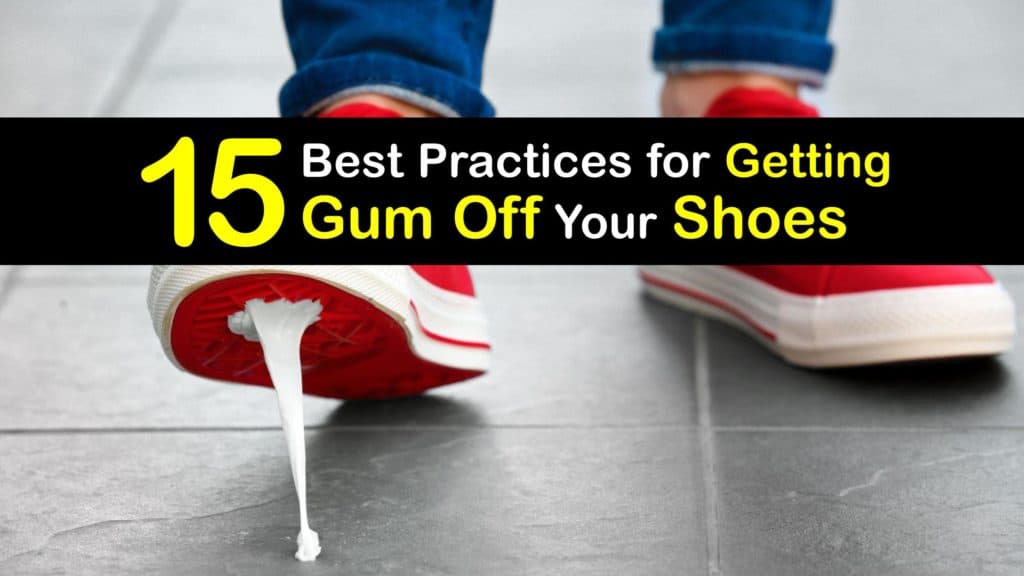 How to Remove Gum from Shoes
Regardless of how it happened, having gum on your shoes is unpleasant and unsightly. Continue reading for several tricks to get the disgusting wads of already chewed gum safely off your shoes. Many of these ideas will clean shoes with mesh, leather, or canvas.
Remove Gum on Your Shoe with Peanut Butter
After stepping in gum, the idea of adding peanut butter to the equation may seem odd. Because gum is water-insoluble, the oils in peanut butter are what you need to clean gum from shoe sole. Add creamy peanut butter to the gum on your shoe. Leave the peanut butter on your sole for at least ten minutes before scrubbing it off.
Use a hard bristle or wire brush to scrub the peanut butter gum combo from the bottom of your shoe. When cleaning, follow your shoe pattern and clean with the grooves to avoid damaging your shoe.
Note: Only use this strategy on non-absorbent surfaces to avoid staining.
Dry Out Gum with Dry Sand
A completely natural way to clean gum from shoe sole is to apply sand to the gum. Sand immediately sticks to the gum and, as you begin to scrape the gum off using a stick or knife, continue to mix in more sand.
The more sand you add to the gum dries the gum out faster, making it easier to scrape off. Although using sand may not remove all traces of the gum, it will remove the bulk of it, making removing the residual easier.
Remove Gum with Oil
Just like peanut butter, when mixed with gum, oils combine well with the compounds in the gum to affect its stickiness; when trying to figure out how to get gum off your shoe using oil, we recommend vegetable oil or olive oil.
Add oil to the stain using a cotton product or an old cloth that you're okay with messing up with the gum. Rub the oil into the gum and leave it on for five minutes before rubbing it off with a cloth.
Note: Only use oil on non-absorbent surfaces due to oil staining fabric.
How to Get Gum Off Your Shoe with White Vinegar
If you are dealing with a piece of gum stuck to the bottom of your shoe, the acidic properties of vinegar are excellent for dissolving the problem. Loosen as much of the gum as possible beforehand using a stick or butter knife.
Using the microwave, warm up ½ cup of distilled white vinegar in a microwave-safe bowl. Carefully pour the vinegar directly onto the gum, ensuring it becomes saturated.
Leave the vinegar to sit on the gum for up to ten minutes before pulling it off. For shoes with deep grooves, use a spoon or butter knife to scrape the gum away from your shoe. Make your own shoe cleaner to clean your shoe with warm soapy water to remove any residual gum stains or the smell of vinegar.
Using WD-40 to Remove Gum from Shoes
WD-40 is a common item found in cleaning supply stores and is often used to help rusted mechanical parts move and for other small jobs around the home. WD-40 is a water-displacing spray made of low-viscosity oil.
Outside of using WD-40 to fix rusted mechanisms, the oils present in the spray make it helpful in removing gum from the bottom of your shoe. Using the straw that comes with the can, carefully spray the product onto the gum. Avoid spraying WD-40 on your shoe in the process, as the oils may stain the fabric of your shoe.
Let the WD-40 sit on the gum for a few minutes, allowing it to weaken the adhesive bonds before using a paper towel to wipe the gum away. If the gum does not come off quickly, respray the area. Wipe the bottom of your shoe to remove all of the sticky substance.
Using Soap to Get Gum off Leather Shoes
When you step in gum, only the layer stuck to your shoe is the problem. The rest of the gum can easily be pulled or scraped off. Once you remove as much gum as possible, use a leather-safe product to clean your shoe without damaging it.
Gently scrape away excess gum with a butter knife to start. Use a leather soap like saddle soap or ArmorAll and mix it with water to create a lather and foam. Use the suds from the foam onto the gum stain with a soft sponge.
Continue rubbing to remove any remaining gum. Dry your shoe with a clean cloth before applying a leather conditioner to keep the area from becoming discolored.
How to Get Gum off a Sole with Water
Heat helps loosen and soften gum, making it easier to remove than just pulling alone. Scrape as much gum from your shoe as you can using a scraper like a spoon or butter knife. For shoes with deep grooves, use tweezers to pull bits of gum from your shoes.
Heat water on the stove almost the point of boiling (212°F), and dip a microfiber cloth into the water. Be careful not to burn yourself and begin working the wet cloth into the gum on your shoe.
The gum softens over time with contact from the hot water and cloth, making it easier to remove. Grab the remaining sticky residue with a rubber eraser until it forms a ball that you can pick off and throw away.
After removing the gum, washing shoes in dishwasher is an easy way to clean your shoes. Only wash mesh or canvas shoes this way. Air dry.
Getting Gum off Suede Shoes
If gum ends up on your suede shoes, how you remove it is crucial to your shoes' appearance and upkeep. Because suede is made from the underside of animal skin and has a distinctive nap, it is softer and less durable than leather shoes. Methods for cleaning them require special attention to prevent damage to the nap.
Carefully Scraping Gum off Suede
The best way to get gum from your shoe is to gently scrape the gum off the suede material of your shoe. Everyday items like a butter knife or a credit card are helpful to scrape gum residue from your shoe.
Use your card or knife to scrape away the bulk of the gum from your shoe. Only a small amount stuck to the fine layer of your shoe should remain. From there, use a suede eraser on the remaining gum to break up gum for easy removal.
Using Suede Specific Tools
Use a butter knife to scrape and pull away as much gum as you can from the sole or surface of your shoe. A suede brush can remove gum residue from the nap without damaging it.
A suede eraser or rubber eraser will ball up the gum, making it easier to pull off. If the gum leaves a stain on your shoe, eliminate them with white vinegar and a soft cloth without saturating the area. Allow the suede to dry between treatments because it is hard to tell if the stain is gone while damp.
Melt Gum off Your Shoe with a Hair Dryer
If you've ever left a stick of gum in the car on a hot day, the next time you go to chew, it's likely turned soft and pliable. By applying heat to the gum stuck to your shoe, you can melt and soften the gum, making it easier to scrape and remove.
While a heat gun works well to warm objects quickly, it could be dangerous to use one so close to your shoe. Turn the hairdryer on low to warm up the gum while using a butter knife or scraper to work the gum off your shoe as it softens.
How to Remove Gum from Shoes with Solvents
Other household items have multiple uses to help remove and dissolve gum from the bottom of your shoe. These solvents contain ingredients that chemically break down or dissolve material and should be handled with care when using on footwear to avoid staining or damaging your shoes.
Dissolve Gum with Nail Polish Remover
Easily obtainable, nail polish remover is found in grocery stores and even dollar stores in your neighborhood. Polish remover contains acetone, a vital ingredient that makes removing nail polish simple by dissolving polish and making it easy to wipe cleaning from fingernails.
This process comes into play when removing gum from the bottom of your shoe. To use nail polish remover, dampen an old rag or paper towel and place it onto the gum, allowing it to sit for a minute before you start wiping it away.
Rubbing your rag or towel against the gum dissolves the gum, and as you rub, you should see the gum coming away from your shoe.
Note: Only use nail polish remover in a well-ventilated area due to its strong odor.
How to Use Lighter Fluid to Remove Gum on Shoes
If you have lighter fluid laying around, you have all you need to remove gum from your shoe. Lighter fluid or naphtha is a highly flammable liquid that is often used in lighters or at home to remove paint and for industrial purposes to dilute oils.
Due to its chemical nature, naphtha is essential for dissolving gum. Use a rag to apply the naphtha to the gum on your shoe or to remove gum from dryer or washing machine parts. Repeatedly wipe at the gum until the fluid dissolves the gum, and you can wipe the rest of it away.
Because it is a volatile substance, only use naphtha in a well-ventilated location or outside. Avoid use on shoes with a soluble or lacquered finish on the bottom.
The Easiest Way to Clean Gum from Shoe Sole
When looking at strategies for removing gum from shoes, the easiest and most effective way to eliminate sticky gum from the bottom of your shoe is to freeze it. There are a few ways of freezing gum, but each is effective and requires the least amount of work to make your shoe gum-free.
Freezing with Compressed Air
The compounds in gum, when wet, make it sticky. When gum dries out, it loses its properties to stick to anything. While waiting for the gum on the bottom of your shoe to dry out is time-consuming, freezing the gum works to remove gum residue from your shoe.
Many stores sell compressed air cans as office supplies to blow air and debris from keyboards and computers. This air is tightly compressed in a canister and immediately chills when sprayed.
Use the straw that comes with this product to target the gum on your shoe or to remove smeared gum from your car seat, spraying until it freezes. Remove the hardened gum using a knife or spoon to clean the bottom of your shoe.
Removing Gum by Using the Freezer
Place your shoe into a plastic grocery bag and firmly press the bag against the gum. If your shoe doesn't fit into a bag, find a big enough bag to press against the gum like a small sandwich bag.
Ensure the gum sticks to the plastic; this is crucial to ensure your frozen gum sticks to the plastic and not the shoe. Make room in your freezer and place your shoe inside with the plastic bag stuck to the gum.
Leave your shoe in the freezer for an hour to freeze the gum to the bag. Remove your shoe from the freezer, then peel the gum and plastic bag off your shoe. Any gum remnants left behind should quickly come off by picking them or scraping them away with a tool like a putty knife.
Directly Freeze and Remove Gum with Ice
Another option for freezing gum is to directly freeze the gum itself without placing your shoe in the freezer. Use ice cubes to make the gum harden, thus making removal easy.
Depending on the size of the gum stain on your shoe, place several ice cubes in a plastic bag and place this bag directly against the gum. Firmly press the ice against the gum through the bag to cool and harden the gum.
To keep the ice from melting, place your shoe inside a freezer bag to keep the ice cool as it hardens the gum on your shoe. Keep the ice firmly pressed to the gum until it freezes for you to remove it.
Although finding gum on your shoe from careless gum disposers is a pain, removing and saving your shoe doesn't have to be with the right solutions.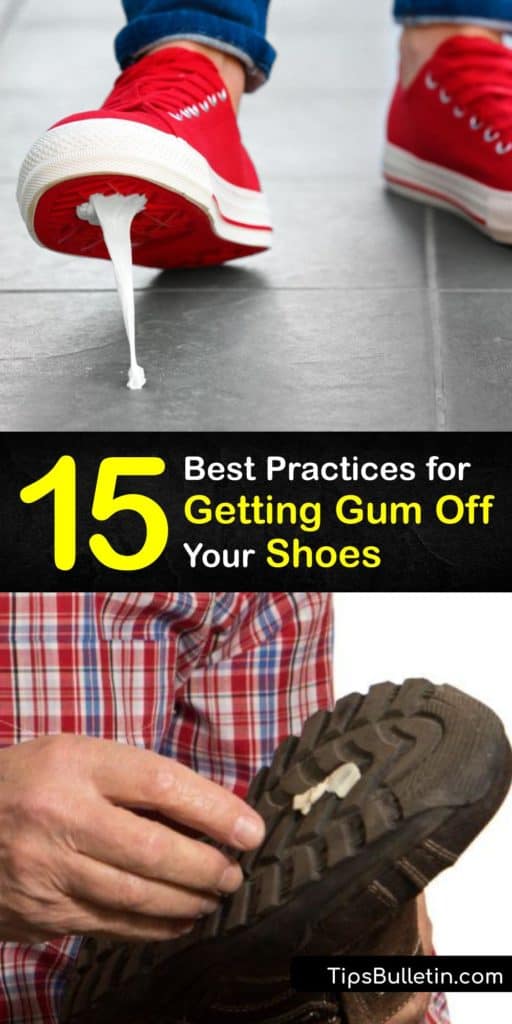 We hope you learned how to get gum off your shoe and will share our guide on Facebook and Pinterest to show how to remove gum from shoes with your friends.