Regular hair dye doesn't always do the trick to lighten your natural hair color, especially if you have dark hair. While hair bleaching strips the pigment from your hair to reveal a lighter color, the process is often messy, and the bleach solution can irritate the scalp and sensitive skin. Find out how to get hair bleach off hands using a few simple solutions.
There are many ways to color hair, including permanent hair color, semi permanent hair dye, henna, hydrogen peroxide, and lemon juice. However, the darker the hair, the more challenging it is to lighten, and a bleach bath is often necessary to get the desired results.
While many mistake household bleach (sodium hypochlorite) or chlorine bleach as ingredients for bleaching hair, these products are unsafe and can cause bleach burn and damage your hair. Instead, hair bleach combines bleach powder, regular or clarifying shampoo, and peroxide. While this method is safer, it still leaves a bleach stain or bleach smell on your hands.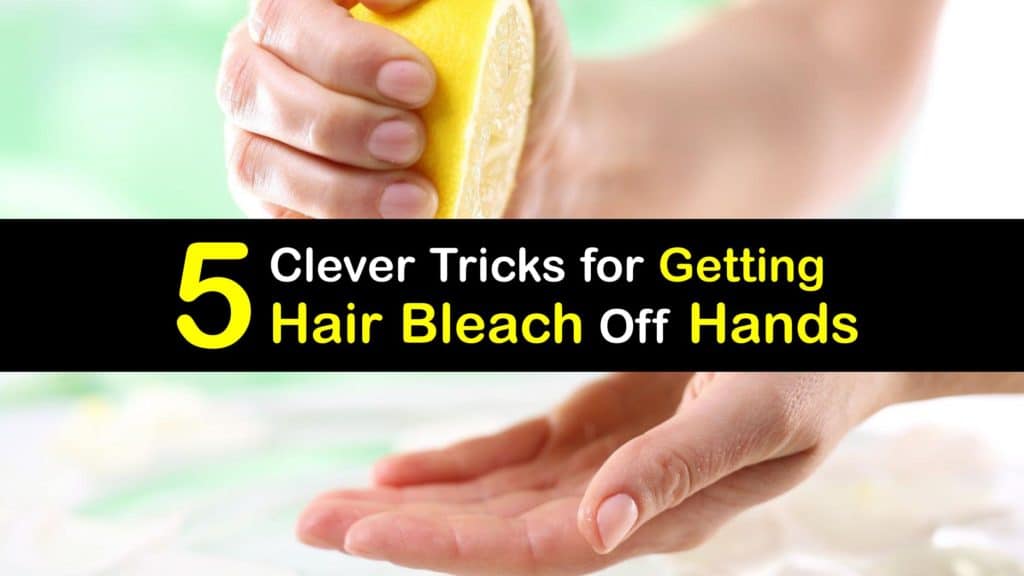 Ways to Get Hair Bleach Smells and Stains Off Hands
Bleach and hair dye stains are a common problem, especially if you dye your own hair at home. While a dye stain on your skin is challenging to remove, it's not impossible. Here is how to remove hair bleach smells and stains from your hands.
Remove Hair Bleach from Your Hands with Soapy Water
The first step to take when you find bleach on your hands is to remove as much of the chemical as possible. Here is how to remove hair bleach from your hands with a little soap and water.
First, to remove bleach stains, rinse your hands under cool, running water for a few minutes. Apply some mild dish soap, shampoo, or hand soap to your hands and rub them together.
Make sure to get in between your fingers and pay special attention to the bleach-stained areas. Rinse your hands while rubbing them under warm water until the soapy residue is gone, and dry your skin with a cloth.
Get Hair Bleach Off Your Hands with Citric Acid
One of the best ways to get hair bleach off your hands is to use citrus juice. It's also ideal to get food coloring off hands. Lemons, limes, oranges, and even tomato juice contain citric acid that neutralizes the base chemical of bleach and dye.
Pour some citrus juice from lemons, limes, or oranges into a bowl. Tomato juice and white vinegar work just as well if you don't have any of these. Coat your hands with the liquid of choice and rub it into your skin for about one minute to neutralize the bleach. Finish by washing your hands with water and soap and dry them with a towel.
How to Get Hair Bleach Off Hands with Baking Soda
Baking soda works well to clean hair bleach from hands and fingers, it gets rid of the bleach smell, and can get hair color off your hands. It is a natural alkaline powder, and you probably have a box somewhere in your home right now.
Start by making an exfoliating scrub to get blue dye off skin or remove bleach. Combine some shampoo with baking soda or coffee grounds and rub the mixture all over your hands for one minute. Wipe the excess cleaner off your skin with a paper towel and rinse your hands under warm water.
To use something a little more gentle, apply some white toothpaste to a ball of cotton and rub it over the affected areas. Once the bleach is gone, rinse your hand with water and dry it with a towel.
Incidentally, this simple remedy is also one way to get crazy glue off skin. Gently rub it into the glue spot until the glue comes off.
Using Oils to Get a Bleach Smell Off Hands
If you use another technique to remove hair bleach from your hands, you may find that your skin begins to dry. For sensitive skin or if your hands are prone to drying, try using oils to clean away the bleach while moisturizing your hands.
If you're using olive oil, almond oil, or coconut oil, apply a little bit at a time and rub over the affected skin on your hands or to remove hair dye from face and scalp. Reapply more as needed. Otherwise, squeeze a few dollops of lotion on the backside of each hand and rub it into your skin.
Ways to Prevent Getting Hair Bleach on Your Hands
After you get hair bleach off your hands, it's probably a good idea to think about using preventative steps the next time you dye or bleach your hair. Here are some handy tips to help you have an accident-free hair styling experience.
Before bleaching your hair, set up your workstation by spreading old towels over the floor, sink, counters, and other surface areas. Apply petroleum jelly around your hairline to create a barrier on your skin, and put on a pair of gloves before handling any hair products.
Keep a roll of paper towels close by and use them to wipe up spills and splatters as soon as you notice them. Rinse your hands with cool water, wash them with soap and warm water, and apply a moisturizer as soon as you finish bleaching your hair.
If you're using a regular hair dye, keep a bottle of rubbing alcohol or nail polish remover and some cotton balls on hand. These items work wonders to remove a purple dye stain.
While bleached hair is stunning, a bleach or hair color stain on your skin is not, especially if the stains are on a noticeable area like your hands. Luckily, there are easy ways to get bleach stains and smells off your hand using safe and effective methods.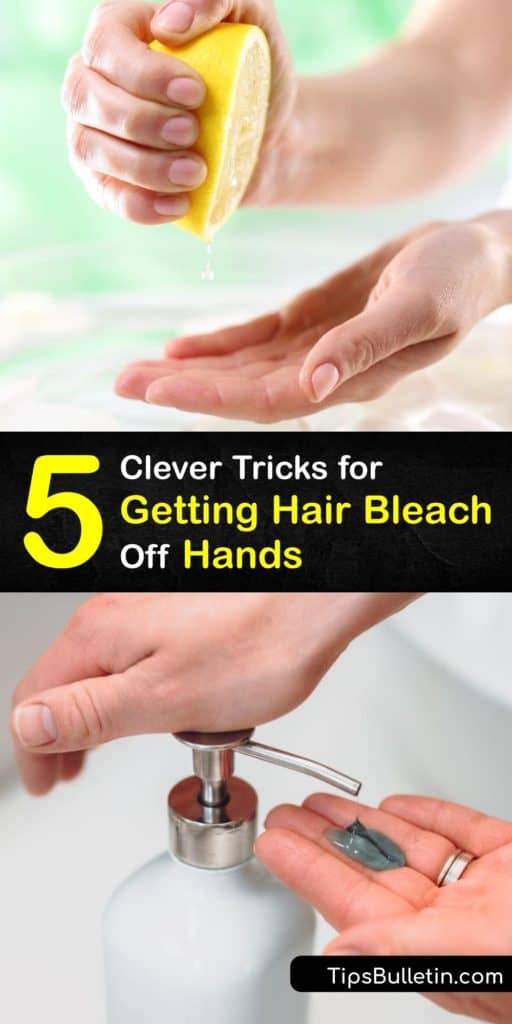 Now that you know how to get hair bleach off hands using simple solutions, why not share our hair bleach removal tips with your family and friends on Facebook and Pinterest?