We love a good home hair color journey but can do without the mess. It really does happen to the best of us; everything is great until you splat hair dye somewhere on your scalp or skin. Do not panic because this article has some fabulous tips every home colorist should know for how to get hair color off skin, and keep it away for good.
A change in appearance helps us feel refreshed and renewed. Humans across the world have been coloring their hair for centuries. While many dyes are much easier to remove from skin, fashion colors like intense greens and fuchsias are not. They stubbornly cling to your scalp and skin, staining for days.
Visiting a professional colorist isn't always possible, but that doesn't mean you can't live your most vibrant hair dye dreams. Try the colors you've always wanted without staining your clothes and sheets. Learn how to get hair color off your skin to rock that new hairstyle worry-free.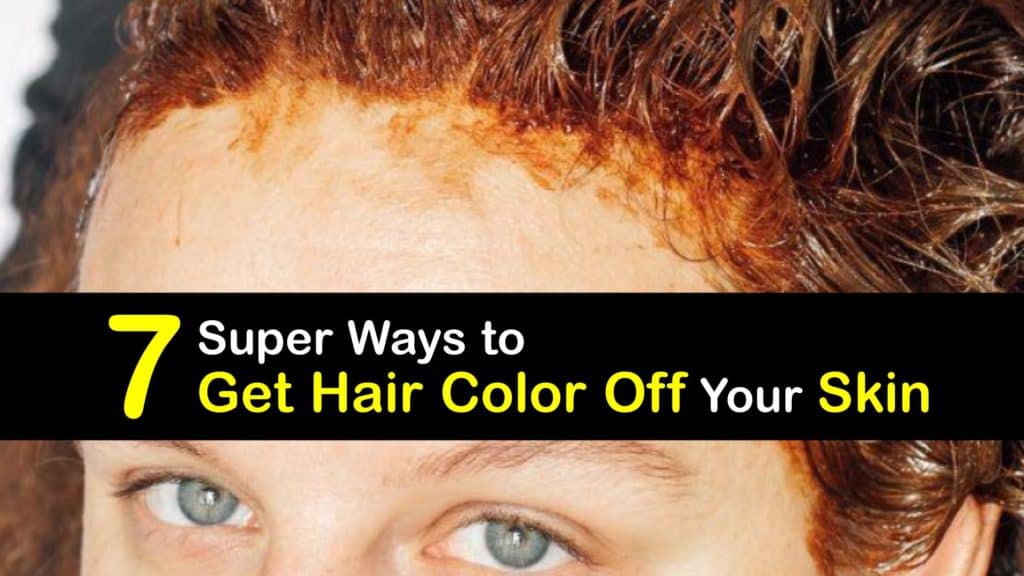 Learn How to Remove Hair Color from Skin
Follow these tips and tricks to get hair color off your skin or get hair bleach off your hands, and keep the attention on your gorgeous new 'do.
Try Oils to Get Hair Color Off Your Skin
If you finish your fabulous dye job and are wondering how to get hair color off skin, consider something mild. Natural oils in our bodies help free hair dye from our skin, so it makes sense that coconut oil, olive oil, and baby oil work break up stains from permanent and semi permanent hair dye.
Finding non-abrasive ways to clean hair color from skin is always preferable to harsh scrubbing or anything that may irritate your natural moisture barrier. To clean hair dye off your forehead or as a way to get hair color off your face, apply your oil of choice to the hair dye stain and gently rub with a cotton ball. For stubborn stains, leave the oil to sit safely for a few hours.
How to Get Hair Color Off Skin with Toothpaste
That's right; plain white, non-gel toothpaste removes hair color from skin and can get fabric dye off your skin in a hurry. You can even use it to remove dried hair dye from bathroom surfaces. A good baking soda-based toothpaste is made to remove stubborn stains, and permanent hair dye is no exception.
If any hair dye ends up on your face or you need a way to get food coloring off skin, squeeze a thin layer of toothpaste onto the color stain and rub gently with a soft toothbrush or cloth for ten seconds. Let sit for five minutes, rinse with warm water, and repeat on any missed areas. To remove hair color from your fingers, apply toothpaste directly to your hands and scrub for stubborn stains on your fingertips.
Makeup Remover
If you dye your hair often, keep a bottle of makeup remover on hand. There are quite a few inexpensive brands that all work just as well as any other, and the bottle lasts for ages.
Makeup remover is made to be wiped across delicate areas of the face and works well for stains on sensitive skin. Soak a corner of a cotton pad with makeup remover and blot the hair dye stain away gently. Rinse with warm water and repeat where required.
If you got a little hair dye on your freshly painted nails, try makeup remover to remove hair color from nails. Rub carefully to see if the spot comes off.
Get Hair Color Off Your Skin with Hydrogen Peroxide
Don't be afraid to raid the medicine cabinet for help with stubborn stain cleanup. A little hydrogen peroxide cleans hair color from skin and fingernails in a snap. It can also be used to get Gorilla Glue off skin or other sticky substances. Hydrogen peroxide is available in different strengths, but 3% hydrogen peroxide is ideal.
Dampen a cotton ball and lightly dab to break the stain down, then rinse well. Use with care around your freshly dyed hairline as it may pull the color from the hair shaft.
Rubbing alcohol is a topical antiseptic and safe to use for light stain cleanup, but watch for any irritation from excessive rubbing. Be gentle when cleaning, and keep fluids away from your eyes.
Dish Soap and Baking Soda
If all else fails, use that box of baking soda in the fridge to remove hair color from skin. Baking soda helps exfoliate stained skin, and when mixed with hair dye-dissolving dish soap, you can't beat it.
Mix the baking soda and dish soap into a paste-like texture. Put your gloves on, and rub the stain in small, gentle circles with the baking soda paste. Rinse the area with warm water, check for any remaining dye, and repeat if needed. Baking soda is naturally a little abrasive, so use this method on your body instead of your face.
This simple recipe can also get hair dye out of clothes. Scrub the paste in with an old toothbrush and repeat after rinsing if necessary.
Lemon Juice to Clean Hair Color from Skin
Lemons are helpful around the house; they're great in food, drinks, and cleaning. A bit of lemon juice will even get hair color off your skin. Lemons are quite acidic and have a pH of about 2, which helps them act like a stubborn stain-fighting bleaching agent.
Squeeze the lemon juice into your container filled with dish soap and mix well. Moisten the corner of a soft cloth and rub the dye stain until it lifts. Rinse well with warm water and moisturize. Use the other half the lemon for a great cup of tea while your new hairstyle dries.
Petroleum Jelly for Prevention
Petroleum jelly is an occlusive or oily product that coats and absorbs stray hair dye and generally removes hair color from skin with ease. Many professionals recommend applying petroleum jelly around your hair and neckline before coloring to prevent hair color stains.
Apply petroleum jelly while wearing gloves to avoid dye transfer to your fingers. Rub it onto the stain and massage. When the dye starts to lift, wipe the jelly away and re-apply if necessary.
Petroleum jelly blocks the dye from penetrating the hair shaft, so apply with precision just around your hairline as a very effective preventative measure.
Tips and Tricks to Help with Home Hair Dye
Home hair dye experiences aren't always smooth, and the results sometimes aren't what we expect. Here are a few additional tips to help you on your hair color journey.
People change their hair color to express themselves, and self-expression is an integral part of being human. Try the look you've been dreaming of now that you know how to get hair color off skin and nails.
Find what works best for you, and have it available whenever you feel like a new hair dye adventure. Keep a stock of household items like rubber gloves, coconut oil, makeup remover, and gentle dish soap. Your skin, sheets, and clothes will thank you.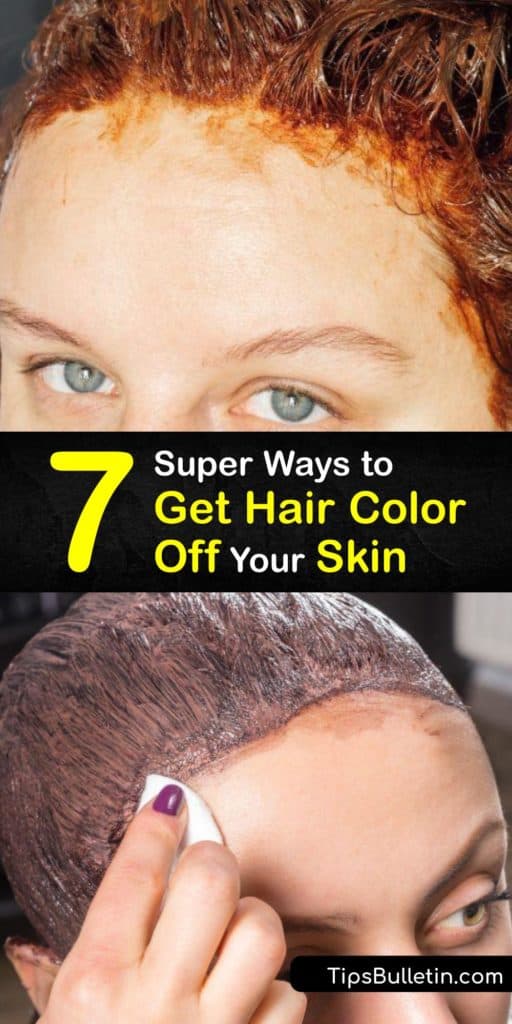 If you enjoyed these handy hints for how to get hair color off skin, share with a friend on Pinterest or Facebook who loves to try hair dye.