There are numerous advantages to hair dyeing at home. However, one of the drawbacks of hair dyeing is if you're not careful, the hair dye stains your scalp, neck, forehead, or hands, leaving you wondering how to get hair dye off your face.
It is challenging to get hair dye off scalp but not hair after a DIY hair coloring session. Updating your hair color is a fun and simple method to drastically modify your appearance – and it's usually less risky than getting a new haircut.
This is why people have been experimenting with hair colors for centuries – ladies in Elizabethan England used urine as a dye to create fair-colored hair. Fortunately, contemporary science has progressed far enough to provide us with a safer, less revolting method of coloring hair the color we desire.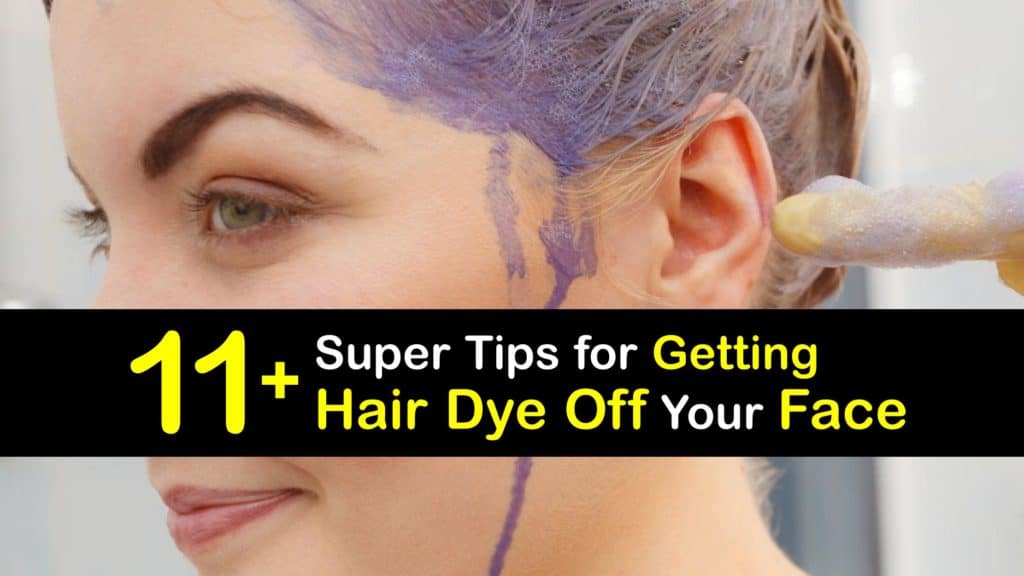 How to Get Hair Dye Off Your Face with Ease
Unfortunately, those who use hair dye still have one major issue: how to remove hair dye from your face. Because current hair dye is so efficient, the facial skin around your hair, scalp, and hands may be dyed the same way as your hair. Thankfully it's easy to get hair dye off your scalp and face using household supplies you probably already have.
Modern hair dye is incredibly effective at coloring your hair. Still, it has the potential to stain the skin on your neck, hands, and around your hairline, especially if you color your hair yourself. With these techniques and tricks, you'll learn to get hair dye off scalp but not hair.
Many people prefer to color their hair at home instead of going to the salon because it is more cost-efficient and convenient. Unfortunately, when you color your hair at home, dye stains on your skin are common. If you get permanent hair dye on your face or hands, there are a few techniques to remove it using household items.
Get Hair Dye Off Your Scalp with Baking Soda and Dish Soap
Make a mixture of equal measures liquid dish soap and baking soda to easily clean permanent hair dye from your scalp, or clean up if you splat hair dye on your hands or neck.
Stir until everything is thoroughly blended. The baking soda provides an exfoliating impact to the soap, which may be too abrasive for sensitive skin, so try it on a small area first.
Baking soda helps expose the fresh layers of skin beneath by washing away the dye-stained skin cells. Use the baking soda and soap combination by applying to the dye-stained skin, then scrub the solution in a circular motion with light pressure using a cotton pad or cotton ball.
To avoid irritation, limit contact with the eyes as much as possible. Rinse with warm water after rubbing for a few minutes to remove the solution. If you experience any pain, especially a burning feeling, cease immediately. Repeat if needed, and each round of scrubbing should result in the color being lighter until it fades completely.
Use Hydrogen Peroxide to
Get Hair Dye off Scalp but Not Hair
Hydrogen peroxide efficiently removes hair dye from your facial skin and hands, as well as to remove hair dye stains from sink areas. Apply two percent hydrogen peroxide directly to the dyed area with a cotton pad. To increase the strength, add a little lemon juice.
The peroxide lightens the color and gradually erases it from your skin. If you get peroxide in your hair accident, accidentally it removes the dye from the hair shaft, so cover your hair before using this method.
Get Hair Dye Off Your Face with Olive Oil
Olive oil is an efficient hair dye remover since it helps break down the color and isn't too abrasive on the skin. It aids in the softening process while you scrub. Olive oil may not be as powerful as harsher choices, but it's still necessary to look after your skin.
For getting hair dye off skin, coat the stained region with oil and use your fingers to massage it in. It's preferable to leave the oil on the affected area as long as possible.
Because the oil isn't abrasive, leave it on the stain for up to 8 hours. Rinse with running water instead of wiping with a washcloth. To altogether remove the olive oil from your skin, use a bit of additional soap or shampoo.
Remove Dye from Your Scalp with Petroleum Jelly
The best course of action is to prevent a hair dye stain in the first place by applying a thick coat of petroleum jelly to your hairline before beginning your color job. After dyeing, use petroleum jelly to remove stains.
Apply petroleum jelly to the stain by using your fingertips to rub it into the skin. Continue massaging until the discoloration is no longer visible. The petroleum jelly may become the shade of the hair dye it's removing, which indicates it's working.
Alternatively, use a makeup remover pad to spread the petroleum jelly to avoid the color stain on your face migrating to your hands. Using a clean, damp washcloth, wipe away the petroleum jelly.
If petroleum jelly does not remove all the stubborn stain, repeat and let it sit for a while, even overnight, and absorb into the skin. Cover the petroleum jelly with clean cotton like a headband if you want to protect the petroleum jelly from staining your pillowcases and bedding.
Get Hair Dye Off Scalp but Not Hair with Bleach
If the dye stains on your hands are persistent, use chlorine bleach to remove the dye from your skin. This approach should not be used if you have delicate skin as bleach is a strong chemical and may cause skin irritation.
Apply bleach to the discolored skin with a cotton ball and immediately rinse it with warm water. Ensure you wash your hands with mild soap and warm water to remove all bleach.
How to Get Hair Dye Off Your Face with Nail Polish Remover
Use extreme caution when using this hair coloring remover. Long-term skin contact, especially with acetone remover, may burn facial skin, so rinse as soon as you feel any discomfort. Getting nail polish remover in your eyes may cause harm, so be cautious.
Start by soaking a cotton swab or cotton ball in nail polish remover, squeezing away the excess, and dabbing the dyed skin with it. Take time to double-check this isn't going to burn.
Gently rub the stained area with the cotton ball in a circular pattern if you're still comfortable. Do not leave your skin exposed for longer than a minute. Rinse vigorously to ensure all remnants of the nail polish remover are gone.
Get Hair Dye Off Your Scalp with Baby Oil
Like olive oil, apply baby oil to gently remove dye stains from facial skin and other sensitive skin, including the scalp, without worrying about injury. To clean hair color from your face or scalp, dab it on and let the baby oil sit as long as possible before rinsing off with clarifying shampoo or soap and repeating if the color persists.
Remove Hair Dye from Your Scalp with Non Gel Toothpaste
Use a non gel toothpaste and an old toothbrush with soft bristles. Toothpaste works well for removing hair dye. Baking soda is the active ingredient in several kinds of toothpaste and acts as a cleaner, whitener, and mild abrasive.
Apply a thin coat of non gel toothpaste over the discoloration with your finger. Rub the stained area with the toothbrush. Rinse with lukewarm water after scrubbing and dry, or repeat as needed.
How to Get Hair Dye Off Your Face with Rubbing Alcohol
Because rubbing alcohol is harsh and irritating to the skin, it is not a good choice if you have sensitive, broken, or dry skin.
Put rubbing alcohol on a cotton swab or cotton pad as a dye remover. Gently dab it on the dyed area of your skin. This remedy also works to clean tie dye off your hands. After the color is removed, wash the area with lukewarm water and gentle soap.
Liquid Laundry Detergent for Dye Removal
Detergent designed to remove stains from fabrics may also be effective in removing a hair color stain or henna dye. To minimize abrasion, choose a detergent free of pigments and fragrances, apply a few drops to your stained skin, and rub it in with your fingertips.
To scrub with the detergent, add lukewarm water to the area with a clean wet towel or makeup pad. Allow half an hour for the detergent to absorb into your skin.
To avoid skin injury, don't scrub too hard. Blot the dye stain gently and repeatedly until it dissipates, then rinse. Repeat as required; the color should eventually vanish.
Coconut Oil to Get Hair Dye Off Scalp but Not Hair
Coconut oil naturally loosens unwanted pigment without damaging the skin. Rubbing coconut oil into the dyed skin lifts the hair color and nourishes and moisturizes the skin. Leave the coconut oil to sit as long as possible before rinsing thoroughly with lukewarm water. Repeat if the stain doesn't clear.
How to Get Hair Dye Off Your Face with Clarifying Shampoo
In general, the strongest clarifying shampoos for removing color have potent surfactants to remove grime, oil, dry skin and flakes, pollution, and hair dyes from your hair and scalp.
To get hair color off your skin, wash several times with a clarifying shampoo and leave it on the skin between five and ten minutes each time before rinsing it away.
Makeup Remover for Hair Dye Stain Removal
Makeup remover is highly effective at removing makeup and protecting sensitive skin from under-eye bags, wrinkles, and premature aging. Grab some from your local drugstore if you don't already have it for its primary use.
Makeup remover, which works as a hair dye remover, might help remove stubborn stains. Apply a small amount to a cotton ball and rub it in. Wait about five minutes before rinsing, and repeat if necessary until the stain is gone.
Apply a moisturizer cream or petroleum jelly to your facial skin and hairline before applying permanent hair dye the next time you tint your hair; this helps keep stains at bay.
If you wind up coloring your skin, one of the treatments indicated above should be sufficient to remove the dye. Consult a color specialist in a salon if the stain persists after you've tried at-home solutions.
If you loved this article on how to get hair dye off your face, please share these smart tips to get hair dye off scalp but not hair with your friends and family on Pinterest and Facebook.