It's time for your routine hair dye, and you're as careful as you can be and quite sure that you didn't accidentally splatter hair color anywhere in the bathroom. However, you finish the coloring process, feeling proud of a job well done, only to discover a large purple dye stain on the corner of the porcelain sink. Not to worry; learn how to get hair dye off your sink using a few simple solutions.
You're not the first person to get a spot or two of hair dye on the sink. It's easy to miss while coloring your hair since the dye is not clearly visible until it sits for a bit and begins to turn a purplish color.
It is only after you finish working with your new hairdo that you discover the stain. While it is understandable to panic after discovering excess dye dripping down the side of the sink, there is really no cause for concern.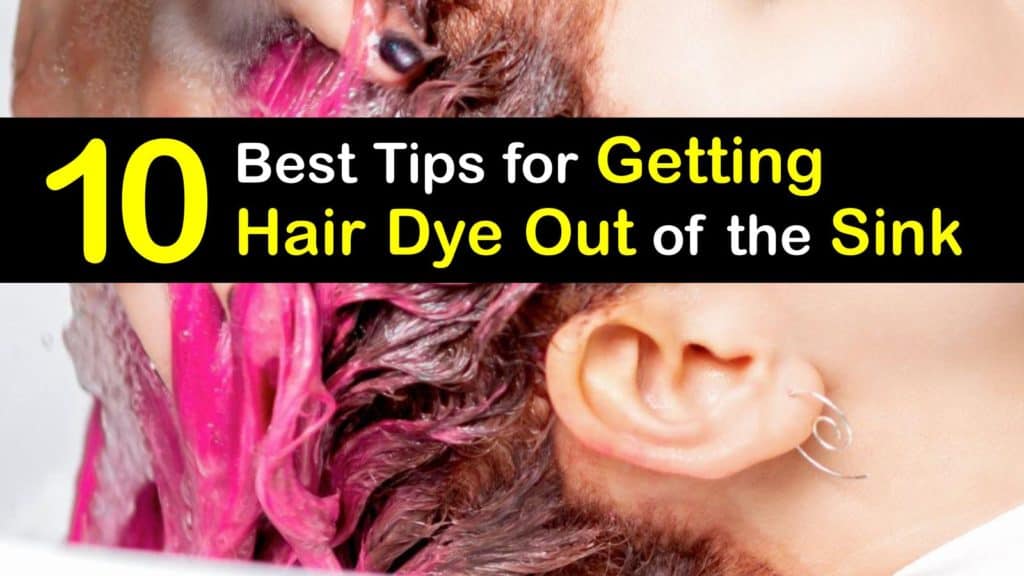 Ways to Clean Hair Dye Off a Sink
While the name permanent hair dye implies that it's permanent and the stain is impossible to remove, removing dye stains off a sink is simple if you use the right cleaning agent.
While hair dye stains, rust stains, and other stubborn stains seem like spots you have to live with forever, there are ways to remove them for a clean finish. We put together a range of cleaning methods to remove hair color stains, whether from blond, brown, or red hair dye or hair bleach.
Remove Hair Dye from a Sink with Nail Polish Remover
Nail polish remover does more than get dye off nails. It's also a handy liquid for removing many stubborn stains, including hair coloring. Here is how to remove hair dye from a sink using fingernail polish remover.
Before you start, it's important to use the right type of nail polish remover. Make sure you use one that contains acetone since this is a necessary ingredient for removing a dye stain.
Apply some fingernail polish remover to a cotton ball by holding it over the opening and tipping the bottle upside down. Press the soaked cotton onto the hair dye stain for a minute, and then wipe it in small, circular motions.
Repeat with newly soaked cotton balls until all the stain is gone, and rinse the area with water.
Get Hair Dye Out of a Sink with Rubbing Alcohol
Rubbing alcohol is an inexpensive liquid with many purposes, and you probably already have a bottle somewhere in your home. As a disinfectant, it's helpful for cleaning many surfaces. It's also a great product to remove hair dye from laminate countertops or to get hair dye out of a sink.
Pour some rubbing alcohol onto a ball of cotton or clean rag and rub it in a circular motion on the stained area.
Discard the cotton balls and use freshly soaked ones or use another section of the rag and continue cleaning the stain with more alcohol until it's gone. Rinse the area with clean water to flush away residue.
How to Get Hair Dye Off Your Sink with Baking Soda and Vinegar
White vinegar is an acidic liquid, and baking soda is an alkaline powder. When you put the two together, something magical happens.
These two ingredients react to each other by bubbling and foaming, and combining them works well to get hair dye out of porcelain sink.
Shake some baking soda into a small bowl and add just enough white vinegar to the powder to form a paste.
Dunk the tip of a soft-bristled toothbrush into the paste and apply it to the affected area. Use circular motions to gently scrub the stain and rinse the sink with clean water.
To clean a smelly drain, pour baking soda into it and add vinegar. The mixture of the two products forms a powerful cleaner and deodorizer for almost anything.
Removing Hair Dye Stains from a Sink with Lemon Juice
While you may prefer to add a bit of lemon to a tall glass of water, this citrus fruit has many other purposes. Lemon juice contains citric acid, which works wonders to remove hair dye from a sink. It is also what get hair dye off skin.
Pour enough lemon juice to clean the stain into a small bowl and add a squirt of dish soap. Dunk the corner of a washcloth into the solution and apply it to the stained area with a circular motion.
If the stain doesn't come clean after the first application, dunk a clean corner of the cloth in the solution and repeat the steps until the sink is clean. Make sure to rinse the area thoroughly with water when you finish.
Cleaning Hair Dye Off a Sink with Hydrogen Peroxide
While it's tempting to grab a large bottle of bleach to clean tough stains, this is not always necessary. Hydrogen peroxide has mild bleaching qualities, is safer than chlorine bleach, and is a good substitute to get hair dye out of a sink.
Pour hydrogen peroxide on the corner of a sponge and press it onto the affected area. Work in circles to clean the hair coloring off the sink's surface, and use a freshly soaked part of the sponge to clean the spot until the stain is gone. Finish by rinsing the sink with warm water.
Use peroxide to get food and hair dye off countertops if it spread from the sink or you have a few drips. It works just as well.
Using a Magic Eraser to Get Hair Dye Off a Sink
Always keep a Magic Eraser on hand since you never know when this product will come in handy. While we usually use it to remove grime around the kitchen, this handy tool also works well to remove dye stains from the bathroom sink.
Wet the Magic Eraser and give it three good squeezes to activate the sponge. Next, use the corner of the sponge to scrub the stained area in gentle circles. Once the dye stain is gone, rinse the area with clean water and dry it with a towel.
Try your Magic Eraser as one way to clean an old stained porcelain sink. It may eliminate most stains before you try harsher methods.
Getting Hair Dye Off a Sink with Bleach Products
While many bleach products are strong and usually the last resort for cleaning many surfaces, they are effective if you use them properly. However, it's important to test them in an inconspicuous area before proceeding.
Apply a small amount of Soft Scrub with Bleach to the corner of a wet sponge. Rub the sponge over the dye spot. Continue cleaning the area until the stain is gone, and rinse away the residue with clean water.
You may have some success with this stain removal technique when you clean a white kitchen sink.
Using OxiClean to Remove Hair Dye Stains from a Bathroom Sink
OxiClean is a safe alternative to chlorine bleach. It is a combination of sodium carbonate and sodium percarbonate, and the powder is activated when you add water. Here is how to use OxiClean to get tough dye stains off the sink.
Sprinkle some OxiClean into a small bowl or container and add a little bit of warm water. Dunk a sponge into the cleaning liquid and use a circular motion to rub the stained area until all the dye is gone. Rinse the sink thoroughly after cleaning to flush away all residue.
OxiClean can also be used to remove tie dye from clothes. You can often wind up with unwanted stains on your clothes when tie dying a T-shirt, so knowing this effective stain remover will work is essential.
Remove a Hair Dye Stain with Bar Keepers Friend
Bar Keepers Friend is a bleach-free formulation that cleans away rust, baked-on food, mineral deposits, and other tough stains. It's also ideal for removing those hair coloring stains in your bathroom sink.
Use paper towels to wipe the wet dye without spreading the stain outward. Get the area wet with warm water and sprinkle Bar Keepers Friend over it.
Let it sit for one minute as the cleaner does its job, and use a soft sponge to gently scrub the stain away. After the dye is gone, rinse the sink with clean water.
Ways to Protect Surfaces from Hair Dye Stains
What better way to not have to go through the painstaking process of cleaning up tough stains than to avoid them in the first place? Here are some handy tips to help ensure that your next hair coloring adventure doesn't leave your sink covered with unsightly purple dye stains.
To protect your skin while applying hair dye, always wear gloves and apply a barrier between the skin on your face and the dye by rubbing a thin layer of petroleum jelly near your hairline.
If you prefer not using petroleum jelly, try making a headband out of a long strip of Saran Wrap to keep the dye from dripping on your skin. Before dying your hair, spread newspapers or old towels over all surfaces in your bathroom, including the floor, toilet, tub, and sink.
As careful as you are, there always seems to be a dye stain somewhere after coloring your hair, whether it's on the bathroom tub, floor, or sink. Fortunately, this tough stain is easier to remove than you think, and you probably already have the cleaning solution in your home right now.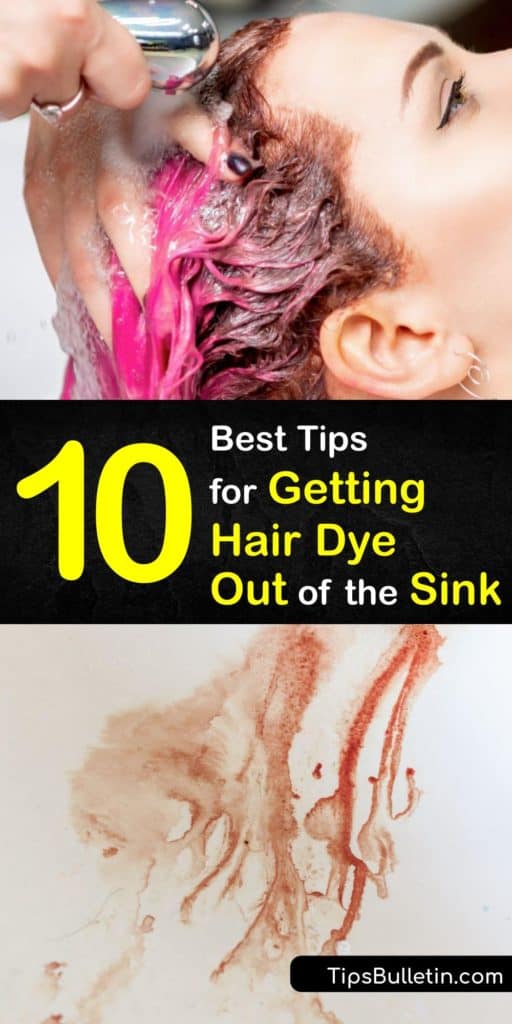 Now that you know how to get hair dye off your sink using one of many simple cleaners to keep your sink looking like new, why not share our hair dye removal guide and cleaning solutions with your family and friends on Pinterest and Facebook?