Highlighter pens are helpful for work, studying, and art, but figuring out how to get highlighter out of clothes can be challenging. Highlighter pens come in bold and brilliant colors, some using permanent ink, while others are washable. These vibrant pens are typically used to denote passages in text or make a document easier to follow.
Highlighter pens are invaluable in the office but are annoying if they get on your clothes. Highlighter inks don't often come out in the wash, thanks to their heavy pigment. Explore techniques for how to remove highlighter from fabric and make use of your pens without worrying about destroying your outfit.
Home remedies make getting highlighter out of clothes easy. Use everyday items such as acetone nail polish remover, distilled white vinegar, laundry detergent, and rubbing alcohol to eliminate the worst highlighter stains without wearing or fading the colors of your favorite clothes.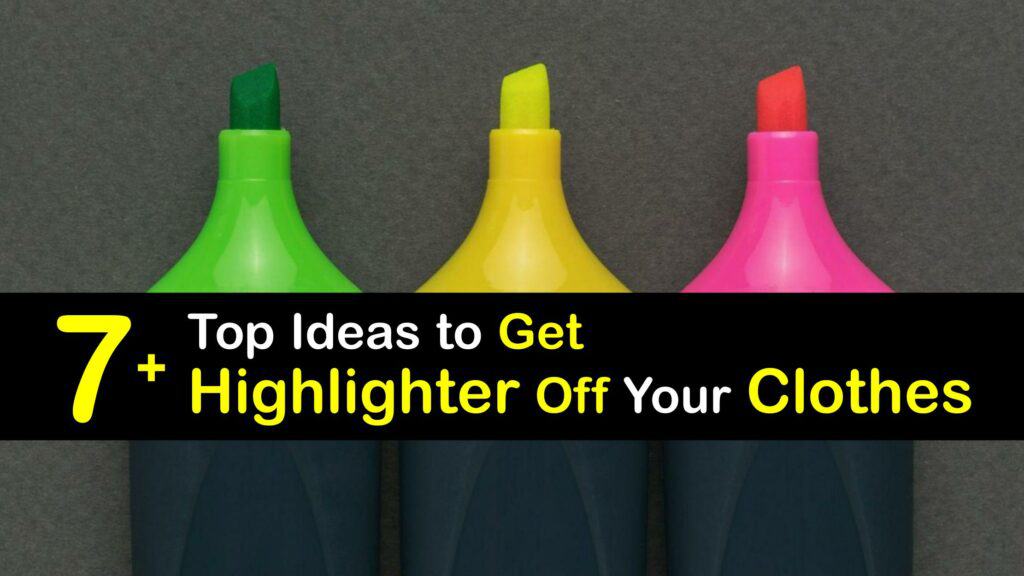 Getting Highlighter Out of Clothes
Parents, artists, students, and office workers struggle with how to get highlighter out of clothes. Getting highlighter out of clothes is effortless with the correct information and tools.
Highlighter ink dries quickly, and there's only a short time to address it. Whether dealing with fresh or dried highlighter, discover the best techniques and save your clothes from unsightly colored stains.
Does Highlighter Come Out of Clothes?
A highlighter pen blemish is undoubtedly a stubborn stain, yet it's possible to get the color out of your clothes. Like a marker ink stain or a liquid makeup stain, removing a highlighter spot is easiest if you start while it's still wet.
Although highlighter marker ink is meant to last, remove it by dissolving the solid bonds between the ink particles with suitable cleaning agents. Use a paper towel to blot the fresh stain and soak up as much ink as possible. Refrain from rubbing as this might spread the ink and press it deeper into the fabric of your clothes.
Get a highlighter pen out of your clothes at home with suitable solvents and methods. Don't throw your outfit away after the worst occurs and bright highlighter ink gets on your clothing. Trust tried-and-true DIY solutions to remove highlighter stains and get your garments back to their former brilliance.
How to Get Highlighter Out of Clothes
Most of us are familiar with removing dried nail polish from our fingers with acetone or nail polish remover. Acetone is inexpensive and available at most pharmacies and cosmetic retailers. This strong solvent is highly recommended for eliminating highlighter ink stains from clothing, too.
Purchase a brand with a high acetone content and few other ingredients, as these additions might cause more staining. Acetone is a powerful chemical and must be used cautiously, though it is readily available. Avoid putting acetone in your eyes or on your skin, and only use it in well-ventilated areas.
Many people prefer to apply nail polish remover outside because of its overpowering odor. Lift your clothing's highlighter mark by pouring acetone onto a cotton ball or cloth and rubbing it over the stained area. If using an acetone-based nail polish remover, read the product label carefully and heed safety instructions.
Lemon Juice and Salt for Removing Highlighter from Clothing
Remove highlighter ink or grease stains permanently at a low cost and with high effectiveness by mixing salt and lemon juice. Use a moist paper towel to dab the ink stain, and as one area of the paper towel becomes soiled, swap to a clean portion to remove as much ink as possible.
Slice a fresh lemon in half, then squeeze the juice onto the ink stain to saturate it. Use bottled lemon juice if you don't have a fresh lemon. Sprinkle salt liberally over the lemon juice, and work it into the highlighter stain with your fingers. Try using an old toothbrush to scrub tough ink stains that won't come off with only your fingers.
Place washable items in the washing machine and launder as usual after thoroughly rinsing the stained area with lukewarm water to get rid of the salt and lemon juice.
Things that aren't washable should be cleaned with a cloth and mild dish soap before being rinsed with cool water. Let the garment dry naturally, as the warmth from the dryer might further set the stain. Check the clothing for any ink residue and repeat the procedure if required.
Get Yellow Highlighter Pen Out of Clothes
A typical wash cycle is unlikely to remove a tough stain like dried highlighter. Throwing garments in the washing machine to remove the color is usually insufficient. Highlighter stains on your garments usually cannot be removed with the amount of laundry detergent used in a washing machine due to dilution by water.
Concentrating your laundry detergent increases its stain removal power and enables it to remove even tough stains like highlighter pen ink. Cover the ink stain with laundry detergent, rub it in with a clean cloth, and let it sit for about 30 minutes. To remove the highlighter ink stains from your clothes, rinse off extra detergent and wash as usual.
How to Remove Highlighter from Fabric Using White Vinegar
Under the most demanding circumstances, distilled white vinegar brightens, removes stains, and deodorizes. This adaptable liquid is a popular all-purpose cleanser. Since distilled white vinegar includes acetic acid, you must dilute it before use to remove highlighter from clothing or to get pen ink out of clothing to prevent clothing fading or damage.
Spray the highlighter mark with a blend of white vinegar and warm faucet water, and let it sit for 20 minutes. Recheck the stain after washing your clothes in the washing machine on the recommended cycle. Reapply the spray and clean the area once more if the marker is still detectable.
Erase a Highlighter or a Permanent Marker Stain
Though it probably resides in your first aid kit, rubbing alcohol is a fantastic highlighter ink remover and works incredibly well to remove highlighter pen marks from clothing, as well as for getting permanent marker stains off leather clothes. If liquid rubbing alcohol isn't available, try hand sanitizer or hairspray, as they contain a lot of alcohol.
Rubbing alcohol should be applied to the stain and worked in with your fingers or a cotton swab. When you rinse the alcohol, the color is washed away because alcohol is a weak solvent and dissolves the bonds in ink. Apply more alcohol to the mark, and continue treatment and rinsing until the highlighter ink stains are completely removed.
You will find that this simple solution is also ideal for getting dry red lipstick off a white shirt or other types of clothing. Scrape off the excess and try rubbing alcohol to eliminate the stain.
Get Highlighter Off Shoes with a Mr Clean Magic Eraser
Highlighter stains are easily removed with foam blocks like the Mr Clean Magic Eraser. Melamine foam lifts highlighter ink from various materials with hundreds of microscopic air bubbles and gentle abrasive cleaning.
Get a Magic Eraser from the home or shoe store if a highlighter pen gets on the soles and accents of your shoes or the rubber embellishments on your clothing. While some erasers operate best dry, others perform best when damp.
For complete instructions, consult the product label. Rub the highlighter stain with the Magic Eraser until it's no longer visible. As they clean through abrasion, Magic Erasers are unsuitable for use on fabric or delicate finishes like leather.
Shaving Cream is a Highlighter Stain Remover
Unexpected ink stains give your attire a sloppy appearance. Fortunately, you probably already have the supplies needed at home to get rid of highlighter ink. Grab your shaving cream and a clean cloth. To remove the ink effectively, use conventional shaving cream, not a gel shaving product.
Shaving cream is an effective stain remover as it's made from whipped soap. Though you typically reach for a can of shaving cream for personal hygiene, this readily available product makes an excellent addition to your cleaning supply kit.
Spray a minimal amount of shaving cream into the marker stain, and work it into the material with a damp cloth. Circularly scrub your clothing until the ink is gone, then rinse with cool water and let it air dry.
Learning how to remove highlighter from fabric saves your clothes from ruin after an accident. Highlighter pens are fun and valuable for making documents exciting and easy to read.
When highlighter ink gets on your clothes, don't panic. If you have simple things like salt and lemon juice, hand sanitizer or hairspray, or white vinegar at home, you have an excellent stain remover at the ready. Use straightforward methods to erase the ink from your garments without damaging them in the process.
If you loved this handy article on how to get highlighter out of clothes, please share these intelligent tricks for getting highlighter out of clothes with your family and dear friends on Pinterest and Facebook.