We don't think much about our clothes dryer most of the time; it does its job and keeps our clothes looking and smelling fantastic. A stray ink pen is all it takes to foul your dryer and cause it to soil your shirts, blouses, and pants, though. Having an idea of how to get ink stains out of a dryer ensures that a ballpoint pen doesn't ruin your day.
When you know a few ways to remove ink from a dryer, your next load of laundry remains unmarked and ready for wear. This guide covers tried-and-true options for getting pen ink out of a dryer.
In this article, we offer treatments ranging from quick and easy methods for cleaning fresh stains to heavy-duty DIY approaches designed to deal with permanent marker and ink staining. These cleaning tips give you extra ammunition with which to fill your home cleaning arsenal and make your laundry days more uncomplicated and pleasant.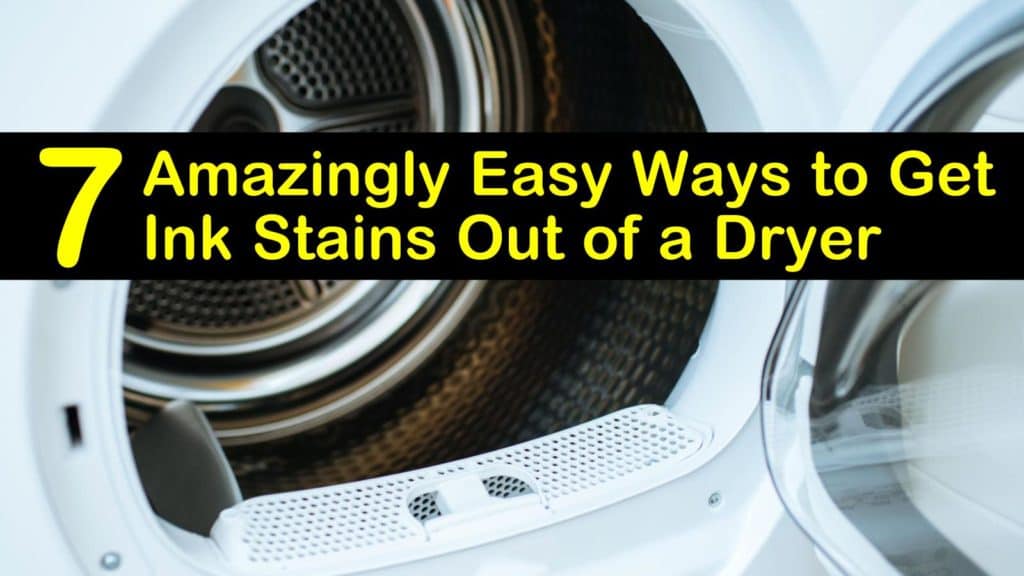 The Best Ways to Remove Ink from a Dryer
Discovering a broken pen in the washing machine or dryer drum is never fun, but fresh stains are easier to address than dried ones. Resolve any issue involving cleaning pen ink from inside a dryer when the ink is still relatively fresh to avoid long, drawn-out cleaning tasks. With the right tools, it's a breeze to take care of new ink stains.
Getting Pen Ink out of a Dryer – Fresh Stains
This section provides you with cleaning approaches designed to tackle recent ink stains in your dryer. We give you cleaning solutions that feature home remedy favorites such as hydrogen peroxide, rubbing alcohol, and nail polish remover. The ink removal processes listed below are perfect for nipping ink stains in the bud before the next load and keeping your whites spotless.
Clean Away the Ink with Soapy Water
Liquid dish soap has long been a homemaker's hero and does a bang-up job cleaning up concrete, windows, and much more. Dish soap and laundry detergent are murder on ink, too.
They're top contenders when you want to find out what gets ink out of clothes, and they're ideal for taking on new ink spots in the dryer. Use either one as the first line of defense against ink stains.
The best way to clean the inside of a dryer and remove a nasty ink stain is to add two teaspoons of liquid dish soap to two cups of warm water. Wet a cloth in the mixture without soaking it. Use the towel to clean the inside of the dryer, applying moderate pressure and a gentle scrubbing motion to cut through the stain.
Change out the fabric when the ink begins to stain it. Continue until the stain lifts away, and finish with a freshwater wipe down to remove soap residue.
If you find that this strategy doesn't work as well as you'd like, substitute the water with vinegar. White vinegar uses include cleaning all sorts of messes in addition to its benefits in cooking and food preservation.
Clean the Ink with Rubbing Alcohol
When it comes to breaking down ink and making it easier to clean away, few cleaners fit the bill as well as isopropyl alcohol, also called rubbing alcohol.
Rubbing alcohol does a number on fresh ink spills, and you can even use it on dried ink stains when necessary. The next time you discover a new ink spot that soapy water doesn't clean away, reach for the rubbing alcohol, and bring your dryer back to life.
Put on the gloves, and fill a container with equal parts isopropyl alcohol and water. Wet a white towel or cloth in the cleaner, and use the material to clean the stained area and any additional pen marks.
Change out the cloth when it fills with ink, and replace the cleaning solution if it gets dirty. Continue until the dryer drum is spotless and ready for more laundry.
Hit the Stain with Hydrogen Peroxide
Like rubbing alcohol, hydrogen peroxide is an all-time champ with DIY cleaning proponents. Peroxide is a go-to cleaner for everything from your teeth to brass fittings, and it's ready to lend a hand to get the ink out of your dryer.
When a fresh ink stain or a dried one resists dish soap and rubbing alcohol, use peroxide to show it who's boss. This cleaning method eats away at the most stubborn new ink stains in no time at all. Grab that bottle of peroxide from the medicine cabinet and get to work.
For an effective DIY cleaner for washer and dryer interiors and exteriors, mix the peroxide and water in a bowl, and dampen a towel in the liquid.
Rub at the ink stain with the towel. Use moderate pressure as you work, and switch out the cloth frequently to avoid spreading the ink around and making the situation worse.
Continue until the dryer is clean and ink-free. You may find that this recipe works well to remove smell from your dryer, as well, in case you have noticed a musty odor.
Use Nail Polish Remover on the Ink
The acetone in nail polish remover makes this product perfect for handling the next stain you discover in the dryer. Like rubbing alcohol, acetone cuts into the ink and reduces it to individual components. Once the ink has a run-in with your nail-polish-remover cleaning recipe, it stops sticking to the metal and becomes a snap to clean.
Fill a bowl with the water and nail polish remover, and wet your cloth in the cleaner. Blot at the stain to avoid smearing it further. Replace the material when it becomes ink-filled, and continue until the ink stain lifts out and the dryer is stain-free. If you don't have nail polish remover, try using hairspray in its place.
How to Get Ink Stains Out of a Dryer
In an ideal world, you catch every ink stain as soon as the pen breaks and never have to deal with dried spots. Realistically, though, some stains slip through and have the chance to set in and make your life more difficult. Not to worry, though. Our suggestions on how to get ink stains out of a dryer include ways to knock out dried ink.
Treating Dried Ink Stains
This portion of our article shows you ways to remove dried ink that restore your dryer and allows it to provide years of additional faithful service. You get tips on heavy-duty treatments that use bleach, household scrubbers, and specially formulated commercial products to take on seemingly permanent ink stains and come out on top.
Send a Bleach-Soaked Towel through the Dryer
Bleach is a fantastic cleaner in its own right, and the heat provided by your dryer supercharges this agent and makes it ideal for handling dried-on and hard-to-remove ink in your clothes dryer.
When you find yourself having to clean up dried ink in the dryer, use bleach on it. This simple treatment works wonders and restores dryers to like-new condition.
Combine non chlorinated bleach and water in a bucket, and soak a towel in the mixture. Wring out the cloth until it's damp, and then send it through the dryer on high heat.
After the cycle ends, remove the towel and check for lingering stains. Wipe the inside of the dryer with clean water to remove bleach residue.
Clean the Spot with a Magic Eraser
Even the most faithful DIYers need an occasional hand from the pros. Your home cleaning options are all you require for most ink issues in your dryer, but some stains call for a more robust cleaning method. Mr. Clean's Magic Eraser is just the thing to knock out that pesky ink and get your dryer humming along again.
Pull out the Magic Eraser to deal with seemingly impossible stains. Don a pair of gloves, and rub at the dried ink with the Magic Eraser. The Eraser crumbles as it cleans, so use a damp cloth to police the area and clean away crumbs as they appear.
Continue using the Magic Eraser on the spot until it returns to factory condition. Give the drum a final wipe down to remove residue. After a session with the Magic Eraser, your dryer is ready to return to service.
Treat the Ink with a Commercial Cleaner
If you throw all our DIY tricks at the ink and still come up short, take heart. There are commercial products out there just waiting for you to come along and give them a chance. Goo Gone, Goof Off, and similar products contain ingredients that take ink apart in a heartbeat, and they work well on melted crayons and other tough spills, too.
Always follow the manufacturer's directions when you clean with a commercial product so that you can reach out for support if the situation calls for it. Test the cleaner on a small area before you try it out on the big stains. And, always wear all recommended safety gear, including gloves, glasses, and masks.
We hope you had a delightful voyage reviewing our ink removal tips. Our dryers are convenient miracles of modern life, but ink stains make them unusable.
These ways to keep your dryers free of ink ensure that you always have warm, dry clothes, and clean appliances. With our help and some elbow grease, your ink worries are over.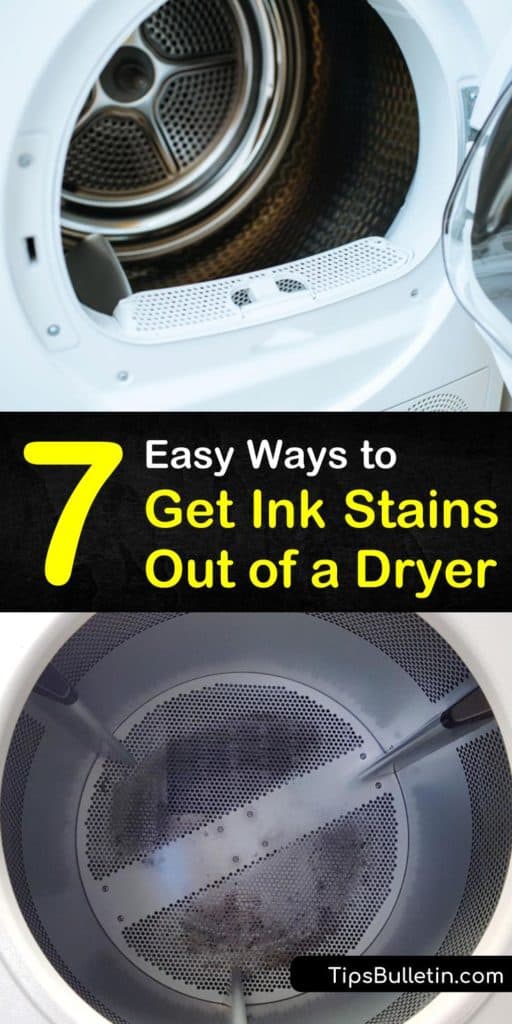 Thanks for reading our ink cleaning options. If you enjoyed discovering how to get ink stains out of a dryer, Pinterest and Facebook are ideal venues to share details about ink stain removal.