You work diligently to apply your eyeliner, foundation, and lipstick with an expert hand, carefully slip your blouse over your head, and still manage to get makeup on your clothes. Unfortunately, not only do you have to find something new to wear, but you also have a stubborn stain to contend with. Learn how to get lip gloss out of clothes in a few simple steps.
It's easy to get makeup stains on carpet or clothing, whether eyeshadow or foundation stains. Yet, removing them is not as simple, especially if they are from lip gloss or lip liner, since they contain colored tint and oil that absorbs into the fabric.
Luckily, there are ways to remove a lipstick stain from clothes using items around the house. Laundry detergent, white vinegar, rubbing alcohol, and even hairspray are excellent for lipstick stain removal; all you have to do is pick a suitable method for the stain.
Ways to Get Lip Gloss Out of Clothes
Discovering bright red or pink lipstick stains on your favorite shirt seems like the end of the world, but don't worry. Discover how to remove excess lipstick from clothes and use a stain remover to clean a tough lipgloss stain.
How to Prepare Fabric for Removing Lip Gloss
Removing the excess gloss from the fabric before using a stain remover is vital to prevent further stain spreading. Find out how to remove lip gloss from clothing with a dull knife and towel.
Lay the garment on a clean surface, place a paper towel beneath the stain, and hold the cloth taut. Use a dull knife, spoon, or credit card to scrape the lip gloss from the item. After you remove as much gloss as possible, blot the mark with a paper towel to absorb oily residue.
How to Remove Lip Gloss From Clothing
While tossing the stained item directly into the washing machine is tempting, it's better to treat the stain first for the best results. Learn how to remove lip gloss from clothing by pre-treating the fabric with laundry detergent.
Lay the shirt on a clean surface and pour a small amount of laundry detergent or dish soap over the stained area. Let it sit for 15 minutes, and use a clean cloth to rub the soap in a circular motion without spreading the stain outward. Hold the fabric beneath warm water until the water runs clear, and wash the garment in the washing machine.
Removing Lip Gloss From Fabric
Rubbing alcohol is ideal for removing lip gloss from fabric. It dissolves the color from cloth fibers, making it easier to lift them from the material. Use this disinfectant liquid to remove lip balm.
Pour rubbing alcohol into a small container and dunk a cotton ball into the solution. Use the soaked cotton to dab at the stain, and replace with new cotton balls until the lipstick is gone. Finish by rinsing the fabric beneath hot water and hanging it up to air dry.
Rubbing alcohol is also the best way to get deodorant marks off dark clothing. Makeup stains and deodorant marks can all make an outfit look shabby.
How to Get Lip Gloss Out of Clothes
Use white vinegar to gently loosen lipstick from fabric if you're hesitant to use rubbing alcohol on your clothes. Discover how to get lip gloss stains out of clothes by combining vinegar and salt.
Mix a small amount of white vinegar and table salt in a bowl, just enough to form a paste. Lay the clothing flat and rub the paste into the stain with your fingers.
Let it rest for 15 minutes, and hold the fabric beneath running water to flush away color. Look over the material to ensure the stain is gone, and clean it in the washer to remove vinegar and salt residue.
Be sure to keep this cleaning solution on hand to wash mascara stains out of white clothes or any other makeup stains.
Common Household Items to Remove Lip Gloss From Fabric
The most straightforward way to remove stains is with a commercial stain remover. However, many items in your home are perfect for removing lip gloss from fabric. Follow several ways to remove lipstick from a shirt with hairspray and other easy household remedies.
Hair spray, shaving cream, and Goo Gone are excellent choices for getting lip gloss out of clothes. Start by laying the garment on a clean surface and placing a towel beneath the stained area.
Spray the spot with hairspray, Goo Gone, or shaving cream, and let it sit for 20 minutes. Use a cloth to gently scrub the affected area without spreading the stain, and rinse it beneath running water.
Nail polish and makeup remover are good options for removing a lipstick stain. Apply either remover to a cotton pad and use it to blot up the stain from the fabric. Continue cleaning the area with fresh pads until the color is gone, and wipe the material with a damp cloth.
It's essential to clean your garment after you use any of these methods to remove a lip gloss stain to ensure that none of the cleaning residue remains in the fabric. Wash the item in the washing machine with your favorite laundry soap. Check it for remaining stains before transferring it to the dryer.
As perfect as lip gloss looks on your lips, it's unsightly when it gets on clothes. It leaves a colored oil stain on the material, and rubbing at it only makes the stain worse. Luckily, there are ways to get lipstick out of fabric without using a dry cleaning solvent.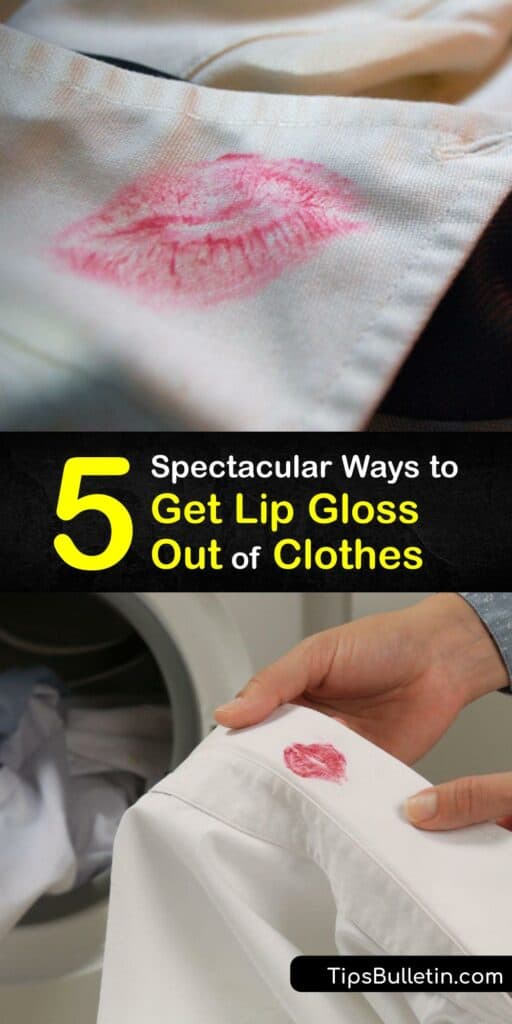 We hope that learning how to get lip gloss out of clothes keeps your favorite clothing items looking their best, and we'd love it if you'd share our tips for removing lip gloss stains from fabric with your family and friend circle on Pinterest and Facebook.