Getting mayonnaise out of clothes is straightforward and can be done with common household items.
Here's a quick and cost-efficient way to remove mayonnaise stains:
Remove any excess mayo with a butter knife or spoon.
Sprinkle the stain with an absorbent like cornstarch or baking soda.
Create a cleaning solution with white vinegar, warm water, and dish soap.
Pre-treat the fabric with dish soap or a stain remover and gently brush.
Wash with hot water using a heavy-duty laundry detergent.
It's easy to tackle a mayonnaise stain on my clothes using things I usually have in my kitchen. First, I gently scrape off any excess mayo with a butter knife or spoon. I find this very effective for preventing the stain from becoming larger. Then, I sprinkle a generous amount of cornstarch on the stain and let it absorb the oil for about 15 minutes. Afterward, I shake out the powder – it's amazing how much grease it can pick up!
Next, I prepare my secret weapon: a mixture of white vinegar, warm water, and a bit of dish soap. The vinegar breaks down the oil while the soap lifts it from the fabric. I blot the stain with this solution using a sponge, being careful not to rub and spread the stain. I've learned that patience pays off here.
Before washing the garment, I apply a touch of dish soap or a pre-formulated stain remover directly to the area. I use a soft brush to work the soap into the stain gently. This method is excellent because it targets the grease without damaging my clothes.
Finally, I wash the item on a regular cycle with hot water and a reliable laundry detergent to help dissolve the rest of the mayo stain. I always check the garment after washing before drying it, ensuring that the stain is completely gone – it's a quick way to avoid any headaches with set-in stains later. If needed, I'll repeat the process or opt to air-dry the fabric. It's such a relief to see my clothes come out clean and stain-free!
Without mayo, coleslaw and potato salad would just be cabbage and potatoes, and a deli sandwich isn't complete without a good slathering of this creamy condiment. As delicious as it is, mayo leaves a greasy stain on clothes if you get a little too carried away in the kitchen. Learn how to get mayonnaise out of clothes using simple methods.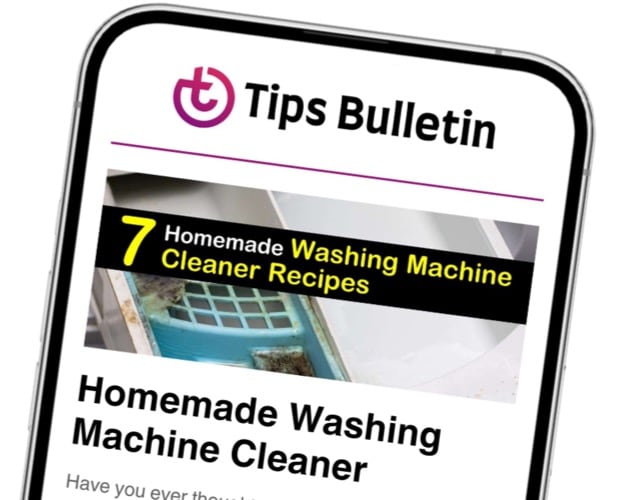 Finally, an email that Transforms Your Home.
Get the latest home and garden tips from our experts, delivered straight to your inbox.
A dollop of white mayonnaise on your shirt may seem harmless since it's not bright yellow like a mustard stain, bright red like blood stains, or dark brown like chocolate stains. However, don't let the color fool you. A mayo stain leaves oils on the fabric; some materials absorb them more readily than others.
Simply scraping the mayo away from the fabric isn't enough since you still have an oil stain. While it may be necessary to take delicate clothes to the dry cleaner, there are ways of getting greasy sauce stains off clothing at home using products from your cupboard.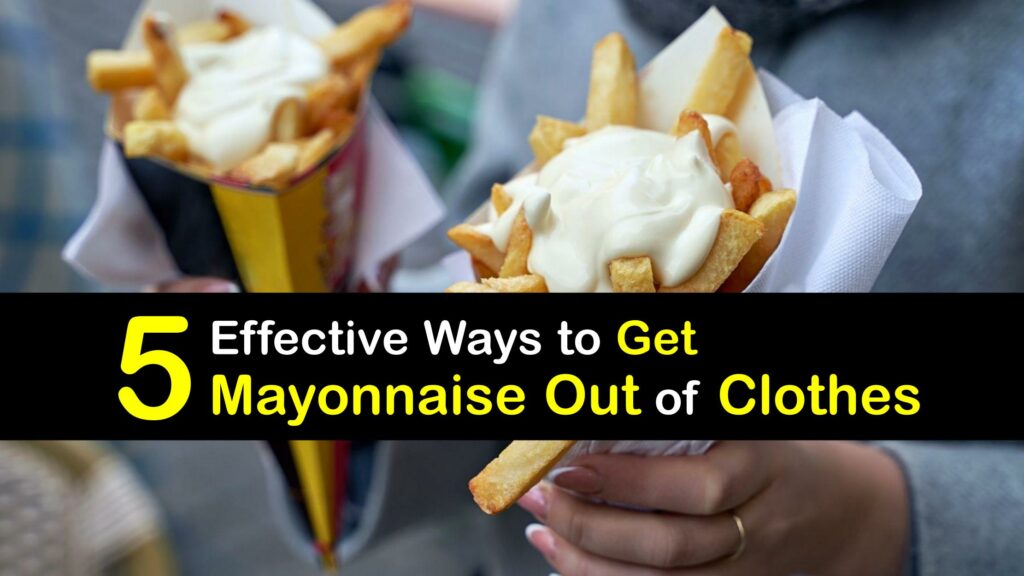 Ways to Get Mayonnaise Out of Clothes
You are not the only one to drip mayonnaise on your shirt while hungrily devouring a sandwich during lunch. Luckily, there are ways to clean old grease stains off clothes without using a dry cleaning solvent. Discover how to remove stains from mayonnaise with several stain-removal methods.
First Step for Getting Mayonnaise Out of Clothes
Does mayonnaise come out of clothes? Yes, it's possible to remove mayo stains from fabric with a bit of time and effort. However, there are several things to do before you start cleaning.
Removing the solids is the first part of getting mayonnaise out of clothes. Start by laying the item on a flat surface and placing a paper towel beneath the stained area to keep oil from transferring to other parts of the fabric. Use the edge of a knife or spoon to gently lift the mayonnaise from the cloth.
How to Remove Mayonnaise Stains From Fabric
The best way to clean a mayo grease stain from clothes is to absorb as much oil as possible. Find out how to remove mayonnaise stains from fabric with cornstarch or other oil-absorbing powders.
Lay the clothing on a towel and sprinkle the mayonnaise stain with cornstarch, baking soda, talcum powder, or another absorbent. Leave it for 15 minutes, and shake the cloth over the garbage can to remove the oily powder.
If necessary, apply the powder again until the grease stain is gone. If you don't have an absorbent powder, dab at the area with a piece of bread to lift oil from the cloth.
Using White Vinegar to Remove Mayonnaise From Clothes
Clean your mayo-stained garment with vinegar. White vinegar is excellent for getting mayonnaise out of clothes. It's mildly acidic with grease and oil-dissolving abilities and is a safe alternative to chlorine bleach.
Pour the warm water into a container and add a tablespoon of liquid detergent and two tablespoons of white vinegar. Dip the sponge into the cleaning solution, wring out the excess moisture, and blot the stain without scrubbing. Dab away the residue with a damp cloth and check if the stain is gone.
If the stain persists, consider a vinegar soak to remove excess oil. Fill a sink with four cups of hot water and add a cup of white vinegar. Place the garment in the liquid and soak it for half an hour. Remove the item from the solution, rinse it beneath warm, running water, and clean it in the washing machine.
How to Get Mayonnaise Out of Clothes
After removing mayonnaise from clothing with powder, the next step is to pretreat the fabric with soap or a stain remover. You'll get better results when you toss the garment in the washer.
Lay the garment on a clean surface with the stain facing up, and pour enough liquid dish soap over the oil to cover it. Or, apply oxygen bleach or a solvent-based stain remover as directed. Use a soft bristle brush to gently clean the stain without spreading it, and let it sit for at least 15 minutes before cleaning it in the washing machine.
Machine Washing to Get Mayonnaise Out of Clothes
Your washing machine removes everything from sweat stains and deodorant stains to mayo stains, and it's the final step in the stain removal process. Yet, it only does the job if you use the proper settings. Learn how to remove mayonnaise stains from fabric by cleaning it in the washer.
Place the affected items in the washing machine and add heavy-duty laundry soap. Choose the regular wash cycle with the hottest water setting for your clothes. Hot works better for dissolving a tough stain from mayonnaise than cold water.
When the wash cycle completes, check the clothing for remaining stains before drying since the dryer's high temperatures may cause stain setting. Rewash the garments if oil residue is still present, and consider hanging them to air dry if you're unsure.
Mayonnaise leaves a stubborn stain that is challenging to clean. While dry cleaning solves the problem, not everyone has the money to dry clean clothes. Fortunately, corn starch, vinegar, and other home remedies remove oil stains, leaving your clothes stain-free.
Knowing how to get mayonnaise out of clothes keeps your clothing free from oil stains, and we'd love it if you'd shared our tips for removing a mayonnaise stain from fabric with your family and friend circle on Pinterest and Facebook.