From candles and scented wax melts to hair removal, wax is a part of our everyday lives, and at some point, we've all found ourselves asking, does melted wax come out of clothes? Fortunately, the answer is yes. Everyone should know how to get melted wax out of clothes.
Once you understand how to remove melted wax from fabric, you don't have to panic after an untimely wax spill, even when the staining is on delicate materials like wool and suede. Though wax is very pliable when warm, when it's hot, it becomes a liquid and seeps deep into the weaves of the fabric of your clothes.
When wax cools, it sets rock hard. This combination of properties makes a unique stain that demands the correct approach to remove it effectively. Next time you spill wax on your favorite apparel, use these efficient ways to get candle wax out of clothes and keep your clothes looking clean and smart.
How to Remove Melted Wax from Fabric at Home
It might seem tricky to grasp how to get melted wax out of clothes without ruining them, much like a dye stain. Does melted wax come out of clothes?
Though it takes a little hard work, it is possible to remove all wax residue from your clothing with some valuable cleaning tips and patience. Even delicate fabrics are salvageable after a wax stain, provided you know the best techniques for wax removal.
Does Melted Wax Come Out of Clothes?
Whether you spilled hair removal wax or large candle wax stains on your clothes and carpet, they are fixable. Though wax dries hard, giving the impression it's permanently stuck on your favorite sweater, learning how to remove melted wax from fabric or getting sticker residue off a shirt is relatively straightforward.
Hot wax is messy and dangerous. It's crucial to ensure freshly spilled hot wax is dry and cool before trying to remove it. If you have a wax spill that hasn't solidified, put a few ice cubes in a small plastic bag and hold them over the area until the wax sets.
The first step to get wax and Silly Putty out of clothes is to scrape off the hardened wax to reveal the stain beneath. Use a dull knife such as a flat butter knife to gently pry up and discard the excess wax on your clothing.
Once the bulk is removed, choose a technique below to eliminate all traces of the remaining wax and leave your outfit unblemished.
How to Get Melted Wax Out of Clothes with an Iron
All you need to remove tricky wax stains from your clothes is a brown paper bag and a clothes iron. After cooling the wax and removing as much as possible with a butter knife, lay out the stained piece of your clothing on a flat, heat-proof surface or ironing board.
To take wax off clothes, first cover the wax mark with brown paper cut to size from the bag. Turn your clothes iron to a low heat setting and run it gently over the back of the paper to heat the wax and transfer it from the material of your clothes to the paper scrap.
Carefully peel away the paper containing the wax and discard it. Repeat the covering and ironing if wax persists until all discoloration is gone.
This strategy will also work for cleaning candle wax off carpet. Follow the same procedure, working slowly and carefully to remove the wax and stain.
This method will also work to get a number of other stains out of clothes. For example, spray paint comes out of clothes with the heat from an iron.
Use Your Blow Dryer to Get Melted Wax Off Clothes
If you don't have a clothes iron, a hair dryer is an alternate heat source for removing wax from your apparel. It also takes wax off walls. A hairdryer works well on large and small stains and is safe for all types of clothing and most surfaces.
Spread your stained item on a hard, flat surface like a tabletop, and use your hair dryer on medium heat to warm and soften the wax residue. Blot the area gently with a paper towel to soak up the wax as the heat releases it from the fabric.
Repeat until no staining remains. For delicate fabrics, start on a low heat setting and increase as needed to prevent wear. Remove adhesive stains the same way, whether they are on your favorite shirt or pants.
You can also use a blow dryer to get other stains off your clothes. It's one of the best ways to get pollen out of clothes. The fine yellow dust from flowers can smudge if you try to wipe it off with your hands, but a blow dryer will eliminate it right away.
Removing Melted Wax from Clothing in the Washing Machine
Running your clothes through a regular washing machine cycle is often insufficient to remove a stubborn wax stain, although it is usually what takes latex paint out of clothes and everyday stains. To lift all the wax from your garments, add powerful ingredients like white vinegar and dish soap to penetrate the fabric and destroy the stain.
Add laundry detergent to the dispenser and place the white vinegar and dish soap directly into the washer drum with your dirty laundry. Run the machine on the appropriate cycle to remove the wax spot, and dry your clothes as directed.
If the wax is gone but a stain is left behind, try alcohol. Use rubbing alcohol to remove gum from clothes and eliminate stains from candle wax.
This cleaning solution will effectively remove other sticky materials, like cosmetics and wood glue. Wood glue comes out of clothes best when the stain is treated and washed quickly.
Employ a Dry Cleaner for Wax Stain Removal
If you have delicate fabric or don't want to approach a colored wax spill, a dry cleaner is adept at wax removal. The dry cleaning solvent used in professional establishments is tough on wax marks without being harsh on your suede, wool, and other delicate materials.
Whether you're short on time or concerned about damaging your garment, show your dry cleaner the stained area and allow the professionals to deal with wax removal.
Leftover wax is challenging to handle, and it's no surprise many of us have accidentally spilled wax and been left with a tough candle wax stain on our clothes. Like an oil stain or a grease stain, a wax spot may seem tricky to remove.
Our helpful cleaning tips make it possible to rid your clothes of unsightly wax residue to restore their appearance. Use tools you have on hand, like a clothes iron, a blow dryer, or your washing machine, and effortlessly eradicate the wax from your clothes to maintain a pristine appearance.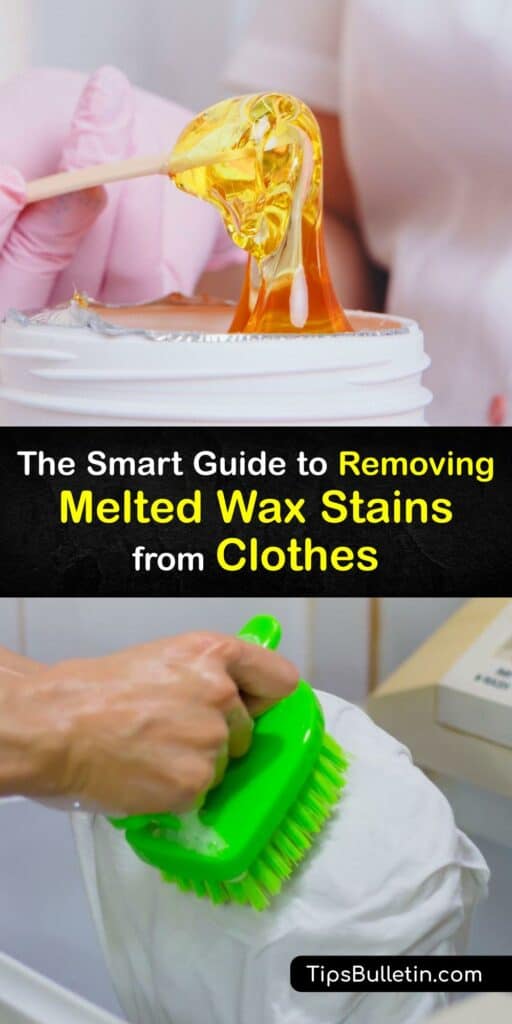 If you loved this article on how to get melted wax out of clothes, please share this article discussing does melted wax come out of clothes with your friends and family on Pinterest and Facebook.